In search of some welcome email examples to transform your campaigns?
As one of the most valuable email types to exist, welcome emails don't just say hello: they sell. 🛍 🛒
That is if your templates wow just as much as your subject line and body content do. If you need a little help in that department, then this post has got you covered.
We've scoured the internet to find welcome emails from a range of businesses to transform your next campaign.
From cool graphics to QR codes, not to mention plenty of brand personality – here are 11 welcome email examples to show you what's trending in email marketing for 2024. 
Why Welcome Emails Are Important
For those who don't know, welcome emails (aka onboarding emails) have a typical open rate of 91.43% ✉️ 🔥 – Hive
Users expect to be sent a welcome email after subscribing, meaning they are more likely to open your message.
A welcome email is an unmissable chance to connect with your customers, highlight your value proposition and give them discounts or other incentives to get them shopping with you.
It's vital your welcome emails hit it out of the park, as you want people to remain subscribed, plus continue to open future emails you may send them. After all, email offers a typical ROI of $36 for every $1 spent.
Therefore, your welcome or onboarding email sets the tone for what's to come. So let's make sure yours hits all the right notes with the following ideas!
Learn more 💡: Onboarding Emails Examples, Benefits & Tips
Bang & Olufsen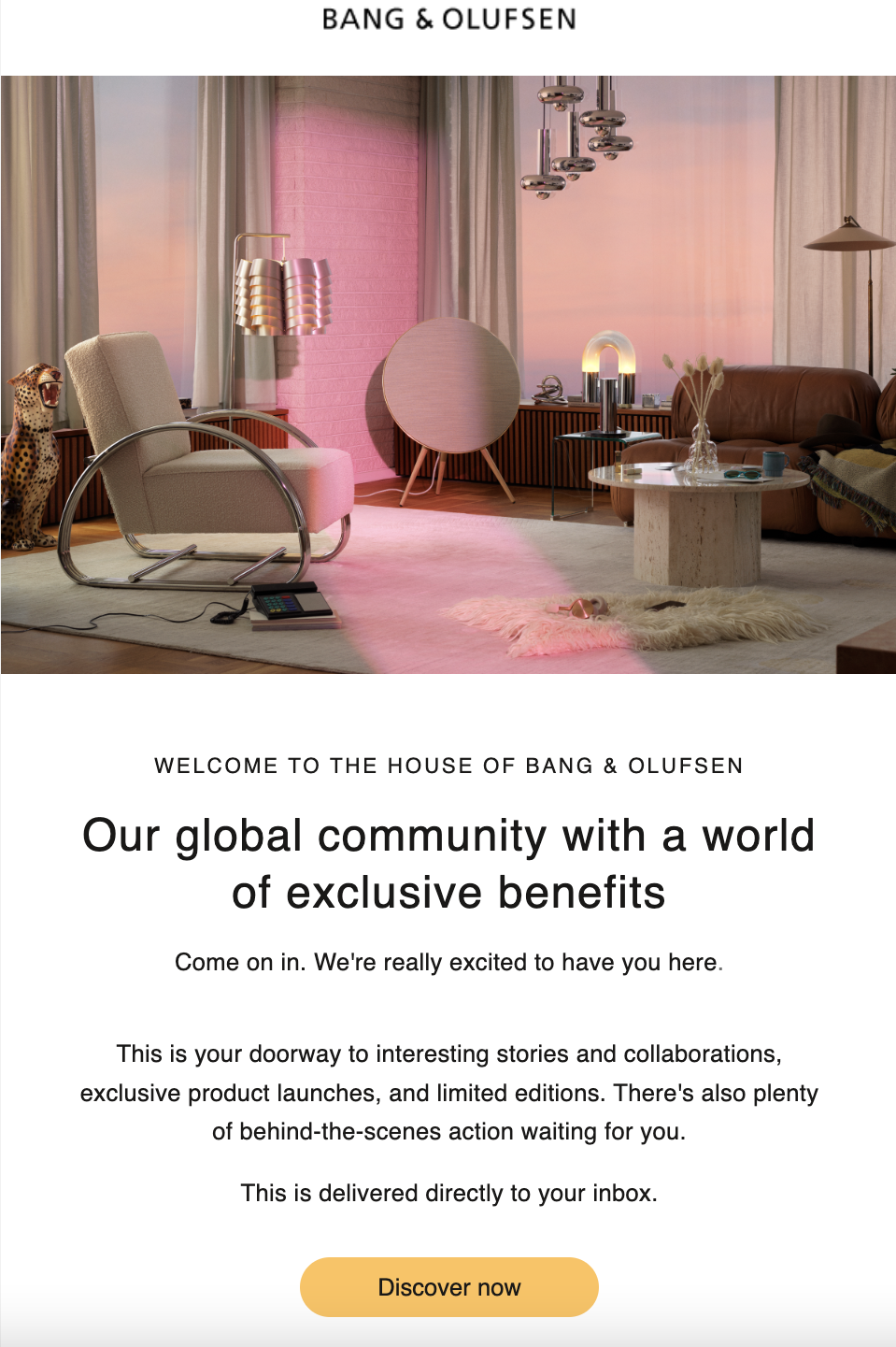 What do you get when you mix Danish chic with high-end home audio equipment?
Bang & Olufsen.
For anyone who has never been inside a Bang & Olufsen store, you are transported to a world where sound couldn't be more beautiful (or expensive) yet effortlessly cool at the same time.
Matching this aura within a welcome email is a tall order, but Bang & Olufsen have managed it perfectly. Their striking image use sells a lifestyle. It makes you curious enough to want to click-through to the website, while feeling calm and understated at the same time.
Sometimes flashy, attention grabbing graphics work for welcome emails, and we'll definitely come onto some examples of these.
But for now, enjoy a different (sleek) way of how welcome emails are done in the world of B&O.
Lego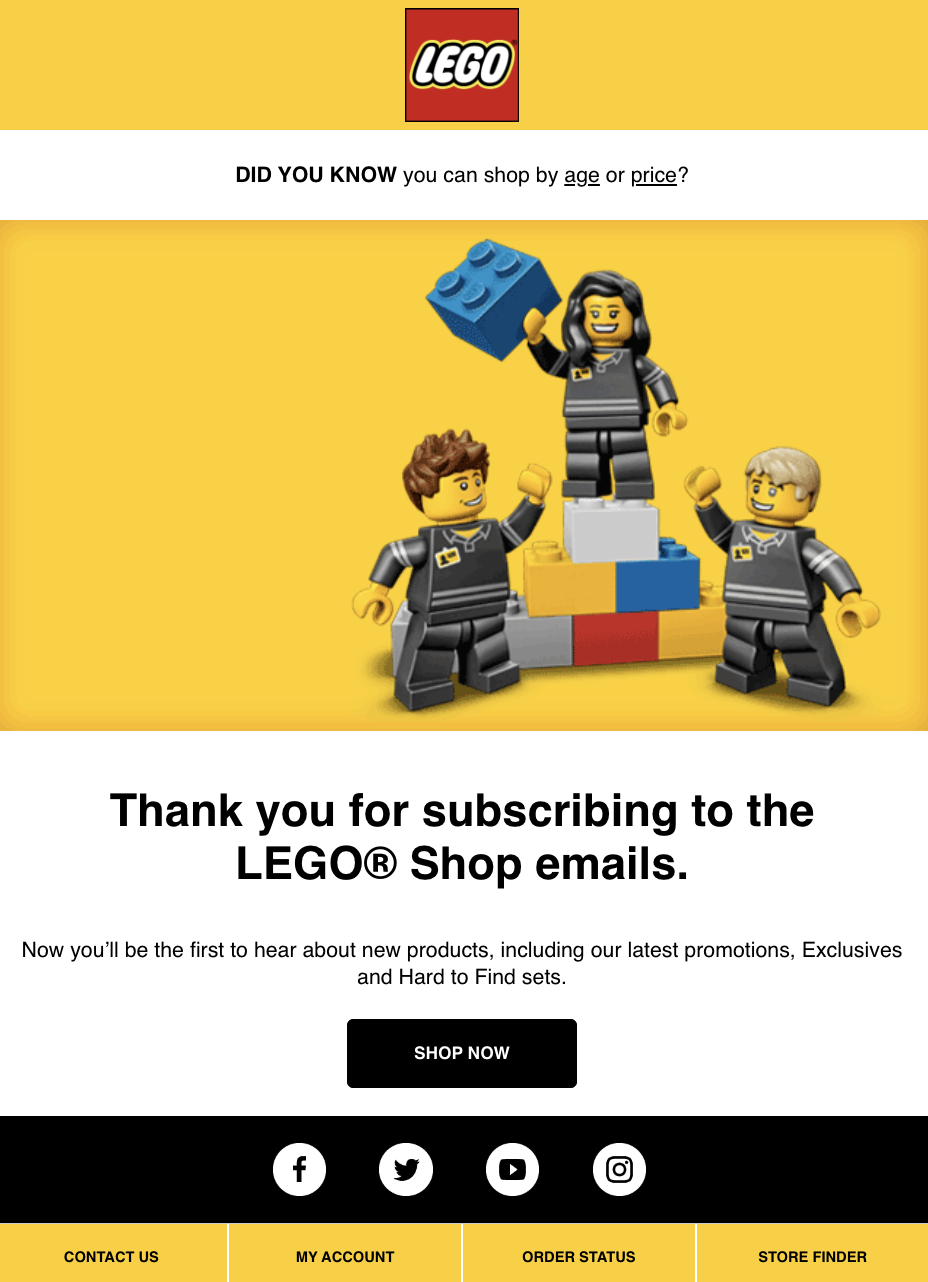 This Lego welcome email sets out to build subscribers just as it does build Lego.
Using custom designed graphics, Lego have gone all out to create excitement in a way that appeals to all ages.
Despite the use of yellow being a focal feature, this template is well balanced elsewhere with a clean use of black and white within the functional aspects.
At the bottom of the template design, Lego have also included helpful links to check your order status or find your nearest Lego store. This helps maintain that connection with the real world, instead of feeling like the brand only exists in digital form, as can sometimes be the case with email marketing.
A special mention goes out to Lego for one of the most creative post-subscribe thank you messages we've ever seen.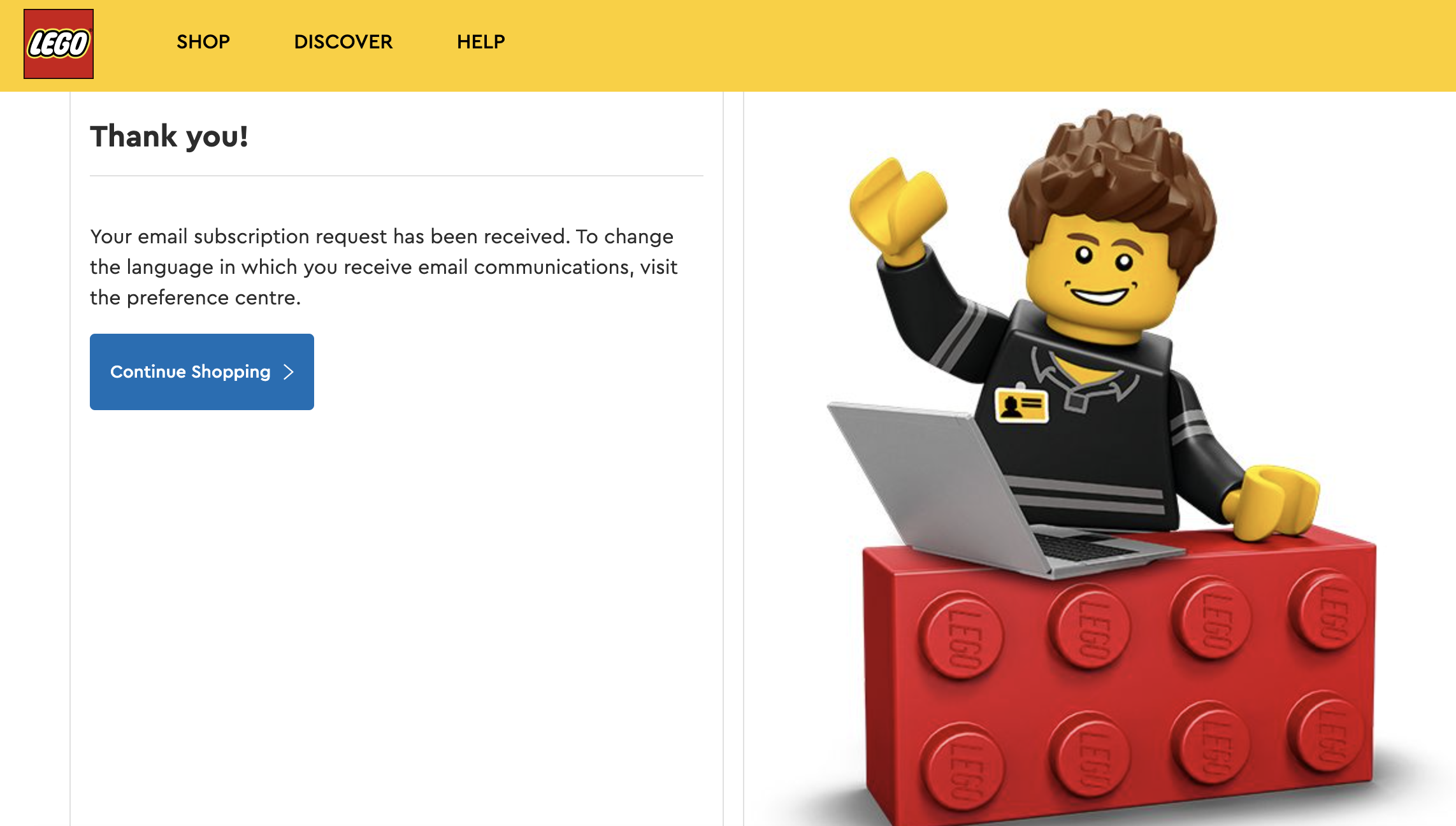 It's easy to overlook this step. But with some newsletters even displaying error messages after we tried to sign up, checking everything works with your email list, not to mention putting in some extra brand flavour can't be underestimated.
Boots
Boots have taken the welcome email template functionality to a whole new level. Their welcome email acts as a mini landing page but in email form.
With any ecommerce email newsletter, the goal is always going to be enticing customers to purchase as quickly and as easily as possible.
Boots have achieved this with a 'fast' colour palette and endless buttons. Plus there's incentives to earn points or get discounts. All in all, Boots use their physical retail experience to their advantage within their email marketing campaigns.
Plus, there's a lot of competition in the online beauty space. The right welcome email can help differentiate a brand from all the noise, whether that business happens to sell mascara or SaaS products.
Hackett London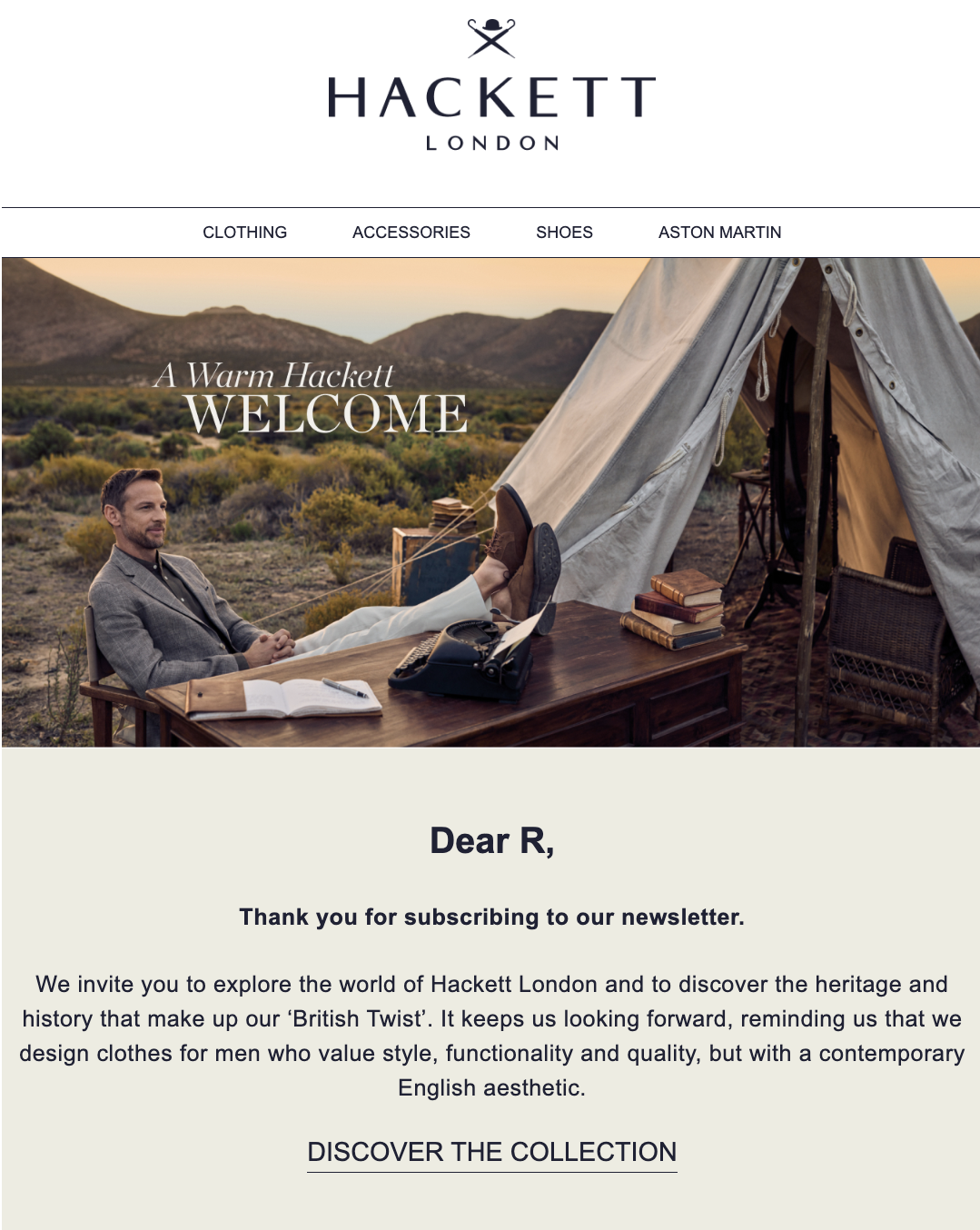 We leave the more energised welcome email style behind for a journey into the calm and collected with Hackett London.
Hackett is big on all things British heritage. Boasting a clothing partnership with Aston Martin, their branding feels a little more discerning. The colour palette is kept neutral, and the imagery has a focus on rugged outdoor landscapes. This is a suave walk, rather than a run to the checkout.
As far as welcome email examples go, Hackett London reminds us to never lose sight of the audience in favour of quick gimmicks.
Selfridges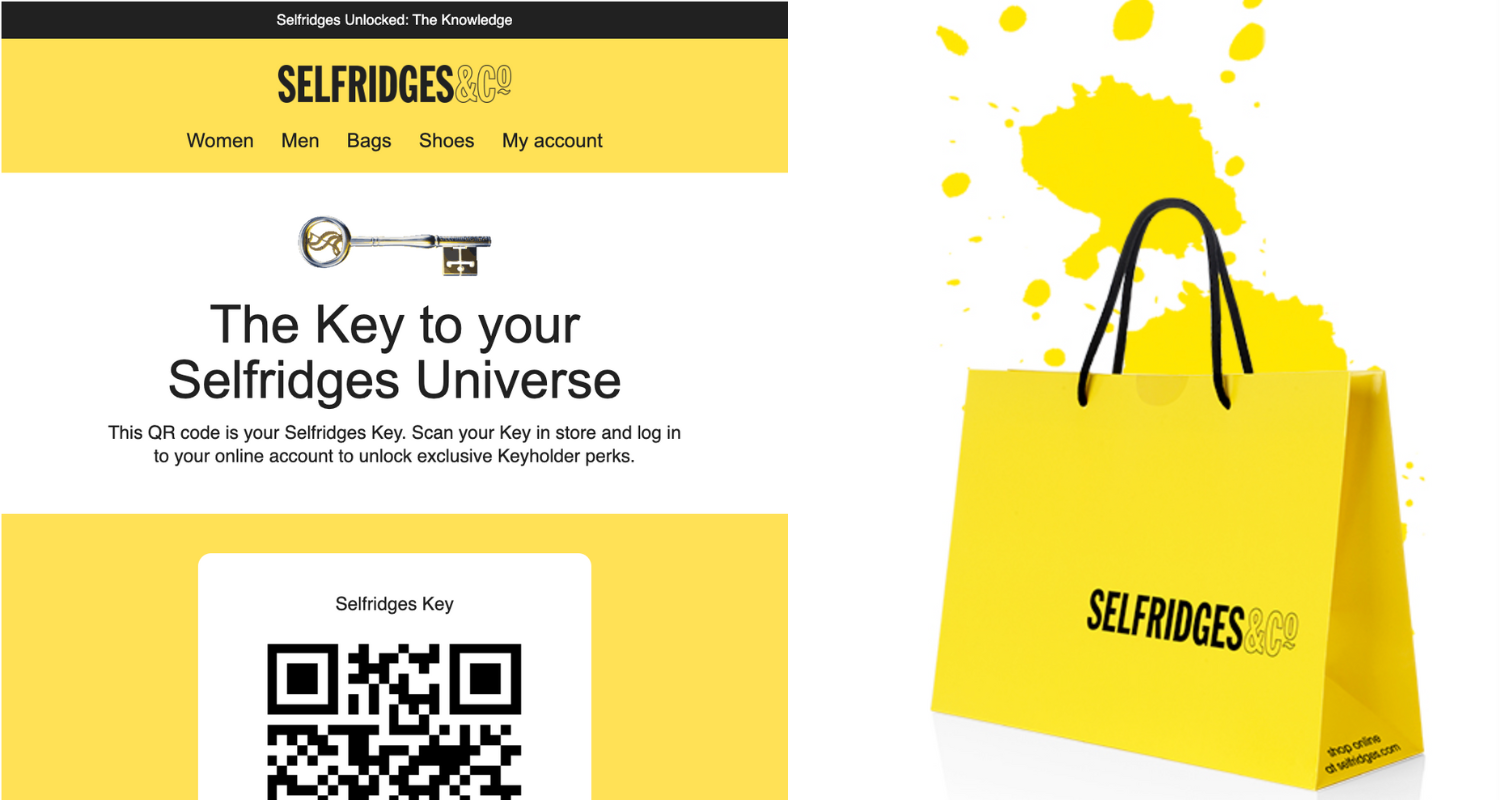 When you have a patented colour associated with your brand, sometimes that's enough to do the talking within a welcome email.
If the Selfridges yellow wasn't enough to feel on-brand, they add a quirky twist to their welcome email in the form of a QR code that is 'unlocked' by a key.
Points for originality here, since as far as welcome emails go, it's rare to see a feature you haven't seen a million times before.
Selfridges were also one of the few on our welcome email examples list to have a dedicated landing page for their newsletter. For SEO purposes, you want your newsletter to be found if your customers Google it.
Patagonia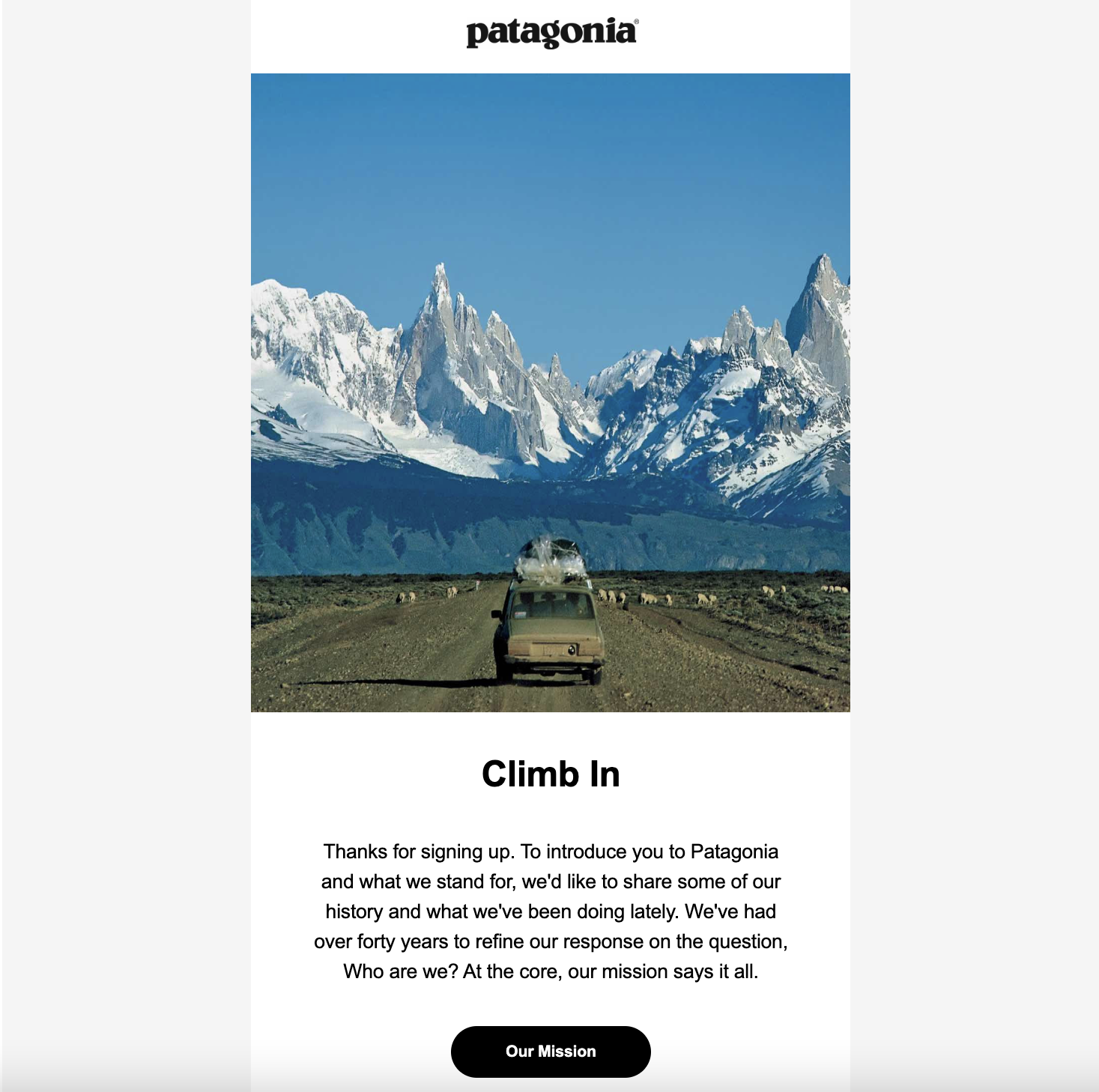 Patagonia is all about outdoor life.
So it makes sense that Patagonia's welcome email sells you exactly that. In fact, the entire email body is a series of gorgeous landscapes, rather than any of their actual product images.
This approach comes from a place of confidence, because the name is enough to sell the brand without needing to force anything within the email design.
As a welcome email you truly want to scroll all the way through, Patagonia seeks to inspire possibilities in terms of travel and exploration. It hits the brief right on the head.
Hotel Chocolat

In any marketing or advertising exercise, you need to think about what you want people to do in response to seeing it.
Hotel Chocolat have made it abundantly clear that they want their welcome email to make you crave chocolate. Like now.
Similar to when microphones are placed next to chocolate being cut open on TV demonstrations, this welcome email is pure torture, because you can taste every bite. That's exactly what you want when advertising chocolate, by the way!
The only way to get what you want is to…buy some Hotel Chocolat products. Hence, a winning email marketing strategy is born.
Opting for a long body email is always a risk in a welcome email. But Hotel Chocolat has used the template carefully to introduce the brand and their products in a really tangible way.
This content writer now needs to stop for tea and chocolate before continuing onto the next welcome email example. ☕️ 🍫 *Ahem*.
Magnet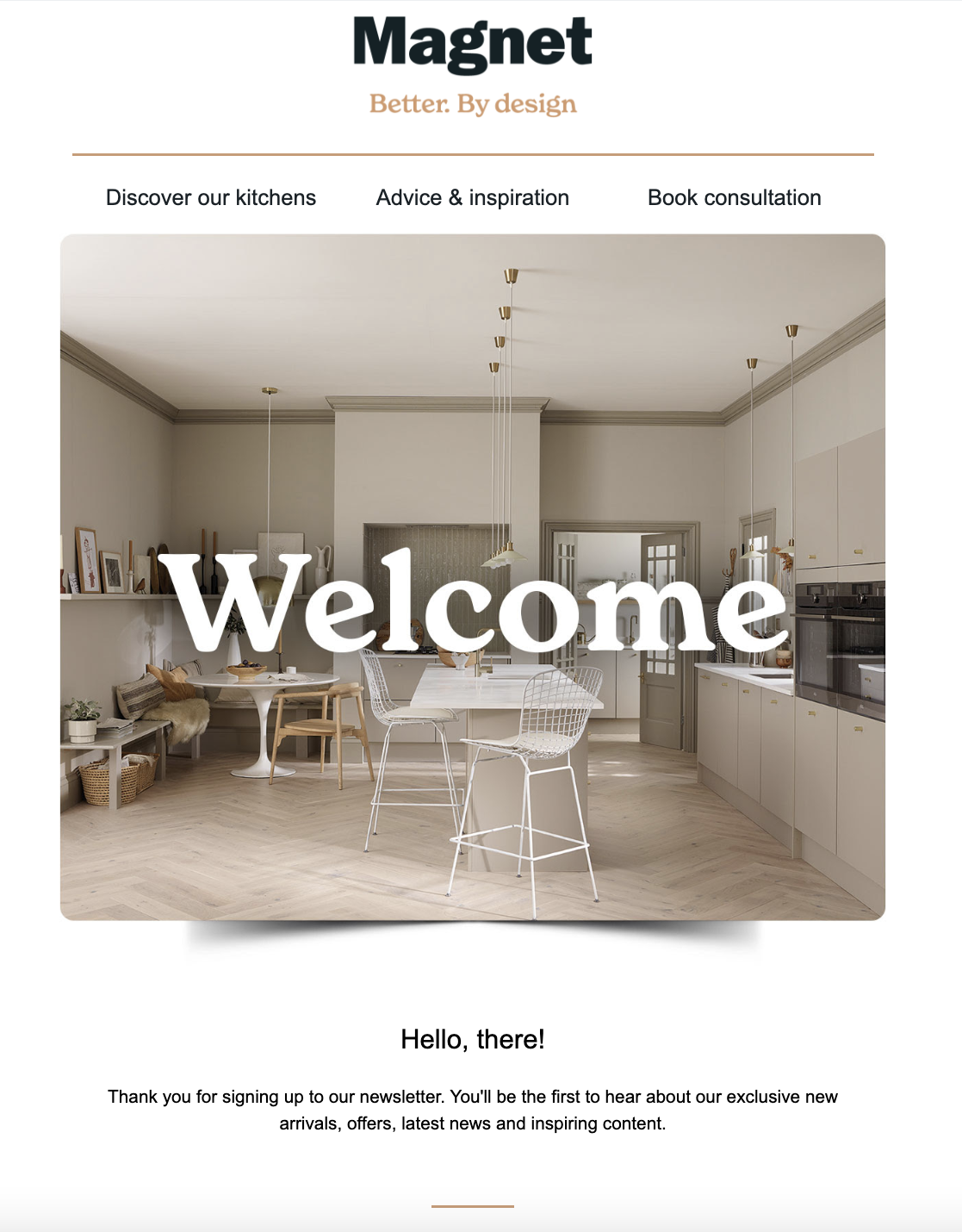 Just ask Russell, our Sales Engineer here at GoSquared what the kitchen buying process looks like. Namely, the chaos it brings when you actually get going. He's very thankful for the invention of the air fryer at this point.
Aside from the stress, buying a kitchen is also expensive, and in summary is a really big decision.
In their welcome email example, Magnet gives you a (hopeful) glimpse of what the end result could look like if you persevere.
All without screaming at you to buy. Which, by the way, is exactly what you don't need given the world of kitchens can involve a very pushy sales process.
The included links are also simple: Do you want to discover their kitchens, get inspiration or book a consultation?
The tone of the email feels friendly yet relaxed. It makes you want to pour yourself a cup of tea and get browsing their products, comfortably at your own pace.
Domino's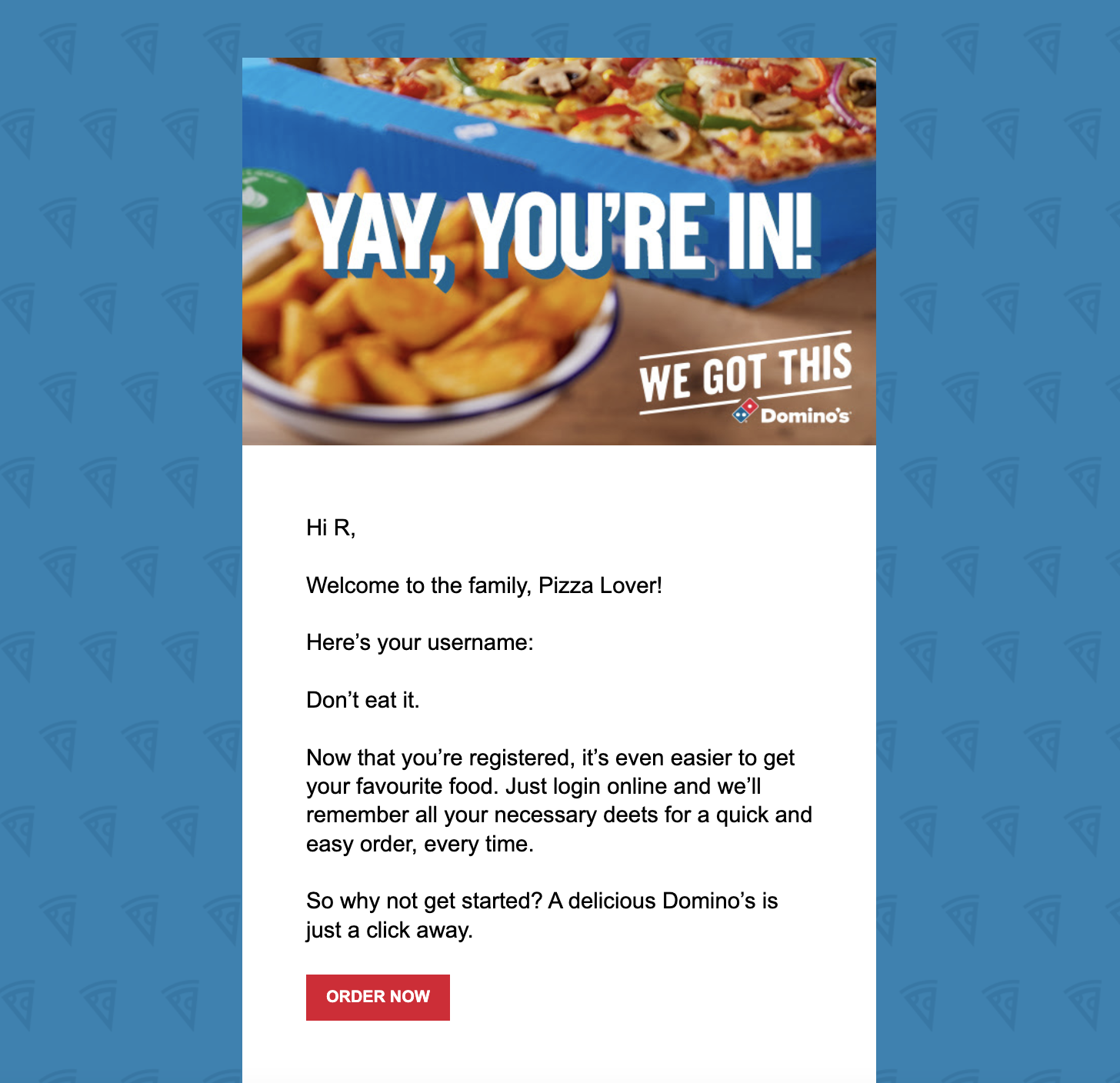 You'll be ordering a fair few pizzas while that kitchen is being installed.
Domino's have long been known for their red and blue colour scheme, which is actually a tricky colour combination to work with.
So the focus for their welcome email is more the creative text.
Exhibit A: You're asked not to eat your own email address.
Email might be worth $8.5bn to the global economy, but that still doesn't make it edible!
As far as welcome email examples go, this is one to replicate when you just want to get straight to the point. Also, when extensive images and features don't really fit what you're going for.
In a previous post about welcome emails, we also commented how McDonald's has a similar minimal vibe.
Lululemon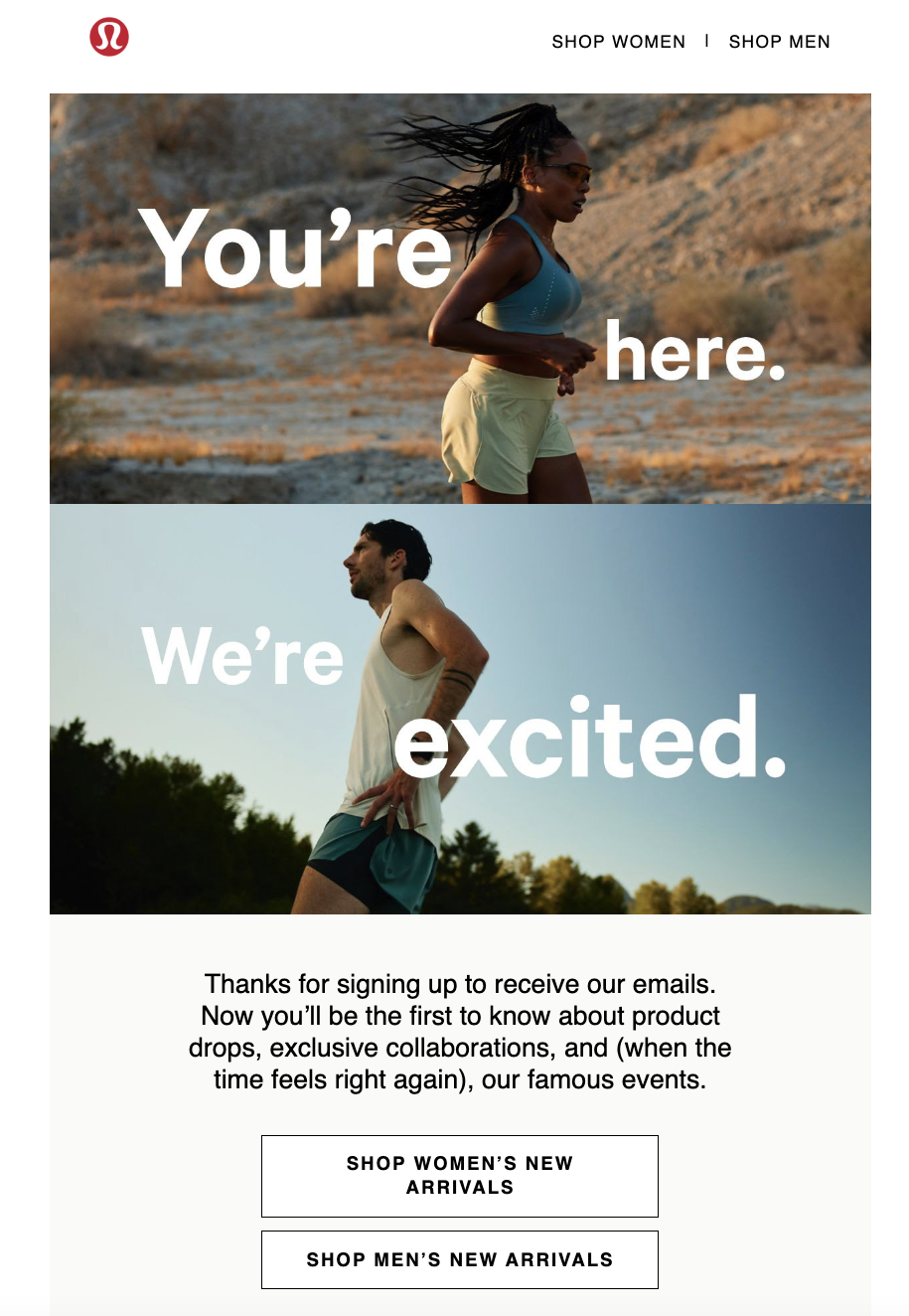 It might not be a coincidence that Lululemon leisurewear features right after our Domino's welcome email example.
As Lululemon tells us, we're here, and they're 'excited'. You definitely read that opening graphic in a Californian accent, didn't you?
Lululemon manage to welcome us, coincidently without mentioning the word 'welcome'.
We definitely welcome the creativity where the copy is concerned. But maybe not the spin class needed to burn off the aforementioned Domino's. 🚴‍♀️ 🏋️‍♂️
An interesting feature of this welcome email is that it is yet another brand aimed at the more premium market. So once again, the overall design and features feel paired back, rather than practically begging you to purchase.
All in all, this welcome email example stays exactly on-brand. It knows who it's speaking to, and what it needs to do. In doing so, Lululemon perfectly captures its target audience.
Rituals

All that welcoming new subscribers via email has left us in need of some spa time.
Based in Europe but with a Japanese influence, Rituals differs from the typical ecommerce email format. Unusually, they emulate a high-end aesthetic, yet the products have a low price point.
Where Rituals succeed is through the use of original, glossy photography throughout their marketing. Their welcome email template may feel familiar in terms of retail marketing, but by the same token definitely isn't cookie-cutter.
After all, if you are proud of your products, then they should be marketed in a way which reflects this.
Any ecommerce, retail or even small business can learn a lot from this particular welcome email example.
Top Tips For Successful Welcome Emails
Make sure your email sign-up box is prominent on your website to ensure you're actually getting subscribers.
Use an email marketing platform such as GoSquared Engage to set up automatic welcome email triggers.
Take the time to consider what you want your subscribers to experience and ultimately do, ensuring the template, images and copy truly meet your aims.
Monitor the performance of welcome emails in terms of open and click-through rates. Don't hesitate to switch up anything that's just not driving results.
Create Your Own Stunning Welcome Emails With GoSquared Engage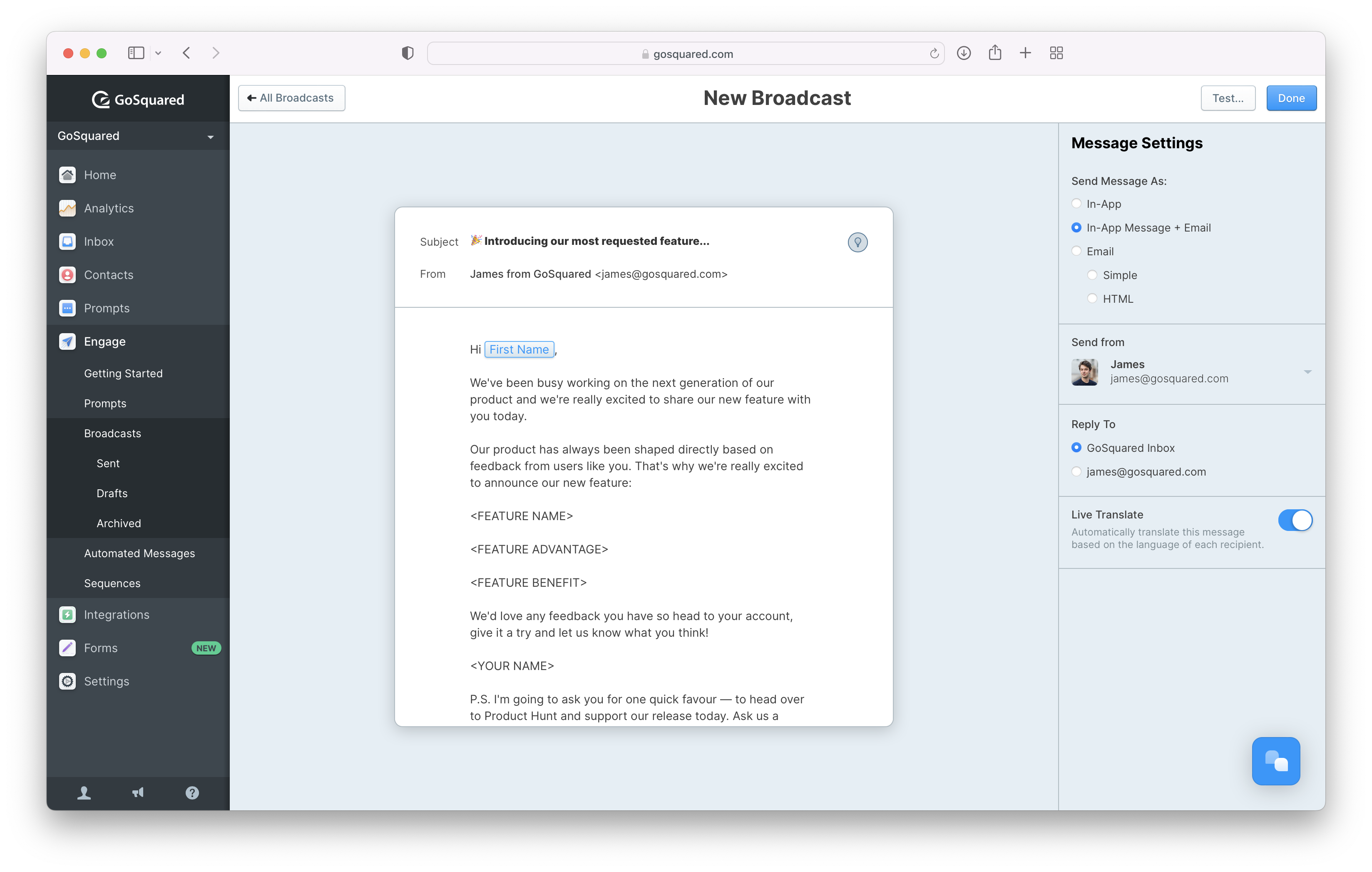 Feeling inspired by what the class of 2024 has to offer for welcome email examples?
Now it's time to make your own amazing campaigns with GoSquared Engage!
As an all-in-one customer engagement platform, GoSquared Engage makes welcome emails, abandoned cart emails, promotional emails, newsletters and more a breeze.
With free trials on all plans, your amazing welcome email campaign is only a few clicks away.
Simply sign up to GoSquared Engage to get started.
Or, if you want to talk about your business email marketing needs with us personally, please get in touch.