In search of Mailchimp alternatives?
With email marketing generating $8.5bn for the global economy, now has never been a better time to make sure you're on board with all things email.
Likewise, ensuring that the email platform you're using is the right fit. 
Mailchimp recently announced changes to its popular free marketing plan. This has left some users searching for alternatives.
For those on paid Mailchimp plans, you may also be in search of a cheaper option. Or simply an email marketing platform which offers different features. 
Whatever the reason you're in search of an alternative to Mailchimp, here are some of the best email marketing platforms out there for your consideration.
Mailchimp: An Overview
Mailchimp is a marketing automation platform that's best associated with email marketing.
Founded 20 years ago, Mailchimp started out as an email tool aimed at small businesses. Now Mailchimp owns the largest market share in the email space, alongside the likes of Constant Contact, Campaign Monitor, Mailjet and AWeber.
As well as email newsletters, you can also build landing pages and digital ads with Mailchimp. Plus create a website, set appointments and create a social media presence.
This makes Mailchimp more of a Swiss army knife in terms of the tools it can provide across all areas of your business.
Though for anyone in search of an alternative to Mailchimp, all of the above is not always what they are looking for, or even affordable.
Mailchimp Pricing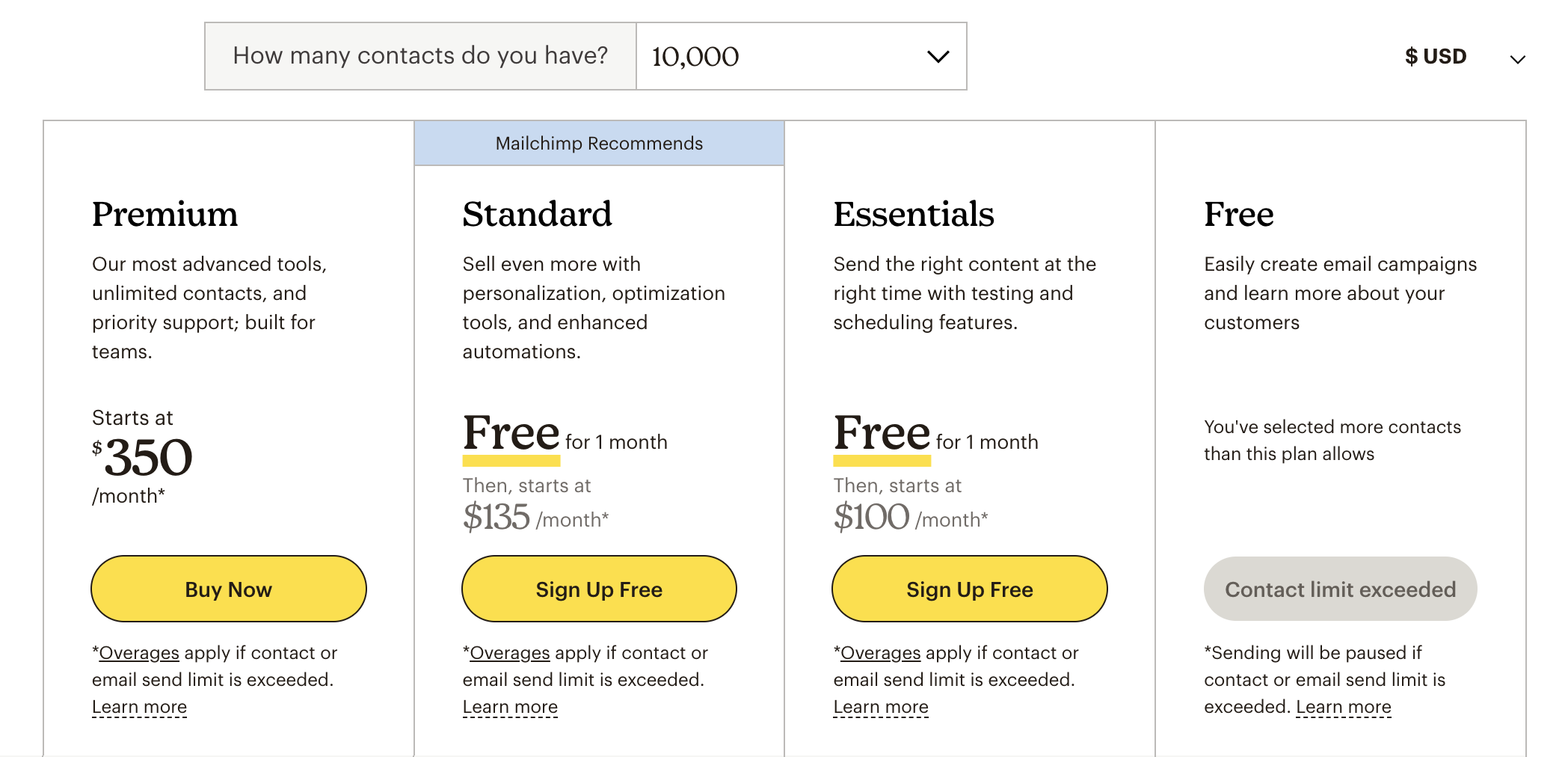 Mailchimp pricing depends on the plan you select, along with the number of contacts you have, with contact options ranging between 500 and 250,000+ contacts.
The cheapest Mailchimp paid plan is for 500 contacts and costs $13 per month. However, once you grow your email list, you'll need to upgrade your subscription.
Based on a 10,000 user contact list, plans range from $100 per month to $350 per month.
At the top end of the scale, plans for contact lists with 200,000 or more contacts start at $1,510 per month. Granted, few lists will reach this size, but it's still worth thinking about depending on the growth rate of your list.
Mailchimp Free Plan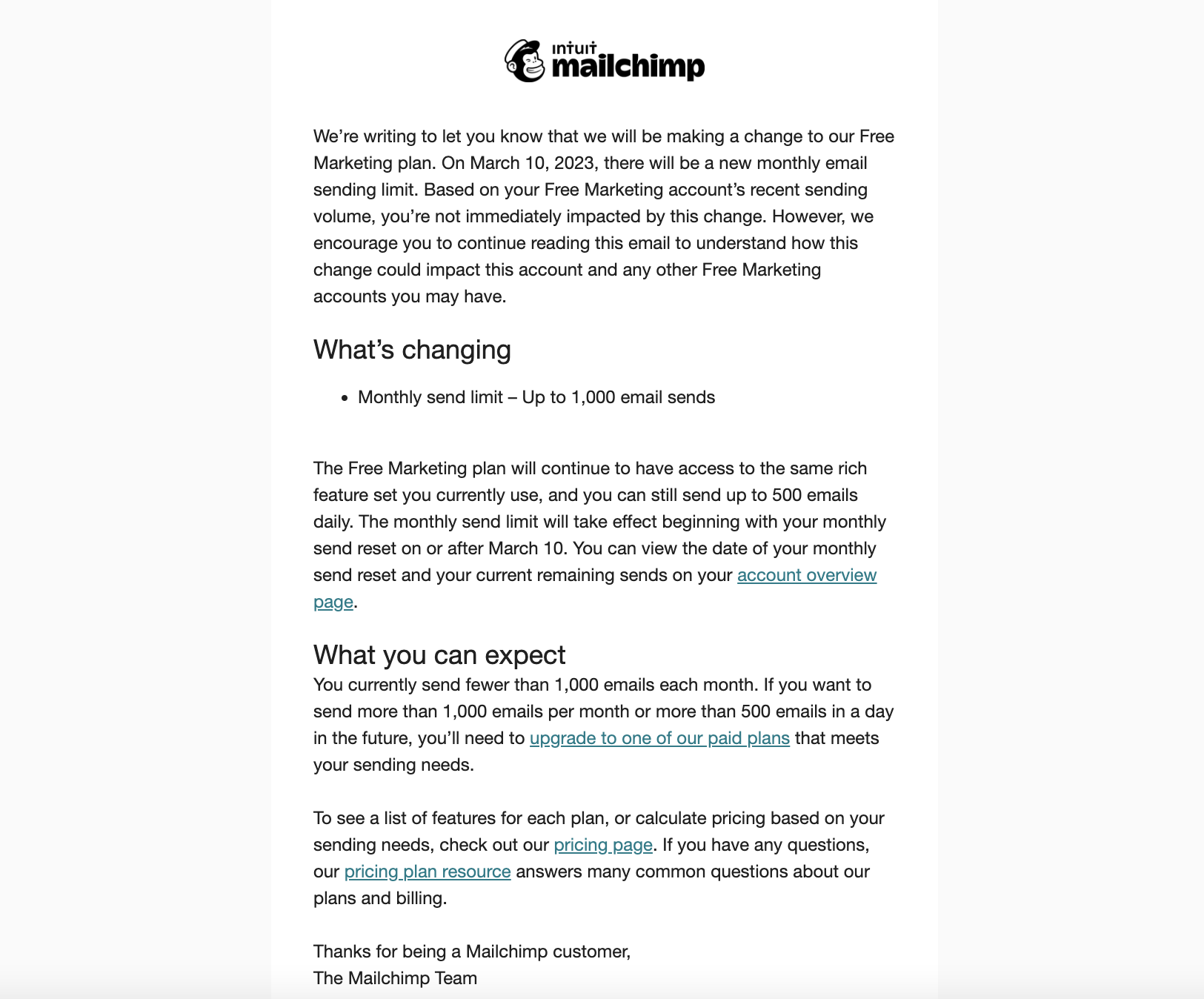 A free plan also exists for businesses with up to 500 contacts. Though, features are severely limited compared with any of the paid Mailchimp plans. 
As noted above, restrictions to the free Mailchimp plan were announced in February 2023.
Mailchimp have now introduced a monthly send limit to 1,000 email sends.

On the free Mailchimp plan, you'll get:
1 seat
Email support for 30 days
Pre-built email templates
300+ integrations
Basic reporting + analytics
Forms + landing pages
Creative assistant
That said, the free plan does not include 16 other key features such as segmentation, A/B testing or email scheduling.
Why Look For Mailchimp Alternatives?
As a business, email marketing campaigns are a big part of how you communicate with your customers and keep them engaged. So it's fair to say that if any aspect isn't being fulfilled by Mailchimp then you'll be in search of another option.
In August 2022, Mailchimp announced its CEO would be stepping down after 21 years at the helm. Huge company changes don't necessarily mean the product itself is changing too. But, coupled with some widespread news reports about data breaches, businesses may consider whether Mailchimp is still the right fit. 
Let's also not forget the pricing of Mailchimp, which similar to HubSpot can be too expensive for most businesses to justify, especially those with larger contact lists.
Even for those starting out, if you have above 500 contacts, or need access to the full range of features of a premium account, Mailchimp may prove too costly. 
Free Mailchimp Alternative – EcoSend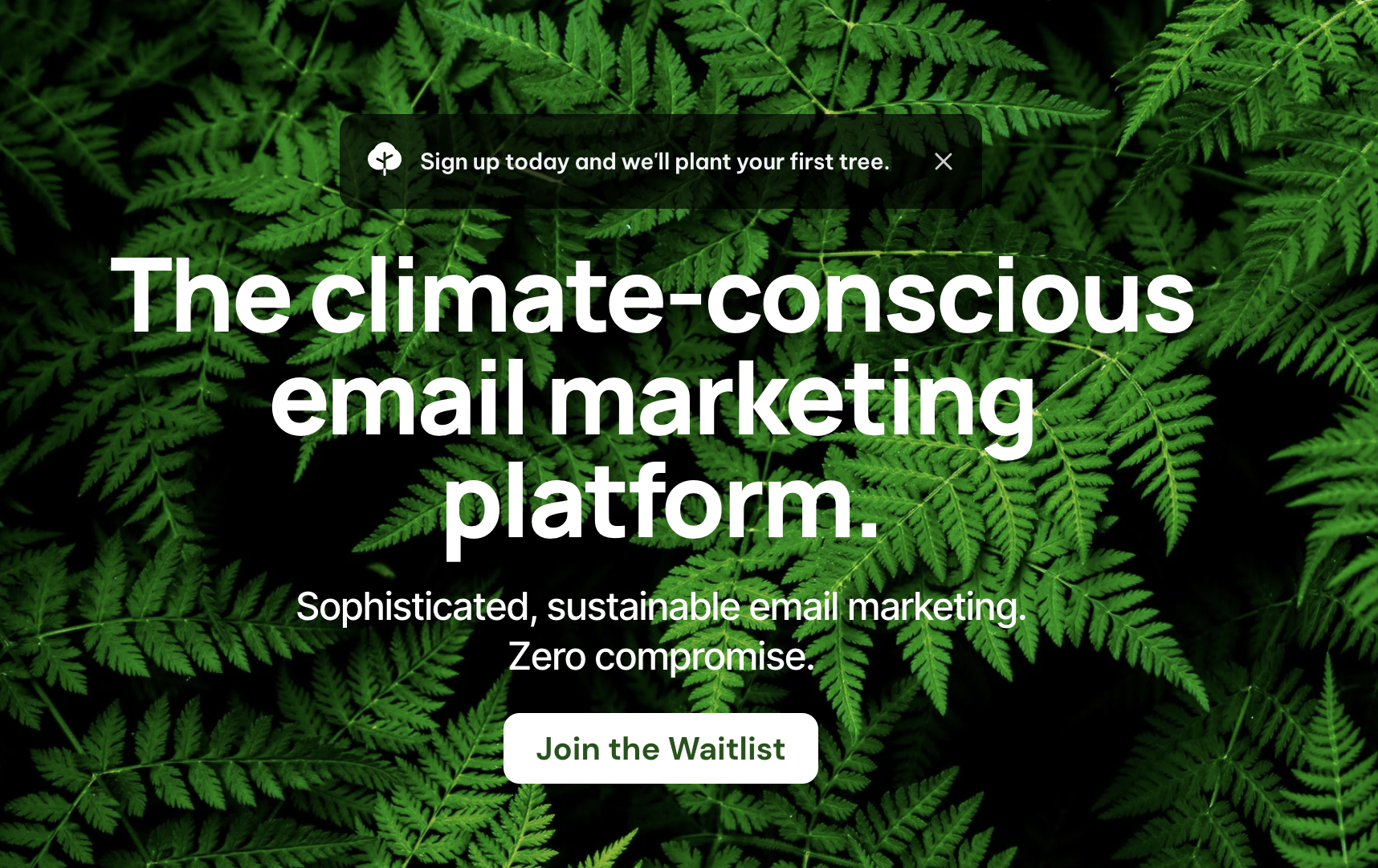 What if we told you an amazing (starting from) free Mailchimp alternative existed, that could also help reduce carbon emissions?
EcoSend by GoSquared is that tool. In short, EcoSend isn't just good for the planet, but for your email marketing campaigns too.
As the founders of GoSquared, we've been in the email marketing space since 2006. So, we've packed in endless features to send better, tailored email marketing campaigns. From subject line ideas to segmentation, app integrations and the ability to import templates – it's all there with EcoSend!
We'll plant trees on your behalf just for using us. We even have an affiliate marketing scheme that could be a fantastic side hustle idea for any budding entrepreneurs reading.
Most of all, we've built EcoSend with businesses like yours in mind. The price of our email automation packages is a direct reflection of this, with something for everyone.
We have a free plan along with three paid plans.
✉️ ➡️ Claim my free trial of EcoSend
EcoSend pricing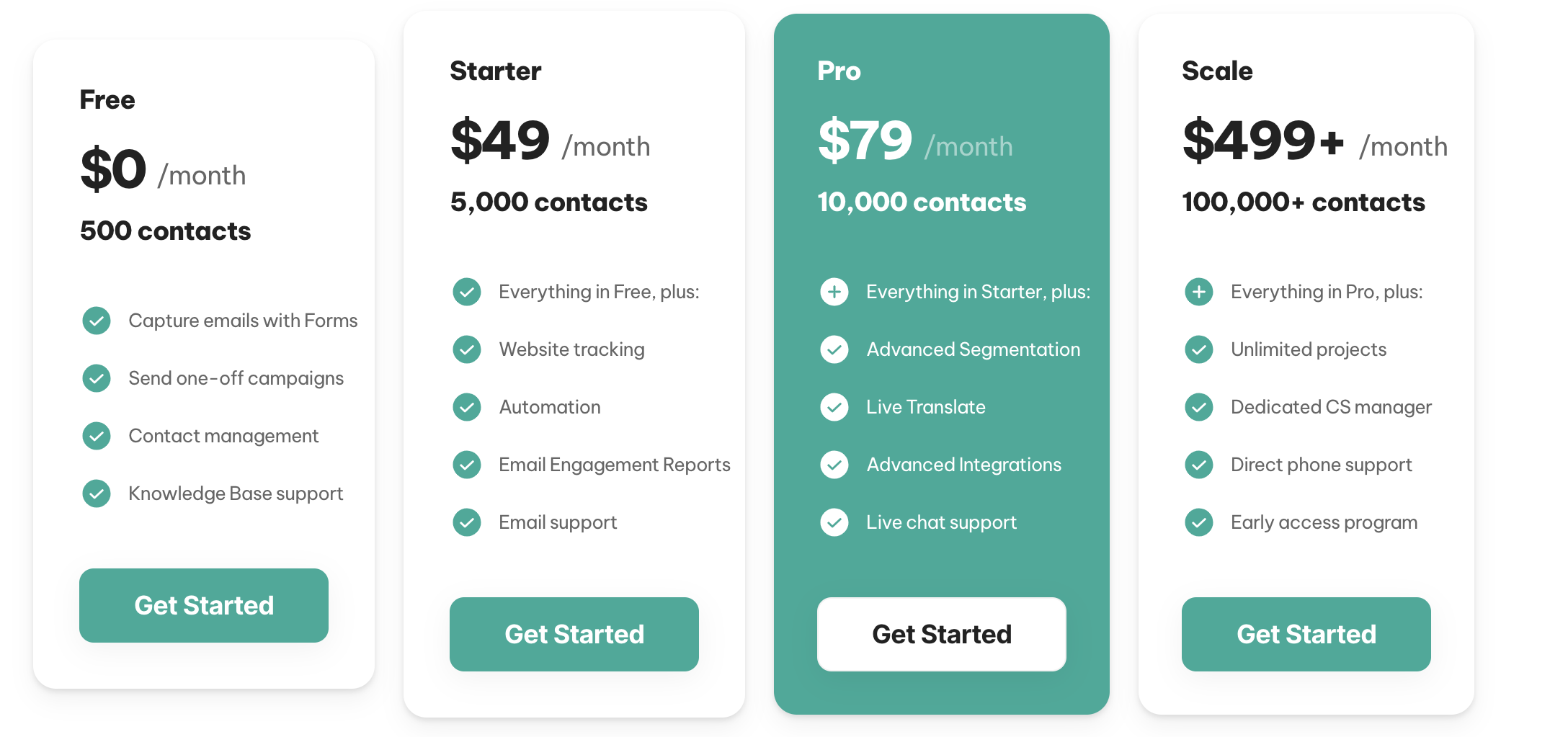 EcoSend has a free plan for up to 500 contacts.
EcoSend paid plans start at $49 per month for 5,000 contacts.
We're proud to have built one of the few Mailchimp alternatives that can actually deliver a similar scale of product, with packages running up to 100,000 contacts and above.
The highest tier package starts at $499, though a HubSpot Marketing Hub Enterprise package for the same number of contacts starts at $3,600 per month.
So in contrast, EcoSend is much cheaper, packs in a fantastic number of features and will also boost your business's green credentials. 
GoSquared Engage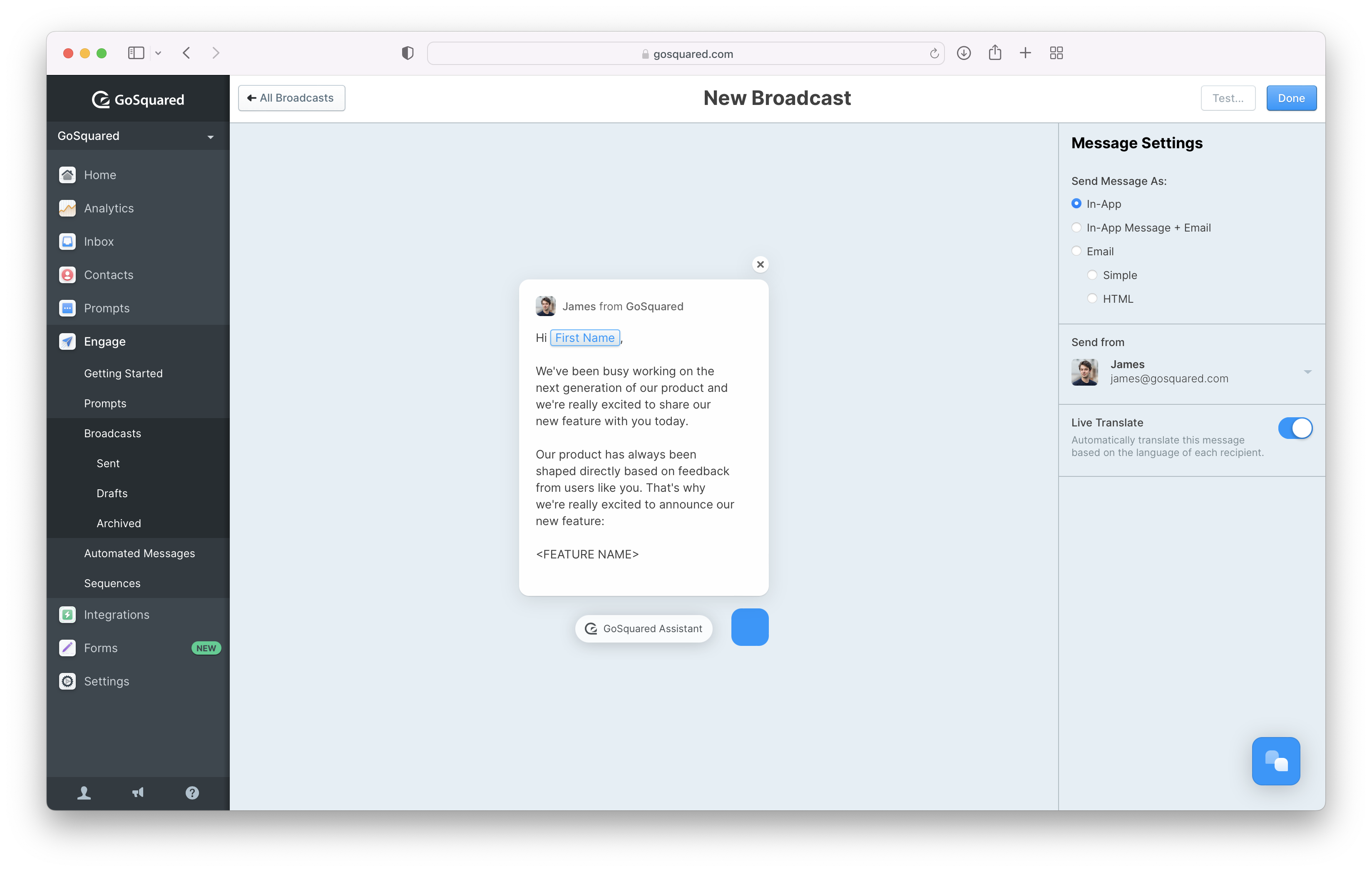 Our original core produce is GoSquared Engage.
GoSquared Engaged has helped companies across the globe send more intelligent email marketing campaigns.
Audience segmentation is a huge focus of GoSquared Engage. That's because, research has shown that the more you communicate with your audience (especially if you over communicate), the less you are actually engaging with them.
In contrast, GoSquared Engage helps to identify leads in a more intuitive way, so that you can send fewer emails that actually hit it out of the park. 
It's also possible to integrate various tools with GoSquared, coincidentally including Mailchimp.
This is only scratching the surface of what GoSquared Engage can do.
For any business ready to grow their email list, and maximise their ROI on email marketing, GoSquared Engage is a trusted tool to try.
GoSquared Engage Pricing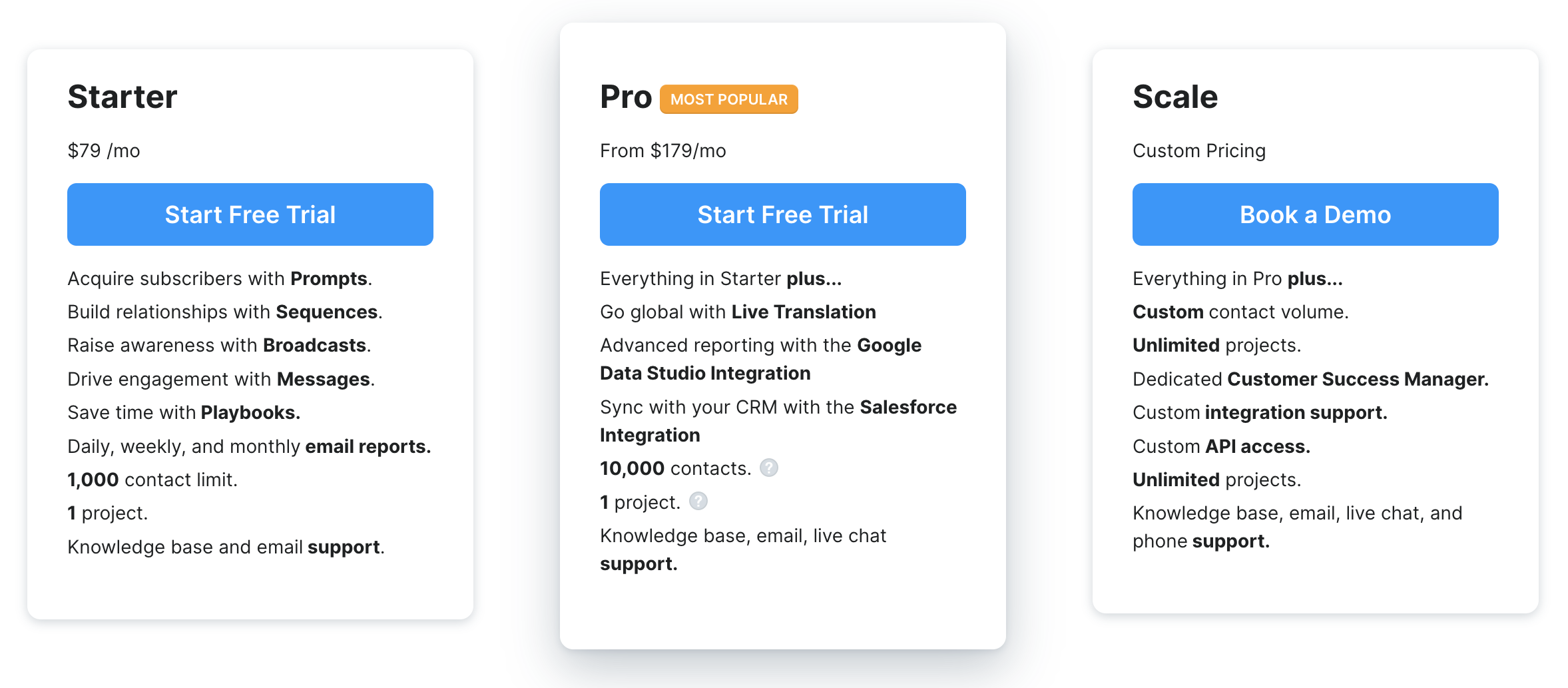 GoSquared Engage starts at $79 per month. Each package has a vast range of features to help you scale your business.
So if you're looking for something more advanced than the free Mailchimp plan, you're definitely in the right place. More features = more ways to grow your audience and ultimately, your business through email.
It's also possible to try GoSquared Engage for free.
You can also hop on a call with us for a personalised demo, where we'll walk you through all the features. 
ActiveCampaign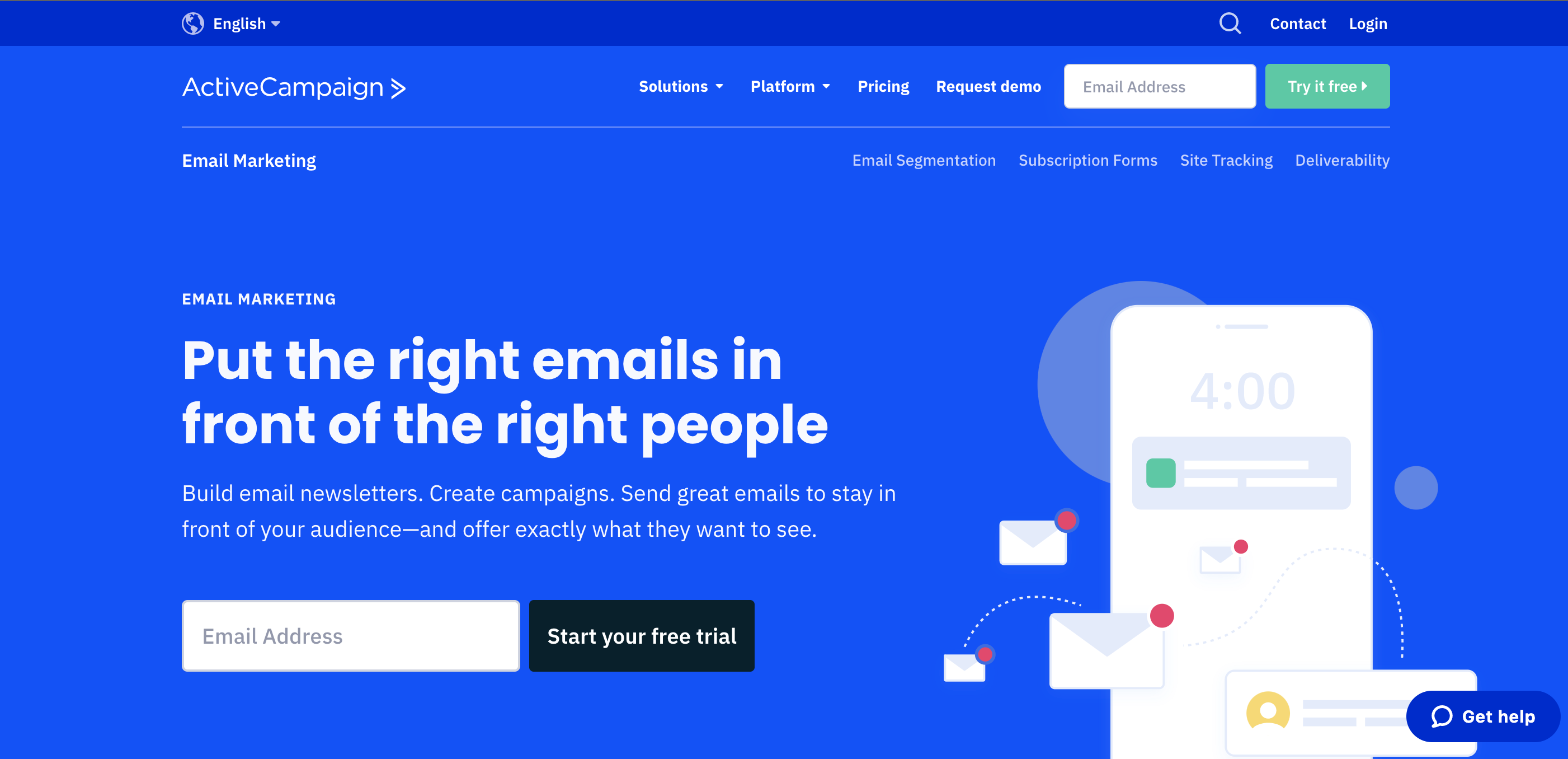 ActiveCampaign has solutions for email marketing, transactional email, marketing automation, CRM & sales automation, sales engagement along with service and support.
So, it's simply a case of picking an area that most fits your needs, which in this case would be email marketing.
For any seasoned email marketer, ActiveCampaign has endless tools to help you supercharge your customer communication. This includes the likes of multi-user editing, managed deliverability, custom data, geotracking, personalisation, social tracking and more. All of which can help improve open rates and segment user lists.
But as with Mailchimp, ActiveCampaign can become too costly, and even too complicated for your needs, depending on where you're at with your business.
At the very least, trying a monthly package first can help you decide whether or not ActiveCampaign is the right fit for your needs before committing. 
Read more: 5 ActiveCampaign Alternatives All Marketers Need To Know
ActiveCampaign Pricing

ActiveCampaign packages start at $29 per month on the 'Lite' plan. This cheapest ActiveCampaign plan is geared towards those just starting out with their email marketing.
Ramping things up to 10,000 contacts, and ActiveCampaign will cost anywhere between $149 month.
Switch to the 'Transactional Email' package and prices range between $15 and $1,295 per month.
SendX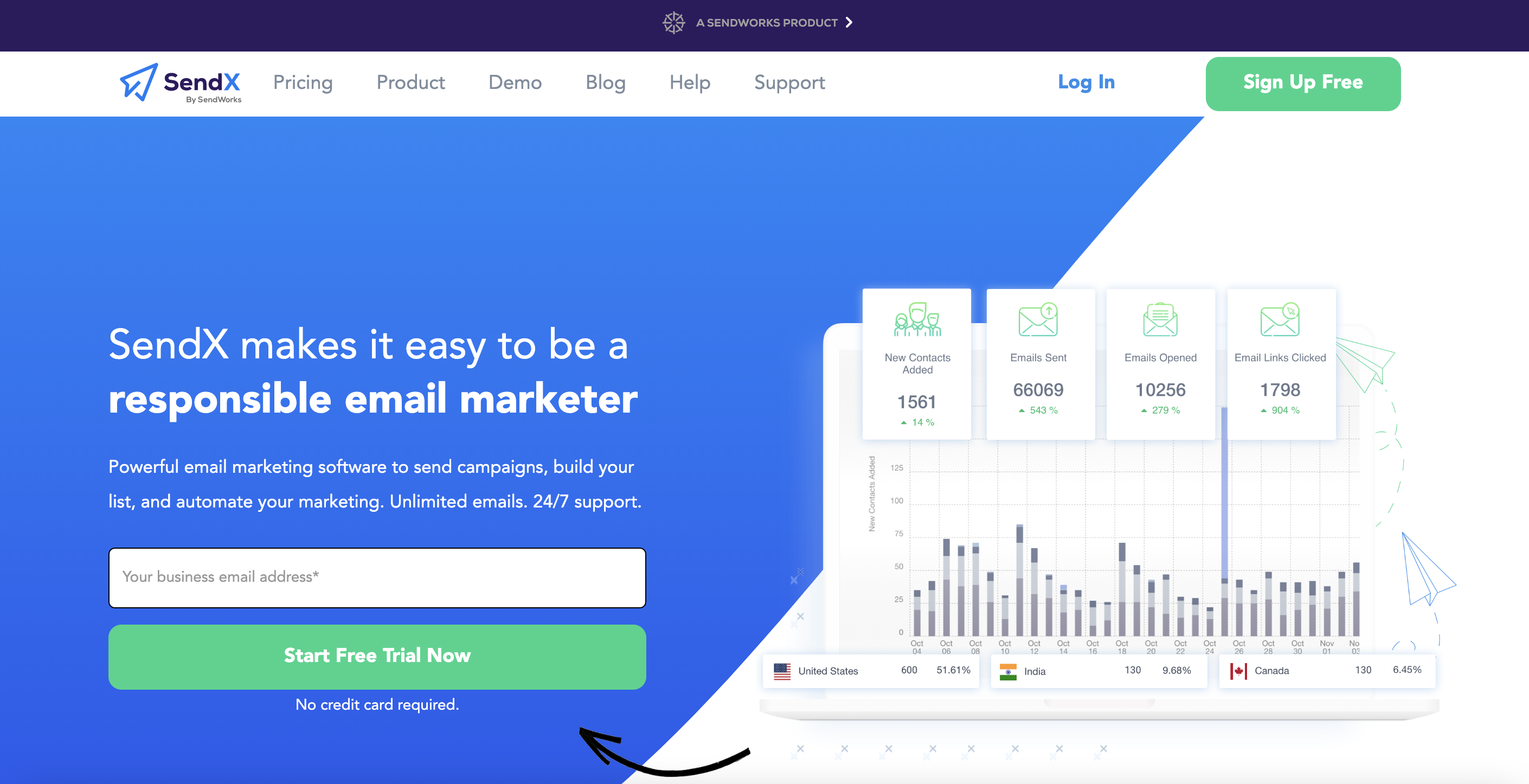 For those with a very small number of contacts, SendX is another Mailchimp alternative that could be a better fit for where you're at now. It has packages based on 1-15,000 subscribers, which is far less than most other providers, but perhaps ideal for startups or side hustles.
The range of features SendX offers includes unlimited email sends, email drip campaigns, drag & drop editor, A/B split testing, deliverability booster, email web forms, page targeting, Custom HTML & CSS, segmentation and more.
A huge pro is that you can get to grips with all these different features if you're moving up from Mailchimp's free plan. Yet by the same token, you don't have to commit to an extremely expensive subscription by making the leap.
However, should your subscriber count max out the 15,000 limit, you'll need to find yet another Mailchimp alternative. 
SendX Pricing

SendX starts at $7.49 per month for up to 1,000 contacts if you commit to an annual package.
The most expensive package SendX is the 10,001 – 15,000 subscriber package, costing $79 per month, or $59 per month for the annual package. 
SendX offers a free 14 day trial. 
HubSpot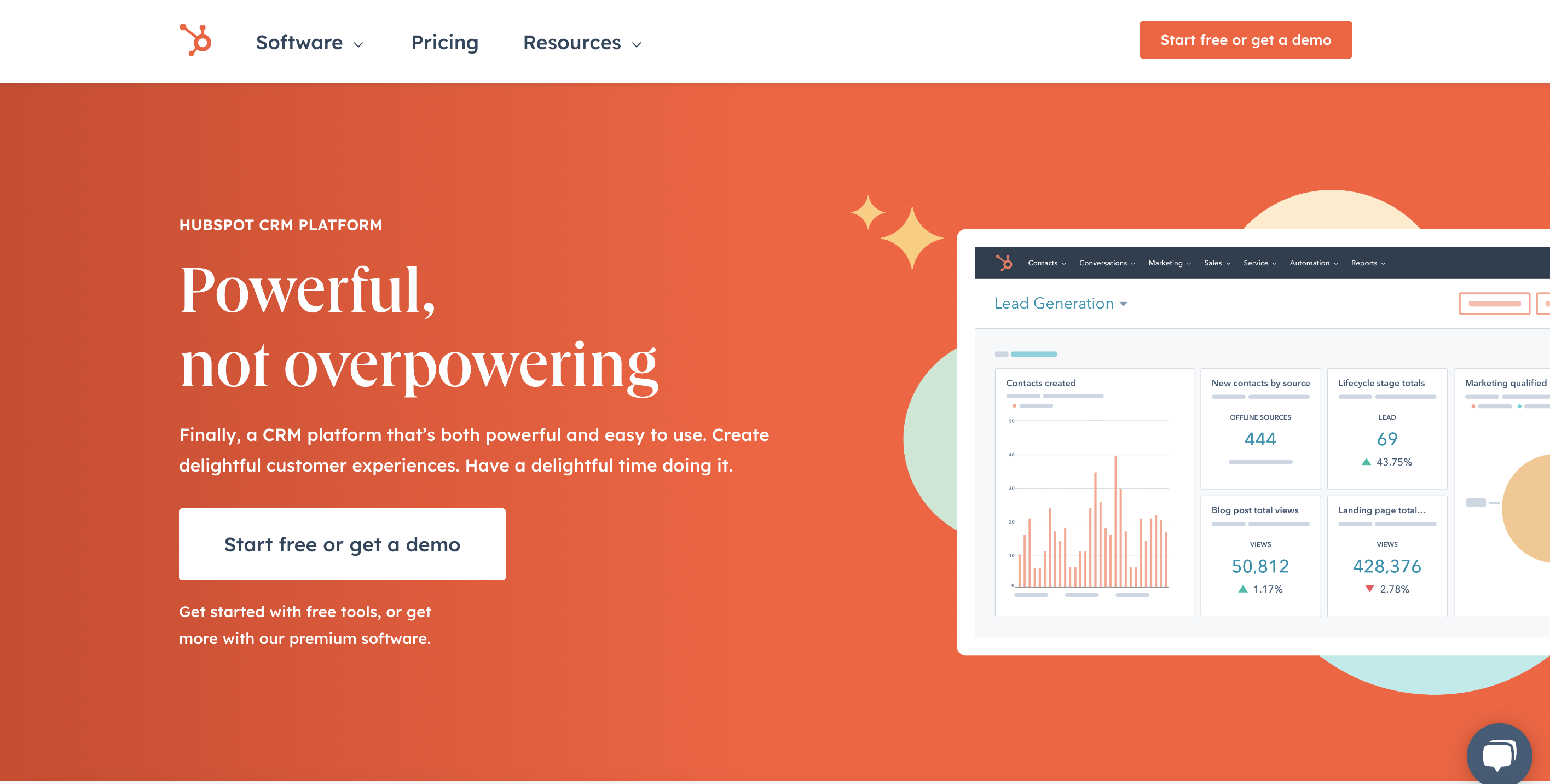 It's impossible to write a post detailing alternatives to Mailchimp without mentioning one of the biggest players on the market, HubSpot.
Like with Mailchimp, it's possible to pretty much do it all with HubSpot. It has plans for marketing, sales, customer service, CMS and operations.
Though, it's fair to say that HubSpot really is designed for larger organisations or marketing experts. This is due both to the complexity of the tools available along with its steep pricing model. 
Something that HubSpot does incredibly well is provide helpful resources across marketing, and email marketing is no exception. So if you're able to dedicate the time to study these, it will definitely boost your overall strategy.
HubSpot Pricing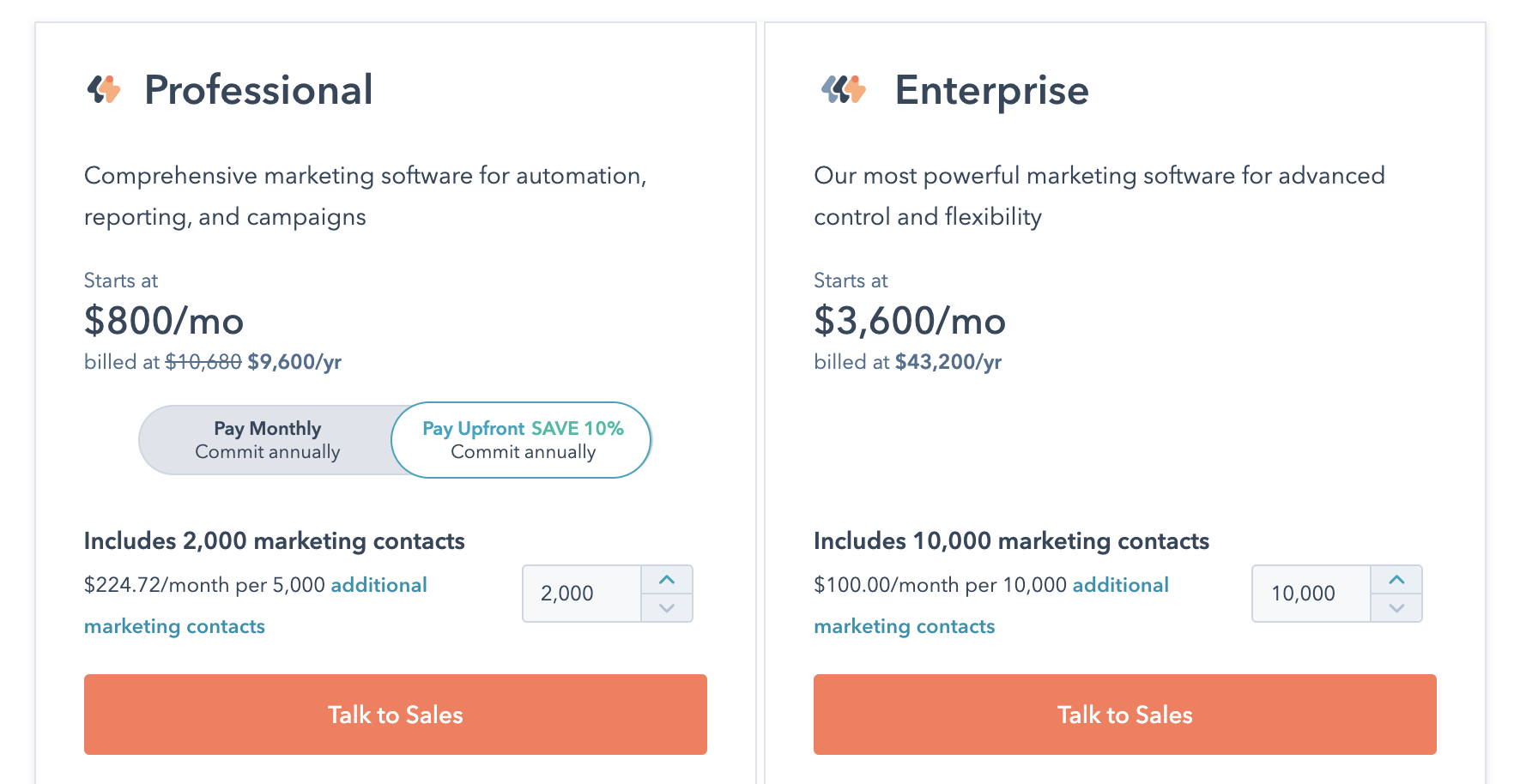 There are several HubSpot price plans available, depending on the services you need.
Focusing on the Marketing Hub, a 'Professional' package starts at $800 per month. Upgrade to 'Enterprise' and this will cost a whopping $3,600 per month – this makes HubSpot one of the most expensive email marketing tools out there.
That said, for larger businesses who can absorb the cost because they need the features that HubSpot provides, price won't be the determining factor.
Enjoying this post so far? Sign up for the free GoSquared newsletter, and we'll send you even more helpful content like this right to your inbox! 
What To Consider Before Choosing An Email Marketing Platform
How many contacts do I have, and how will this figure change in the near future?
What features will most help me achieve my goals? For instance, audience segmentation, A/B testing, personalised sequencing etc.
What is the general reputation of the company? Do they have great customer service I can contact easily whenever I need to?
What experience does the platform have in businesses of my size or niche? Will they be able to cater to my specific needs?
Will the features provide the best experience for users, and reflect my business in the best possible light? (Aspects such as design features, excellent security measures etc.) 
How much does each tier cost, and can I scale up or down as needed? 
Read more: How To Choose The Best Email Marketing Platform In 2023
Mailchimp Alternatives FAQs
We've answered some of the most common questions about Mailchimp alternatives below.
If you have any further questions, including if you're looking for a customised solution for your business, then feel free to reach out to us. 
How To Migrate From Mailchimp
If you're planning on joining us here at GoSquared, we've created a handy document running you through each step of Mailchimp migration.
Need any further assistance, or thinking of migrating from a different platform? Reach out to us at any time and our team will be able to provide further help.
What Is Mailchimp Used For?
Although it now offers lots of services, Mailchimp is primarily used for creating email marketing campaigns. The key aspects Mailchimp offers relating to emails include email templates, segmentation, automation, analytics and AI.
How To Create A Newsletter In Mailchimp
With a paid subscription, it's possible to build a stunning array of newsletters in Mailchimp, by accessing the Campaign tab. Other free tools exist elsewhere on the internet where you can design beautiful campaigns or email newsletters, including the free GoSquared HTML email builder.
Is Mailchimp Free To Use?
Mailchimp does indeed have a free plan. It is limited to 1 seat, 500 contacts and 2,500 monthly email sends – now 1,000 monthly email sends as of February 2023.
Only five features are available on the free plan including email support for 30 days only, pre-built email templates, basic reporting and analytics, forms and landing pages along with creative assistant. 
GoSquared – Email Marketing Automation Made Simple
If you're wanting to switch to either of our email marketing automation tools, we'd be more than happy to welcome you on board.
Reach out to us at any time to get started. It would be handy to know more about your business, including what your goals are for email marketing so we can help match you to the right product and features.
So for instance, GoSquared Engage is a great all-around customer engagement tool.
But, if you're interested in a sustainable email marketing tool that's packed full of features, EcoSend by GoSquared is just the ticket. 
For anything else, you can find the GoSquared team over on Twitter. Be sure to give us a follow, and let us know if you have any other Mailchimp alternatives to add to our list.