Want more email subscribers?
It's a simple fact that the more subscribers you have on your mailing list, the easier it will be to get results from your campaigns, especially if you add segmentation into the mix.
But as you probably know if you're reading this post, getting said email subscribers isn't always so easy. Often, a lack of visibility means your customers simply don't know you have an email newsletter.
So now is the time to shout about it from the rooftops! Or get Tom Cruise to jump on a sofa if your marketing budget will stretch that far.
If you don't know where to start, never fear as here at GoSquared, email marketing is what we do best. So here are our 5 top tips to get more email subscribers in 2023 and beyond to help you reach success. 
First: The #1 Thing You Should Never Do To Get More Email Subscribers
Hear us loud and clear when we say you should never obtain email addresses through unethical means. Namely through buying or renting email lists which can land your business in a whole heap of trouble.
It's not just data protection and potential fines to worry about either with bought email lists. That's because if users haven't agreed they want to hear from you, they are very unlikely to engage with any emails they do send them, making the whole idea not only risky legally but pointless too.
While building up your email list can seem tough, if you use the right techniques success awaits. Better still by gaining subscribers through legitimate means, your open rates, engagement rates and ultimately your conversion rates will be higher.
Lead Magnets
Nobody is going to hand over their email just like that. Instead, you need to sweeten the deal with a good old-fashioned lead magnet.
Lead magnets come in many forms, but the best ones are always going to be what aligns with your audience demographic. Perhaps that's a free guide, an ebook or even some complimentary graphics – it's up to you to figure that part out. But get it right, and you can ask people to sign up for your mailing list in exchange for the goods.
What's nice about a lead magnet is that it generates value in the eyes of your subscribers. If that lead magnet happens to be really informative, and the emails you send are equally helpful, you can expect better loyalty in the long run.
Subscriber Pop-Ups On Your Website
If users are spending a considerable amount of time on your website, it's likely they are very interested in what you have to offer. So why leave it at that, especially if they could exit never to return again?
Create a pop-up that will appear on your website after a specific duration of browse time has passed. Ask users if they'd like to subscribe to keep in touch, and consider offering an incentive to do so, such as a discount on your products or services.
Waiting to allow the pop-up to appear isn't a coincidence either. That's because if pop-ups appear instantly when you click on a page, well your natural instinct is to click off whatever it is. So allow the proverbial tea to brew first before you offer them a biscuit if you catch our drift.
Competitions
Competitions have an incredible ROI because well, everyone likes to win stuff.
Doing competitions right is about maximising the benefit for your business. On social media, this may mean getting as many likes, shares, clicks and engagements as possible. But stipulating that to enter, users have to sign up to your mailing list creates an ongoing benefit that over the longer term, could prove to be very lucrative.
To avoid spam entries, you could also add an extra step which involves confirming the email to enter. This also makes sure that users want to hear from you, and that they definitely want to sign up for your newsletter.
Website Footer Signup Forms
People always forget about their website footer! When in reality, your footer is just as important as your website header. No really – it is the last thing people will see when they scroll to the bottom of your page, often right before they click off your website. So make sure you are putting your website footer to the best use here.
There are many things that can be added to a website footer. For SEO purposes, this may include your business name, some brief navigational elements as well as your location.
Adding in a box where people can sign up for your newsletter adds the cherry on top of your marketing strategy.
Ask Nicely
If you've ever read the GoSquared blog before, you may notice we do politely ask if you'll subscribe to our weekly newsletter.
There's no time like the present to add a link right here where you can do just that.
Quite simply, if you want to get more email subscribers, then you need to approach your plan from multiple angles. After all, what if someone missed your website popup, or didn't see your competition on social media?
Embedding a signup link into relevant pages or blogs creates yet more chances your email list will gain subscribers. Plus, because you're directly asking, once again the user is agreeing to sign up, rather than have your email appear in their inbox with their permission.
Top Tips For Email Marketing Success
Remember that users must always agree to hearing you. Usually, this is done via a checkbox option, with a short explainer telling them by entering their email, they agree to receive your communication.
Email marketing software should be used to not only send campaigns but measure the success of each campaign.
Segmentation will allow you to send the right message to the right person at the right time, rather than sending mass email blasts to everyone.
Every email you send must have an unsubscribe feature to remain GDPR-friendly.
Never sell on your email lists, as your subscribers won't appreciate this and it will fall foul of GDPR rules.
If you are GDPR-friendly, it's always a good idea to tell users when they sign up that you won't share or sell on their details to add peace of mind.
Get creative with ideas and formats until you find your groove. ✉️ 🕺
GoSquared – Email Marketing Automation For Businesses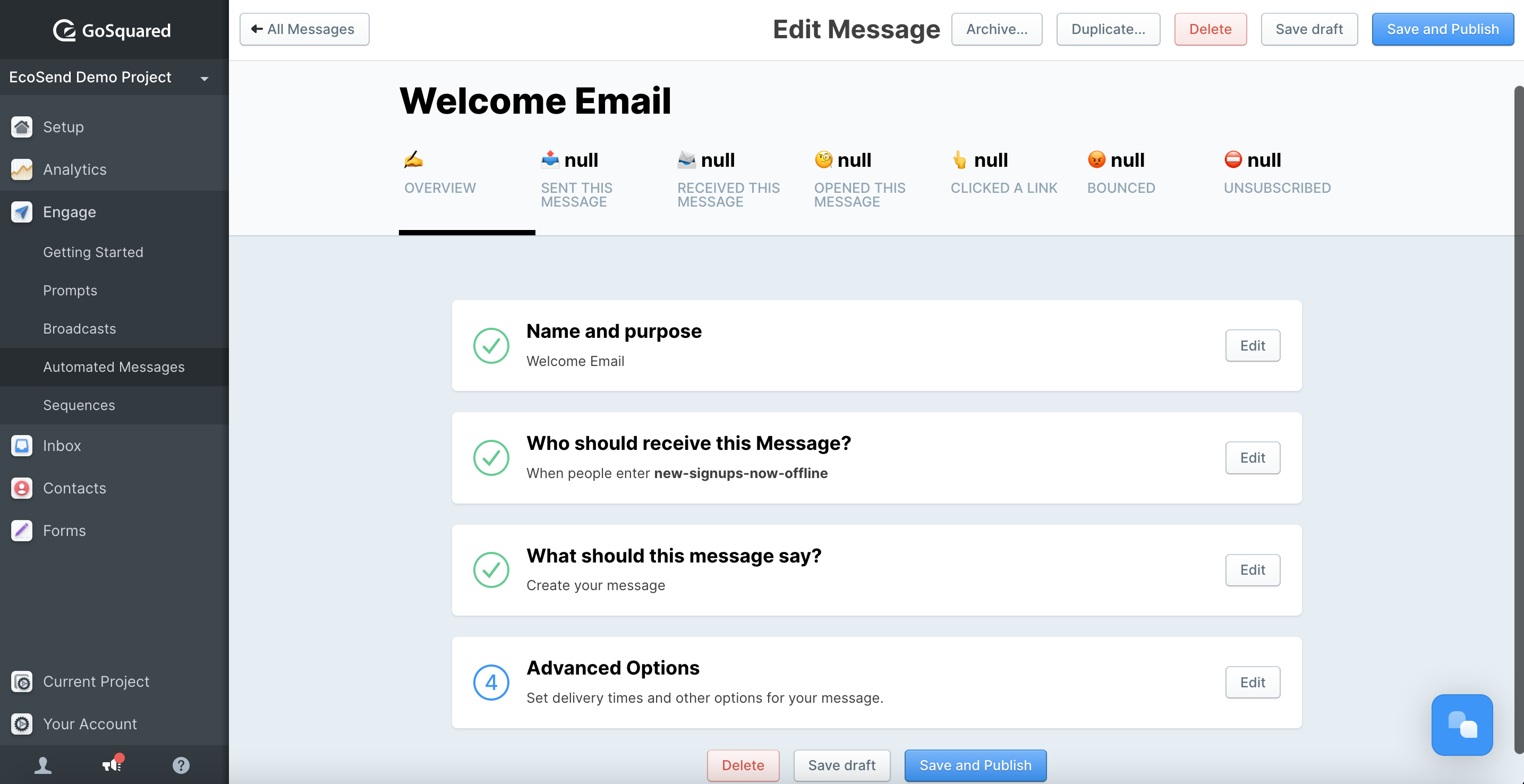 Whether you have 10 or 10 million email subscribers, GoSquared is here to take your email marketing campaigns to new heights.
Since 2006, we've helped businesses around the globe craft beautiful email campaigns. Our Engage product is here to help you do the same and contains a wealth of tools to allow you to send beautiful, GDPR-friendly email marketing and messaging campaigns.
Alternatively, our newest tool EcoSend by GoSquared is also geared towards email marketing but has a climate-conscious edge. We'll plant a tree on your behalf just for signing up!
New to all things email marketing, or in search of more information about Engage or EcoSend? Reach out to our team and we'll be right with you.