Are you looking to reduce your email marketing costs?
With email marketing offering a phenomenal ROI, generating $8.5 billion every year, email remains one of the best ways to get customers.
That said, email marketing platforms can be expensive. Add in poor marketing techniques, and your campaigns will cost even more to send.
But things don't have to be that way!
Cut your email marketing costs today with these 5 top tips.
Tip #1 – Compare Email Marketing Providers
You can't look to save money unless you know where things stand.
Therefore, your first step is to compare other providers within the email marketing space.
If you've been with your current email marketing provider for some time, you may not have the best deal going. Likewise, if you've only researched the Mailchimps and HubSpots of the marketing world, you may not know what else exists.
We know it takes time to research different email marketing providers. But even a little time spent comparing each tool can help you make a more informed decision.
After all, why put up with constant price hikes, to the point where your current package just isn't affordable anymore? 
This is a common problem with other email providers at the minute. For you the customer, this just won't do.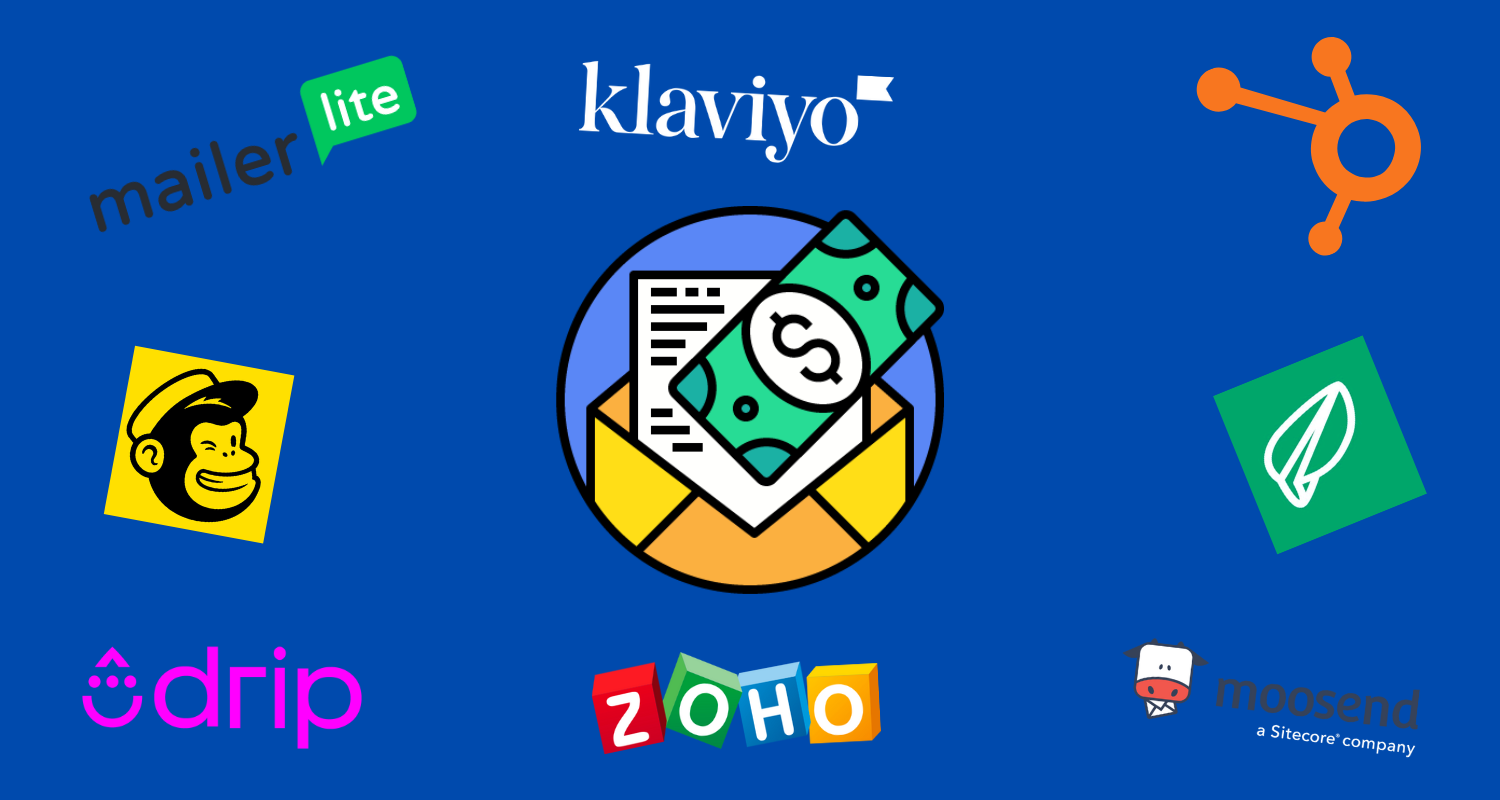 💡 Psst: Don't have time to research? We've done all the work for you for free!: Every Email Platform Ranked From Cheapest To Most Expensive In 2023
Tip #2 – Only Choose The Features You Really Need
Like with any kind of software you need to purchase for your business, it's easy to over-egg things.
The simple fact is that if you're not actively using or benefiting from certain features within your email marketing platform, you're paying too much.
To save money, you can either downgrade your subscription or stop paying for any non-essential features. 
Some examples of email marketing features you may need the most include:
A/B testing
Abandoned cart prompts
Automated messages
Contact lists
Forms
Integrations
Newsletters
Reporting
Segmentation
Templates
Before you make any final decisions, ensure a lack of product knowledge is not the real reason you aren't getting the most out of the tool.
Remember, email marketing offers a typical $36 for every $1 spent.
In addition, the email marketing industry will reach $17.9 billion by 2027, up from an expected $10.8 billion in 2023.
So if a boost in email ROI could solve the cost of your email marketing from being so expensive, some simple product education to get you there would be the cheapest solution of all!
Tip #3 – Try Free Template Builders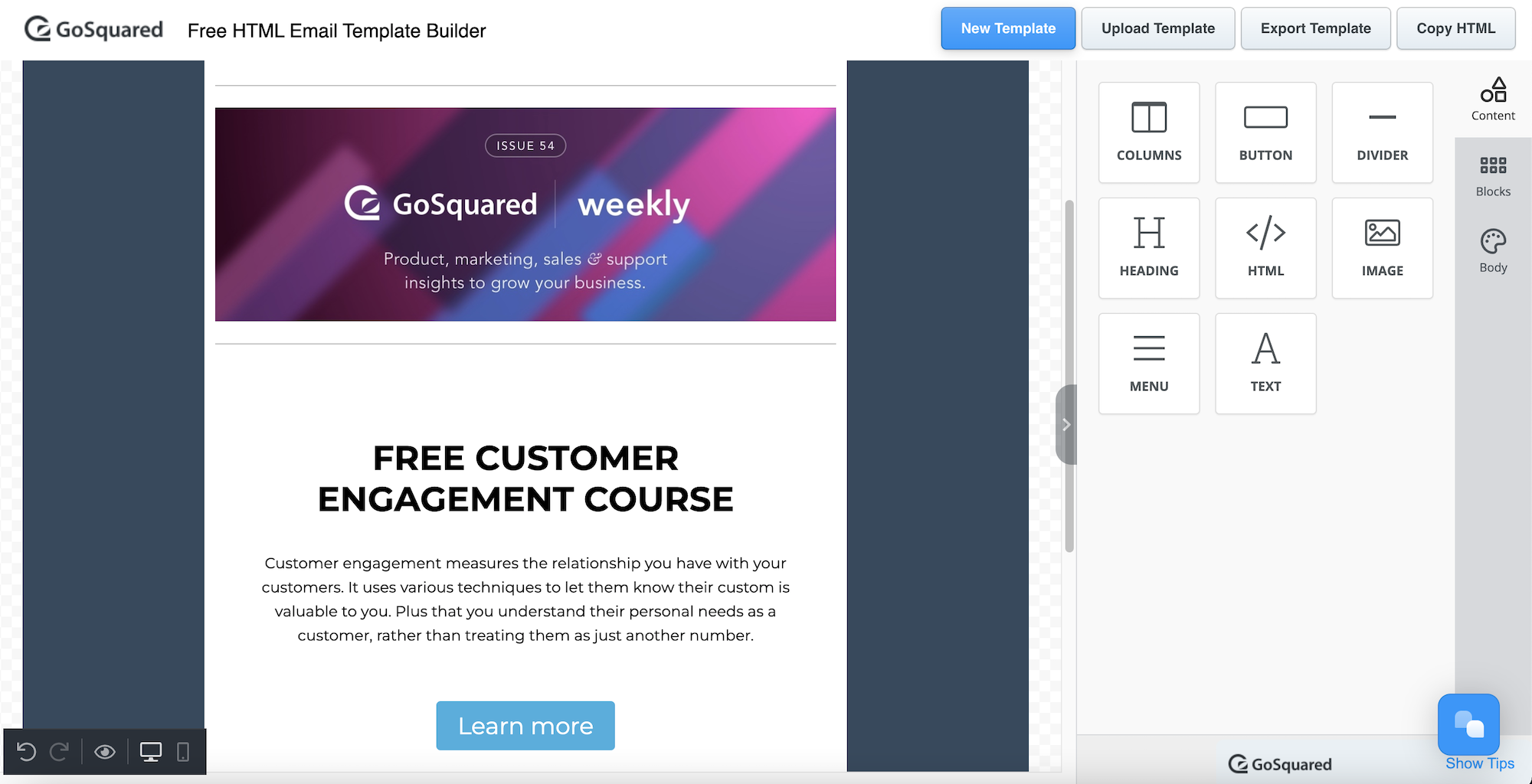 There might not be such a thing as a free lunch, but there are definitely free email template builders out there including the one we made here at GoSquared.
Other free email template builders & general tools to try:
Use free email tools to get started with your email marketing campaigns, or quit paying for costly tools that just don't make good business sense.
Are there any free email marketing platforms too you ask? Why yes there are!
Our new email marketing tool EcoSend by GoSquared has a free version, along with free trials available on all paid plans. 
Tip #4 – Segment Your Lists
How email marketing software works is that you pay for the number of contacts you have, plus the number of email sends you need.
Needless to say, sending a message to EVERY subscriber for each campaign can soon eat away at your send limits. Plus, it's going to be way more expensive to market your products and services this way.
What we know about send-to-all email blasts is that they actually don't work. Instead, A-grade marketers segment their lists by sending the right message to the right person at the right time.
Segmentation is one of the easiest ways to save money on your email marketing without having to switch providers or upgrade. It will likely earn you better conversions too!
Tip #5 – Clean Your List (Remove Inactive Contacts)
Emailing anyone who never opens your emails is pouring money down the drain.
Cleaning up your email list with a bit of email scrubbing will instantly save you cash in the email marketing department. The trouble is, nobody thinks to do it, or even realises they need to!
That's not going to be you now you've read this post. 🕺
What you need to do is go into your email marketing platform and filter out disengaged subscribers. These are going to be any contacts who haven't opened at least one email of yours in the last 6 months.
You'll send a re-engagement email just to see if they are interested in hearing from you after all. If you get nada back, those contacts need to be removed from your list.
Having a clean email list ensures only those most likely to read your emails, and also convert from email are left on your list.
All of which avoids you paying to send emails which will never provide a return on that investment. 
GoSquared – Start Your Free Trial Of Our Email Marketing Platform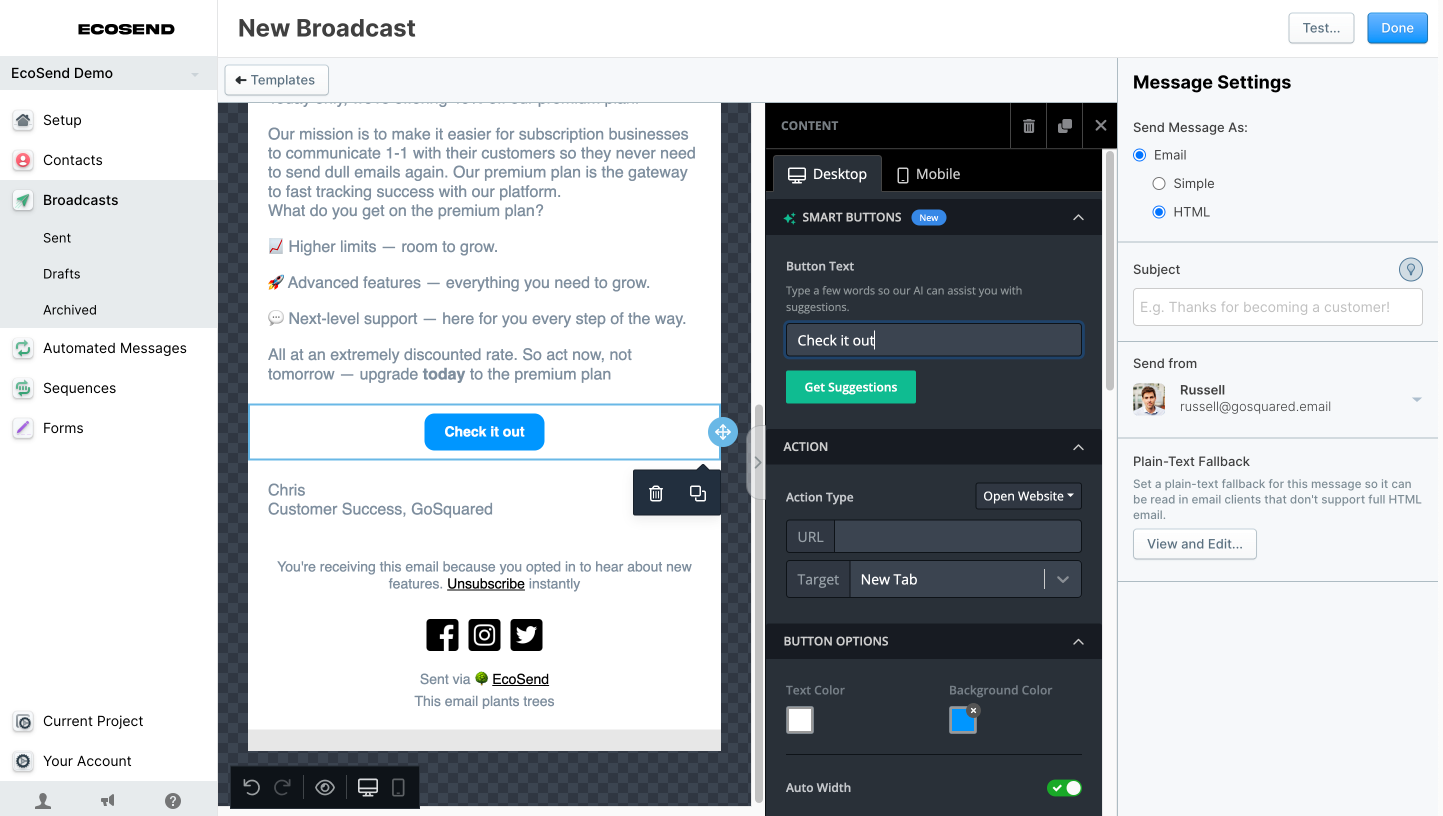 Having an email marketing platform which is catered to your exact needs is how to stop wasting money on email marketing. 
Let us help you with that one! We have two email marketing tools GoSquared Engage and EcoSend by GoSquared. 
Engage is our original email marketing tool, and EcoSend is our new sustainable email marketing tool. Both are available with a free trial on all plans, and a free plan geared towards smaller usage needs over on EcoSend.
Both of our tools are packed with a range of features to help you send beautiful, intelligent email marketing campaigns.
Need any help with all things email marketing and your business? Drop us a message and one of our team will be in touch.