Skip the intro and jump straight to getting started with GoSquared for Shopify here.
We've been working with Shopify store owners for over three months now. At GoSquared, our mission has always been to provide the simplest analytics service in the world. Shopify meanwhile has attracted a phenomenal following with the simplest software for managing an online store. In 2014, they are leading the pack on making ecommerce open to anyone and in the process, enabling serious innovation amongst small companies who want to sell their goods online. Shopify helps stores small and large create beautiful, functional and well designed web presences. GoSquared has always tried to be the analytics software that is genuinely a joy to use —no training required— and lets those starting out get value from it as quickly as the experts.
While these similar values made Shopify an attractive platform, far more exciting for us was working with the people who actually use Shopify —the teams and store owners themselves. In our experience, Shopify store owners are incredibly ambitious —they use Shopify to bring their products and vision to the world. Secondly, Shopify has a disproportionately high number of businesses that started on kitchen tables and uniquely hold craft and design principles in high regard. Further, Shopify users are fundamentally creative and not only is quality evident in the final product, but in the branding and identity they create. Finally, Shopify owners seem to share a strong independent spirit —much like GoSquared! The company are fantastic champions of independent stores and local commerce. They help bring feisty, original brands to an international audience and give underdogs the tools to compete.
We are now in the age of e-commerce 3.0, where entrepreneurs can launch companies with few barriers to entry. E-commerce 1.0 consisted of crude online shopping in the '90s offered by a few businesses met with significant consumer skepticism. This evolved into the more sophisticated interactions of e-commerce 2.0 in the mid 2000s, when most companies realized that if they weren't online, they were endangering their future…A new time is here — and the power no longer lies in the hands of a few buyers at large stores. Bigger businesses can be upended by an upstart competitor with a superior product. 

—Kevin Lavelle and Web Smith, founders, Mizzen+Main
Platforms like Shopify help merchants display those superior products in the best possible light and with minimum friction. You can see these values encapsulated in these gorgeous and astoundingly creative sites that help the products literally zing off the screen:
Getting started with GoSquared
Installing GoSquared takes only a few clicks. Our Shopify app makes it very simple to install accurate tracking on your Shopify store. You can see what a fully functional GoSquared dashboard looks like with our live demo here:
1. From your Shopify account, visit the Shopify app store, search for the GoSquared app and hit install. GoSquared is completely free for the first two weeks.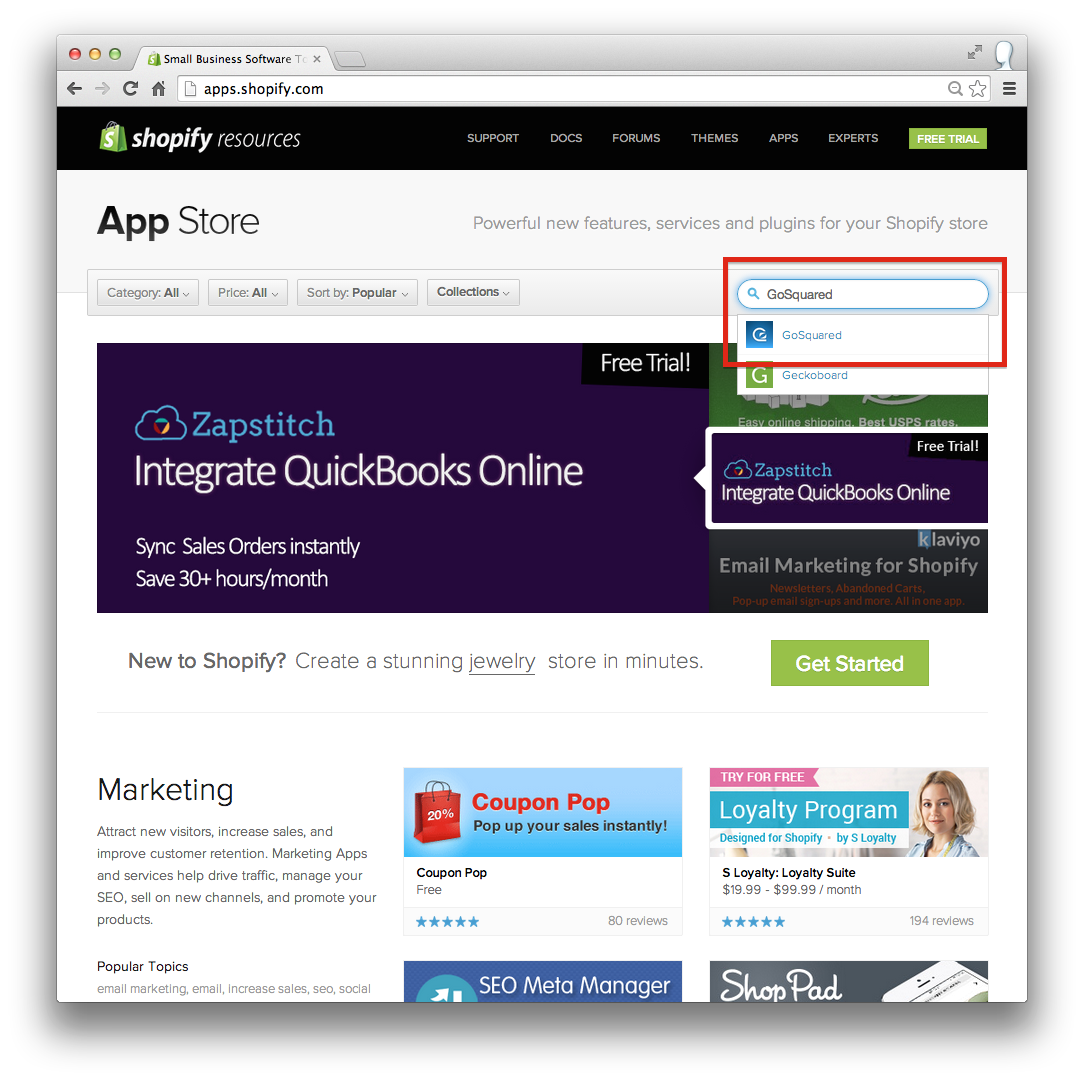 2. Install GoSquared with a couple of clicks.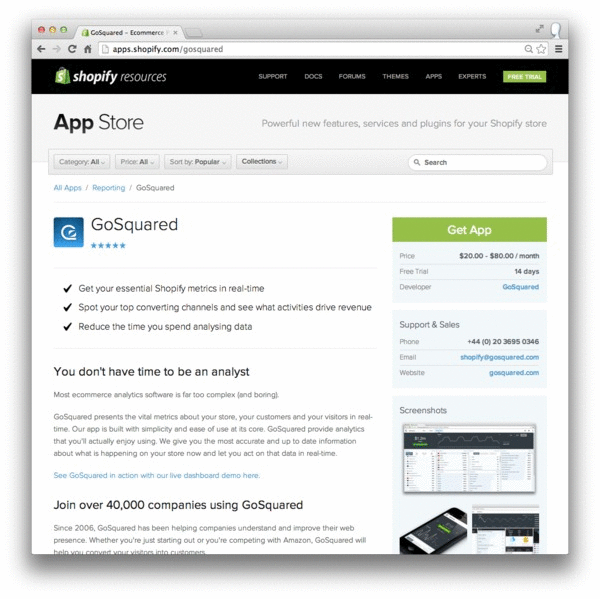 4. You'll need to create an account with GoSquared and you should use the same email as your Shopify account. You can add the rest of your team to GoSquared once you're all setup.
5. Shopify will automatically install the GoSquared tracking code on your store so all you need to do is select your timezone and you're ready to roll.
If you want to supercharge your Shopify store, get started with a trial here.