The best email marketing platform is something which helps you drive more conversions to your business.
The tool should meet all of your needs, making customer acquisition and customer retention through email a breeze. 
But what if you're new to email marketing? Or, if you've been using the likes of HubSpot or Mailchimp and it's gotten too expensive?
Rushing into purchasing an email tool is a huge mistake few can afford to make. Luckily if you're reading this you can avoid such a fate, because we've broken down everything you need to consider in this post.
Here are our top tips on choosing the best email marketing platform in 2023 to guide you.
Email Marketing Platforms – What Are Your Options In 2023?
ActiveCampaign
EcoSend By GoSquared
EmailOctopus
GoSquared Engage
HubSpot
Mailchimp
Mailjet
MailerLite
SendInBlue
SendPulse
💡🤓 Heads up – You can find two of our own options, GoSquared Engage and EcoSend By GoSquared right on this website. We've been in the email marketing space since 2006. As well as giving you everything you need, we can help you migrate from your existing tool with ease. 
Outside of our email marketing expertise, you have your email marketing stalwarts such as Mailchimp and HubSpot. There are also plenty of companies that are fresh on the scene.
What to consider is that with long established companies, prices tend to be higher and with so many customers, you may just be another number.
Newer companies may not have the capabilities, nor the expertise to provide a truly professional product, especially if it's a free tool or you're paying the lowest possible rates. 
We think GoSquared hits a sweet spot here between experience and tool capabilities. But, all of the above is something to bear in mind if you're shopping elsewhere.
Features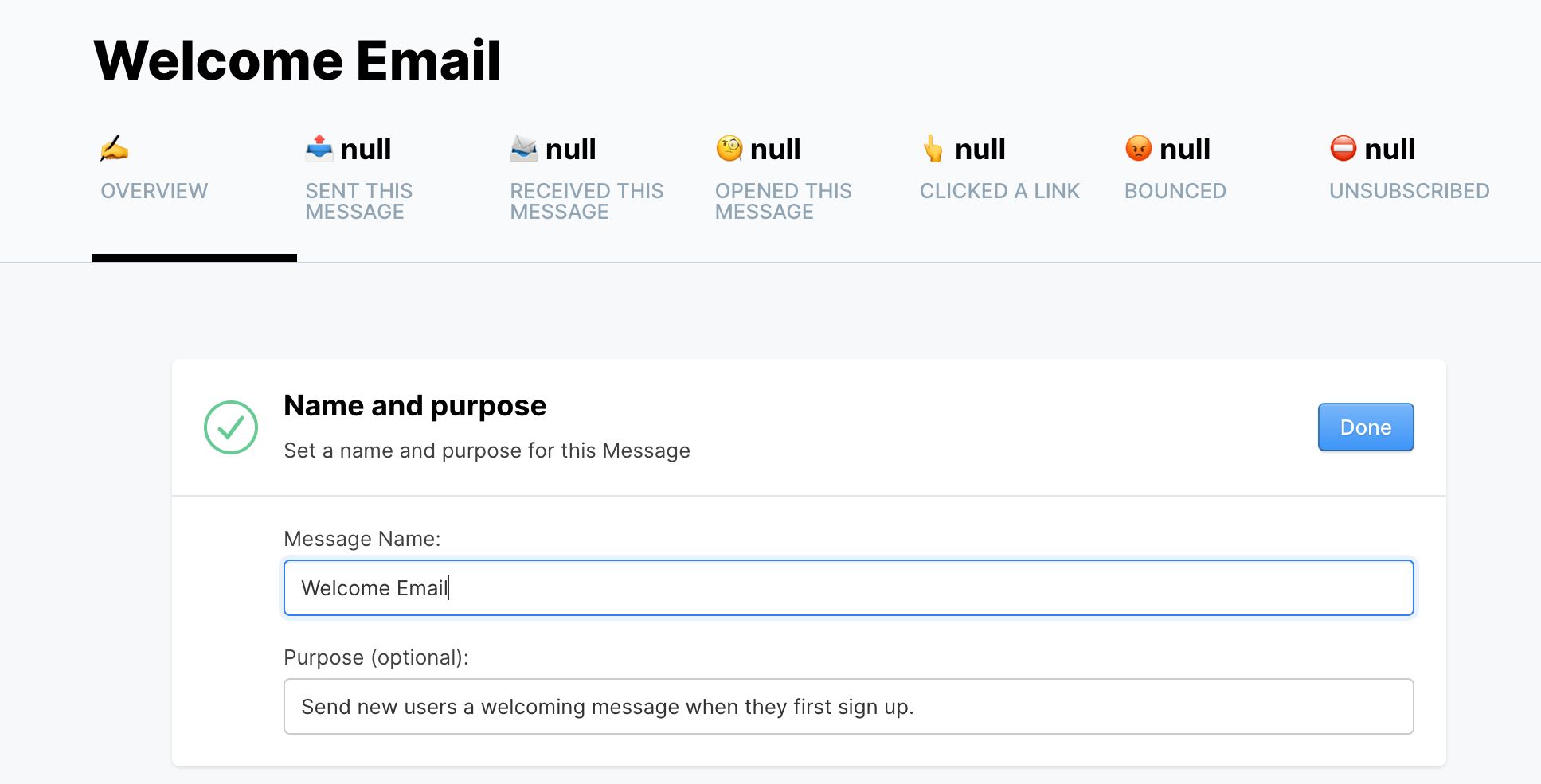 Any email marketing platform worth its salt should allow you to send intelligent campaigns that are data-driven. You should also be given tools to understand the impact of your campaigns so that you can make informed marketing and product decisions off the back of this information.
Some of the aspects to look out for here are segmentation, behavioural targeting, churn prevention and real-time reporting. These and more are all features of GoSquared Engage and EcoSend by GoSquared.
But for everyone else, you need to read through the small print to see whether you're purchasing a tool that actually has the capabilities to capture leads and foster conversions.
By the same token, ensure the features are actually geared towards helping your business grow through email marketing. That's because some providers will give you lots of flashy tools to help you build landing pages and even manage your customer service, but at the expense of a watered down email marketing tool.
Remember: Jack of all trades = master of none. 
Number Of Contacts

The amount of contacts you have is going to determine how much your email marketing software costs.
Consider that you may want to leave some breathing room to grow your list. Also, email scrubbing every so often is essential to remove dead leads and keep those sales funnels leak-free. So, it's certainly not the case you should be paying for more than what you'll actually use. 
At EcoSend by GoSquared, our contacts run on a scale of 0-500, 5,000-9,999, 10,000+ and 100,000+. We think this helps our product work for everyone, from those just starting out right through to large corporations.
In contrast, HubSpot's Marketing Hub allows you to select between 1,000, 2,000 or 10,000 contacts. Other customisable packages are available, but the prices per additional 1,000 contacts jumps significantly.
For instance, the Professional Marketing Hub package for 100,000 contacts costs £3,698 ($4,532) per month, whereas at EcoSend, our equivalent package starts at just $499 per month. Over the course of a year, let alone ten years, the more expensive options soon add up! 
Scalable Packages
This leads us nicely on to the ability to scale your email marketing package up or down, depending on your needs, and even the general economic climate.
In addition, whether you're given the ability to pay monthly or yearly. Also, will you be locked into a contract you can't get out of? 🔒😬
For us, the worst email marketing platforms are those which ask you to commit to a yearly package upfront without even so much as a free trial to see if it's the right fit or not. This puts pressure on you to hand over the cash, rather than putting your needs as a customer, and ultimately a business first. Ick indeed! 
Instead, get that magnifying glass out. See if you're able to contact support and change your package, so that you don't have to stress when either you need more capacity, or if you need to scale back for a while.
Think of it similar to a sim card. Your phone service provider may offer a flexible sim to allow you to add roaming when you travel abroad. But if you're only away for two weeks, it would be ridiculous to be expected to pay for this all year round. Your email marketing software is much the same, in that should only be paying for what you actually need as a business.
Pricing
Pricing and email marketing software happens to be one of the biggest bug bearers of late. That's because many of the bigger players in the email marketing space have announced dramatic price hikes, including Mailchimp and HubSpot.
While increases to pricing are somewhat inevitable, sudden, large price hikes can mean users look for alternatives. For those who are otherwise happy with the tool, having to jump ship without warning can cause all sorts of headaches.  
Ultimately, your business must be able to afford the cost of email marketing. Unless the package you are on is affordable relative to the contacts and features you're getting, that won't be the case.
Here at GoSquared, our Engage package starts at £79 per month. For EcoSend by GoSquared, our package for below 500 contacts is free, and our cheapest package starts at $49 for 5,000+ contacts.
Free Trial Available?
Similar to purchasing SEO or accountancy software, email marketing is critical to your business. Unless you can give it a test drive first, it's impossible to know whether that software is a good fit for your needs or not.
Free trials have always been a feature here at GoSquared, with both our Engage and EcoSend email marketing tools. But if you're considering a competitor brand, make sure you'll be offered the same.
It's also worth noting that we go one step further here at GoSquared, as you can also arrange a free demo to ensure you'll get the most out of your subscription.
Enjoying this post so far? Sign up for the FREE GoSquared Weekly, and we'll send you more content to help you grow your business straight to your inbox. ✉️🔥
Best Free Email Marketing Software – EcoSend By GoSquared
Just starting out with email marketing, and don't yet have the budget for a paid tool?
For the princely sum of $0 per month (and no other fees because it's free!), we'll allow you to use EcoSend. Our aptly named 'Free' package allows you to send email campaigns to up to 500 contacts.
You'll also get the ability to:
Capture emails with forms
Send one-off campaigns
Manage contacts
Access basic analytics
Get knowledge base support
We think this is a great option to make email marketing accessible to everyone. By the way, we also have an affiliate scheme for our paid plans. So if you're into side hustles this could just be something you're interested in too.
Sign up for my free EcoSend by GoSquared email marketing package.
Customer Support
Is there anything worse than trying to speak to a company because you need technical help, or something has gone wrong but you can't reach an actual human? Customer support that doesn't actually help you is also the equivalent of a chocolate teapot. When you're trying to run a business, this just won't do.
So before you choose an email marketing provider, see what help is available when you need it, which at some point you almost certainly will.
It's also a major red flag in our eyes when the support channels are hidden on a website. 
We've placed our own support channels in the header of our website, front and centre. Here you'll find a list of help articles based on common queries. However, the ability to speak to us directly is one click away on the same page instead of having to hunt for it.
Support options may consist of:
Chatbot
Email
Live chat
Phone
Video call
Those starting out with email marketing for fun may be happy with automated options.
However, we think it's really important that if you're running a business, a human is available to speak to you at least during office hours. 🧑‍💻👋
Privacy And Security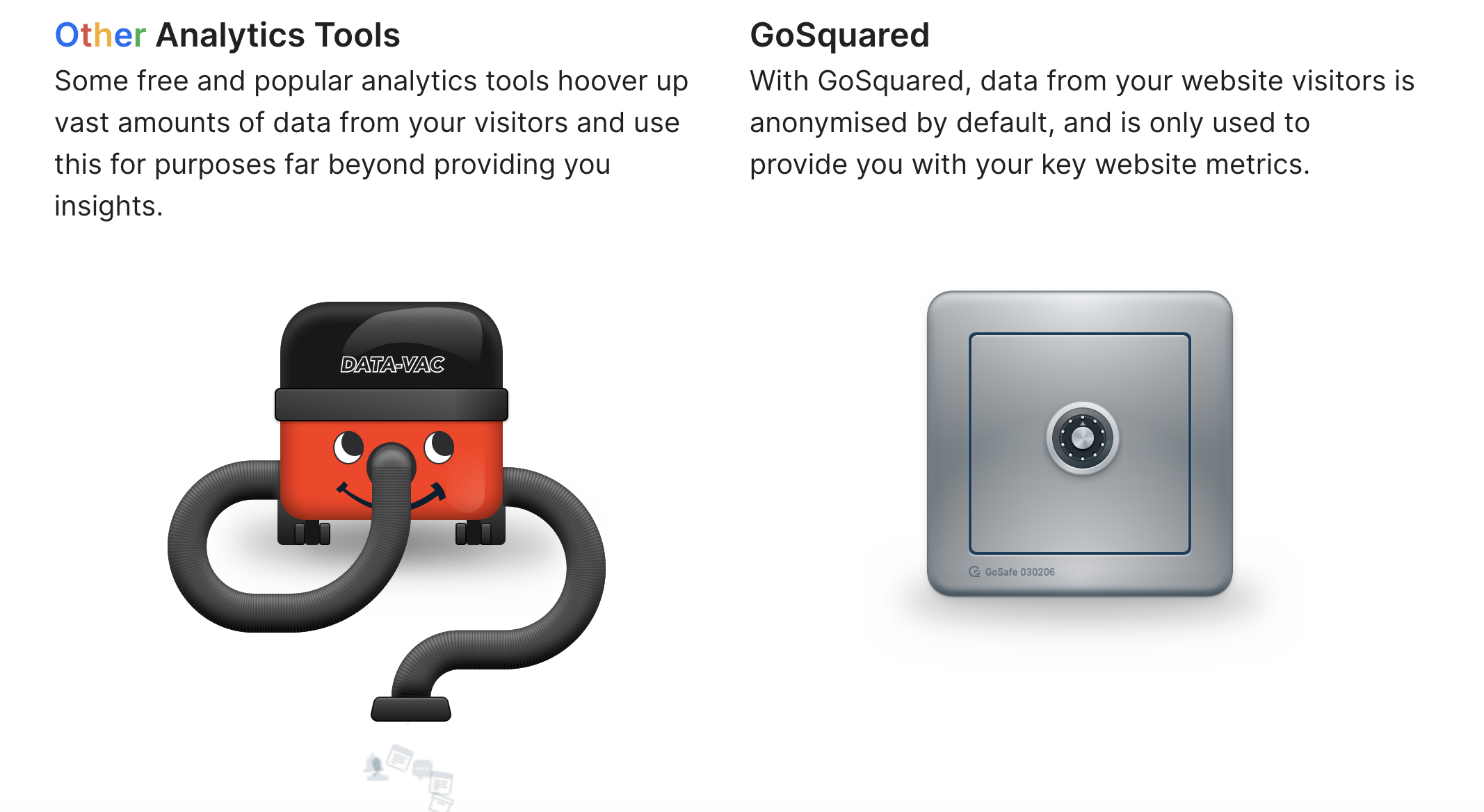 If your business has a major security or privacy glitch due to 3rd party software you're using, guess who it looks bad on? You.
Email marketing platforms will be responsible for storing a lot of customer data. There should be no doubt in your mind this is safe and secure at all times. Beyond GDPR requirements, excellent data and privacy signifies trust for your customers, and once that's gone, it's gone.
So while it may be tempting to opt for the cheapest platform – ensure that security is at the forefront of how that business operates. 

P.S: While the above illustration is from our Analytics tool, our strict privacy mantra applies to all other GoSquared products too. We just couldn't pass up the opportunity not to feature Data-Vac when the opportunity presents itself! 😏
Ethics
GoSquared are proud members of The Good Business Charter. We're also involved in sustainability projects including Tree-Nation and Terra Carter while having a net zero website. If that wasn't enough, we recently launched EcoSend by GoSquared, which reduces the carbon emissions associated with your email marketing.
We think it's impossible for any tool to be considered the 'best email marketing platform' if it too doesn't invest its profits into causes beyond its own business interests. Therefore, the ethics of that tool should also be considered as part of your decision, seeing as it's also a direct reflection of your business's ethics too.
Product Reviews
We're pleased to be featured on various review websites including G2. With an average review of 4.6/5 stars – having been around for 16 years, we'll take that! 
It goes without saying you must look at the reviews of any products you are thinking of purchasing. By reviews, we mean independent product reviews outside of the domain of that tool, so that you are seeing genuine opinions.
GoSquared Engage – Best Email Marketing Platform For Businesses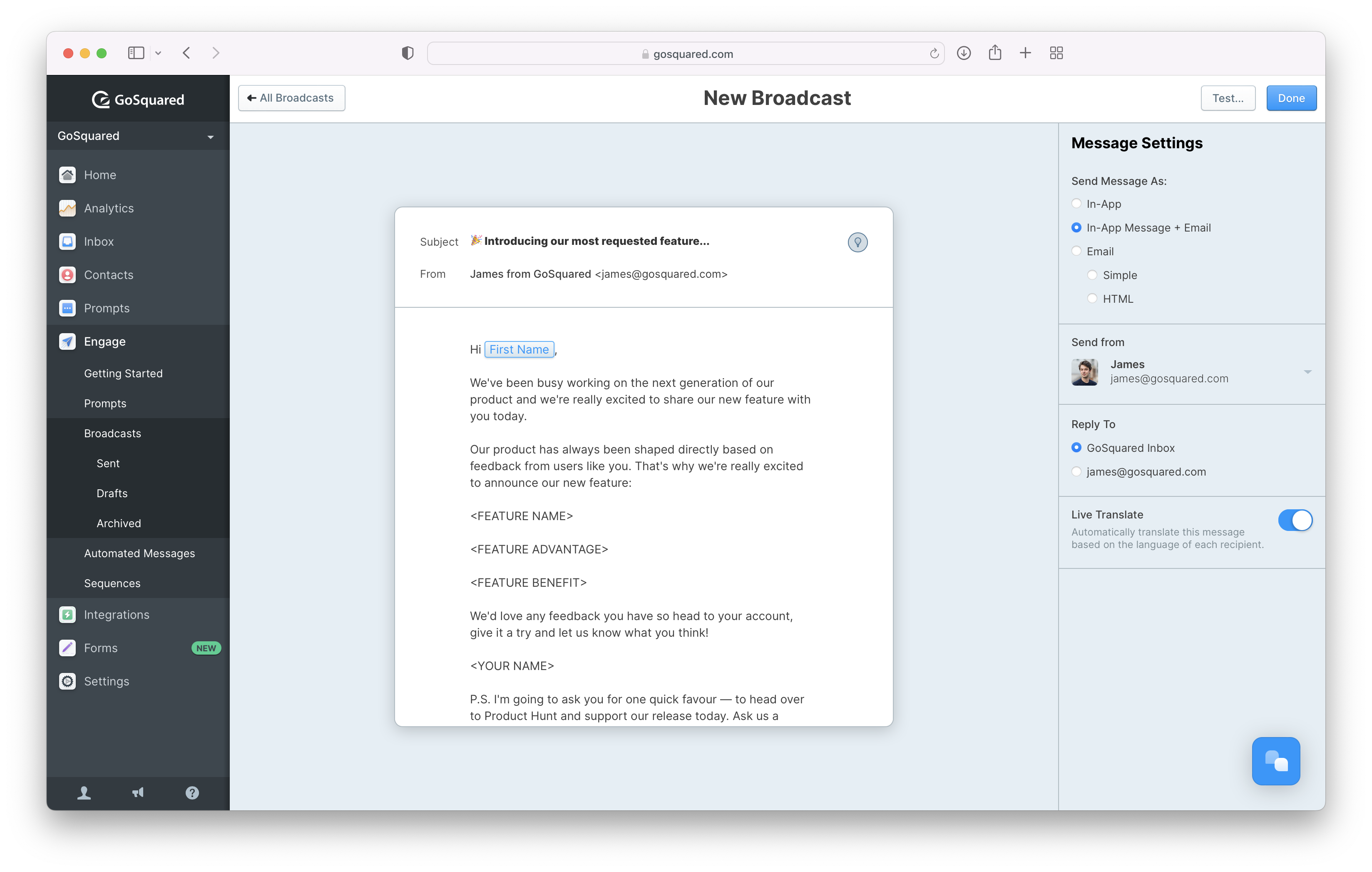 Not that we're biased or anything, but we think GoSquared Engaged is the best email marketing tool on the market for 2023 and beyond. 
Quite simply, GoSquared Engage is an email automation platform that will help you capture leads, onboard users, make announcements and retain customers. Whether you're looking to move away from a different tool, or simply upgrade to a more professional setup, we'd be more than happy to welcome you on board. 
Reach out to us at any time and one of our customer engagement experts will be right with you. It would be handy to know more about your business, including what your goals are for email marketing so we can help match you to the right product and features.
Alternatively, if you're familiar with us or email automation in general a great place to start is our free trial of Engage.
For anything else, you can find the GoSquared team over on Twitter, Facebook or Instagram.