Increasing sales year on year is essential for any business.
More profits equal better business stability, allowing you to scale your ideas to new heights. 
But how do you go about boosting sales when there's so much competition? 
Contrary to what you're thinking, increasing sales doesn't have to be complicated or expensive. Here are our best tips for getting more sales in 2023 and beyond to get you started.
First: Refine Your Business Offering & Identify Your Brand Positioning
On a basic level, increasing sales really comes down to figuring out how to get people to buy your stuff. Whether this is new customers purchasing for the first time, or repeat customers who you want to spend more with you. 
Don't invest a single penny in your marketing efforts without having a crystal clear idea of what your business does and who it speaks to. Otherwise, your efforts will offer up a poor ROI. 
Nailing your brand positioning is key. Consider whether your current positioning is relevant, and also how this compares with your competitors.
To build a positioning strategy, you need to:
Determine your unique value proposition
Identify your competitors and their positioning
Create a positioning statement
Test and evaluate whether your positioning works
Reinforce your positioning within all products, customer service and marketing efforts
Sure, this first step doesn't feel as tangible as some of the others. But, it will ensure your marketing strategy is built on solid foundations from the get-go.
So don't skip it if you really want to increase sales! 
Email Marketing
Did you know there are over 4.1 billion users of email? Numbers are steadily rising, with Statista predicting there will be 4.5 billion email users by 2025 alone. 
So it's fair to say that if your business isn't actively using email marketing, it's seriously missing out. 
The different types of emails you can try to boost sales include:
Newsletters
Lead nurturing emails
Promotional emails
Milestone emails
Survey emails
Competitions
Onboarding emails
Thought leadership campaigns
This is just scratching the surface of what email can do! Offering a typical ROI of $36 for every $1 spent, email remains one of the best growth tools for 2023 and beyond.
Don't have an email marketing platform? It's your lucky day, as we're offering you a free trial of our new email marketing tool EcoSend by GoSquared below. 

You may also be interested in: How To Make Money With Email Marketing In 2023 💰✉️
Video Marketing
Communicating via video builds a human connection with your audience. Video also happens to be a highly digestible format that people can watch from anywhere, along with being an excellent example of inbound marketing.
Most people don't realise YouTube is in fact a search engine. So by creating video content (with equally relevant titles) that relate to your products, services or location, you can soon build a following.
Set aside some of your marketing budget to get your brand on the likes of YouTube, Twitter, Instagram, Facebook and Tik Tok. Take the time to create informative, engaging content that sells. 
Some video platforms even allow you to sell your products directly under the videos, which is yet another way to boost sales through video marketing.
Lights, camera, ka-ching!
(Segmented) Social Media Marketing
Segmentation is a key aspect of email marketing, so you might be wondering why we're also telling you to segment your audiences on social media too.
Quite simply, social media is huge and similar to any other advertising method, you want to be sure you're reaching the right people with the right message. Segmentation will allow you to do exactly that.
Paid social media advertising allows you to select your audiences based on aspects such as gender, location and even interests. By choosing a relevant audience, you are more likely to get sales compared with targeting those who don't find your products or services useful.
Start A Podcast
By 2024, it's predicted that 100 million people will be regular podcast listeners. So now that we're in 2023, this gives you enough time to start your own podcast to capitalise on this very successful growth format. 
Some of you might be familiar with our own podcast for EcoSend, which is our new climate-conscious email marketing tool. We're about to record our second series, and so far our podcast has been an amazing method of networking and ultimately, growing our new business.
Podcasting works because similar to video, voice is a very tangible format. It allows your listeners to get to know you on a more personal level and can be listened to from anywhere.
So why not start a podcast, and talk about some of the issues most relevant to your audience? Building that trust and connection can seriously help boost sales, not to mention brand loyalty.
Get Google Reviews
Don't we all Google a business before booking or purchasing something?
When someone leaves a review, it may be seen by hundreds, if not thousands of people. User-generated content is the name for users singing your praises online. Best of all, this is one method to boost sales that's completely free.
Well written copy, not to mention images can be extremely valuable when it comes to getting others over that sales line.
You can encourage Google reviews by asking your users directly, either through a captcha code for in-person transactions or through email marketing surveys for digital ones.
The more reviews you can gather, the more likely it is that great feedback will earn you a sale.
Place A Call To Action On Your Homepage
Your website is the digital face of your business.
But you'd be surprised how often websites remain shy about what the business actually does. If your CTA is hidden or involves too many steps, your sales will likely suffer.
So one super easy tip to increase sales is to make the journey from clicking on your website to landing a sale as straightforward as possible. Whether this involves a banner, a popup or a one-click checkout – don't be afraid to be obvious.
Remember, some people landing on your website have never heard of you before. So while you know everything about your business, they don't. Why not make it simple for them with a snappy call to action?
Do A Content Audit (SEO)
SEO audits and overall content audits should be performed regularly. Ideally, at least every 3 months at a minimum.
Beyond making sure your website works, take a close look at the content. In terms of SEO, it's not just about ranking highly on search engines. That's because great SEO offers relevancy to your users, in that they get on the page exactly what they were expecting when they clicked on the link.
So for instance, this article is about increasing sales for your business. We've filled this post with many top tips so you can do just that – i.e. we've given you what you were expecting. Your website and each of its pages should also do the same while remaining SEO friendly throughout.
If content lacks basic keywords and SEO formatting it won't be found. Your sales will go to your competitors who did a better job, and SEO is pretty much as simple as that.
Attend Relevant Industry Events
Don't underestimate a good browse on Eventbrite, where you can find events to learn how to best market your business, plus get to know relevant industry professionals. 
For the more established businesses out there, you might even want to host your own event!
Meeting in person can cut through the noise of the internet. It adds a face to a name and can foster more meaningful relationships than a follow on social media.
Take plenty of photos at the event, and if you can, live tweet with the event hashtag to connect with yet more professionals. This is honestly one of the easiest ways to spread brand awareness and get more sales, especially for startups.
Explore All Platforms Where You Can Get Sales
Some businesses only sell through their own website and that's fine. But if your users hang out on other platforms which are capable of selling your products and services, it may be worth taking the financial hit to appear on those platforms too. 
A modern example is Uber Eats. Whatever you think of delivery apps, few restaurants would have the capabilities to have such an amazing app, capable of handling the order from point of purchase to delivery.
Even if you work in SaaS, there may be other ways of selling your products, even through the likes of affiliate schemes. So get your thinking cap on!
Tell Your Local Newspaper About Your Business
Here's a left-field suggestion to increase sales we guarantee you've not thought of: contact your local newspaper.
If your city has a newspaper, and you're an entrepreneur with a business, there's likely a story in there somewhere. 
What most people don't realise, is that newspaper websites often have very high domain authorities. By featuring your business name, and linking back to your website, this helps to raise your own domain authority. The higher your domain authority, the easier it is for all of your content to rank well on search engines.
In addition, even local newspapers can get millions of pageviews each month. In a nutshell, this can mean free advertising for your business, with no expense on your end.
It's definitely worth checking if your newspaper has a business editor also, as this can open up even more opportunities for your business online.
Beyond your local newspaper, have a look at any other printed or digital publications to get your business name out there. Or, any special promotions or new products that may be of interest to readers.
All this extra publicity = more sales. Trust us on this one!
Don't Ignore Physical Advertising Completely
Granted, most new products seem to be tech oriented these days. But it's worth remembering that all of us exist in the outside world too.
So when it comes to increasing sales, it's worth thinking about all the places your customers likely hang out. This, by the way, is not just on screens. It could be on public transport, at tech events or any other place of interest.
Another great tip is to send your customers free merchandise, such as a mug or a t-shirt. You never know, they may wear your merch somewhere highly visible. All these eyeballs are likely to convert into sales, compared with having no visibility beyond your website.
Plus, it's always nice to receive free stuff! So, this could increase customer loyalty too, and therefore, yet more sales.
GoSquared – Marketing Automation Tools To Increase Sales For Businesses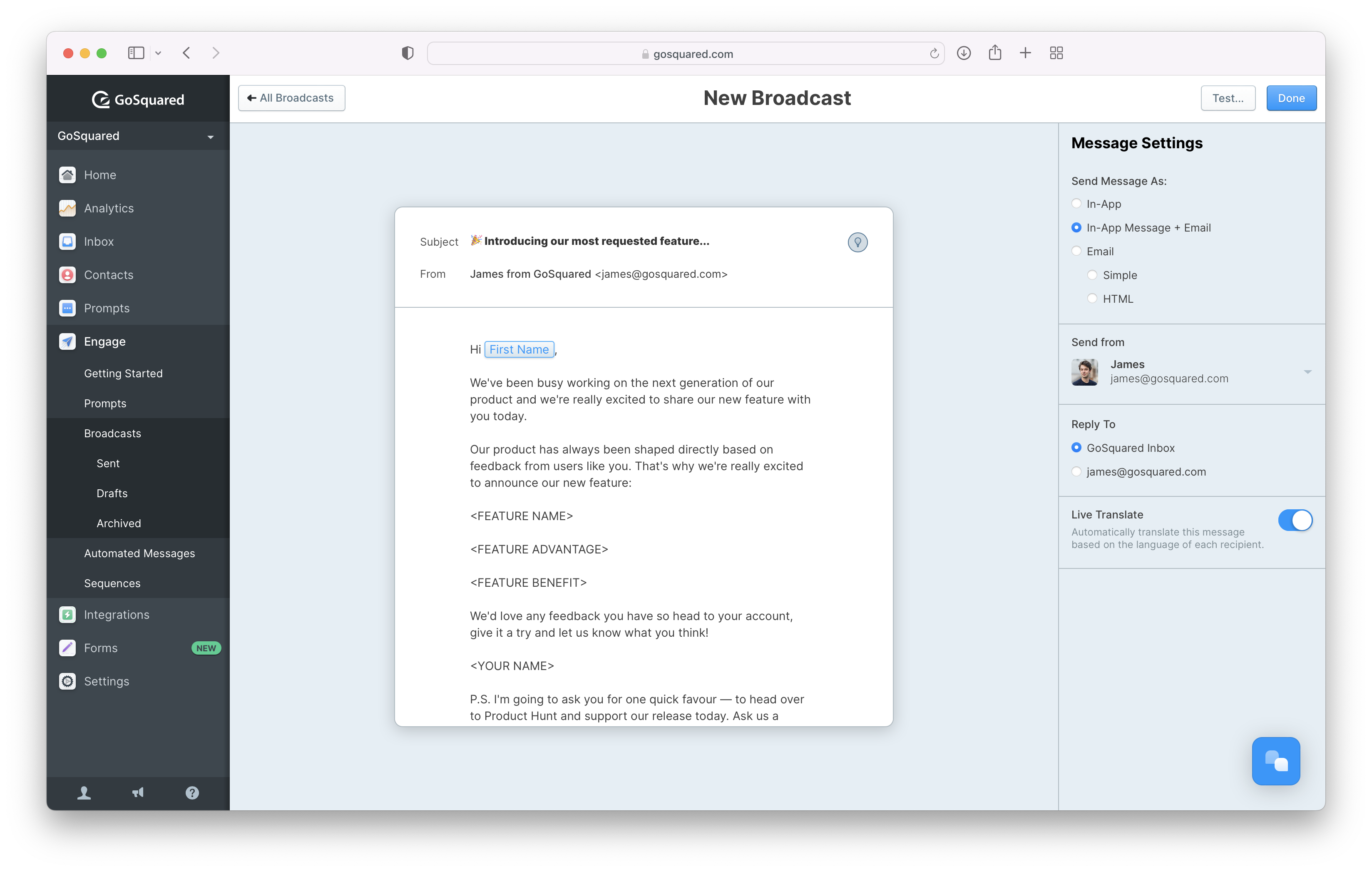 Want more sales? GoSquared Engage and EcoSend By GoSquared are marketing automation tools for businesses. 
As noted above, email is a fantastic driver of sales for any business. It offers a typical ROI of $36 for every $1 spent! So if you're in search of an email marketing platform for your business, we'd love to get to know more about you.
Click either of the links above to get started with a free trial of our products. Or, reach out to us to chat with us further.