In January 2023, Twitter shut down its newsletter tool Revue.
The news came as a huge disappointment to its loyal users, who over the past five years had relied on the publishing platform to deliver newsletter content to subscribers. 
If you were one of the many people who lost their newsletter tool when Revue ceased to exist anymore, or even missed out on using it altogether, never fear.
Here is why the newsletter not only remains strong, but that there are other (even better!) tools than Revue waiting in the wings to get your content in front of the masses. 
What Is Revue?
Revue is (or in this case sadly was) a newsletter tool used by online publishers. It was a product acquired by Twitter that allowed for the publication of content curation and longform articles. 
Research states that almost 1,200 companies relied on Revue, mostly within the software, media and marketing industries. These include some big players including The Verge, Teachable Inc and Blockchain LTD.
Why Did Revue Shut Down?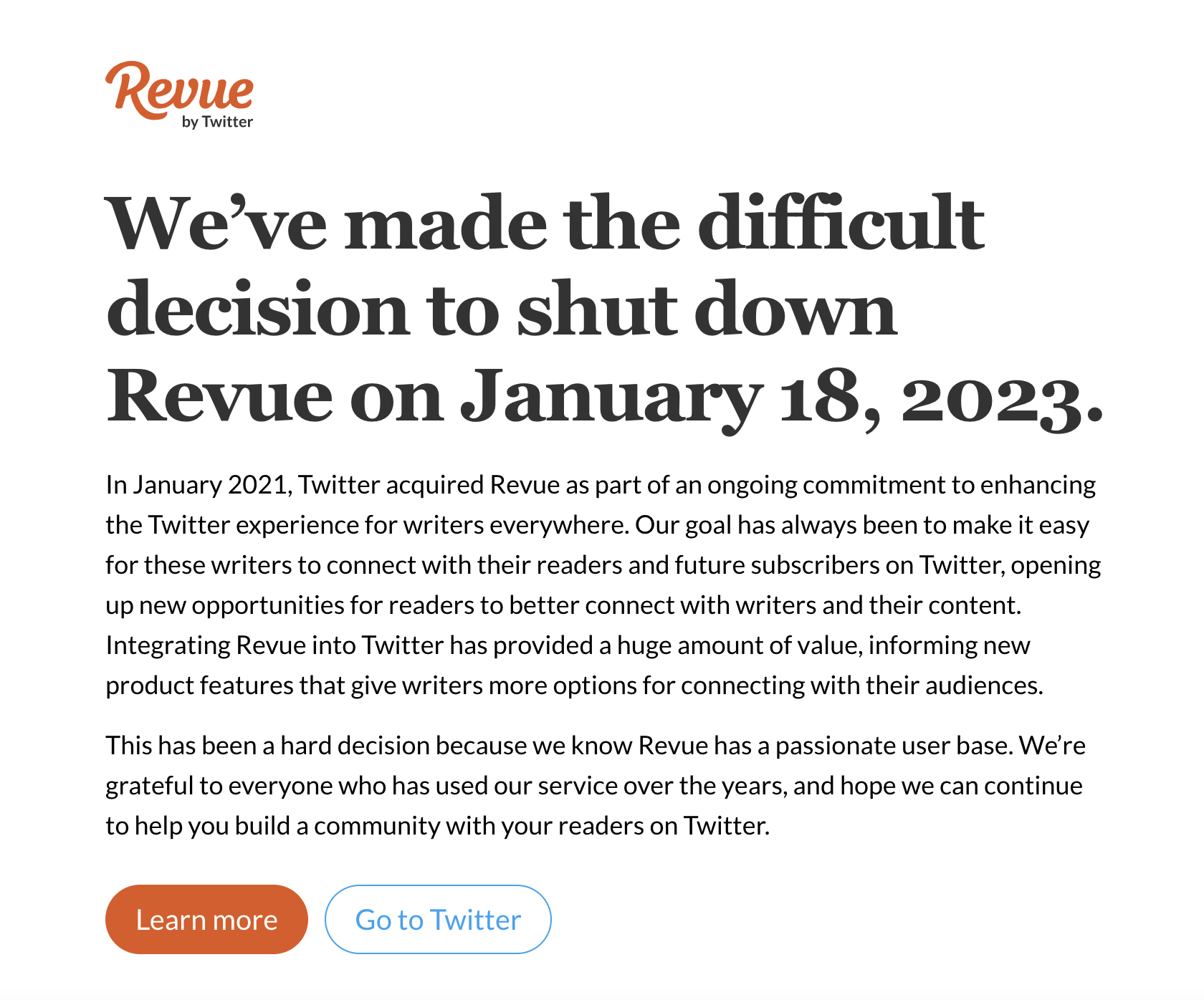 Since Elon Musk took over as Twitter CEO, there have been big changes afoot on the social media platform.
While we've seen some new features added to the platform (such as Twitter Blue), the decision has also been made to remove other features, including Revue.
Twitter has been coy about its reasoning for axing Revue. In an official statement, Twitter simply mentioned it "acquired Revue as part of an ongoing commitment to enhancing the Twitter experience for writers everywhere", adding "We're grateful to everyone who used this service over the years, and hope we can continue to help you build a community with your readers on Twitter."
However, the speculated reason for the closure of Revue is due to profitability concerns at Twitter itself. The news comes as Twitter was also delisted from the New York Stock Exchange in November 2022.
Twitter even sold off its famous blue bird statue for $100,000 in January 2023, in addition to other furniture and memorabilia, reports the BBC. 
In a statement, Revue founder Martijn De Kuijper added: "This has been a hard decision because we know Revue has a passionate user base, made up of people like you."
How Twitter Users Reacted To Revue Shutting Down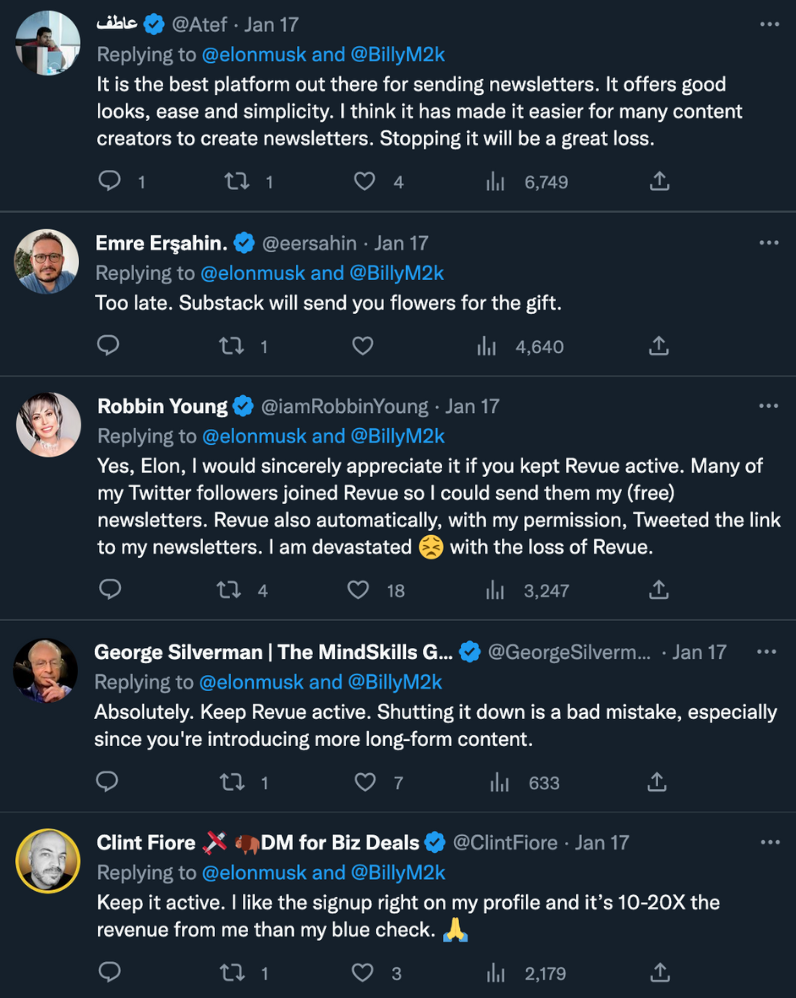 Understandably, content creators who put in a lot of effort to build subscribers, not to mention relied on their newsletters to generate revenue were upset at the closure of Revue. 
Elon Musk himself seemed to question the company's decision, tweeting 'Should Twitter keep it active?' under a user comment announcing Revue was to close.
Many of Revue's former users responded passionately in favour of reversing the decision as you can see in the above image.
Though as of yet, there's no word that Revue will ever return.
What Are The Alternatives To Revue?
EcoSend
HubSpot
Substack
Mailchimp
Why You Should Switch To Sending Newsletters With EcoSend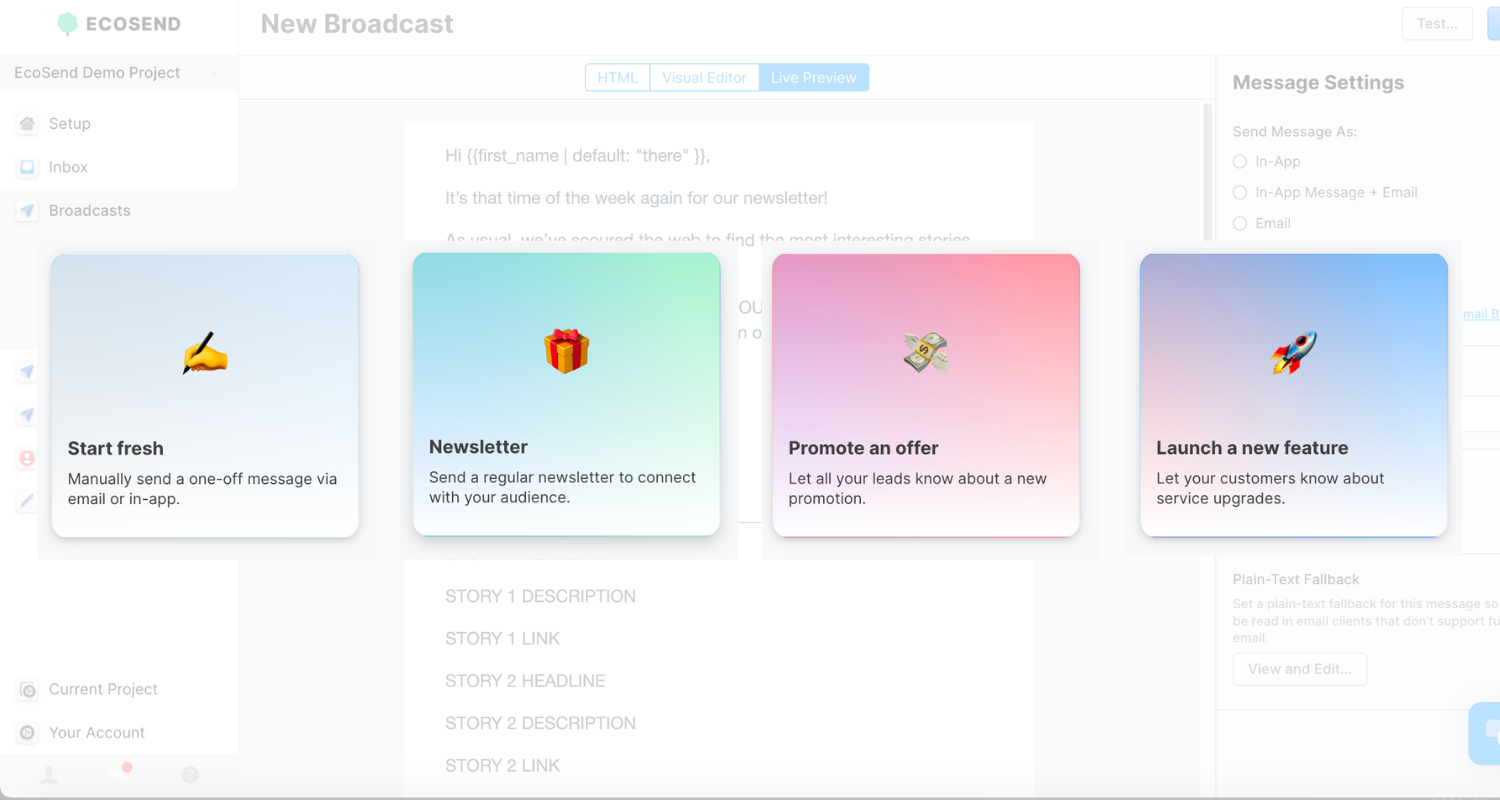 Firstly, if you have a knack for newsletters it would be a shame to give that up just because Revue has shut down.
Newsletters have and always will be an amazing way to connect with your subscribers. Whether you write for fun, or use newsletters to mix up your marketing strategy, everyone appreciates the time and effort of well written content.
EcoSend is our new tool created by ourselves here at GoSquared. 
Here are just some of the reasons why newsletters and EcoSend are the perfect match for your content creation.
The ROI Of Email Marketing Is Incredible
Switching from sending newsletters on social media to email may seem scary at first. But, what if we told you that email offers a typical ROI of $36 for every $1 spent?
There are over 4 billion users of email, and the numbers are growing by the day.
In a recent post '9 Ways Make Money With Email Marketing In 2023', we gave you some incredible ideas on how you can generate income through email. There's no reason why you can't do the same with an email newsletter.
In fact, we also told you how Alex Lieberman started the Morning Brew email newsletter in his college dorm and eventually sold it for $70 million.
In short, we think newsletters are an amazing way to build relationships with your users, all without the hassle or expense of other mediums.
EcoSend Will Give You Endless Tools To Grow Your List, And Your Business
If you upgrade from a basic publishing tool and step into the world of email marketing automation, your newsletter can soar to new heights.
EcoSend is packed full of features to help you send beautiful newsletters. You can import templates, use our HTML email builder and even segment your lists, so that you can send targeted content to those most likely to convert.
Crucially, you'll also get a tonne of analytics tools to help you understand the impact of your newsletters. That way, you can send more of what delights your audience, and less of what doesn't. All of which puts your talents not to mention efforts to much better use.
Our Pricing Is Competitive – And We Don't Take A Cut Per Newsletter Sent Like Other Providers!
EcoSend packages start at free (yes you read that right – free!) for up to 500 subscribers. 
For larger lists, our Starter package allows you to send your newsletter to up to 5,000 contacts for just $49 per month. We have packages available right up to 100,000 contacts and above.
All of our packages include a full range of features to maximise the effectiveness of your newsletters or email marketing campaigns.
Even on our free plan, you'll get:
500 contacts
Capture emails with forms
Send one-off campaigns
Contact management
Basic analytics
Knowledge Base support
How does this compare with our competitors?
Mailchimp – Free (up to 500 subscribers) but extremely limited features and max 2,500 emails per month.
Substack – Free unless you want to add paid subscriptions, in which case you'll be charged 10% and credit card processing fees.
HubSpot – (cheapest current package) – $800 per month.
View all EcoSend plans starting at $0
EcoSend Is Better For The Planet
Did we mention that by sending your newsletter through EcoSend, you'll actually be helping to fight climate change?
Nobody thinks about the carbon emissions generated by digital marketing. But the reality is that every message we send, whether this an instant message, email or indeed newsletter has a carbon footprint. 
We don't want to stop you sending newsletters. Instead, we've come up with a way you can have your cake and eat it. Or in this case, have your tree planted.
EcoSend runs on renewable energy and plants trees at various points in your customer journey. Some of our profits are also reinvested into climate related causes.
Our aim is to become the first carbon negative platform, meaning we'll be taking more carbon out of the environment than we generate. At present, no other comparable tool offers this. 
All of which is just the very start of our efforts to help tackle climate change through digital marketing. So if you as an individual or business want to become greener, using EcoSend versus another provider is one such way to do that.
Switching To EcoSend Is A Piece Of Cake
We love a good migration at EcoSend.
No seriously, we've made the whole thing something you can do in minutes.
Whether you're switching from another tool other than Revue, or have an existing contact list you want to import that you managed to save before Revue closed for good, we can get you up and running in just a few clicks.
If you need any further help, we of course have a support team who would be more than happy to assist.
We've Been In The Email Marketing Space For Almost Two Decades
We think longevity, not to mention expertise, is important. For those who worked tirelessly to build up a loyal subscriber base on Revue, only to have it abruptly taken away, we can only imagine how frustrating it must have felt to see it close down.
So a final point to reassure any former Revue users: GoSquared has been in business since 2006. Although our new tool EcoSend is fresh on the market, our product offering as a whole is long established and is here to stay.
Our age actually makes us as old as HubSpot. However, as noted above our packages are far more competitive. All while being better for the planet!
These wins just keep on coming, don't they? 😎
Switch From Revue To EcoSend Today And Get Back On Track With Your Newsletters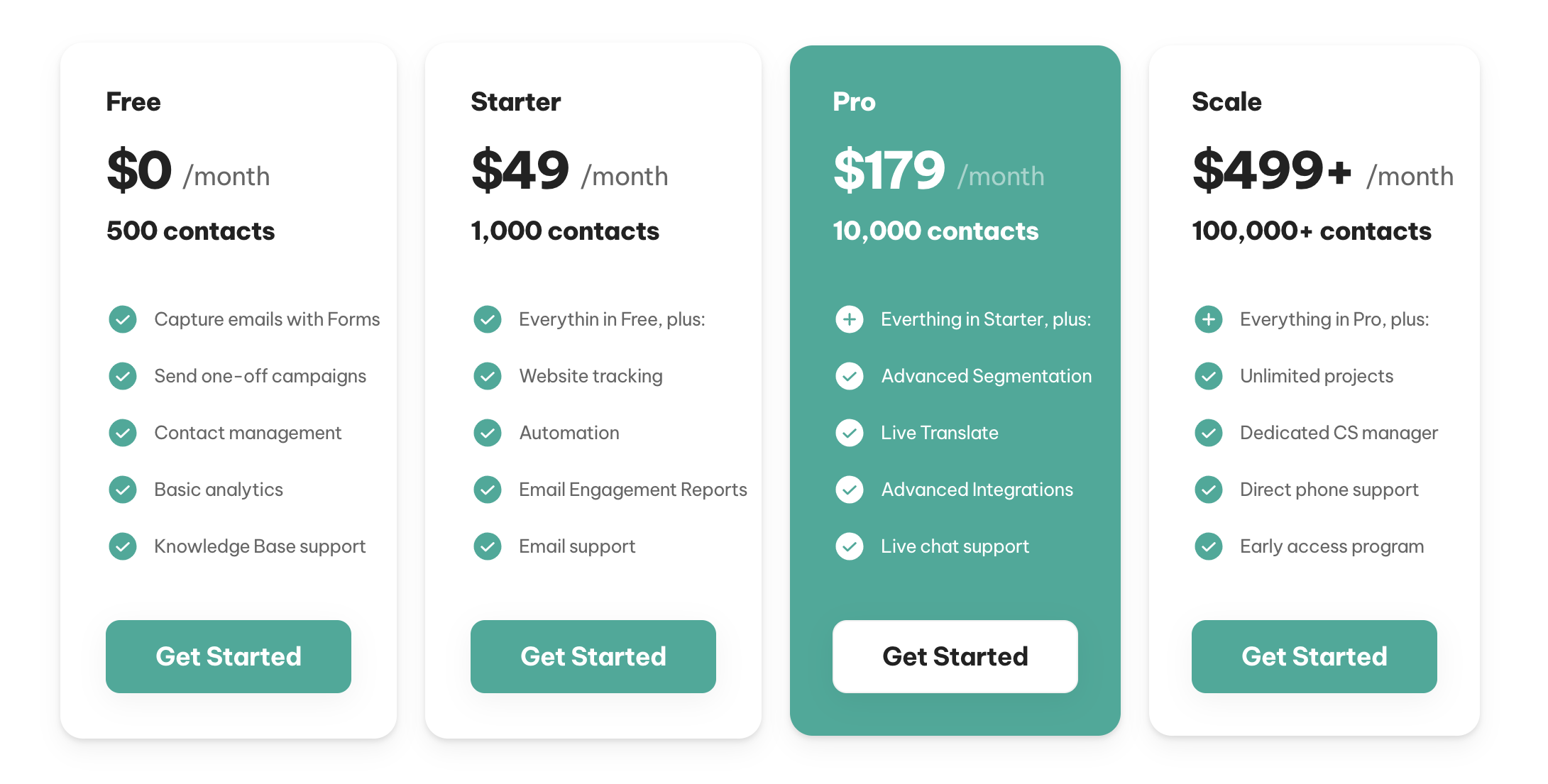 With Revue seemingly gone for good, your newsletter is in need of a new home. Your subscribers are waiting!
Luckily, you're in the right place as you can get set up with EcoSend today. Whether you just want to send newsletters, or send amazing email marketing campaigns, we've got you covered.
Sign up to EcoSend today, and we'll plant your first tree just for registering with us.
Or need help with anything we've mentioned above? We'd love to chat, or show you around via a free demo.
Drop us a line and we'll be in touch.