Did you know that welcome emails have a typical open rate of 91%?
There are many reasons why welcome emails go down such a treat. Firstly, your users are expecting your email, making it far more likely they'll want to read it compared with unsolicited mail. Plus, it naturally makes sense to send a follow up message to any kind of service someone just signed up to.
For you as a business – welcome emails offer an unmissable chance to partake in some truly impactful email marketing automation. So make sure you're sending a welcome campaign each time someone signs up to your newsletter or shops with you. Even better if it's one that encourages clicks and conversions!
New to all things welcome emails, or in need of some creative inspiration? Here are 12 examples to kick off some ideas for your next welcome email campaign.
P.S: Don't have a professional email marketing tool to be able to send welcome email campaigns? Skip to the end of this post to get a free trial of ours. ✉️ ⬇️
G2

For those unfamiliar with G2, it's a website where you can read user reviews of software or digital tools before you purchase them.
In their welcome email, G2 break down what could be a lot of overwhelming info into simple, clickable buttons along with short amounts of copy to explain each section.
The graphics use on-brand colours that feel engaging and cohesive. On that note, designing your own graphics for your welcome campaigns is a great tip, as the emails feel far more personal versus stock imagery. It sets a great tone of what's to come, with the three main things you'd want to do on G2's website all there for you.
Descript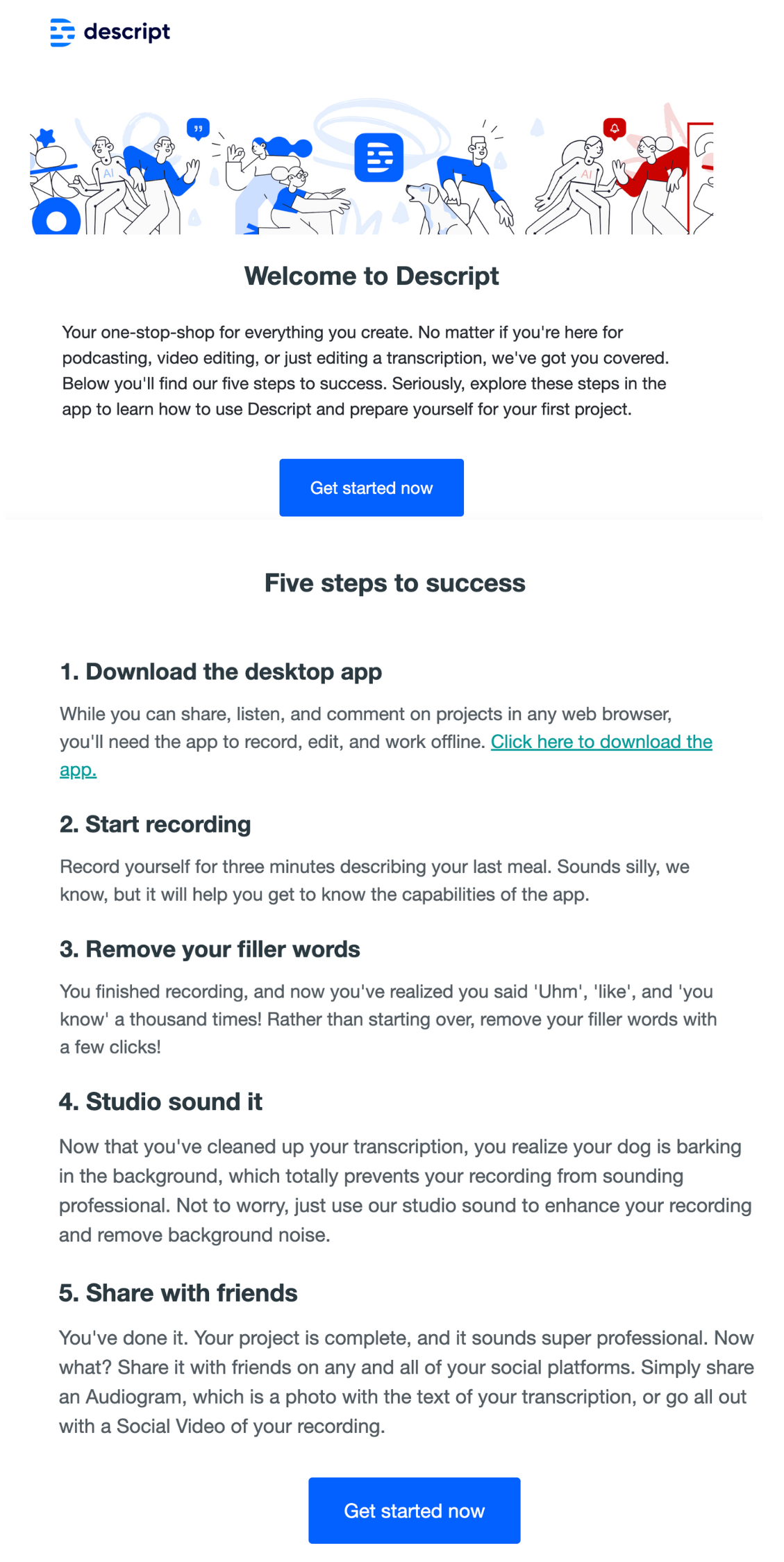 Another direction for a welcome email is to onboard users by giving them clear, actionable steps on how to get started with your product.
Descript have mastered this beautifully within their welcome email campaign.
As a tool we used to help create a transcript for the EcoSend Podcast, Descript have provided us with handy hints within this friendly introduction. For instance, removing filler words in our speech, along with ensuring that our audio setup provides the best experience for our listeners.
While technical info could also be saved for future email marketing campaigns, telling us upfront means we can get straight to work, armed with all the knowledge we need to create engaging podcast episodes. To get all of that information just from a welcome email is extremely appreciated!
Starbucks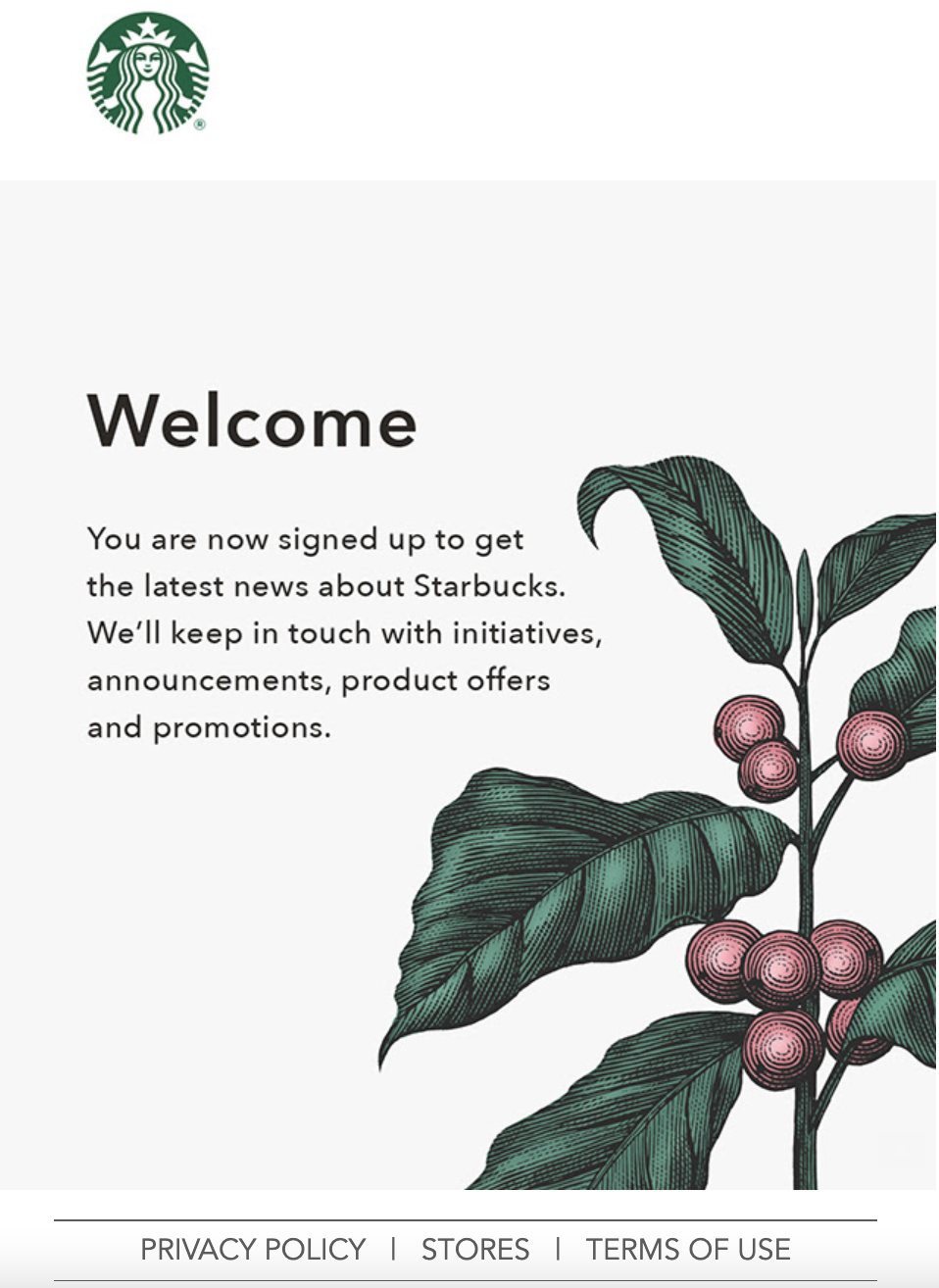 You'd naturally expect welcome email examples from Starbucks to feature coffee, more coffee, and yet more coffee.
But in this above example, they've given us a subtle illustration instead. The welcome email is minimal in copy too, but the graphic does let us know what we can expect now we're on the mailing list.
Compared with not sending a welcome email at all, a gentle approach is better than nothing. For brands new to email marketing, testing the waters with a simplistic welcome email campaign is ideal while you find your voice.
Zillow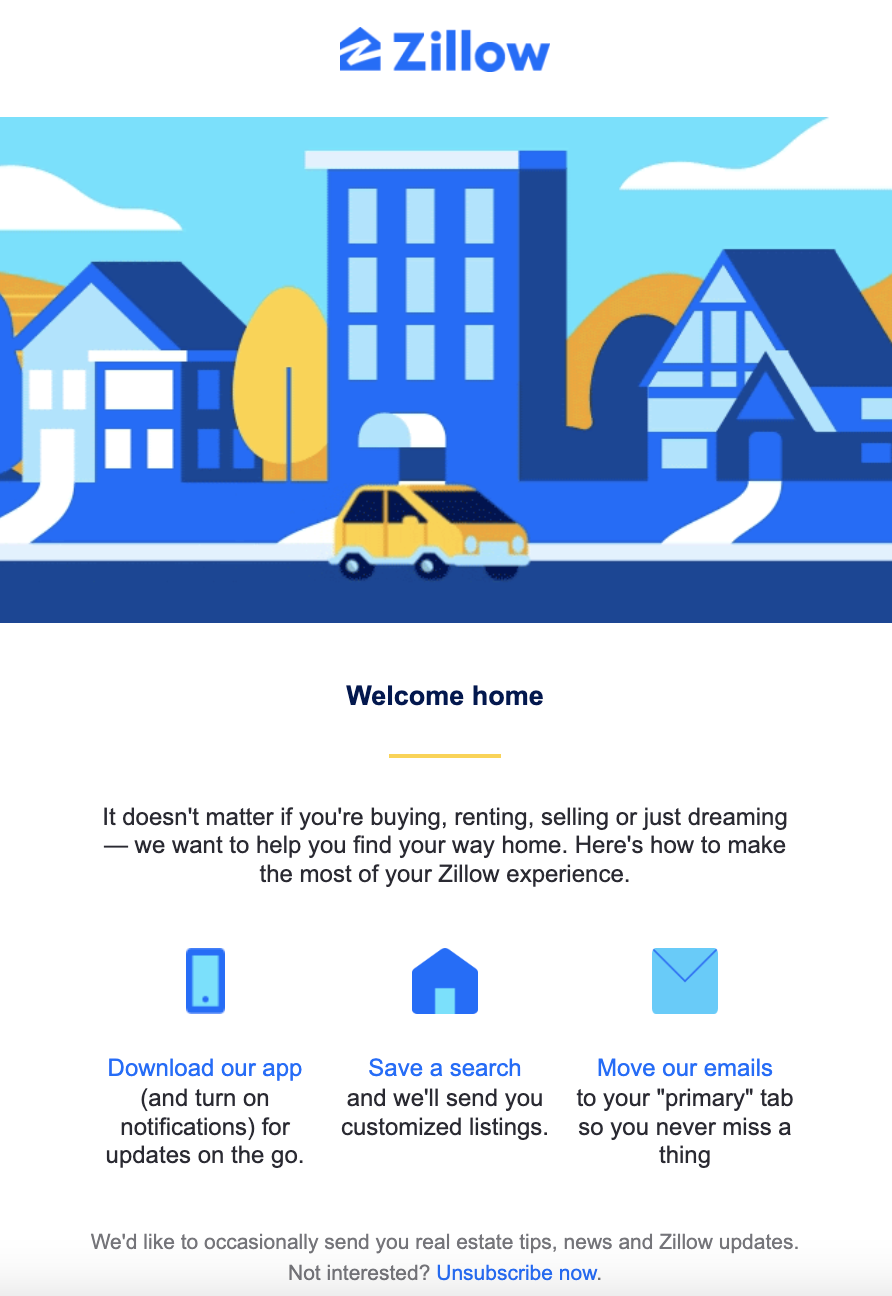 Zillow is where your dreams of buying a home in the United States of America come to life. If you blindfold yourself while looking at the price, that is. (Perhaps getting out of that '91210' zip code may help there *ahem*).
In terms of engaging welcome email examples, Zillow's actually has a moving car graphic which immediately grabs your attention.
The email itself keeps the introduction to the main things Zillow wants you to know: that they have an app, that you can save your property searches, and that if this email went to spam you can fix that with one click.
Colour wise, it's gentle on the eyes and has a calming effect overall. The email even starts off by telling users 'welcome home' as a way of welcoming them to the mailing list. So all in all, it's non-threatening and definitely does the job.
McDonald's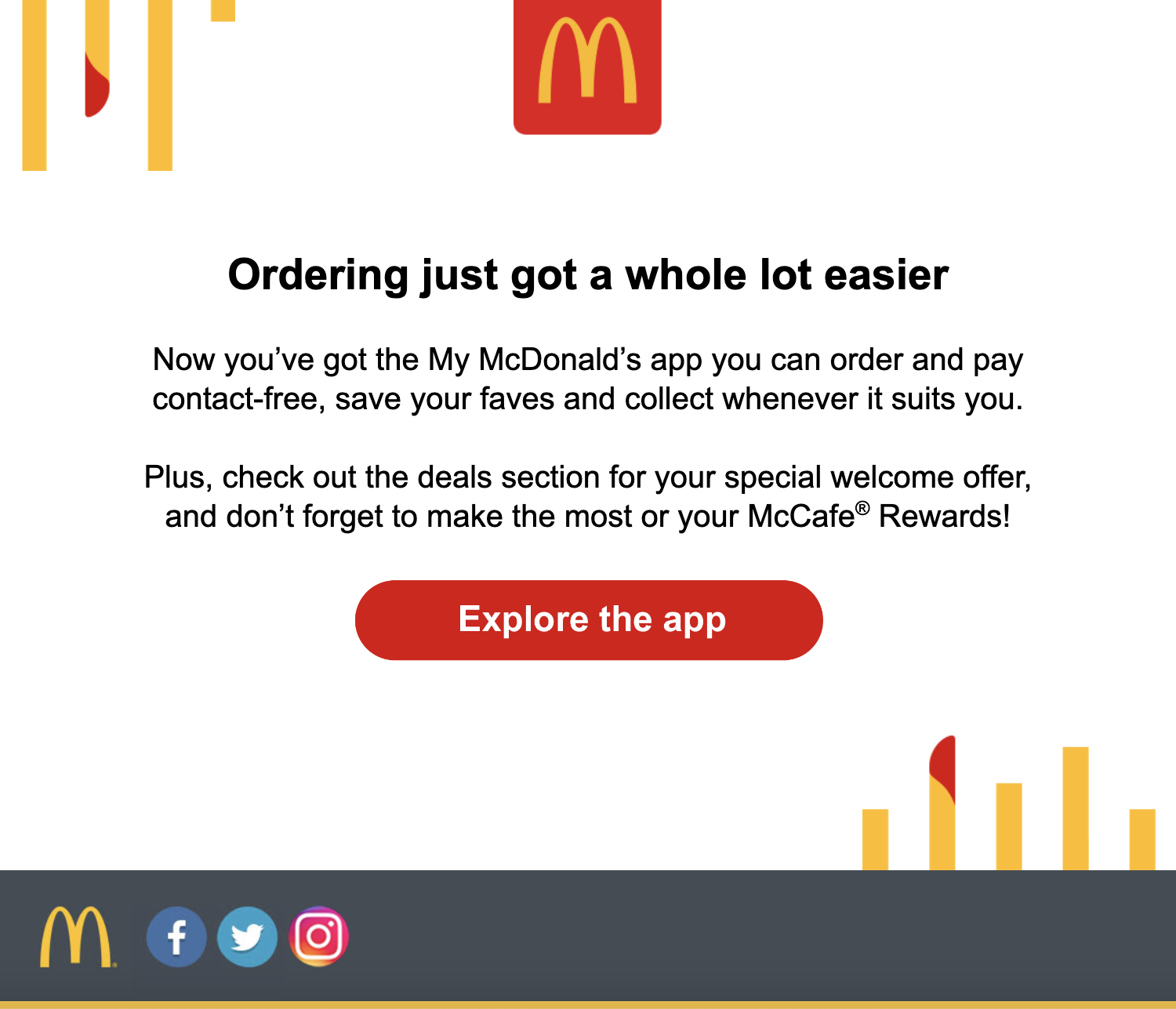 Well all that fantasy property hunting in Bel Air got us hungry – hungry for more welcome email examples that is.
McDonald's marketing is cleverer than you think, and you can see it all in action here. Specifically, the red and yellow in their brand colours signifies fries and ketchup. These are also fast colours, and are a subliminal marketing technique used to make us hungry.
So let's have a look at their welcome email then, which you'll receive if you sign up to the McDonald's app. The design is actually very clean, and with a clever play on the logo within the graphics used. It offers just one main button to get you straight on the app, seen as we know people don't want a complicated user journey within a fast food environment.
As a side note, that social bar is something every business can incorporate into its welcome emails. It's slick, sharp and McTasty.
P.S: Enjoying this post so far? Sign up for our FREE weekly newsletter, and we'll send you helpful content just like this direct to your inbox! 🔥✉️
SoulCycle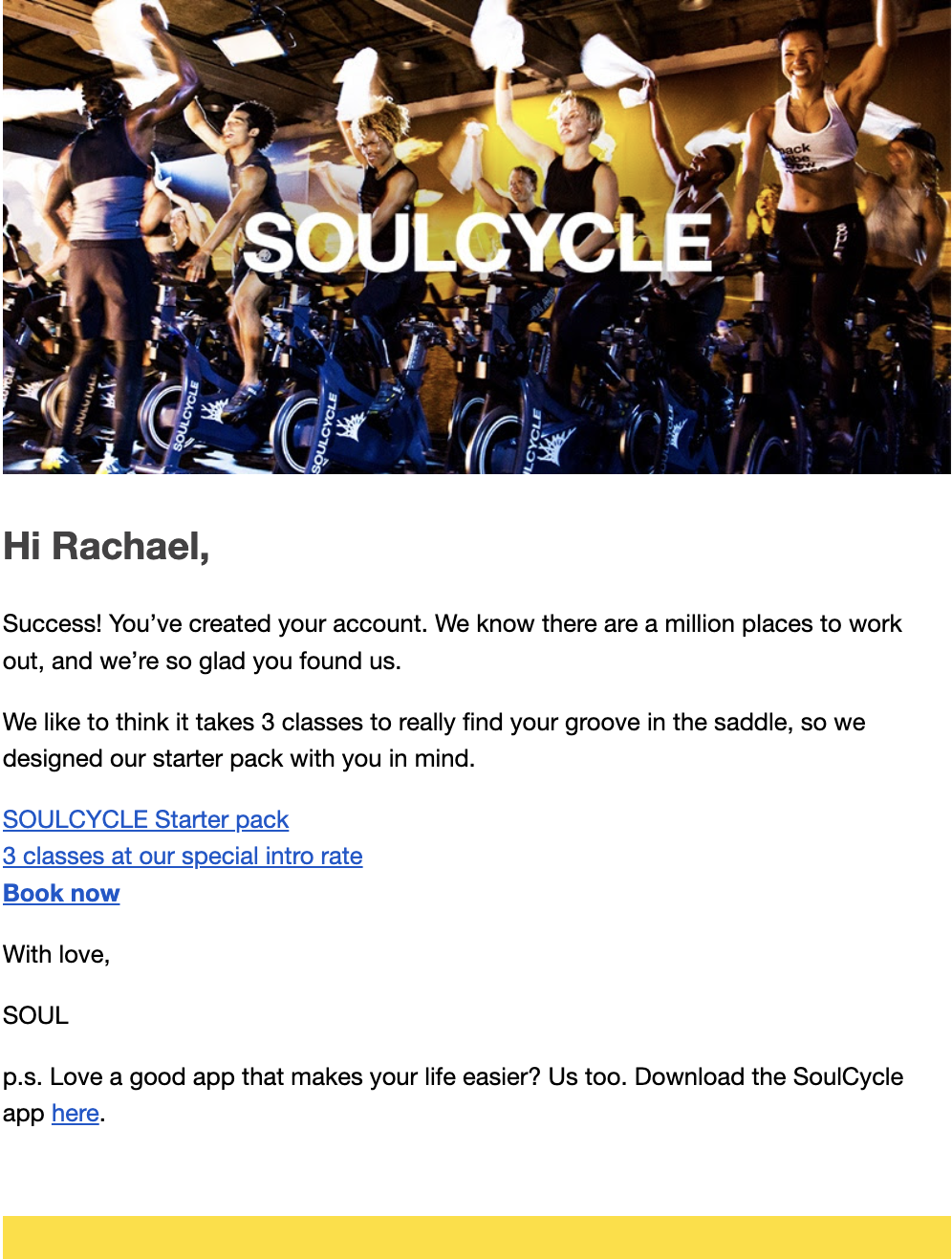 SoulCycle is the perfect antidote to any visits to McDonald's you do happen to make.
Signing up in itself also counts as actually attending a class right? Oh shoot.
For those who have never been to SoulCycle or any type of spin class before – high energy is the name of the game. Hence, SoulCycle's welcome email uses energetic colours and an enticing image to give you a flavour of what to expect.
There are not masses of copy, because they imagine you scrolling this email on your way to a class. They want to give you only the information you need to get peddling – literally!
Underneath, there are a couple of links to encourage you to make a block booking, which is a great upselling trick. Exercise is about commitment, after all.
Wix

Wix is a drag and drop website editor. So it's fitting that their welcome email demonstrates how that works in the most tangible way possible within an email marketing format.
Even though the top graphic is a static image, it makes you feel like you can resize that heading and play with the colour palette. It feels like the fun and engaging entity that web design should be. For business owners designing their own website, Wix have made the process something that's open to everyone.
The length of this welcome email is longer than some of the others, and that's because it tells a story, which begins with where to start, along with how your website could look like once it's finished.
The Times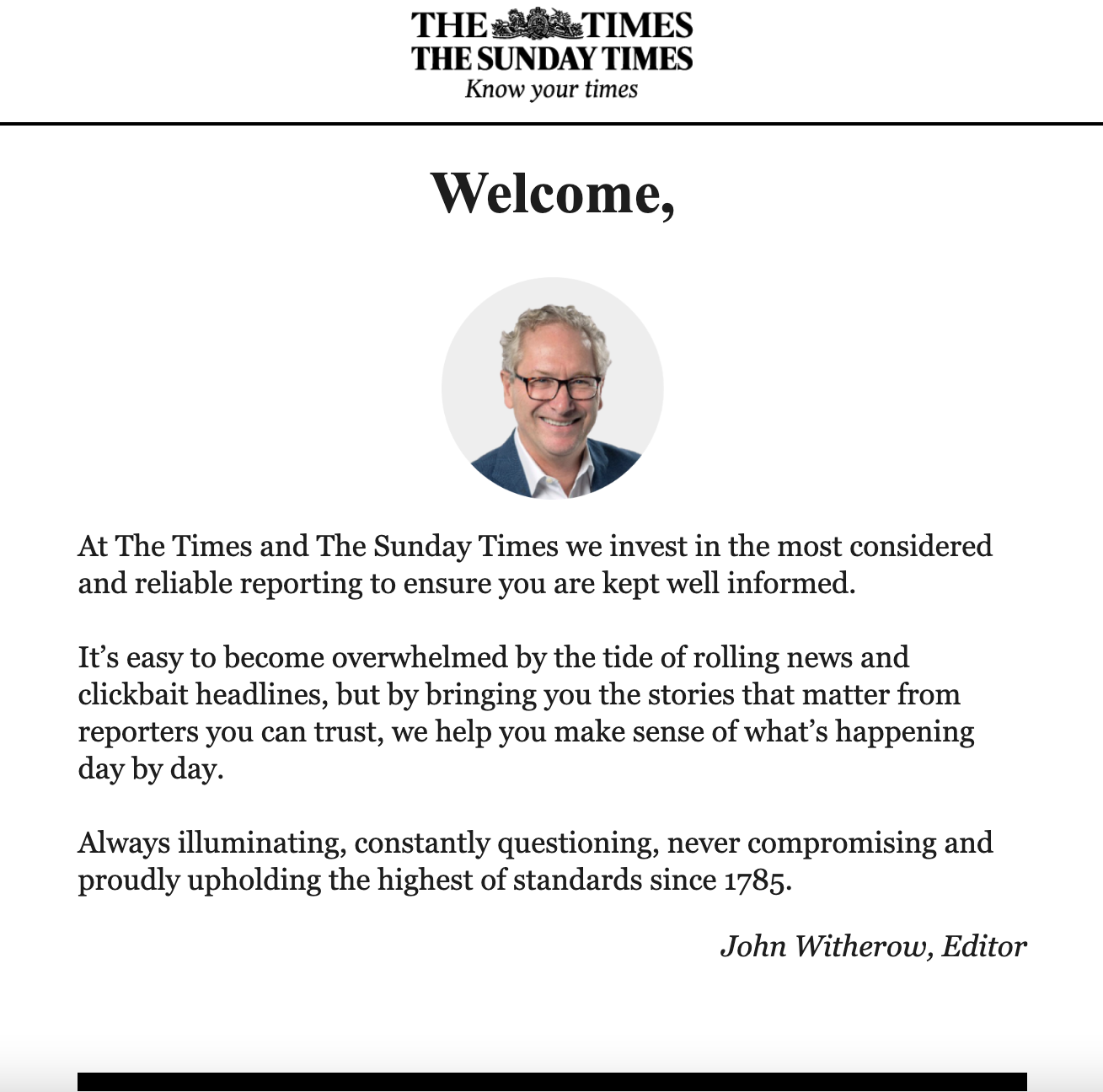 Moving onto welcome email examples which feel completely personal, and The Times have nailed it with their introductory correspondence.
The key differences here are that:
The Times is a highbrow newspaper
The publication has been in circulation since 1785
It's not a SaaS or digital based product (apart from the app)
The welcome email needs to set a professional, authoritative tone rather than feel too commercial
It does all of the above just with simple black and white text and a picture of the editor
Although your industry may differ drastically from journalism – it's always worth looking at how your welcome emails can feel just as unique rather than yet another cookie cutter message.
Drybar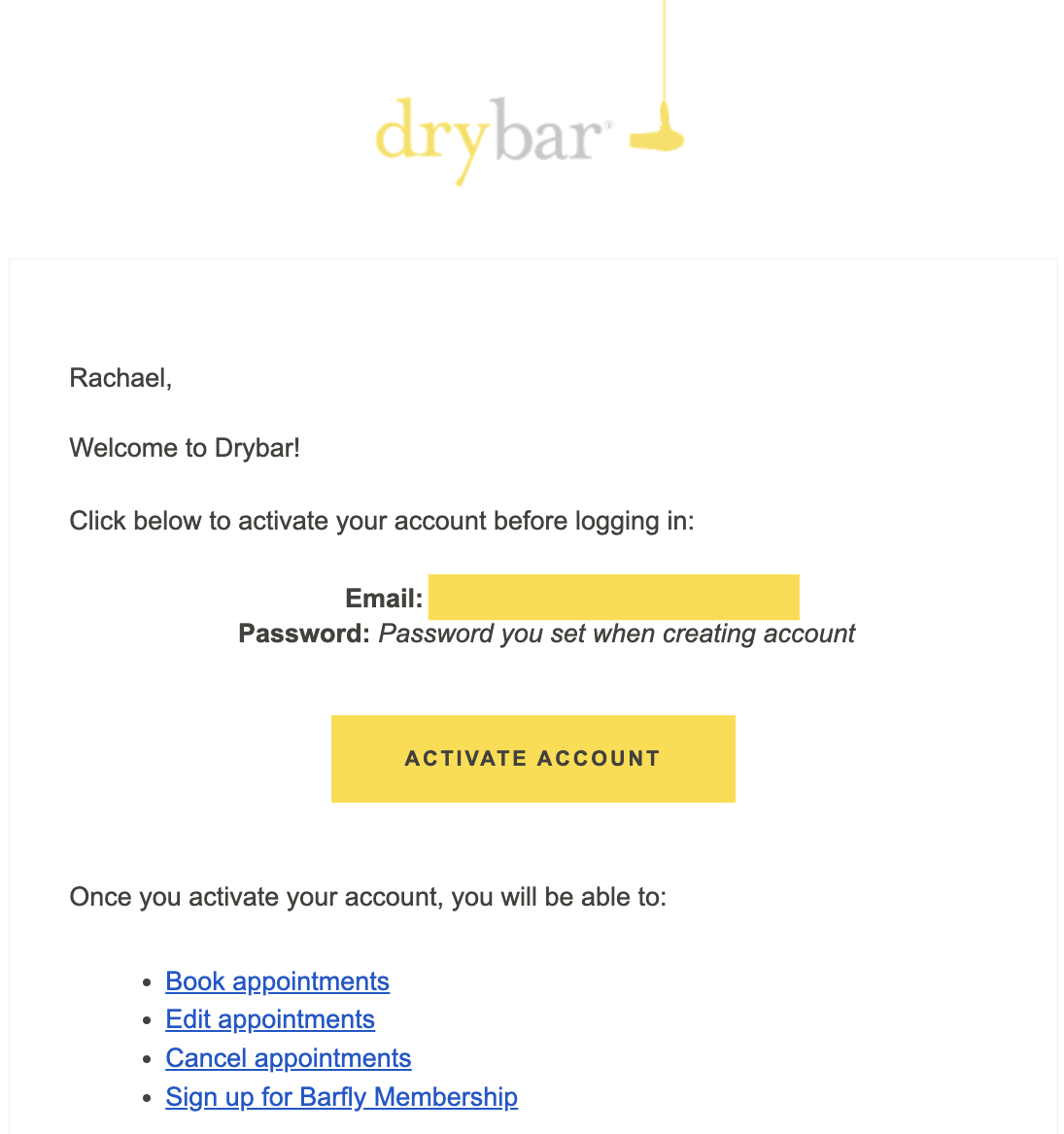 Drybar are a brand of very few words with their welcome email.
But when you look at what they have included, it mirrors their simplistic business model, seen as Drybar only offer blowdries. Hence, the welcome email gets straight to booking an appointment or signing up for membership in just one easy click.
Similar to SoulCycle, it's easy to imagine their subscribers in a hurry, wanting to be able to book something with the minimal amount of steps possible, just like ordering a takeaway or an Uber.
By removing lengthy information or endless graphics, Drybar gets straight to the point. It fits the purpose and audience demographic perfectly. If there were other services to introduce, this would perhaps be a different story. So email marketers need to use their discretion here so that their welcome campaigns hit it out of the park.
Disney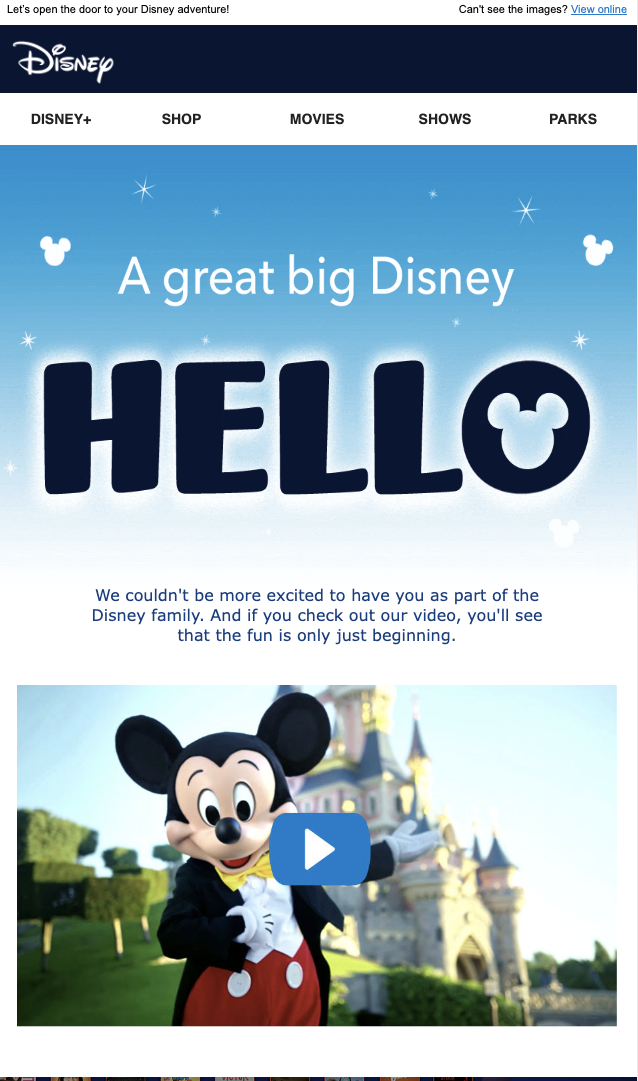 Disney is all about the experience.
So for their welcome email, which they send to users who register for park tickets, they've summarised everything with a clean fun graphic along with a video tour of the park.
Video marketing is incredibly powerful, and for a brand such as Disney, there's no better way to capture the magic of what to expect through giving a video tour. While the email may be sent to parents, Disney keeps in mind its kids who will be most interested in the contents, especially a video tour of their upcoming trip!
It would be so easy to go overboard here. But the video does the talking within the welcome email, giving this piece of marketing an orderly feel while injecting plenty of excitement.
Vimeo

Vimeo have also taken the opportunity to show you how to use their product within their welcome email.
Creating and uploading video content should feel easy to do. That's exactly what Vimeo have captured as they detail 5 easy steps to follow to shoot your content and get it published on their site.
Consider Vimeo's main competitor is YouTube, and every step they can take to differentiate themselves counts. For anyone completely new to video, this welcome email points them in the right direction.
At the end of the email, it tells users how they can access Vimeo including on the App Store or on Google Play. Any brands reading who also have an app can use this technique to encourage more downloads of their products.
Sephora
Ecommerce welcome email examples don't get more epic than Sephora.
Granted, what you just scrolled through was fairly epic. But look at what they included!
As well as a personal introduction by name, they take you through how you can interact with the brand, how you can get free samples and even what products you'll only find on their website. Finally, you get a full rundown of the reward system to encourage you to start collecting points.
Sephora really captures the imagination of their audience demographic. It's why despite fierce competition from brands such as Ulta, Target and the likes of Boots and Superdrug here in the UK – Sephora have a magic that keeps them at the top of their game.
In 2019, they grossed $4 billion in revenue, and have over 2,600 stores worldwide.
Even if your company is in a completely different niche to Sephora, there is a lot to learn from the format of their welcome emails which offer a free masterclass in marketing that's hard to ignore.
Create Amazing Welcome Emails For Your Customers With GoSquared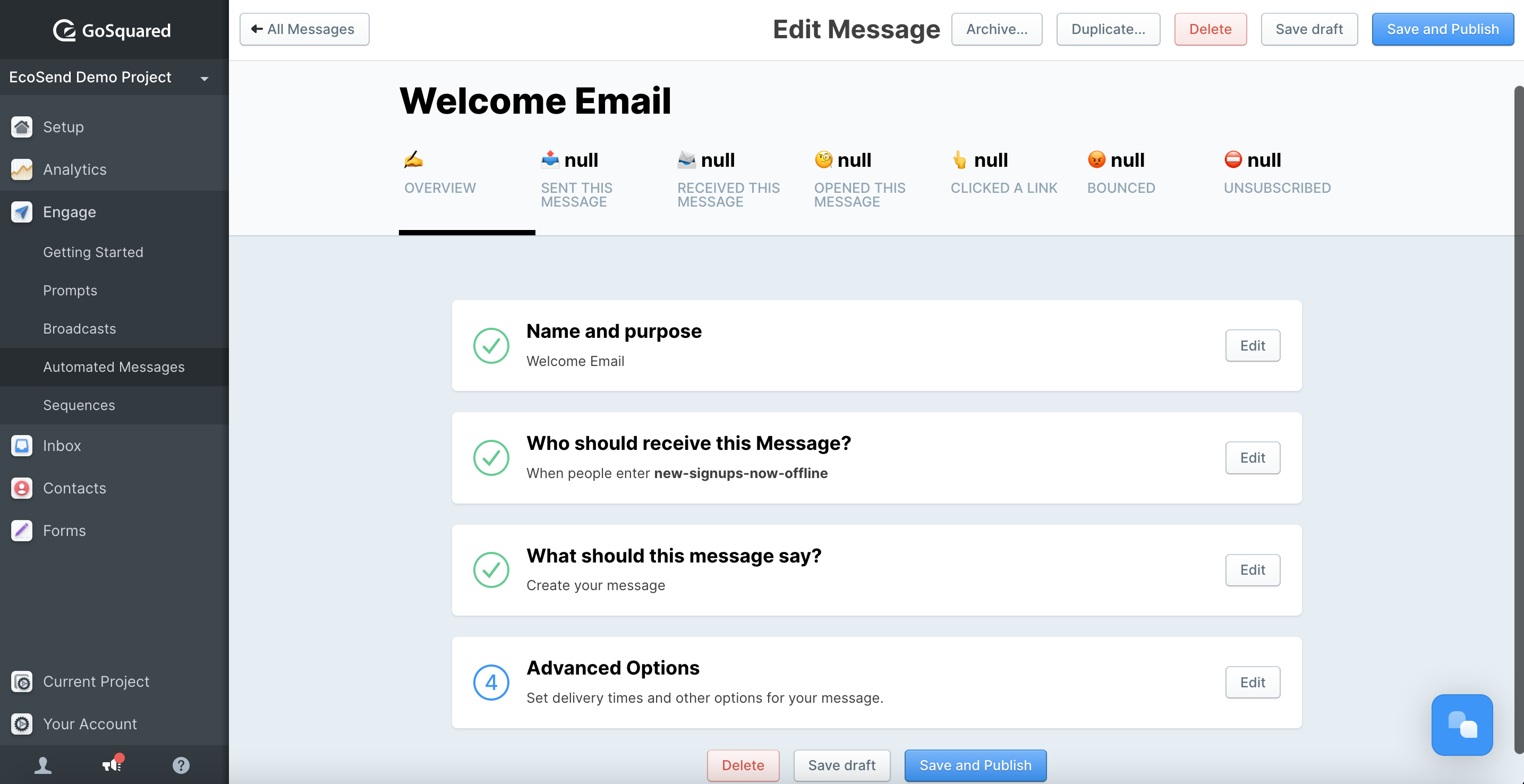 We hope our above welcome email examples have got you all fired up to create some of your own!
If so, you're in luck as here at GoSquared, we have a purpose-built tool to create email marketing campaigns, including welcome emails called Engage.
Given the stat we mentioned at the start about welcome emails having a phenomenal average open rate (91!%), GoSquared can help ensure your campaigns hit just the right notes with your audience. Use Engage to build a solid relationship with your customers, plus learn more about their user behaviour so that you can make the best marketing and product decisions.
Want a climate-conscious edge to your campaigns? We've just launched our newest email marketing tool, EcoSend by GoSquared which you can also use to craft welcome emails.
Need any help getting started, or want tailored advice on how to ace your welcome email campaigns? Reach out to our team and we'd be happy to help.