The step-by-step journey that took us from good intentions to big actions.
They say the road to Hell is paved with good intentions. Nowhere is that more true than in the world of Corporate Social Responsibility initiatives.
Everyone wants to do good (well, at least I hope so). But turns out that doing good is actually quite difficult.
Especially in a busy startup. The day-to-day tasks do a great job of getting in the way of anything non-critical.
Everything comes as a priority over arranging a CSR initiative, and there are only so many hours in the day.
And not to mention; we're human.
We get tired. Motivation fades. Excitement dims.
We get near the end of the working day and still have a bunch of priority tasks to clear. Which means that 'Arrange CSR!!!' task gets bumped once again to the next week. And the next, and the next…
I took over the unofficial 'Head of CSR' position around a year ago. And for the first 6 months I was guilty of this more than anyone.
I really wanted to set-up a CSR initiative, but work and life just seemed to keep getting in the way.
And whenever I did get the time to sit down and plan something out – I found myself getting frustrated. Where do I start? Who should I reach out? Why is this so hard? What's a DBS check?!
The answer to our (CSR) prayers
The truth is, it's actually very difficult to create a CSR initiative from scratch. And that's probably why my attempts for the first few months fell so flat. Or at least that's the excuse I save for my incompetence.
Eventually, I got fed-up with failing, and started researching to see if there were any business out there who could help me out.
That's when I stumbled across OnHand.
I'd followed Sanjay, OnHand's CEO, for a while on LinkedIn and realised their app could be the help I needed.
Describing their app as "The all-in-one tool to engage employees in local volunteering & climate action"; sounded like exactly what I needed.
I reached out, we jumped on a demo, and Sanjay probably had one of easiest sales of his career so far 😅
All that remained was to convince our CEO this was a good idea, and get the team set-up on the app. Fortunately for me, none of that took any effort.
Hunting for litter-treasure in South Bank
Within a few weeks, the GoSquared team found themselves strolling out on a hot July afternoon armed with bin-bags, not-at-all-fit-for-purpose gloves, and a willing motivation to… cleanse South Bank of street litter!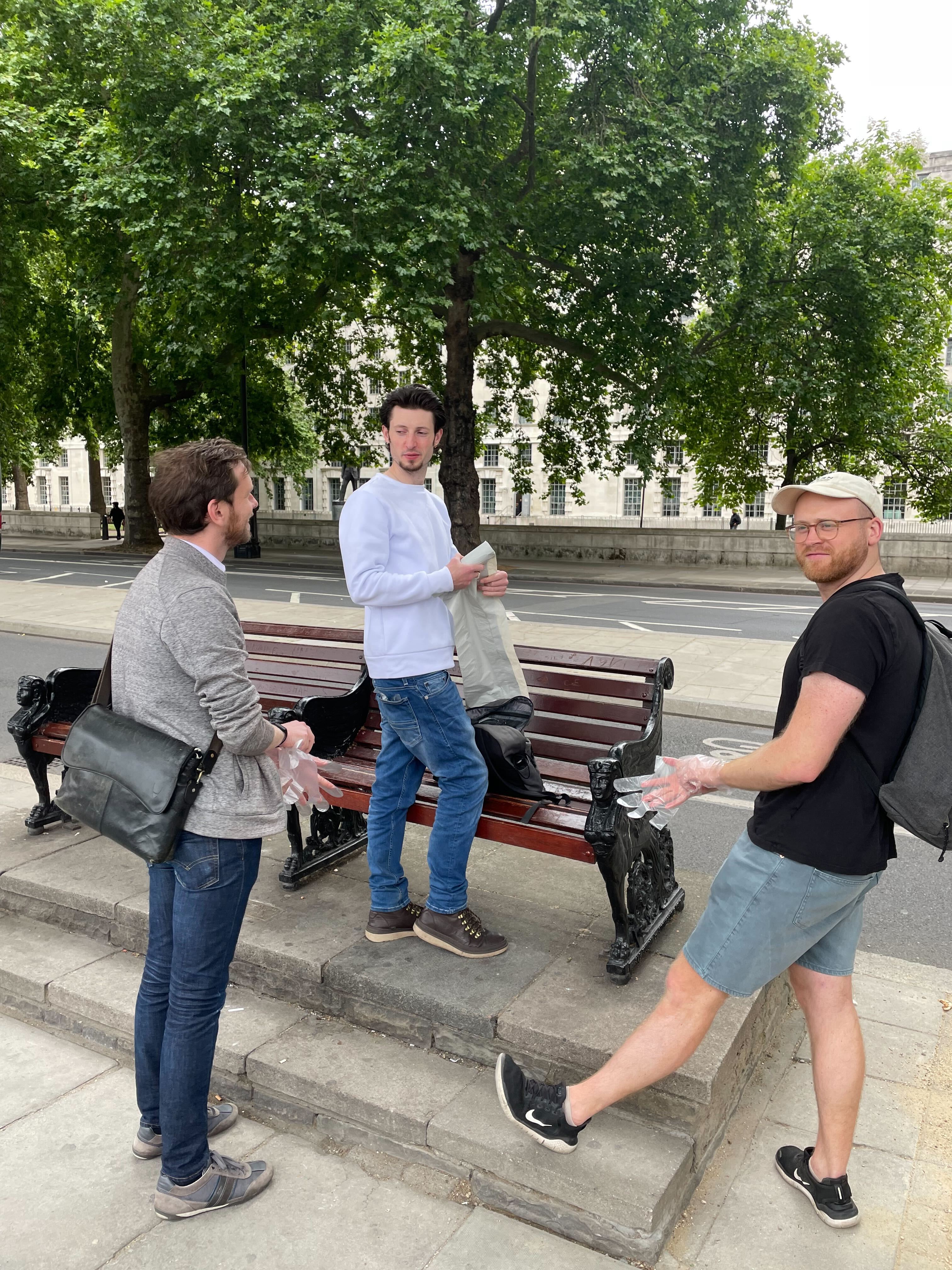 We got some funny-looks, some compliments, but most of all we found ourselves having a great time.
Scouring the streets for litter, it quickly became a competition of who could pick up more. The more 'exotic', the better. Matt beat us all by leaping over a wall to secure a treasure trove of trash; and nearly falling into the Thames in the process…
After a couple of hours, we were each hauling huge bags of South Bank's detritus over our shoulders; feeling tired but also accomplished. Doing good feels good. Especially when it's followed by a trip to the pub…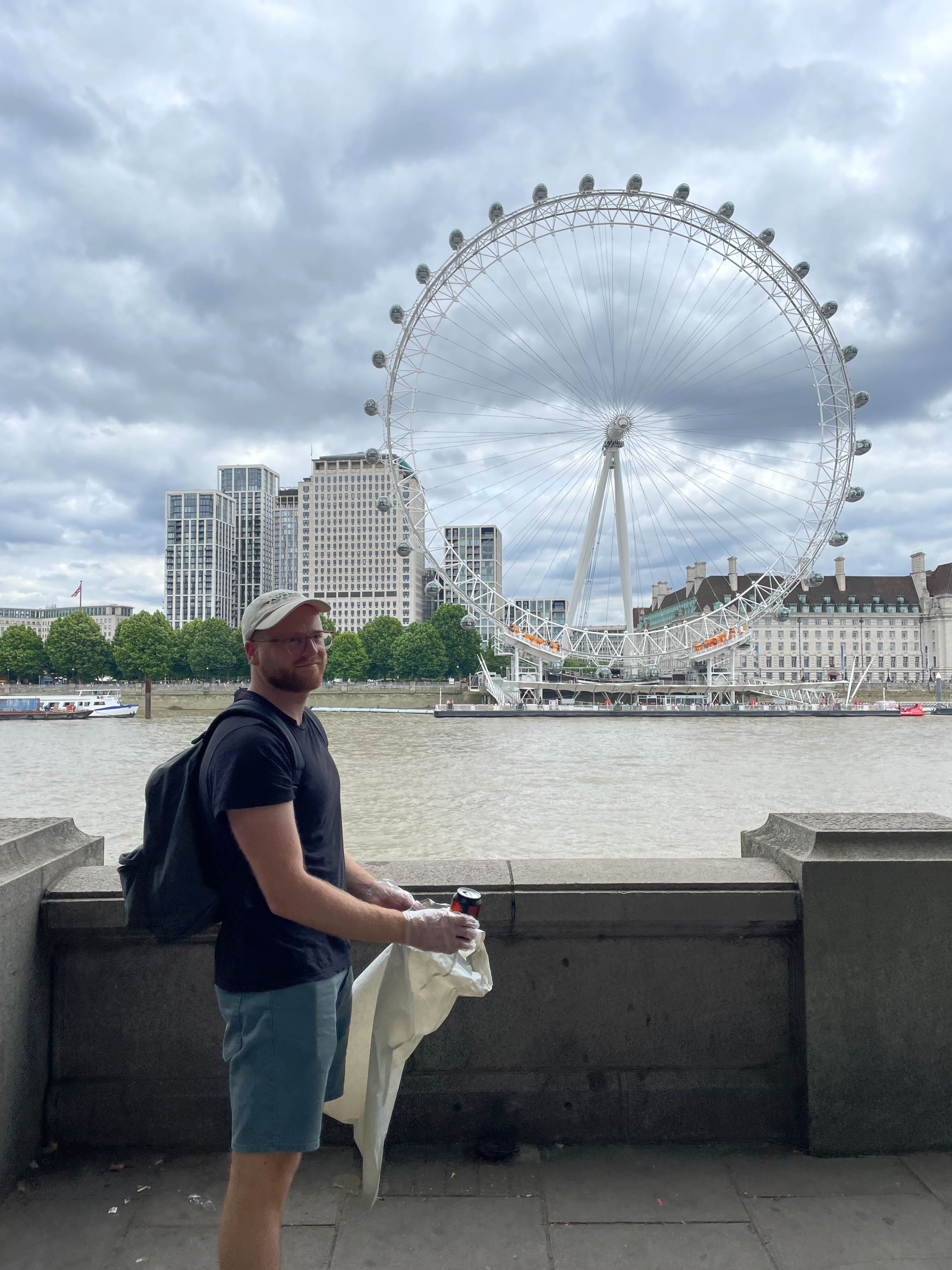 The momentum starts to build!
Buoyed by the success of our first CSR mission, we soon found ourselves together again for our next one; a Dementia Awareness Training session with Newcastle Building Society.
It turned out almost all the team have lived experience of close-relatives with Dementia.
Side note: that's one of those things you don't normally find about your colleagues, if it wasn't for an initiative like this. We're all human, who'd have thought!
Everyone walked away with a renewed perspective on Dementia, and rich lessons for engaging with relatives who experience it. Shout out to Jonathan from Newcastle Building Society for leading it!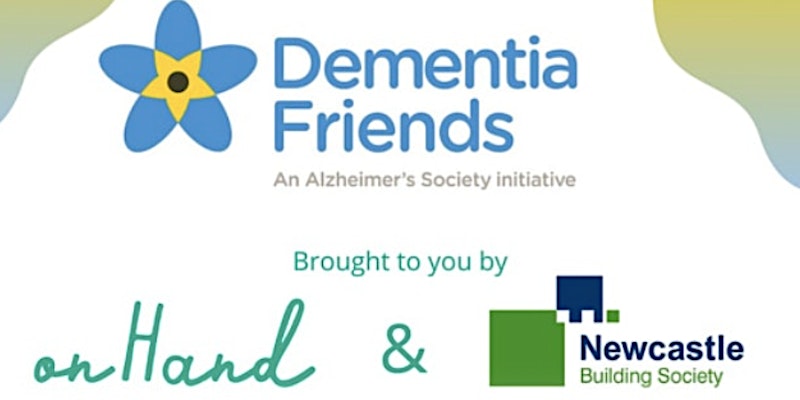 In the space of a few weeks it felt like we'd gone from 0 to 'wow, we're actually doing this!'
And that got us thinking, what else could we be doing?
Again, we all want to do good in the world. But why should 'doing-good' be limited to a couple of hours per month for a CSR activity?
What if we could start integrating that value into our company mission; better yet, our actual platform?
That's when the 'seeds' of EcoSend were first planted.
The Birth of EcoSend
At GoSquared, we help our clients send great emails. But, as it turns out, emails have a cost. Depending on the size and content, every email sent can emit up to 4g of carbon. That means the 300 billion emails sent every day can emit up to 12,000 metric tonnes of carbon per year. That's the same as burning over 28,000 barrels of oil.
Scary, huh? Bet you didn't think that was a thing.
Neither did we. But as we brainstormed and researched together, we realised we were faced with both challenge and opportunity.
Yes, our platform contributes to carbon emissions. Every marketing platform does. But what if we took it upon ourselves to change that?
Instead of seeing carbon emissions as 'just one of those things' of running a software platform, what if we decided we didn't want to be just another carbon-emitting platform.
Because it's easy to follow the crowd. It's easy to ignore a problem when everyone else is ignoring it too.
But what if we simply decided that wasn't good enough; what could that look like?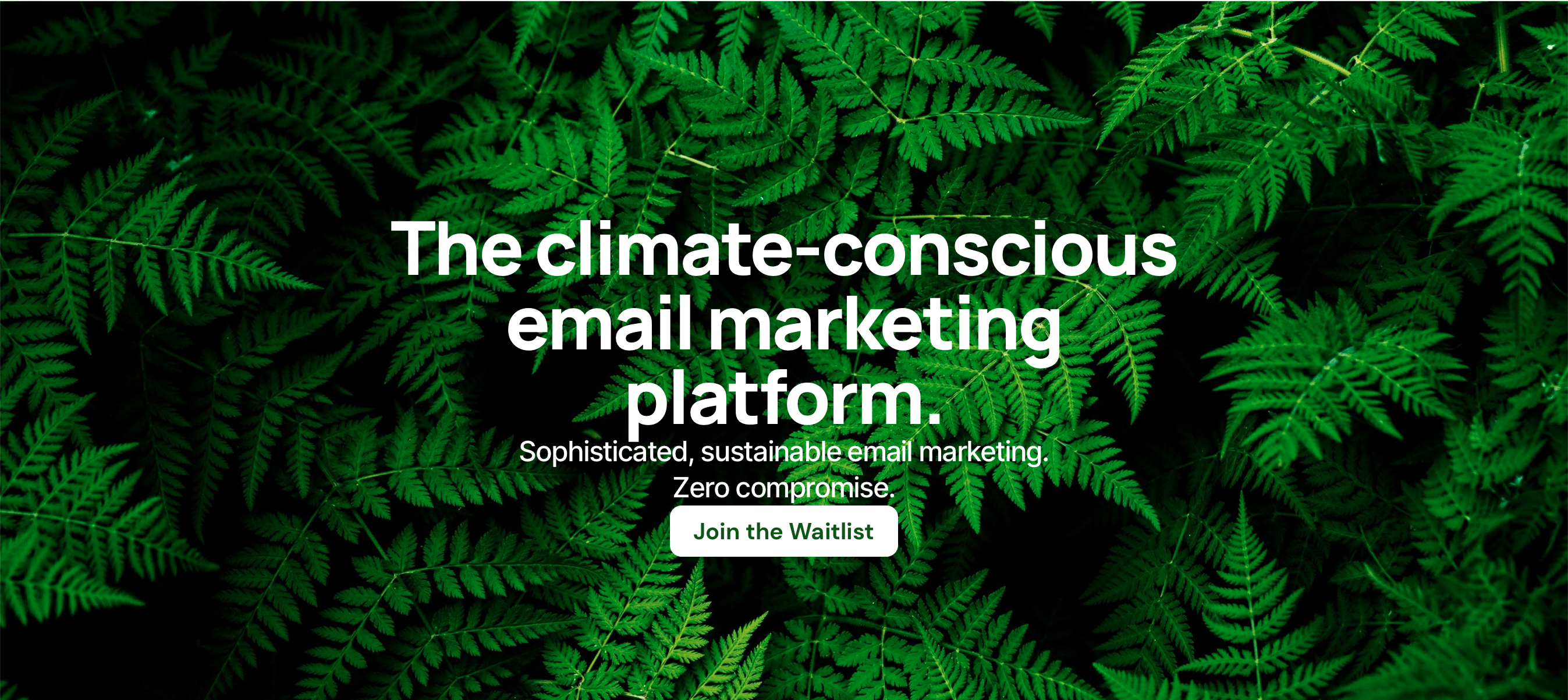 And so, after a day spent huddled together in an office in Marble Arch, 'EcoSend by GoSquared' was born. The world's first carbon-conscious email marketing platform.
The start of a new (re-new-able?) chapter
The journey is only beginning for us here, and we're well aware we still have a lot to figure out.
But unlike the first days of my CSR attempts, these aren't just good intentions. We're actually walking the walk.
The GoSquared forest was officially inaugurated in August with its first 300 trees, ready to offset a whopping 24,000kgs of carbon emissions per year. Real things are happening! Holes are being dug and trees are going into them (I have the certificates to prove it 😉).
This really is just the beginning. We have a ton of ideas for EcoSend. Gamifying the platform, so the better emails you send the more trees we plant. Tree-plant badges. Live emissions calculators. Incentivising in-app alternatives to email. And so much more!
Step by step we want to integrate our values and desire to do good for the planet into our platform. This won't happen overnight, but it will happen. Feature-release by feature-release, initiative after initiative, we'll get there.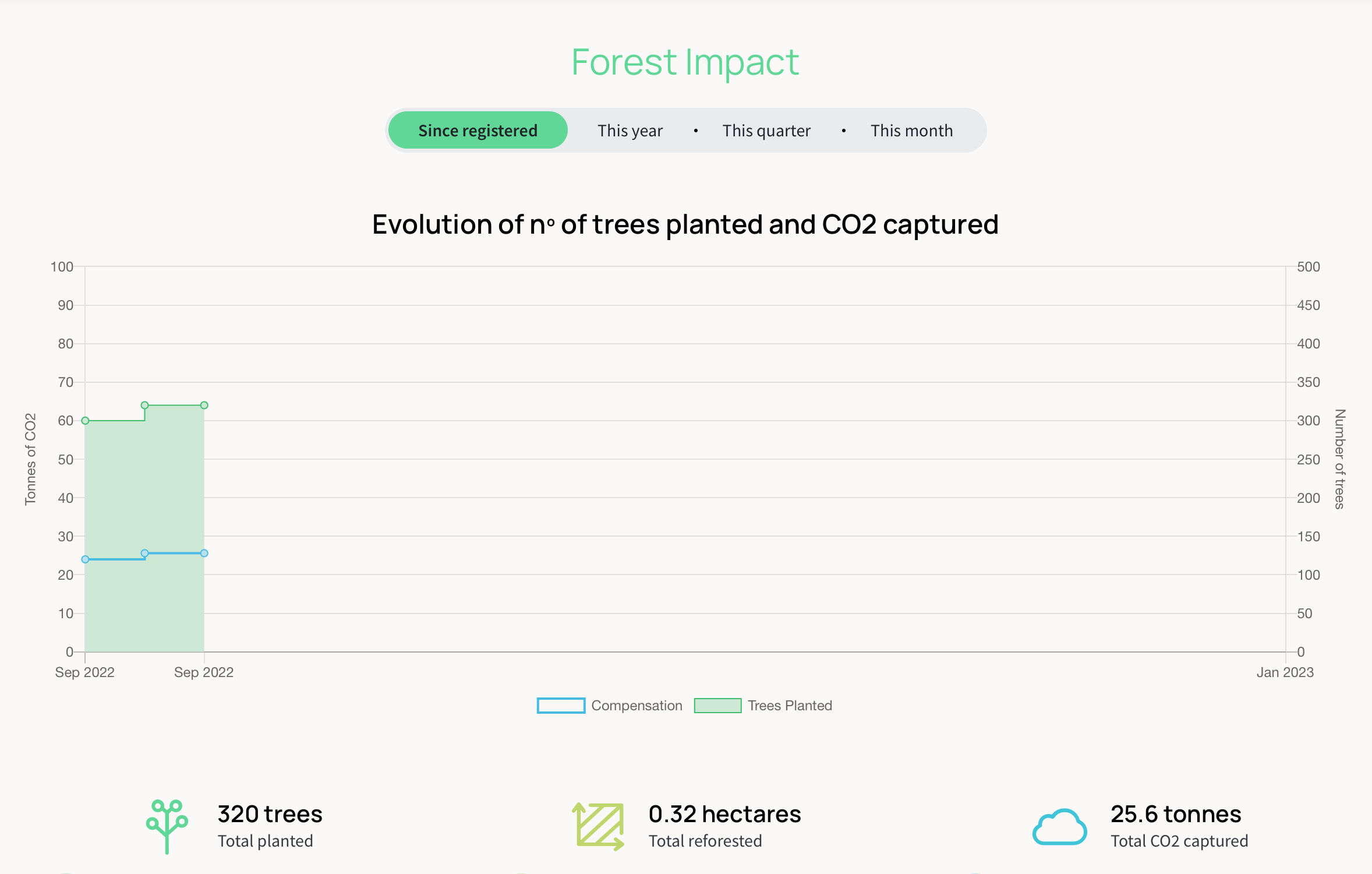 Help us grow the forest!
Here's an example: for September we kicked off our first eco-incentivised Customer Success initiatives.
After all, every company offers incentives to their clients for testimonial reviews, case study calls, re-engagement Training etc.
We're no different, but we've thrown out the old processes – no more gifts or corporate drinks.
Agree to give us a testimonial, or jump on a re-engagement call? You'll now get your very own corner in the GoSquared Forest, fit with a branded certificate and details about the program & trees-planted. 🙌
Please do watch this space, and please do hold us accountable to our lofty aims. We know we have a lot to learn. We desperately want to do the right thing, and we can only do that by taking feedback on board and adapting as we learn more."
So keep tabs on us.
Follow the progress of the GoSquared Forest here. If you're a client, ask us about our tree-planting initiatives, and how you can get involved.
Let's walk down this path together.
We all want to do good, so let's get to it!
Thanks for reading,
Chris