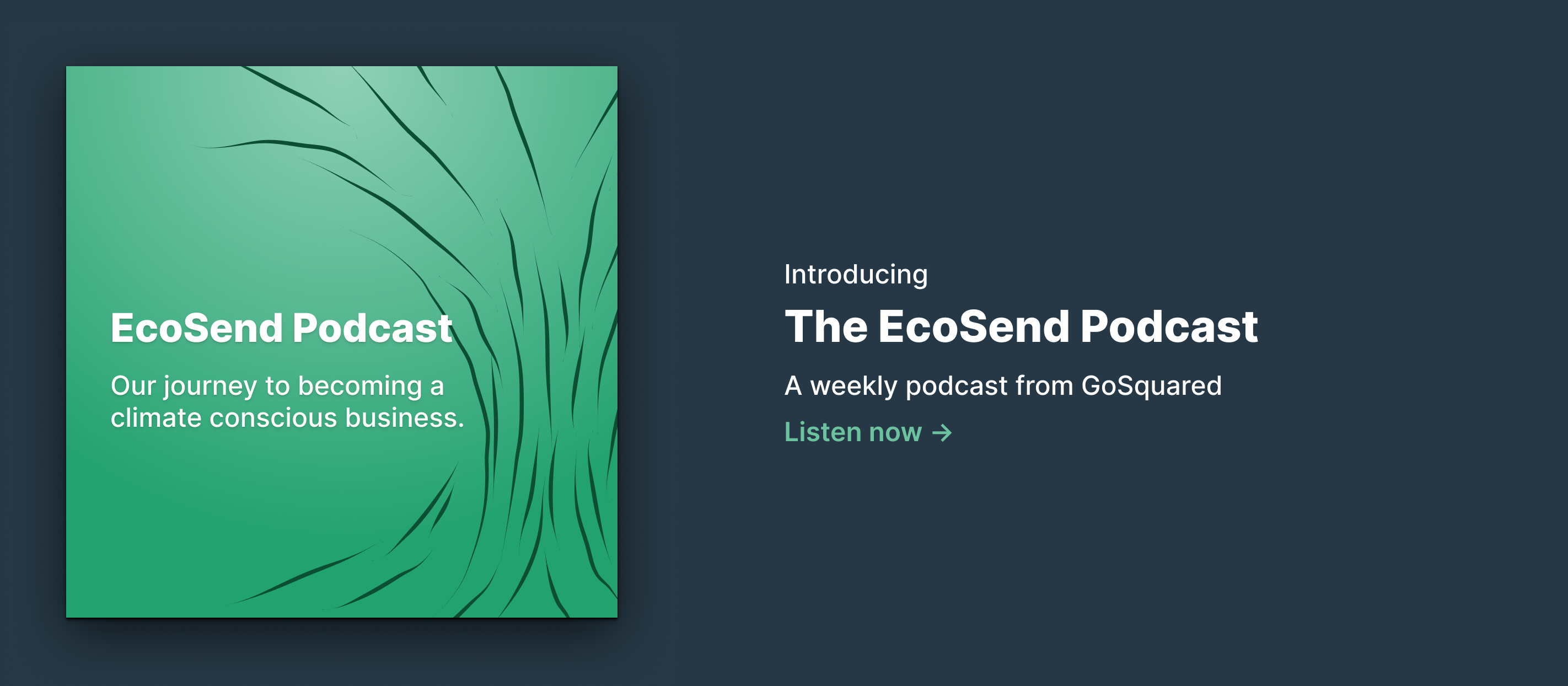 We're thrilled to introduce our latest creation: the EcoSend Podcast.
It's been a while since we last spoke on the GoSquared Podcast, and since then we've received countless requests to run another series interviewing smart people in the world of tech and startups.
This time we're branching out (or focusing in) on where technology and marketing intersect with the world of sustainability and climate.
We're been on a mission to have a positive impact on the climate and do more to tackle the world's biggest climate challenges.
While we may be a small software business, we have huge ambitions and passion to do things better. Every week we're learning more, and as we continue on our journey as a climate conscious software business, we want others to join us.
So we're starting the EcoSend Podcast to do just that — to share what we're learning, and to learn from some of the smartest and most inspirational people making climate their top priority.
We would love for you to join us.
What is the EcoSend Podcast?
It's a weekly podcast on becoming a climate conscious business.
Each week we'll be speaking with: founders, marketers, and leaders who are championing the climate.
The podcast is hosted by myself: James Gill, co-founder and CEO of GoSquared, the makers of EcoSend.
If you run a business or are responsible for growing one, and you want to have a positive impact on the environment, we think you'll want to listen in.
With every episode our goal is for you to learn something and be inspired to take some action.
With every single one of us making small changes (and some large ones) we believe it will all add up.
How frequently will episodes come out?
Once a week, and our first series will run through the remainder of 2022. If you like it, then we hope to bring you many more
How can I listen and subscribe?
You can listen to the trailer right now, and our first episode will be dropping next week.
The EcoSend Podcast will be available on all major podcast platforms including Apple Podcasts, Spotify, and Google Podcasts.
Wait, what is EcoSend?
EcoSend is the latest product from us at GoSquared — the climate conscious, no compromise email marketing platform for businesses that care for the planet. You can learn more about EcoSend over on the EcoSend site.