It is not often you spot the CEO of a company litter picking around the streets of London, but if you were out and about in Shoreditch recently, that's exactly what you would have seen in the form of our CEO James Gill, along with others from the GoSquared team.
Hoards of rubbish were removed from the streets of Shoreditch, in what was a rewarding exercise that's all part of how we want to give back as a company as well as individuals.
After all, we know how easy it is to become detached from the world around us, especially in this fast paced digital existence we are now all immersed in. But doing so continually without sticking our heads above the parapet at least once in a while runs the real risk we contribute to, rather than solve the challenges we all experience as humans on this planet.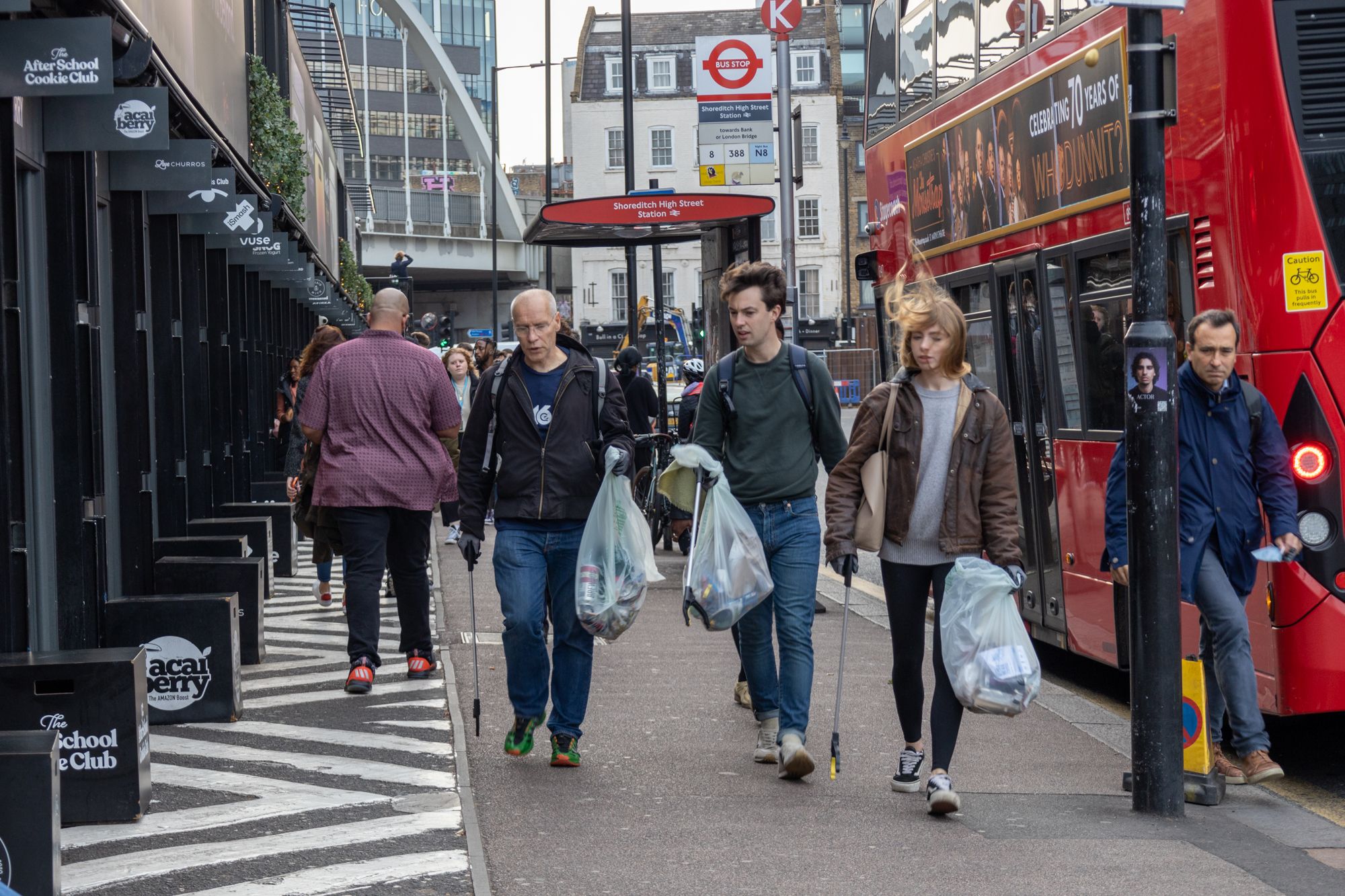 Littered streets are just one of the things we'd like to see less of, and there's no better solution to this problem than grabbing a bag and filling it with as much rubbish as possible. Although filling plastic bags with the the worldly contents of Shoreditch pavements won't solve every issue – for us at least it's a step in the right direction.
Imagine if every person could also spend even an hour of their time helping others or even the local environment? We think this would have a huge impact and it's something we can all do for free today.
For Chris who is our Customer Success Lead at GoSquared, this wasn't his first rodeo into the world of London litter picking, as Chris also organised another team litter pick around the Southbank area earlier in the year.
Chris explained: "We were delighted to host our second team litter picking session, arranged with the OnHand app.
As a remote-first company, it's a great opportunity to get our London-based team together for the day.
Following on from our first session cleaning up Southbank, this time we roved around the East of London, covering Liverpool Street and Shoreditch. Everyone was in good spirits and the litter was abundant. We each ended up hauling industrial sized bin bags, full to the brim with rubbish.
I'd also learned a few things from our last session, and made sure the team were kitted out with appropriately durable gloves (no more thin plastic) and grabber sticks. The grabber sticks were such a hit I had some difficulty in collecting them all at the end of the session…
As per a nascent company tradition, we rounded off the litter pick with some well deserved drinks and snacks at the nearest pub. A great day!"
View a video of our litter picking adventures. 🎥🗑
James Gill, CEO of GoSquared and founder of EcoSend added: "Doing our second litter pick in London with the team felt great. It gave us an opportunity to explore more of our local area, and we cleaned up the streets filling over five bags with litter in just a few hours.
The exercise was great for the area, but it was also great for each of us on the team — it was a chance to catch up, to wander, and to feel incredibly satisfied knowing we had done something positive to make the local area a little better."
James, Chris and the rest of the GoSquared team are thinking up ideas for our next team give back idea. Be sure to subscribe to our weekly newsletter so you'll be the first to hear about it.
Or know of any other organisations or causes we could help? Drop us a Tweet and we'll take a look.
Likewise, if your team has been involved with a rewarding project, we'd love to hear about it. More good news generated by your and our work rather than the not-so-positive regular news is right up our street. (Our new and improved cleaner street, we'd like to add).