As soon as your business has a sales team in place it's time to look for a CRM.
Ironically, while sales is most commonly associated with CRM (customer relationship management) – the beauty of a CRM platform is that it can do so much more. The right tool can work across your entire team to automate processes and ultimately strengthen your entire business model.
Your customer service teams and even your marketing department can also benefit from a CRM system – and this is just scratching the surface of what a great CRM tool can do.
Here at GoSquared, we help subscription based businesses to grow. As part of our efforts, we strive to bring you content that will allow you scale your ideas to new heights. So if you're keen to learn more about CRM, we've put together the following guide to bring you up to speed.
What Is CRM?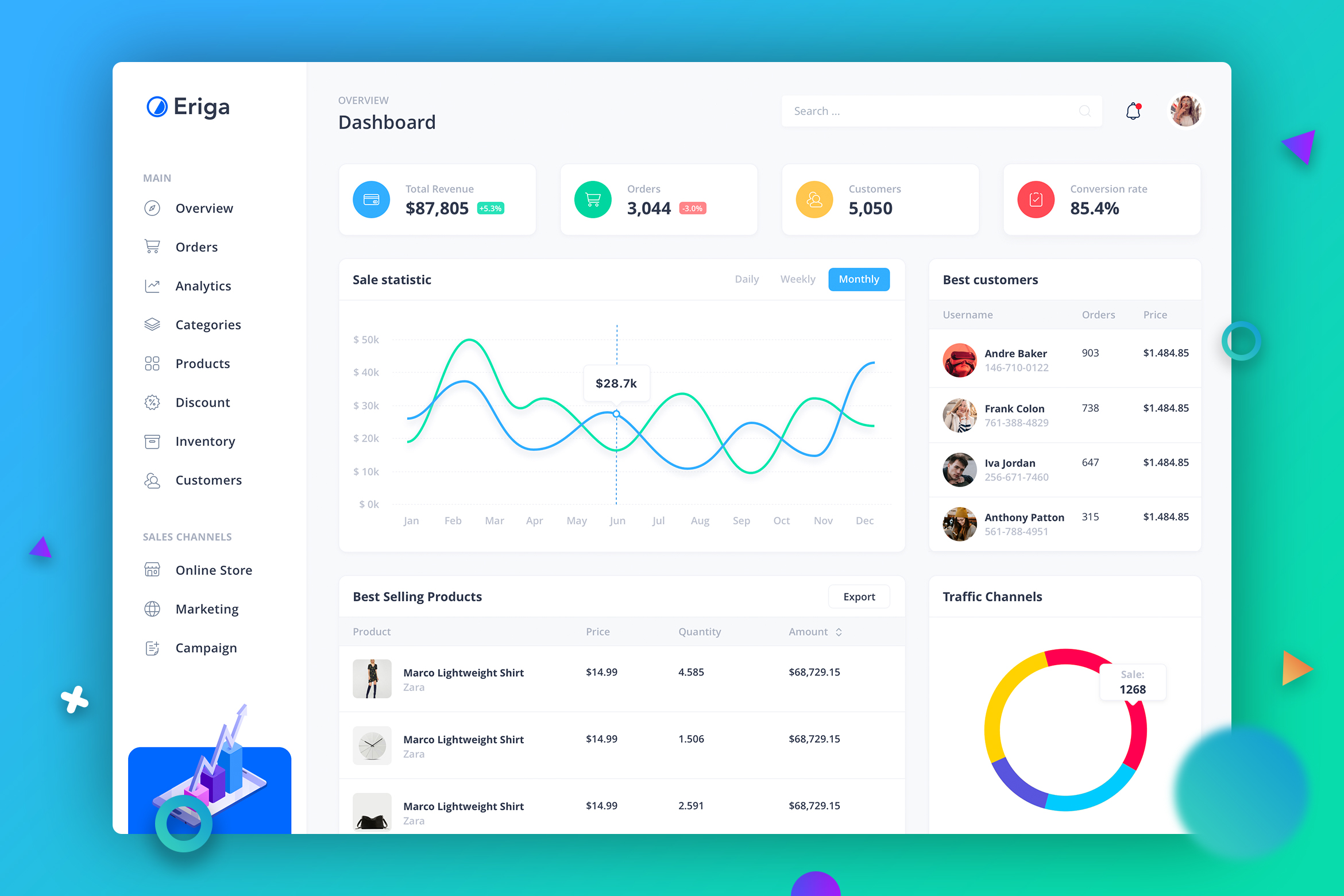 CRM (customer relationship management) is a type of business software that helps sales teams manage their customer communication.
With a CRM, customer data is centralised in one place, meaning all members of your team can access it to fulfil their individual needs. In essence, everything you need to know about your customers is streamlined and presented in a tangible way.
A CRM makes it much easier to understand your customers, therefore, making it easier to sell them your products and services.
There are different types of CRM systems including:
Fully integrated CRM
General CRM
Inbound CRM
Operational CRM
Sales CRM
Before choosing a CRM, you need to decide on your priorities as a business. That way, you can align the right CRM system to help you maximise your potential.
Why Do I Need A CRM System?
As with any kind of automation software, there's a reason why CRM solutions were invented. That's because the old way of doing things made life difficult. Perhaps if you're still doing things this way, you'll resonate.
For instance, trying to remember your customers' wants and needs from memory. Writing down notes or even using a spreadsheet. Basically, getting lost in the process and feeling unable to grow your business.
It's impossible to keep track of every customer with these old methods, let alone maximise sales.
Streamlining or scaling your business is tough without automating the most time consuming processes. So say goodbye to the migraine inducing Excel sheets. Or post-it notes stuck to your desk. With a CRM platform, you can consolidate all your customer data in one central location.
Enjoying what you're learning with us so far? Sign up to the free GoSquared newsletter to ensure you never miss a post! You can scroll to the end of this page to to that, but in the meantime, let's figure out why CRM is important.
CRM Benefits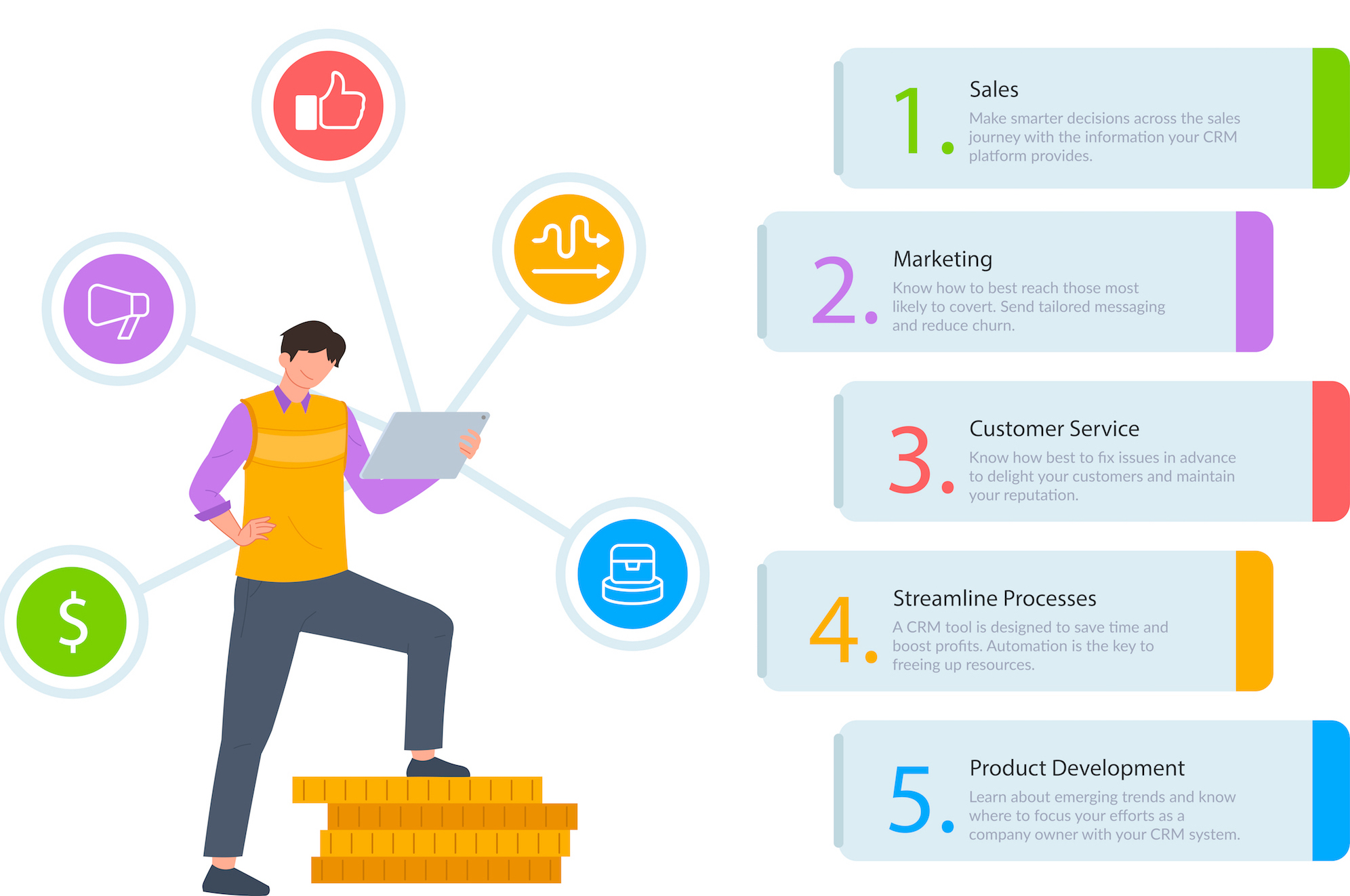 If you're going to invest in any kind of growth tool for your business, whether it be SEO software or indeed a CRM tool, naturally you want to know it's going to be worth your while.
Although CRM can offer your business a tailored solution, here are some of the main benefits to be enjoyed.
Sell More Faster
Doesn't every business want to sell more products? Whether your business sells physical products or is a subscription based business, CRM is the way to go.
Thrivemyway found that 92% of businesses claim CRM played an important role in achieving their income goals.
If you're wondering why that is, automation is by far a huge advantage for any sales team. As is the ability to offer a personalised service to each and every customer, because all the information you need about them is right in front of you.
Plus, you can use the datasets as a whole to understand the relationship customers have with your business on a general level. For example, tapping into new trends, understanding what products aren't popular anymore and also keeping up with the competition. With a CRM, the potential to sell more is endless.
Provide Excellent Customer Service
In today's world, if your customers need to reach out to you, they will most likely contact you on social media, email or give you a call. The great thing about CRM is that no matter how they get in touch, you can instantly keep track of their entire sales journey with you.
Whether you're trying to assist a disgruntled customer or trying to encourage the sales process, CRM means you can offer a concierge-like service at every turn.
When it comes to remaining competitive – we can't stress enough how important great customer service is.
Streamline Your Entire Business Model
Ever feel as if you never have enough time? One thing that definitely doesn't help the situation is any process in your business that is a time vacuum.
Whether it's contacting prospects, chasing up leads or any other task you can think of – CRM likely has a solution to fix that for you.
As much of the work is done on your behalf and is data-led to make even smarter, intuitive decisions, you can scale your business far more easily.
How To Use Customer Relationship Management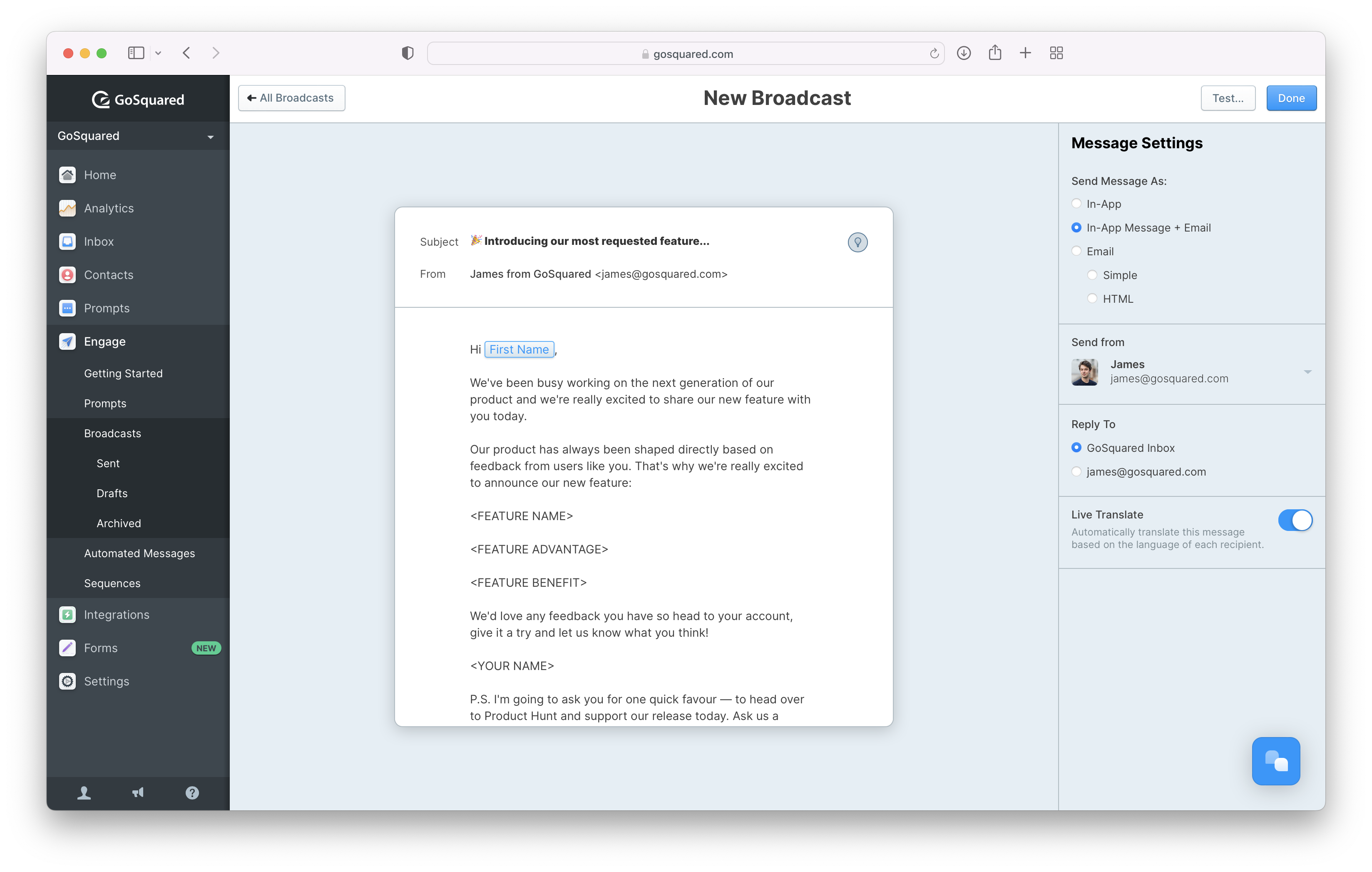 A CRM can work for you in so many different ways. As noted above, there are several types of CRM tools on the market also.
All of this means that whatever you are wanting to get out of a CRM is totally achievable.
So where can a CRM make impactful improvements in your business? Let's take a look at a typical setup.
Sales
While sales is far from the only department in your business that can benefit from a CRM, it's the one aspect that CRM systems are most associated with. That's because you'll have a complete customer profile for every existing customer and even visitor to your website. Whatever is needed to get them over the line, including personalised communication can be automated with a CRM.
Customer Service
It's impossible to give great customer service if your agents don't know anything about the customer or the issue they are facing. Nobody is a mindreader, but with a CRM you don't have to be, because all the answers will be provided for you. Better still, you can pre-empt and quash any potential issues before they have a chance to lead to churn.
Marketing
As a CRM allows you to have a full understanding of your customers, it means the marketing you produce can be segmented. You can provide a tailored experience that feels personalised, instead of being generic like your competitors. We know a broad, uninformed approach just doesn't work in marketing. But with so much data to learn from and react to, you can take the blindfold off to deliver truly targeted campaigns.
Ecommerce
Ecommerce is growing in popularity by the day, which also makes it super competitive. Add to this the different ways of interacting with customers and even marketing, and it's clear ecommerce businesses need a way of being able to keep up. A CRM is that solution, as it digitises every process needed to run your store, ship your products and manage customer service.
Is A Customer Relationship Management Platform Right For Your Business? See If You Resonate With Any Of The Following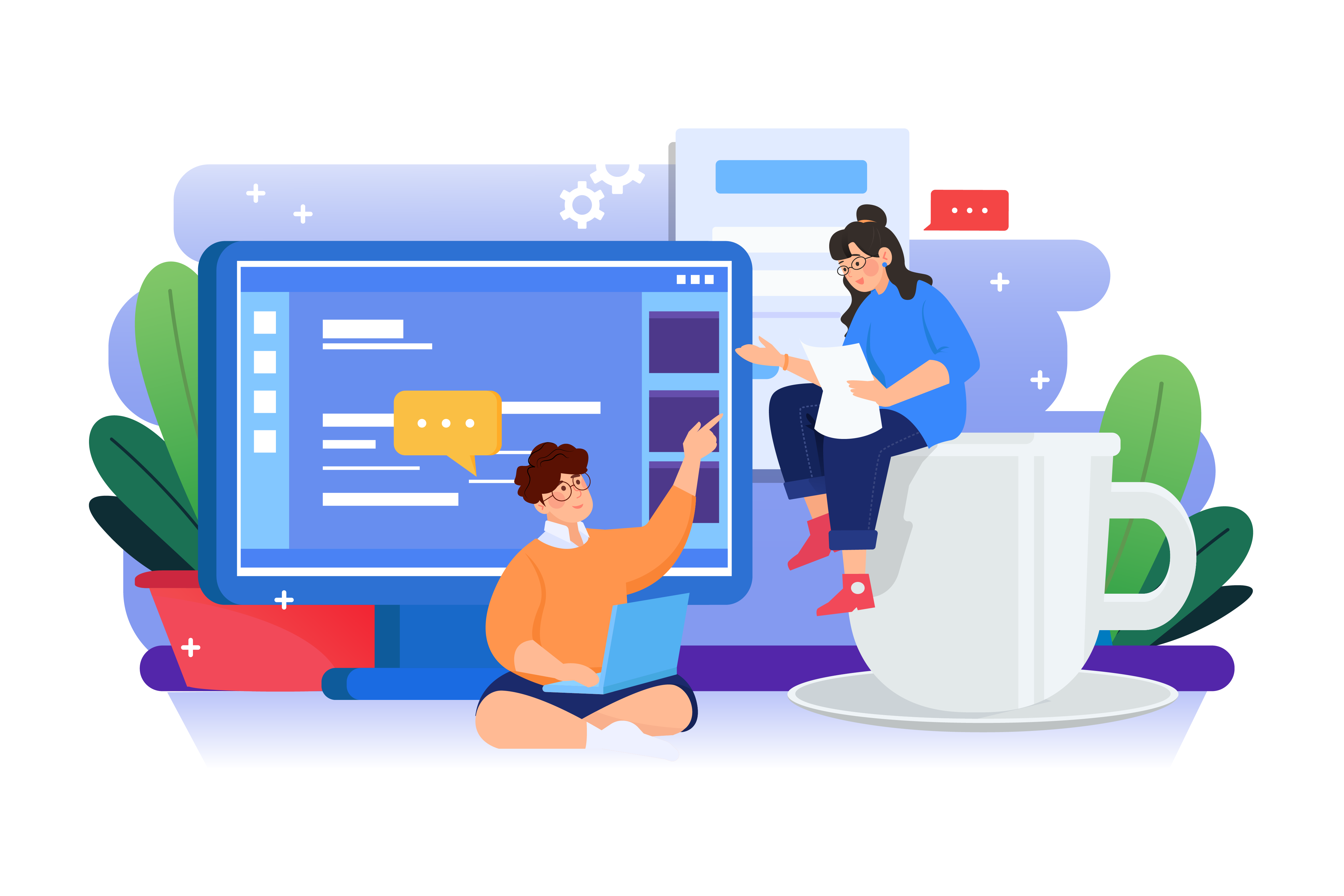 My sales process is messy
My website lacks of GDPR-friendly software, tools or techniques
The most valuable sales opportunities aren't being identified or responded to effectively
My customer service needs to be improved
I want to scale my business but lack automation tools to get me there
CRM is how you keep track of everything you are doing with your customers. So if any of these issues are hindering your business growth, it's time to take action. A CRM is one of the best investments you can make in response, especially if your business sells products or services.
A CRM grows your business, but crucially not your business complexity. It allows you to focus on the most valuable opportunities and provide the best customer experience throughout the buying process.
Customer contacts, communication history and buying history are all kept in one place so that your entire team can access any information they need through one platform. So whatever challenges your business needs to overcome, having the right tools by your side will be the key to your success.
Master Your CRM With GoSquared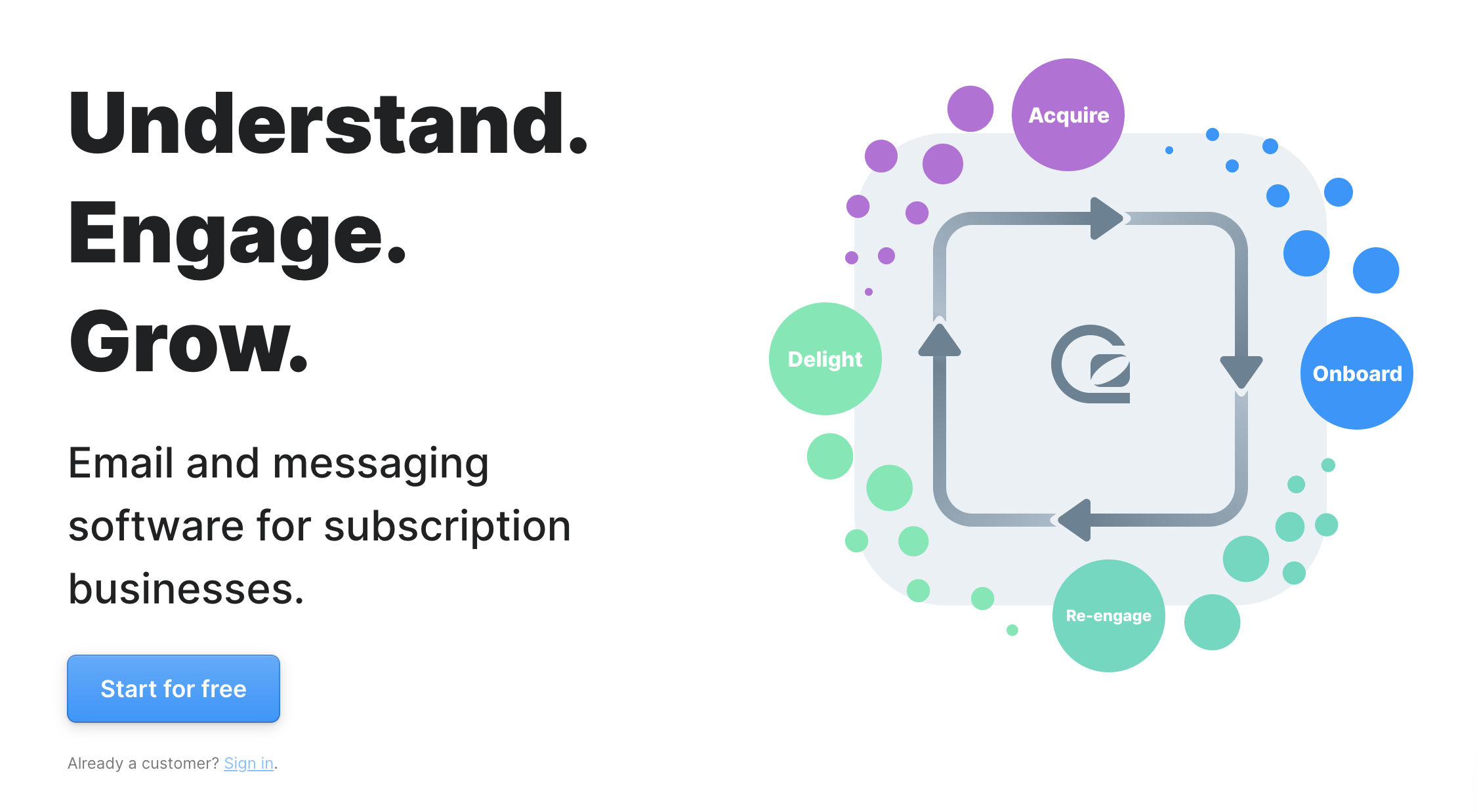 Hopefully, our explanation of CRM has inspired you to want to manage your customer relationships in a much more effective way. If so, you might just be interested in our customer engagement software. Engage is the all-in-one software platform to help you grow your business and engage with your customers.
Not sure if you're ready to commit? We offer a free trial of Engage, to allow you to improve user engagement and retention with effortless, personalised, multi-channel messaging. Try Engage today, and see how it improves the connections you have with your customers, and ultimately how it can help you to achieve your sales goals.
If you need any help with Engage or any other GoSquared solution, reach out to us at any time where one of our sales engineers would be more than happy to have a chat with you.