Tawk have taken quite a unique position in the Live Chat place by focusing on offering a completly free live chat tool. Their paid offering focuses on providing cheap agents or virtual assistants.
For a completely free tool, Tawk offers the basic support features you would expect from live chat tool. However for those that may be looking for more modern features, such as automation, we thought it would be useful to compile some alternatives that won't break the bank.
Full disclosure, With some of Tawk and GoSquared's functionality overlapping, we can't be completely unbiased. However, we're also aware that depending on your business and budget, some tools may be a better fit for you than others – so here are the key players: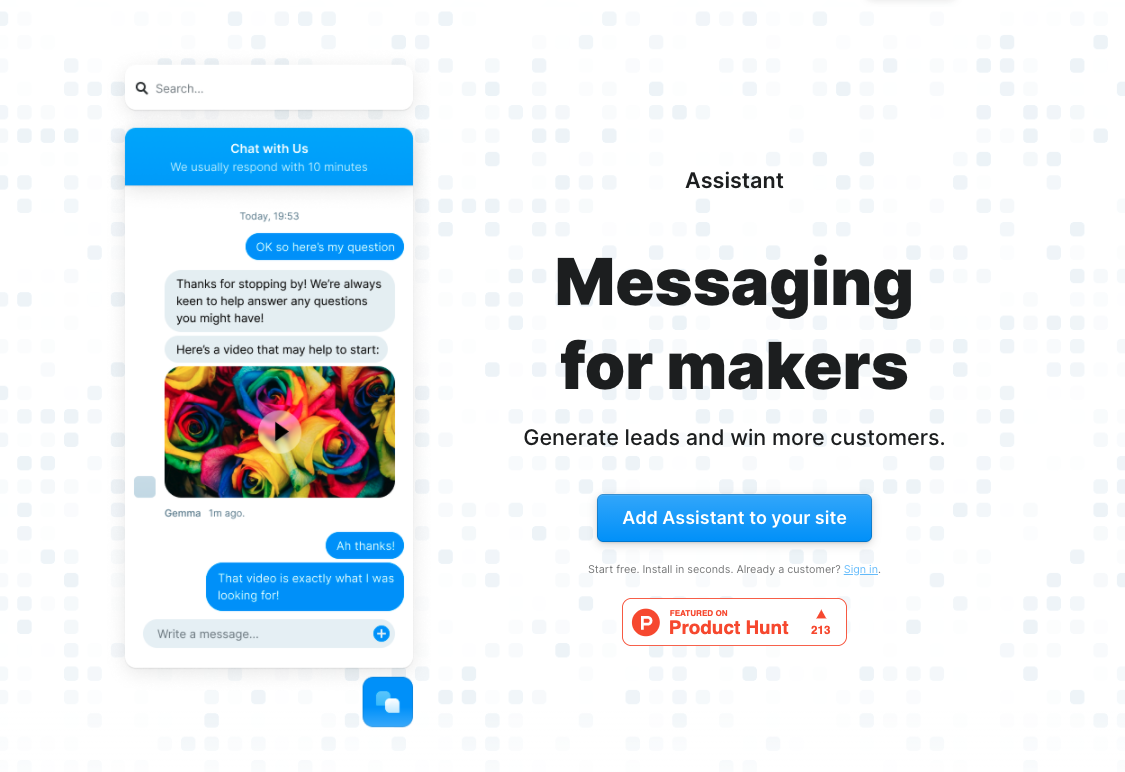 Your go-to for: Automated messaging and simple live chat.
With a free Live Chat plan, premium features starting at just $29/month and no costs for adding additional agents, GoSquared is a great entry point for people looking to move into a premium live chat tool.
While still offering a simple and intuitive live chat interface, GoSquared makes advanced live chat features accessible to anyone with a website. For example, Live Translation enables you to speak to any website visitor in their native language. If time and resource are something you are short on, then GoSquared Automation will be a massive help. It saves you time by proactively sending messages to your visitors based on their on-site behaviour. Incredible for converting more leads through your website.
2. Crisp

Your go-to for: Broad support features.
If you're looking for a general support tool. Crisp is a good alternative. A good basic live chat offering coupled features like a Knowledge Base and Ticketing make it a good support tool. There are limitations around their ability to send proactive or automated messaging, but for small teams it, it can be a cost effective support solution.
Pricing info
Crisp has a free plan with some basic functionality, with premium features starting at £25/month. Keep in mind there is per seat pricing, so cost can scale quick quickly as your team grows.
See Pricing
Your go-to for: Simple chat and chat automation
If you just use basic live chat from Tawk, then Olark could be a great fit for you. It includes great, basic chat tools like file attachments and team and conversation management.
Pricing info
There is no free plan but for $19 per agent per month, you get access to all of the core features.
Your go-to for: Multichannel customer chat
Zendesk Chat helps you provide support via websites, mobile apps, and messaging services. You can also incorporate the chat experience into the self-service support center, so that customers will only contact you if they don't get their question answered elsewhere.
Pricing info
Again, there is no free plan but Zendesk Chat starts affordable at $14 per agent per month. To incorporate operating hours and setup unlimited triggers, most businesses will get better value from the $39 per agent per month plan.
Your go-to for: Multichannel help desk software
With Deskero, you integrate all your different sources of customer support tickets: chat, email, and even social media into one place. The platform includes features to help you save time on customer support like one-click replies, templates, workflows, categories, and filters.
Pricing info
When you pay annually, Deskero starts at $9 per agent per month.
If you're thinking of an alternative to Tawk, why not try a tool that can help you automate a lot of the process.
The GoSquared platform allows you to drive powerful automation triggered by advanced real-time analytics. That allows you to automate conversations with your users, based on their real time behaviours, sending better more effective messaging – feeing up resource for your team to do what they do best.