Back in October, GoSquared were delighted to achieve accreditation by the Good Business Charter. The GBC was established to inspire responsible behaviour at all levels within organisations and promote best business-practise; 'Good Capitalism' as some might say 😃
Last week, I was had the opportunity to attend the GBC's first ever annual gathering of members; over 1,000 organisations already!
It can be hard to know what to expect from this sort of gathering, especially as a brand-new member, but I genuinely came away from it feeling fired up and revitalised.
One of the main reasons we chose to join the Charter was for guidance on how to be a more forward-thinking, inclusive, sustainable business. It was clear from listening to the speakers that we're in the right place!
These are members who really are walking the walk; not just running successful, profitable business – but doing so in a manner which champions their employees, gives back to their community, and promotes the welfare of their local environment 💙
The GBC's mission really does feel like win-win. For too long businesses have seemingly been caught in this paradigm of either profit-at-all-costs or be a charity. But what about business who want to do both? What if we want to run successful businesses, but also do good and feel good about our work along the way?
Listening to the speaker's at the inaugural gathering, I felt convinced more than ever that such a result is possible. And I'd like to share that conviction with you. So please read on at my attempt to summarise the stories, lessons, and action-points from the GBC's speakers!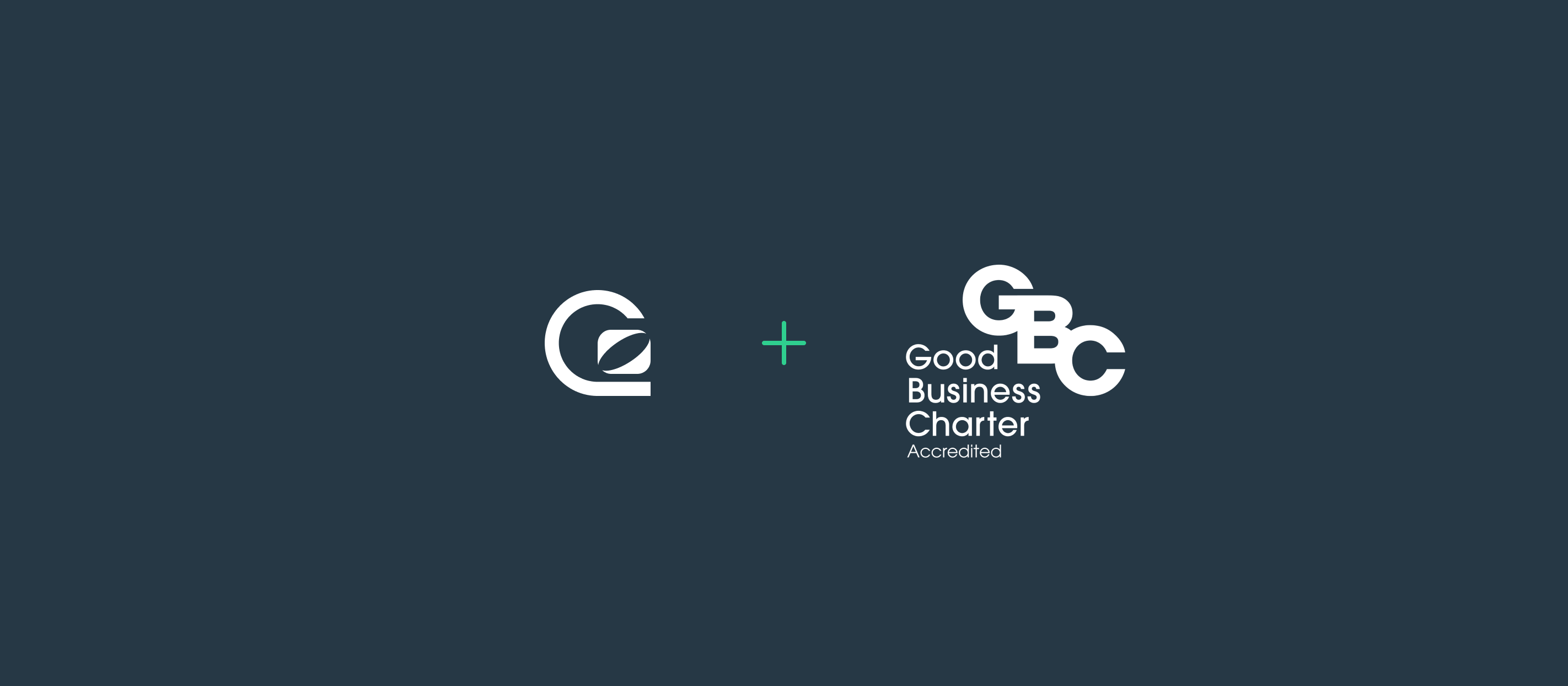 After a welcome by Miatta Fahnbulleh, Chief Executive of the New Economics Foundation, we kicked off with a introduction by Julian Richer, Founder of the GBC.
Julian Richer
Julian discussed the split side of Capitalism; both force for good and evil over the past centuries. We've seen societies ravaged by exploitation and abuse, while on the other hand Capitalism has also been a force for positive change; creating resources, lifting societies out of poverty, and supporting growth.
It's the best system we're yet to try, but the challenge we face is knowing which companies fall into which category. How do you know whether your business suppliers, or even the companies you buy from, fall into the good or the bad camp?
97% of the public surveyed say they actively want to buy from reputable businesses. But this desire is useless unless we know who is and who isn't reputable.
That is why, Julian explains, he set up the GBC as a means to signpost consumers towards Good Capitalism, and away from the bad.
Frances O'Grady
General Secretary of the British Trades Union Congress, Frances took our memories back to the Covid years; reminding us how, for a brief moment, the plight of key workers was widely acknowledged. Since the relative return to normal however, that has been once again forgotten.
But it is organisations who truly champion the well-being of their employees, Frances explained, who enjoy greater business results.
She described this as "enlightened self-interest"; where doing the right thing ultimately results in the best outcome for your business. We must move away from the attitude of squeezing employees for all they have and pushing them to the brink to maximise profits.
It is businesses who treat their employees well, who see better long-term results. The success of many GBC businesses stands testament to that.
Tony Danker
Director General of the CBI, Tony's message centred around the challenging times we are now faced with. Rising household bills, energy crises, political uncertainty and divisiveness.
But in the midst of this, there is opportunity. Opportunity to continue to drive sustainable growth and lift our society out of these uncertain times.
For Tony, 'Green Growth' is not only our moral imperative, but also a great opportunity for British businesses to be at the global forefront of sustainable-business progress.
Jenny Herrera
Rounding off the introductory speakers, Jenny Herrera CEO of the GBC discussed some of the recent milestones accomplished by the Charter. These included:
January 2021 – the GBC introduced their 'streamlined' accreditation version to facilitate membership for small to medium sized businesses (including GoSquared!)
Hitting 1,000 member-organisations in March! 🎉
York City recently became the first official 'GBC City' with accreditation given to Avixa, both York Universities, York Council, York NHS Trust and nearly 100 local businesses! Jenny's ambition is to replicate this across other UK cities in the months to come
Jenny rounded off by handing over to the first of four guest speakers, Joel Ripley from Schroders Personal Wealth.
Joel Ripley – CFO at Schroders Personal Wealth

"Responsibility is not a cost – it is a massive opportunity for our businesses"
The Financial Advice and Investment industry often comes with a poor reputation. Despite this, and the challenges of the current economic climate, Schroders continue to thrive thanks to a commitment to transparency.
Joel highlights that, far from being a cost to their profit-margins, adapting their business to attain GBC accreditation has lead to considerable positive results.
To increase their transparency in an often murky industry, Schroders now publish an annual responsible business report; demonstrating how the company pays both taxes and employees.
With 47% of the public-surveyed naming Corporate Tax evasion as their top business concern, Schroders are one of two firms in their sector to proudly hold a Fair Tax Mark from the Fair Tax foundation.
The flip-side to public concern around corporate tax evasion, is that consumers (and prospective employees!) also actively prefer businesses who can demonstrate they pay their fair share of tax. A benefit Joel highlights, which enables Schroders to thrive despite the industry's difficult times.
Julie Abraham – CEO of Richer Sounds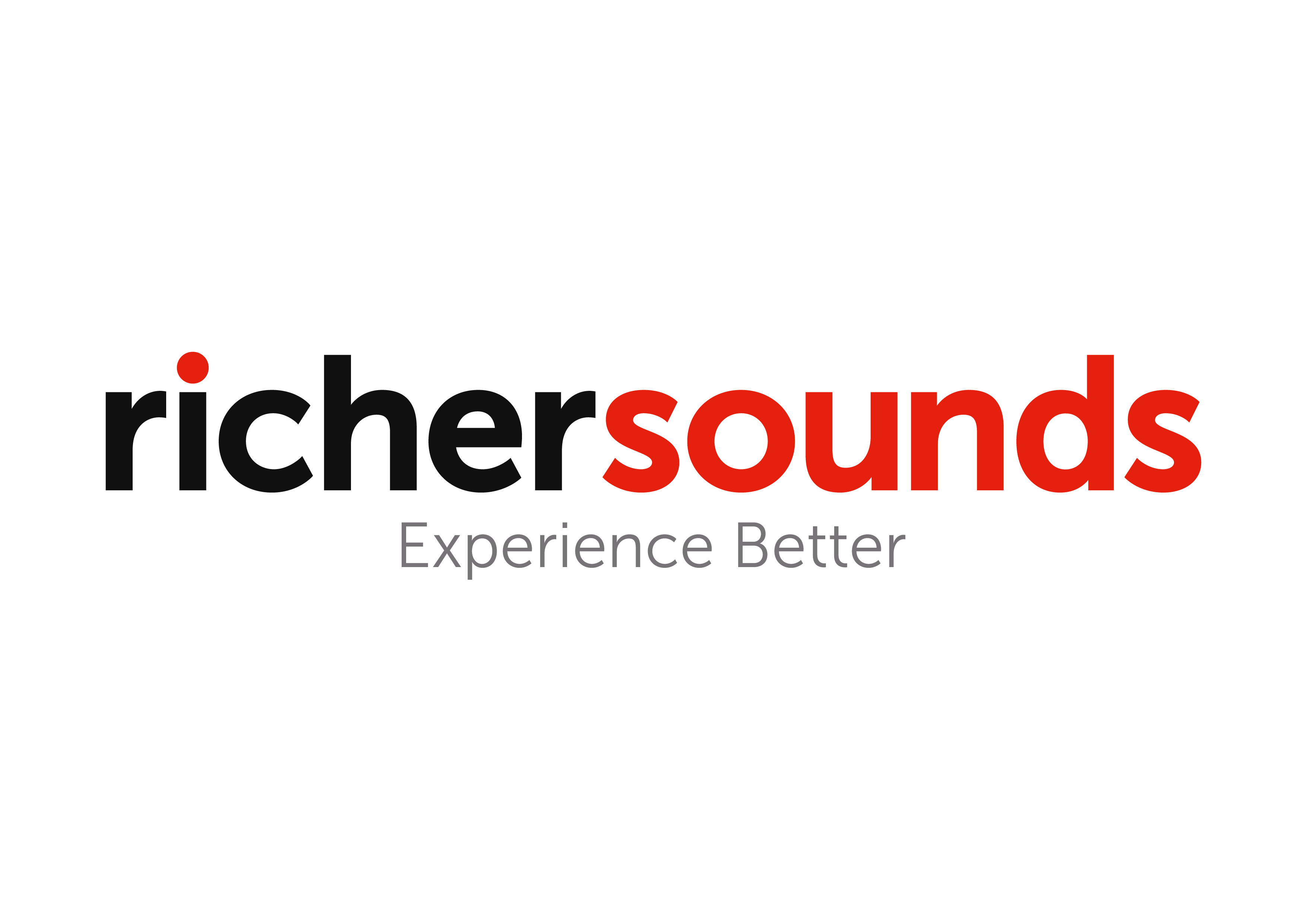 "The dream is to have the GBC sticker in your window or logo on your website and every member of the public will know that's the place they can happily spend their money."
Working in the retail sector, Julie touched on the poor reputation their industry has for wages.
In line with the GBC's accreditation standards, Richer Sounds actively address this by:
Paying employees above the industry rate
Certifying with the Living Wage Foundation
Certifying with the Fair Tax Mark
Following this has led to two-fold benefits. Richer Sounds employees feel appreciated and rewarded for their work, resulting in higher staff retention rates. Second, Richer Sounds customers enjoy purchasing from a reputable supplier. This is demonstrated by the approbation Richer Sounds receive on social media whenever they achieve new good-business accreditation.
The goal for Julie is for the GBC sticker to be widely recognised by the British public. This way consumers can vote with their feet and choose businesses who champion the GBC's best-practise requirements.
Lorne Vary – Chief Financial and Business Development Office at Brompton Bikes

"The younger generation want to know more about our purpose; more about what we stand for as a business."
For Lorne, prospective employees don't just want to know a company's pay-rate. They want to know the company's "DNA". What is the company's mission, what does it stand for? This is increasingly common for the younger generation.
Since Lorne joined Brompton at 80 employees they have rocketed to 800 employees.
The key to their success? "Putting people at the heart of our mission". Brompton Bikes have received the following accreditations to showcase their commitment to employees: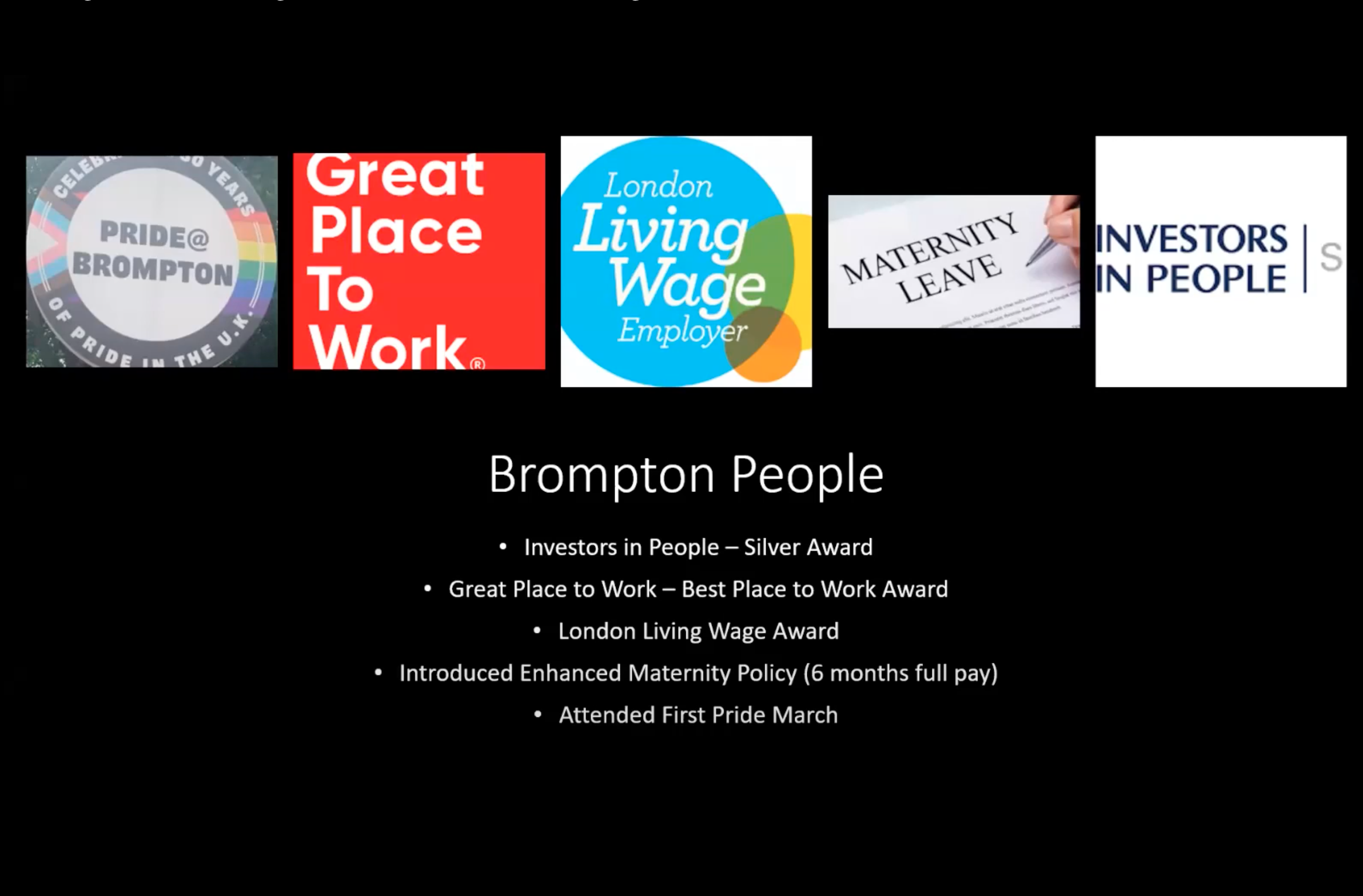 But not only that. From a Sustainability perspective, Lorne highlights the importance of a profitable business as a way to do good in the world.
The more profit Brompton makes the more they can reinvest in their staff, sustainability projects, and climate activism. Win-win! Brompton are leading the way through the creation of a 'Sustainability Team' whose sole focus is on ensuring sustainable initiatives are at the heart of the way Brompton do business.
Aaron O'Dowling-Keane, Head of Marketing at The Trampery

"We're dedicated to making business a positive force in society."
Aaron highlights the benefits the GBC has offered The Trampery as a sounding board and network of like-minded organisations.
As a new company with good-business practises at the heart of their mission, The Trampery faces unique business challenges for which the GBC's network provides support and advice.
Aaron and her team are on a mission to have 75% of their businesses and suppliers to be purpose-driven organisations within the next 5 years. The GBC has become a useful tool to help The Trampery's wider business-network align with their mission and business best-practises.
As part of this initiative, The Trampery recently launched their 'Good Business Event Series;, which welcomed leaders of purpose-driven businesses to speak to their workplace members. Topics addressed included employee wellbeing, inclusion, neuro-diversity, and sustainability – all with the aim of instilling and promoting this ethos amongst their members.
Wrapping up the event
The event was a goldmine for lessons and inspiration. I didn't even have a chance to list some of the audience questions and speaker answers, which probably deserve a blogpost of their own!
But the take home message was clear. Yes, you can be a profitable business and be a force for good in the world.
And considering the challenges faced by humanity on both global and local scales, this feels increasingly like a duty, rather than an option.
With EcoSend by GoSquared, we're hoping we can do our bit to meet that duty. Send emails, plant trees; we're on a mission to make Email Marketing sustainable and climate conscious! 💙🌳
Thanks for reading 🙌
PS. Want to check out a recording of the event? Head over to the Youtube link here! 📽️