In search of ActiveCampaign alternatives?
In March 2023 ActiveCampaign – like Mailchimp – just announced huge price hikes for its customers.
ActiveCampaign is one of many products on the market offering marketing automation. But as with any tool you need to run your business, sometimes things just aren't the right fit.
Plus, with these constant price increases, sometimes even the right tool just isn't affordable anymore.
If that's the case, then an ActiveCampaign alternative could suit your business needs and budget better at this point in time.
Here's a recap about ActiveCampaign, plus 5 alternatives to choose from!
What Is ActiveCampaign?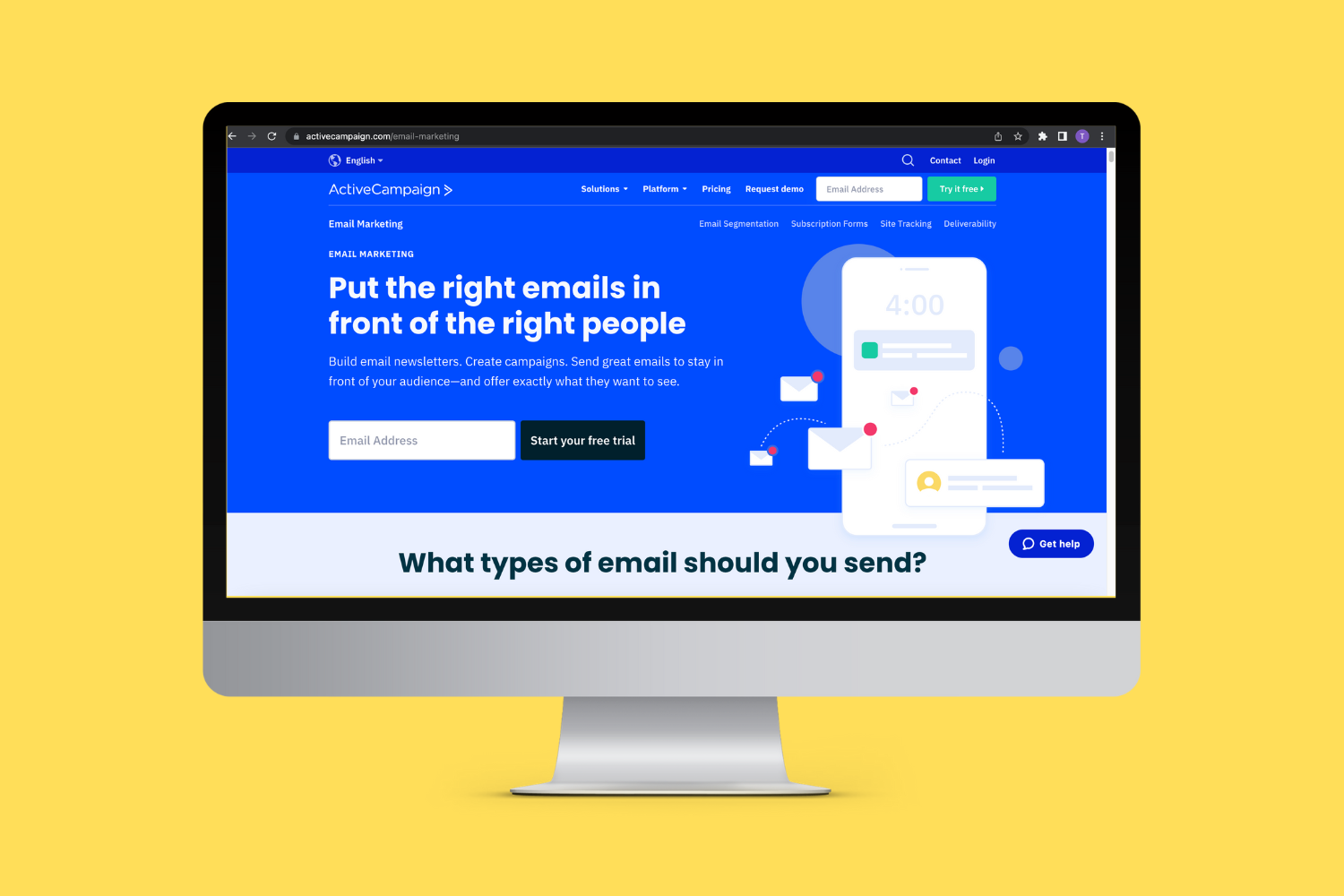 ActiveCampaign is a marketing automation platform. Although the brand refers to itself as a customer experience automation platform. That's because ActiveCampaign offers far more than just email marketing automation.
Other solutions ActiveCampaign provide includes transactional email, CRM & sales automation, sales engagement, service and support. Industries ActiveCampaign products are targeted to include agency, bloggers, education, enterprise, entertainment, healthcare, hospitality, non-profit, real estate, small businesses, technology and travel.
In essence, ActiveCampaign is geared towards anyone with a business that wants to automate any of the time consuming or ineffective processes needed to scale up or manage customer experiences. 
ActiveCampaign Pricing

Lite – $39 per month
Plus – $70 per month
Professional – $187 per month
Enterprise – Price on ask
All ActiveCampaign plans can be paid yearly or monthly.
Switching to a yearly subscription, plans will cost between $348 and $1,788 for any of the standard plans. These prices are also based on 1,000 contacts.
Plans allow for up to 100,000 contacts, and a plan of this size costs $6,588 yearly for the Lite plan. Other plans for larger contact requirements are also priced on ask.
If you want to pay monthly for your ActiveCampaign plan, prices are in some cases double the cost. So, we'd only recommend keeping on a monthly plan for a short duration before committing or switching providers.

Note: The above pricing was before the March 2023 price hikes. This means current customers may be paying more than this!
Best ActiveCampaign Alternatives
Whether the pricing isn't justifiable, or the products are too complicated, there are many reasons why users are searching for ActiveCampaign alternatives.
Here are some of the top products to consider instead, where you can find the likes of email automation, marketing automation, analytics and much more.
You may even notice some price differences too, which is even better!
1# – EcoSend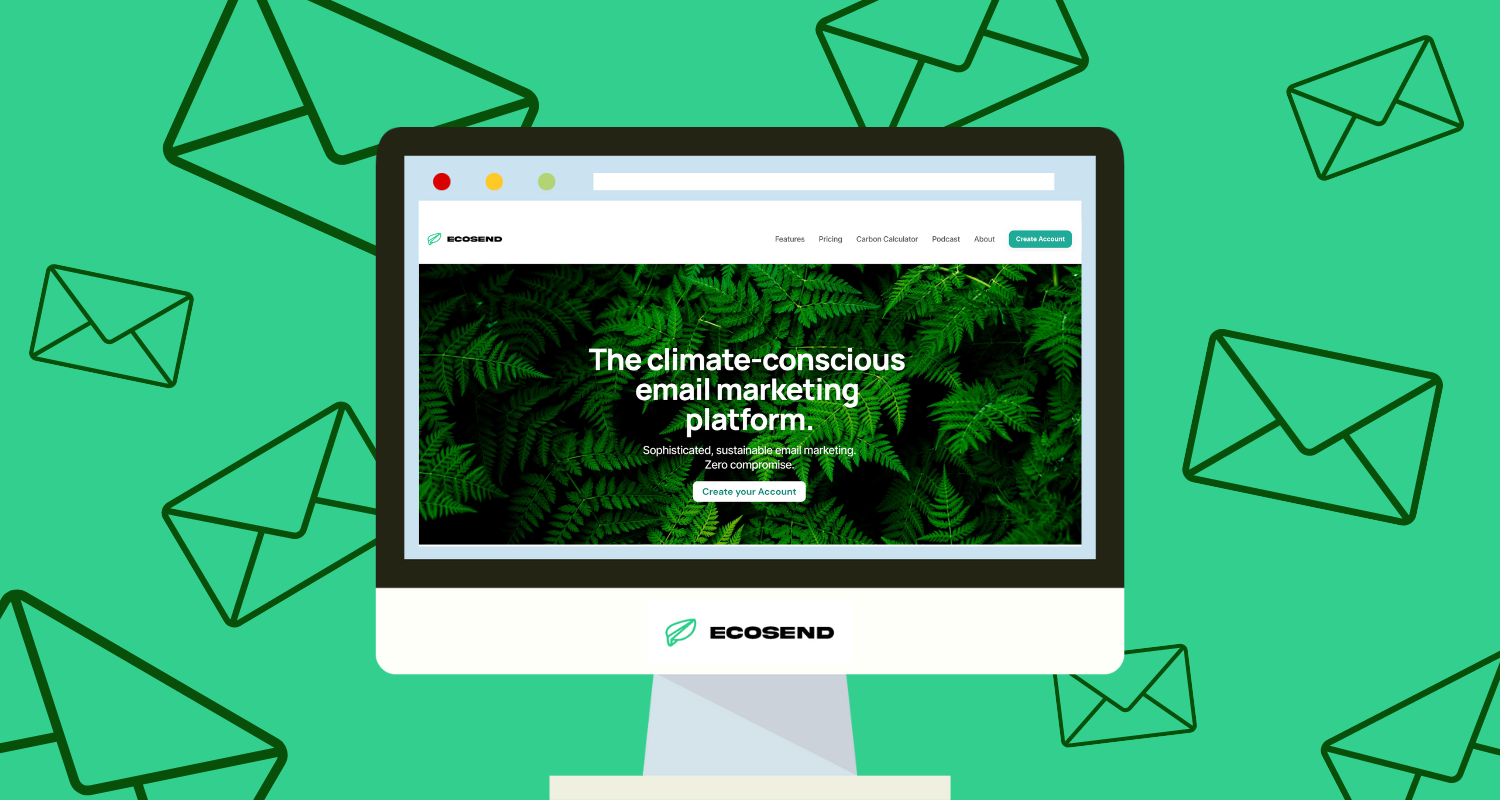 EcoSend is the world's first climate-conscious email marketing platform.
Made by the team here at GoSquared, EcoSend gives you all the tools you need to send amazing email marketing campaigns – but with a reduced impact on the climate.
Most people don't even realise their emails have a carbon footprint. EcoSend is looking to tackle this issue on your behalf. Our systems run on renewable energy sources, and we'll plant trees just for using us. This is just the start of our commitment to the climate!
Best of all, you can still send beautiful email marketing campaigns, meaning you don't have to compromise just for switching to a sustainable email provider.
Compared with the likes of ActiveCampaign, Mailchimp, Hubspot and all the others out there – we're proud that EcoSend offers something different in the email marketing space.
We can't wait to welcome you aboard!
EcoSend Pricing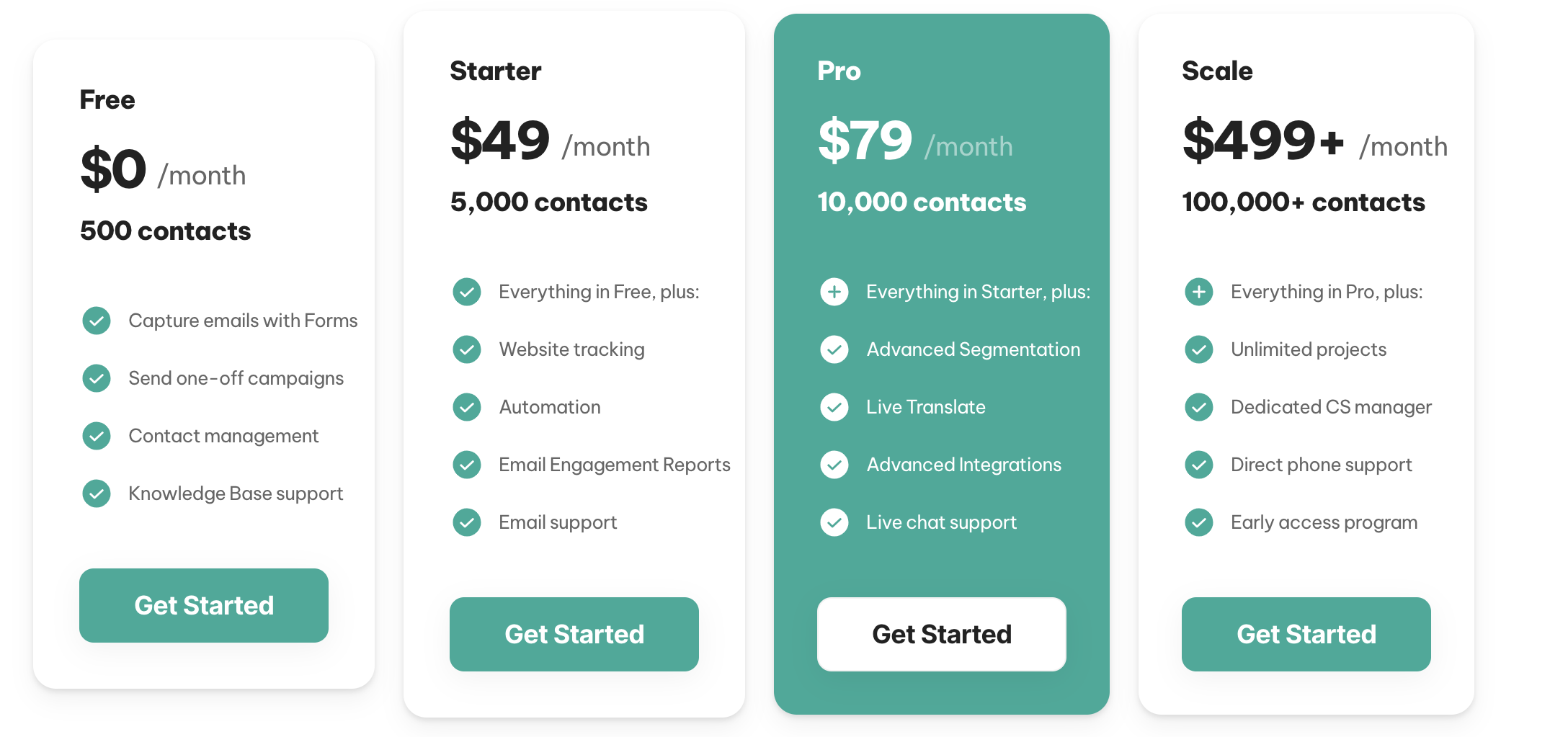 As you can see, the EcoSend pricing has something for everyone.
Not sure which plan is right for you? We offer a free 14 day trial on all plans which you can sign up for today by clicking the image below. ✉️ ⬇️

#2 – GoSquared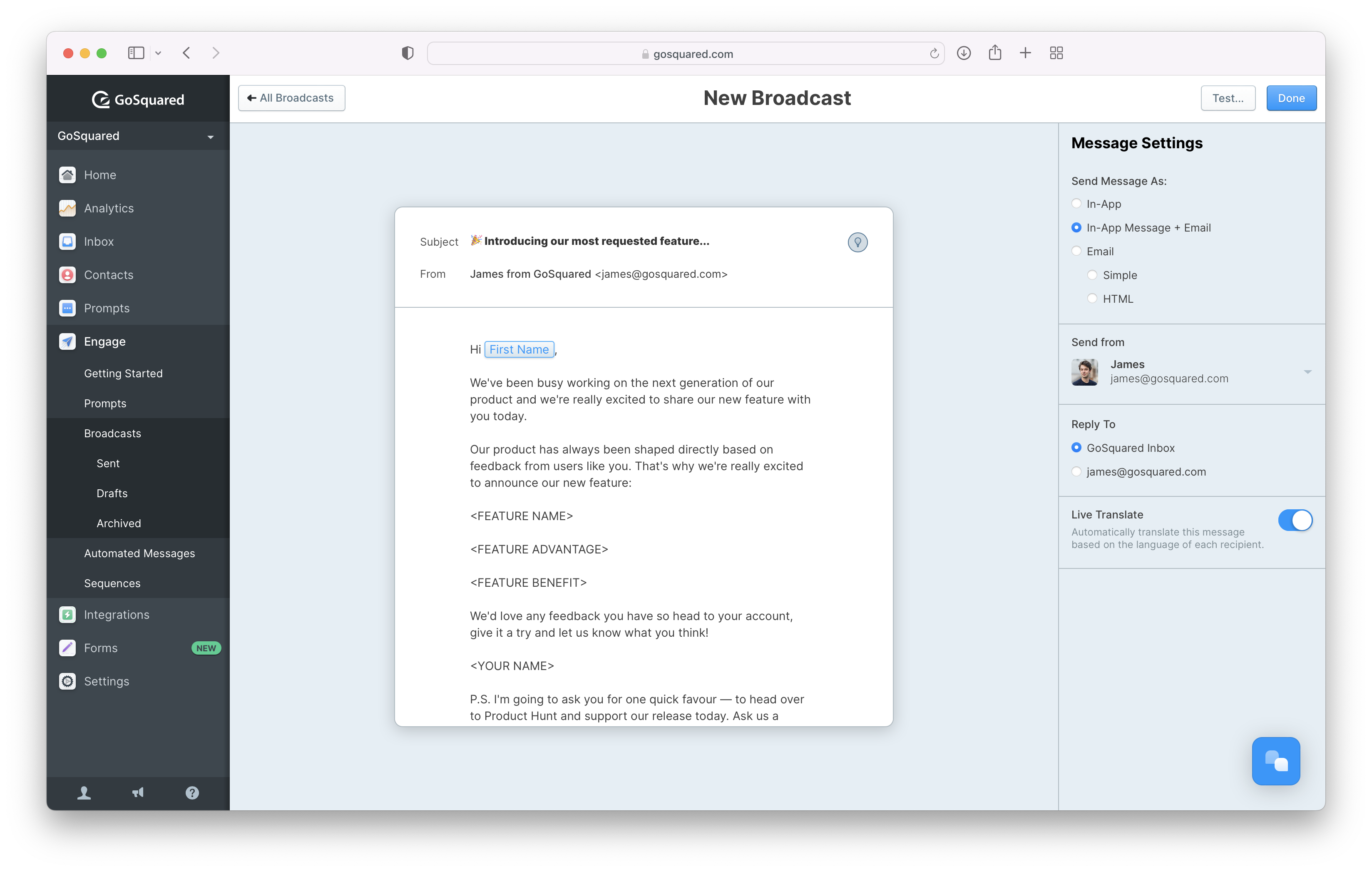 Okay, we'll admit as ActiveCampaign competitors, it's slightly sneaky to add GoSquared to a list of ActiveCampaign alternatives. But at least hear us out!
GoSquared Engage is trusted by thousands of businesses around the world. Having been around since 2006, it's safe to say we know a thing or two about marketing automation. Based in London with a remote team around the world, our core products include Engage and Web Analytics.
In terms of marketing automation and managing customer experience, Engage is where to look. We've focused on developing tools that will allow you to capture leads, onboard users, make announcements and retain customers. But beyond just building tools such as in-app messaging and email automation, we enable our users to create data-driven campaigns. For instance, we're big on audience segmentation versus sending to all, because we know that tailored, informed campaigns are more likely to drive results for your business.
But this is just scratching the surface of what you can do with GoSquared Engage, with a full list of features coming up next.
But first, here's a word from GoSquared CEO, James Gill:
"We built GoSquared Engage because we were frustrated with how hard other marketing automation tools are to use. Either tools were really basic and wouldn't allow us to do what we wanted, or they were extremely advanced and complicated.
With GoSquared Engage, you now have incredibly sophisticated marketing automation tools, with ease of use, which means anyone on the team can get started right away.
If you're looking for a marketing automation solution that offers email, on-site messaging, advanced segmentation, templates, sophisticated automation options, and a fast-evolving feature set, all in an intuitive interface, then GoSquared Engage is for you."

GoSquared Features
GoSquared Engage features:
Advanced Lead Forms
Advanced Segmentation
Automatic Email Sending
Behavioural Targeting
Call-to-Action Prompts
Contact Enrichment
Easy Email Creator
Effortless Segmentation
Email Broadcasts
Email Capture Bot
Exit-intent Prompts
Extensive API
HTML Email Support
In-app Broadcasts
In-app Messaging
Lead Capture Prompts
Out-of-office Lead Capture
Page engagement Prompts
Powerful Event Tracking
Proactive Sequences
Real-time Notifications
Real-time Reporting
Segment by Engagement
Smart Variables
Time-based Triggers
UTM Campaign Tracking
Visitor → User Stitching
GoSquared integrations with 3rd party apps include:
Blockspring
Cyfe
Ensighten
Gasket
Geckoboard
Google Data Studio
Google Tag Manager
HelpDocs
Intercom
Klipfolio
MailChimp
MailGun
Mandrill
Salesforce
Segment
SendGrid
Slack
Twitter
Webflow
Webhooks
WHMCS
WordPress
Zapier
GoSquared Pricing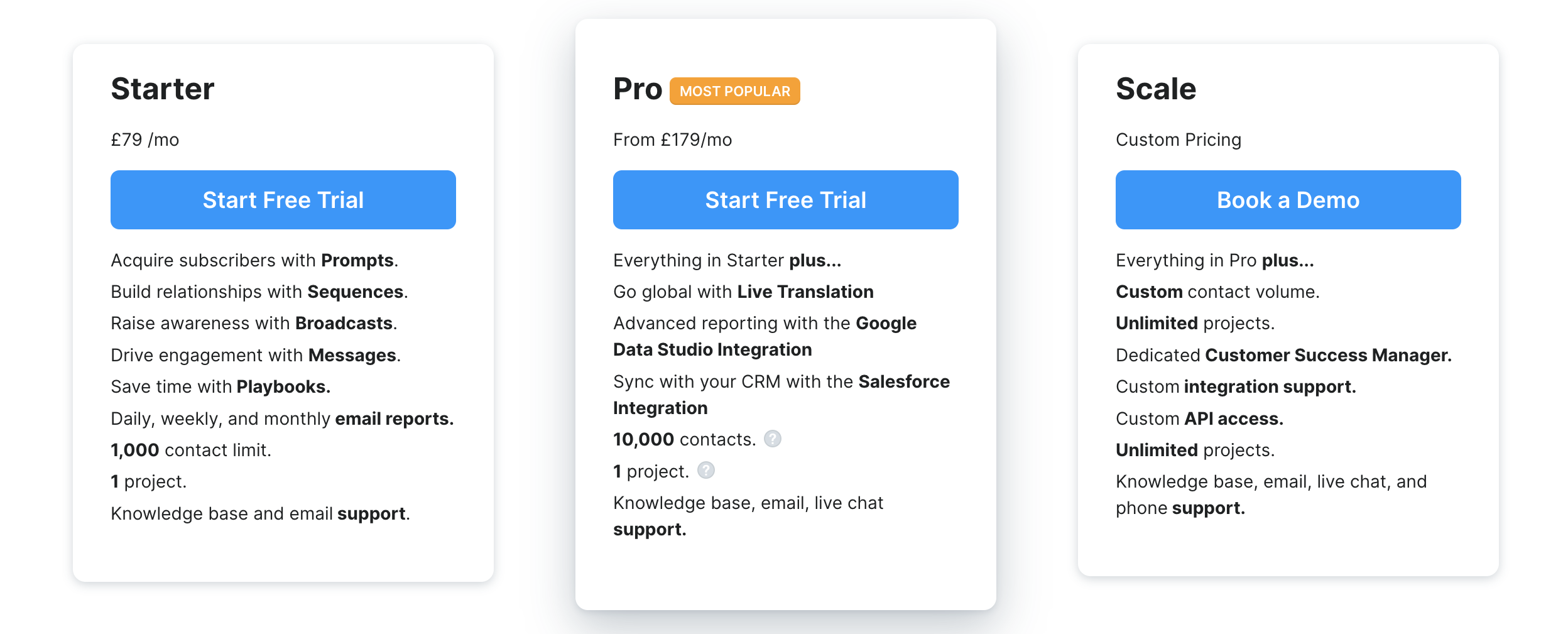 GoSquared's products start from $9 a month for Web Analytics or $79 a month for our Starter Engage package.
It's also possible to try a free 7-day trial of GoSquared Engage or Web Analytics. Alternatively, you can arrange for a personalised demo with any of our sales teams to ensure you are matched to the right product before you go ahead.
GoSquared Engage
Starter – $79
Pro – $179
Scale – Custom pricing
GoSquared Web Analytics
Starter – $9
Standard – $24
Pro – $49
Scale – $99
Shop GoSquared Web Analytics plans
G2 Ratings For GoSquared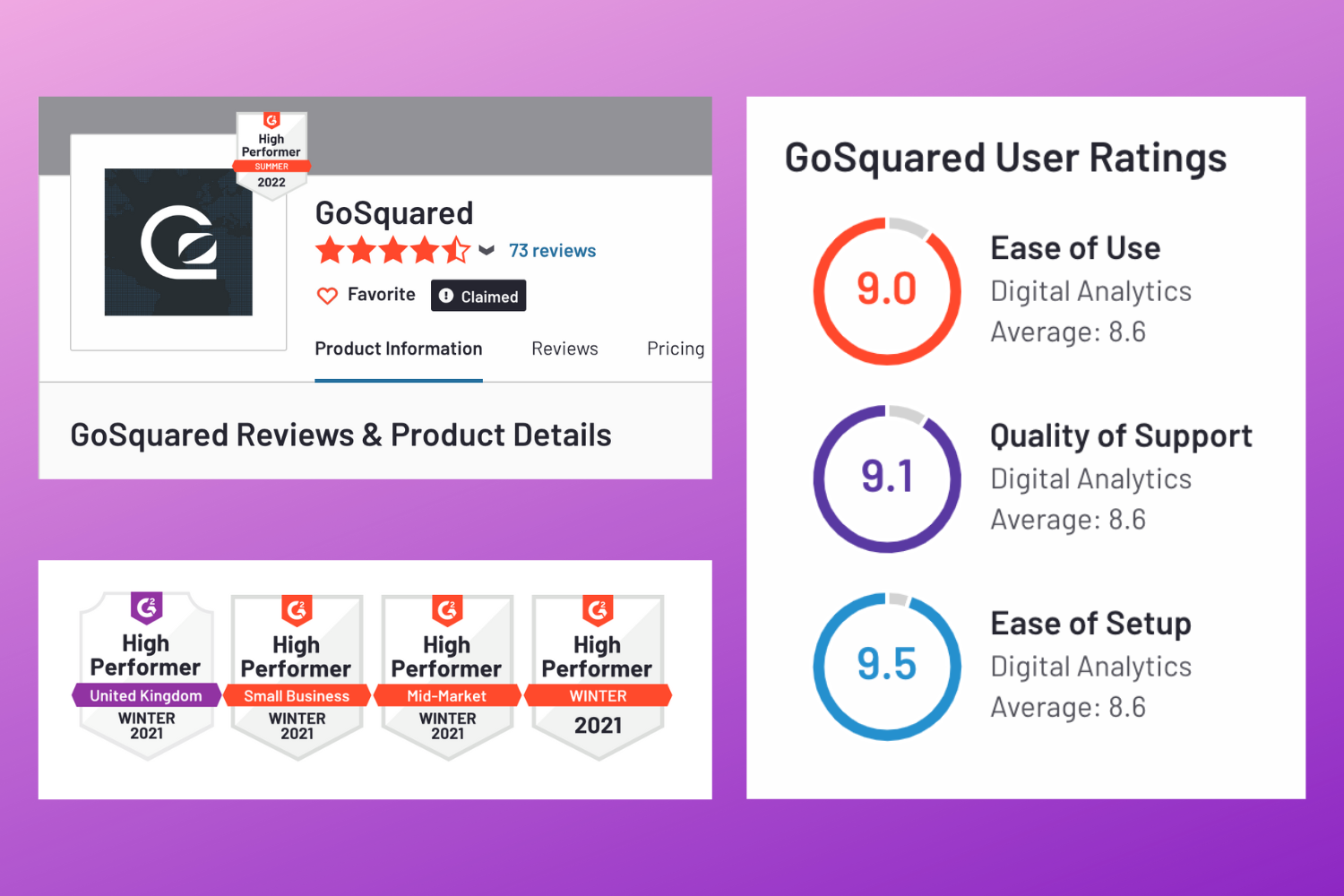 We couldn't move on to our next ActiveCampaign alternative without mentioning GoSquared's G2 ratings. We're thrilled to have recently added another G2 badge to our growing collection – High Performer Summer 2022.
Our current product rating for GoSquared Web Analytics is 4.6, which at the time of writing puts GoSquared above other listed competitors, including Intercom, Google Analytics, Mix Panel, Adobe Analytics, Heap, Google Analytics 360, Drift, HubSpot Marketing Hub, Looker and Amplitude Analytics. We'll take that!
#3 – SendX

In search of a budget-friendly email marketing tool? If you're just starting out with only a small list of subscribers, then SendX could fit the bill.
Founded in 2016, SendX is a relatively new email automation tool. Some of the features that stand out to us are autoresponder, advanced automation, segmentation, as well as the ability to add custom HTML & CSS into forms and landing pages. In total, SendX lists 14 different features on its website, along with 24-hour support that's available 5 days a week.
Compared with ActiveCampaign, the interface and features are more simplistic, which again lends itself well to those just figuring out their email marketing strategy. The maximum number of subscribers SendX allows for is 15,000, whereas with ActiveCampaign this extends to 100,000 subscribers and beyond with a custom package.
Realistically though, not many companies require capabilities for 100,000+ subscribers. So if you only want to pay for what you'll use (and you know this is on the more modest side for now), SendX is one to watch.
SendX Pricing

As with ActiveCampaign, SendX offers a monthly or yearly pricing model.
Monthly packages are based on the number of subscribers you have, and are as follows:
1 to 1,000 subscribers – $9.99
1001 to 2,500 subscribers – $19.99
2,501 to 5,000 subscribers – $39.99
5,001 to 10,000 subscribers – $59.99
10,001 to 15,000 subscribers – $79.99
This would mean paying between $119 and $959 per year, with further savings possible if you commit to a yearly package.
Given that ActiveCampaign's Plus package for 5,000 contacts costs $149 per month, this isn't bad going, especially if you don't need the more comprehensive features.
Psst: Enjoying this post on ActiveCampaign alternatives? We create new weekly content on all things marketing automation. Sign up to the FREE GoSquared newsletter and never miss a post! 💡🔥
#4 – HubSpot

On the other end of the scale to SendX, if you have a sizeable subscriber list, and require the maximum amount of features, then HubSpot is one of the most established marketing automation platforms in existence. HubSpot also happens to have been founded the same year as us here at GoSquared in 2006.
We're not sure HubSpot could offer more features if it tried. Plans include Marketing, Sales, Customer Service, CMS and Operations. Each package then has three different levels to choose from which are Starter, Professional or Enterprise. Whatever package and plan you happen to peruse, you'll be staggered by the amount HubSpot can offer.
What really sets HubSpot apart is the sheer level of educational resources it provides, even for free over on the HubSpot YouTube channel. This means whether you're just starting out with marketing, or want to go more in-depth with a particular topic, the chances are HubSpot has created a video or at least a helpful article to show you how.
Of course, if you do want to go ahead and sign up to HubSpot, then it will cost you substantially more than ActiveCampaign, and even other marketing automation tools unless opting for the most basic plan. However, if you're an ActiveCampaign or even SendX user, and you've reached a point where the subscriber limit or features are no longer scalable, then HubSpot could bridge the gap.
Read more: 12 Affordable HubSpot Alternatives You Need To Know In 2023
HubSpot Pricing

Pricing is where HubSpot can be unattainable for smaller startups or even side hustles. We don't say this lightly, as you're about to find out.
Based on the cost per month for a HubSpot Marketing package, you'll be paying the following:
Starter – $45 (What's so bad, that's reasonable isn't it?)
Professional – $800 …(Ah, I see what you mean)
Enterprise – $3,200 (Due to increase to $3,600 in September 2022)
Yearly, these same packages would cost $540, $9,600 or $38,400 respectively. The most expensive HubSpot packages are the HubSpot bundles, which cost up to $60,000 per year.
Also, there's a huge price leap between the Starter and Professional Marketing packages. This means users have to think very carefully about scaling up, and could even avoid doing so altogether to remain on the cheapest HubSpot package.
#5 – Keap

Keap combines CRM, sales and marketing into one automated platform package. All under the tagline 'the smarter way for small businesses to do great work'.
Previously known as Infusion, Keap is primarily a CRM. However, Keap can also offer automation, email marketing, B2B capabilities, invoicing and appointment setting and much more. So, Keap could be ideal for replacing lots of other tools, if your requirements stem well beyond basic marketing automation.
Something that stands Keap apart is its advertising feels truly human, in that it's both humorous and relatable. Exhibit A: "Keap identifies who is most likely to buy, then sends automated emails and moves them through your marketing funnel. All while you're at your kid's soccer game." The shot then cuts to an actor playing a frazzled business owner: "wait, that was today?!"
The sheer range of features Keap has to offer can feel overwhelming for users. However, Keap has combated this by offering on-demand courses, guides and a dedicated help centre. There is also phone support for customers based in the US or Canada.
Though, something to think about is that the two main packages on offer – Pro and Max – combine lots of different tools that go well beyond email marketing. This is in contrast to HubSpot or GoSquared, where you can choose the type of product you need and then select a package.
So, if you don't have a genuine need for the likes of appointment setting or invoicing, Keap could be slightly too broad for your requirements.
Keap Pricing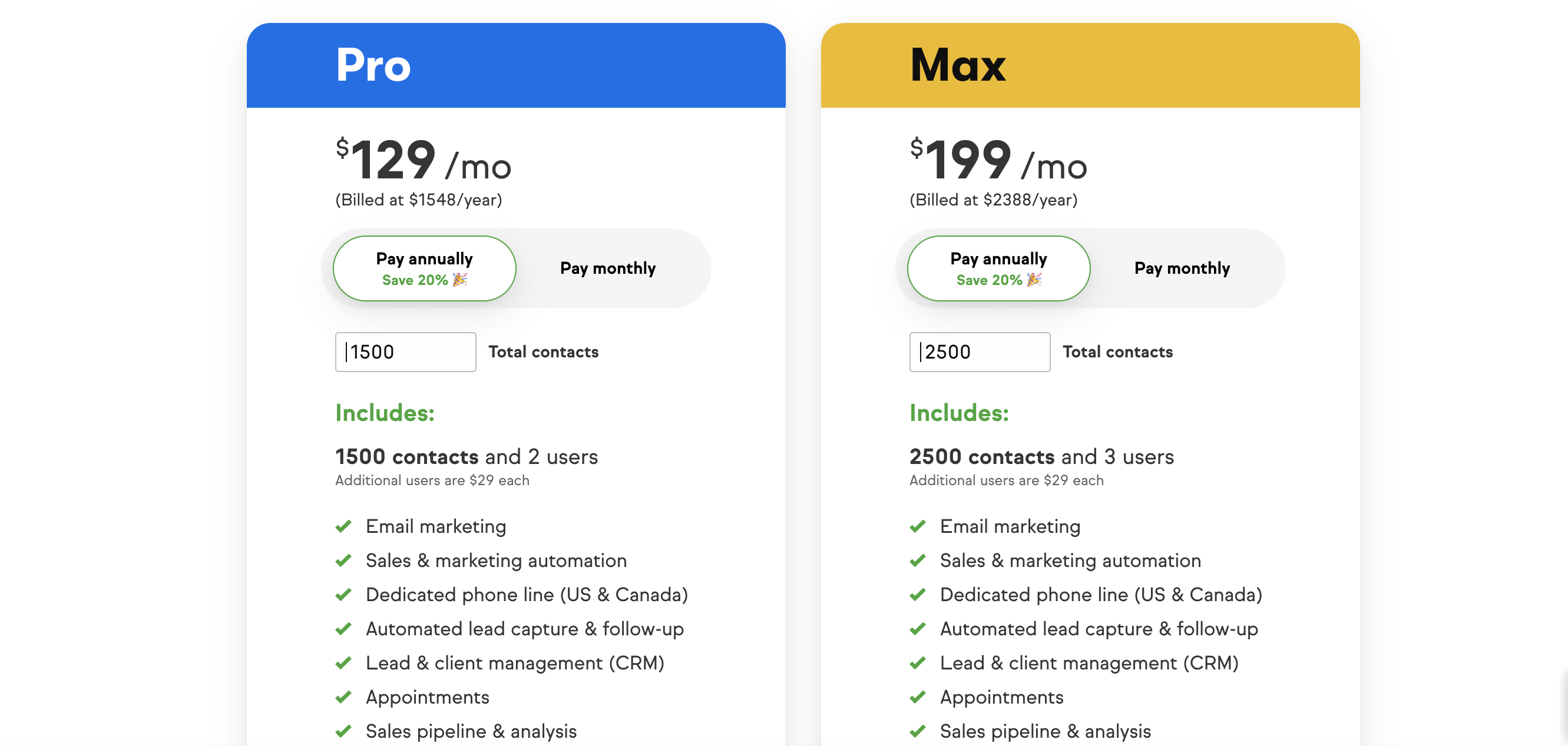 The monthly Keap packages prices are priced as follows:
Pro – $169 (1,500 contacts and 2 users)
Max – $249 (2,500 contacts and 3 users)
Max Classic or Max Pro package prices are also available upon request.
Compared with what we've seen from ActiveSend, HubSpot, GoSquared and SendX so far, the amount of contacts Keap provides is significantly less. Unless you're willing to pay more, with 5000 contacts on Pro costing $294 per month, and Max at $319. Or you can commit to a yearly package which will save you 20%.
But, another angle to consider here is that you'll also be getting a lot of tools, instead of having to pay for multiple subscriptions elsewhere. On the off chance you fit the criteria of tools Keap can replace and don't have a super high subscriber requirement, Keap could actually save you money. Although for those just starting out in business, Keap could prove to be too costly and overwhelming at this juncture. 
Alternatives To ActiveCampaign FAQs
The internet has a flurry of questions about ActiveCampaign alternatives. We've answered these below.
If there's anything we can help you with in terms of GoSquared as a marketing automation platform, please contact our support team.
What Is Marketing Automation?
Marketing automation uses software tools such as GoSquare Engage to send the right message to the right person at the right time through email and in-app messaging.
As a result, your customer communication and lead generation becomes both easier to do and more effective in its aims. What's particularly exciting about marketing automation, is that the technology is ever-evolving.
Compared with sending emails manually the old way and hoping for the best, marketing automation is far more initiative.
What Is ActiveCampaign Used For?
ActiveCampaign, like many other marketing automation companies, helps businesses to send tailored messaging.
There was a need to automate the communication process since, without techniques such as segmentation, it's easy to over communicate with your audience, or simply miss the mark with your campaign direction.
However, automation gives more insights and ultimately power to marketers to create informed and tailored messaging campaigns.
Who Owns ActiveCampaign?
Jason VandeBoom founded ActiveCampaign and is also the CEO. The company was created in 2003 and now has offices in Chicago, Sydney and Dublin.
How Much Does ActiveCampaign Cost?
ActiveCampaign is priced according to the number of contacts you wish to connect with, along with the package you choose.
At the lower end of the scale, ActiveCampaign costs $9 a month on the Lite package with 500 contacts. For those with 100,000 contacts and above, ActiveCampaign starts at $549 per month if you opt for the bill yearly option, which in total costs $6,588.
Still In Search Of ActiveCampaign Alternatives? Look No Further Than GoSquared Engage!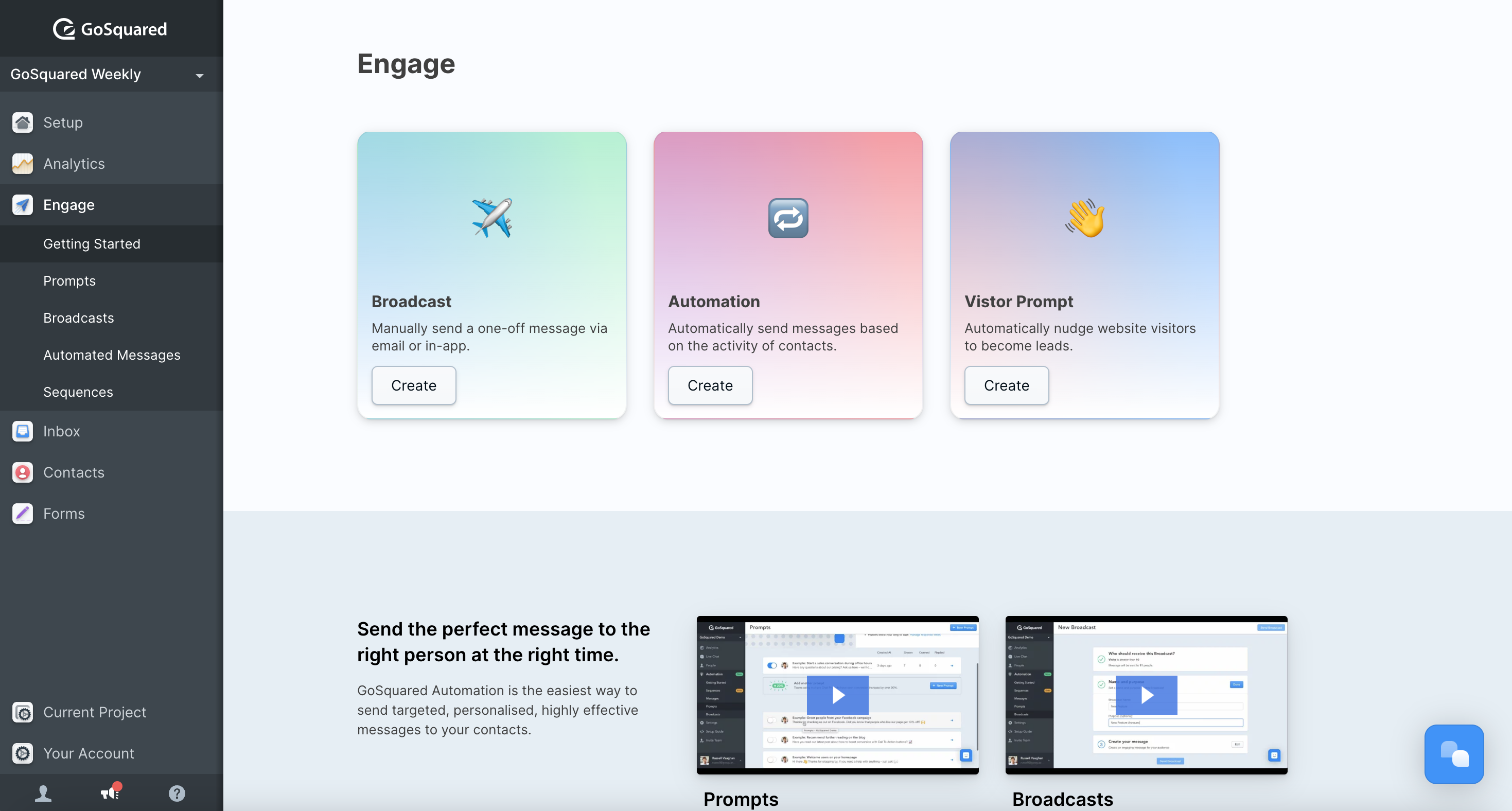 Want a trusted tool that allows you to engage with your customers through email marketing and messaging? With GoSquared Engage, the clue is in the name!
Even with our Starter package, you'll get access to a whole heap of tools to help you acquire new subscribers, not to mention delight and retain your existing ones. Plus, build personalised email sequences in minutes and understand your audience on a much deeper level with segmentation.
You can even use the information Engage provides to build stronger campaigns to better inform your entire marketing strategy.
We also have additional options that allow you to work in multiple languages and get custom API access. So if there are any specific features your current email automation software lacks, let us know and we'll match up the right product for you.
All that's left to do is to sign up for your free GoSquared Engage trial. Or schedule a demo with us, where our sales team will walk you through Engage, and be on hand to personally answer any questions you may have about our product, scaling your marketing or email automation in general.
With GoSquared – easy email marketing automation is just a few clicks away!