Sustainable businesses are helping to lead the fight against climate change by reducing energy consumption and waste wherever possible.
Whether you are an existing business or looking to create a new venture, leading by example is how we can all avoid common pitfalls when it comes to our carbon emissions. Working as a team is also how we inspire and ultimately deliver the much-needed change our planet needs.
Here are just 5 sustainable businesses that have managed to thrive all while minimising their impact on the environment.
Allplants
Allplants are a subscription based food delivery service. Think HelloFresh but the meals are prepared for you and the marketing is a little less intense (if you've ever tried HelloFresh, you'll feel us on this one).
As certified members of B-Corp, Tech Zero and Soil Heroes, Allplants focus on the carbon generated through food. It estimates that 600kg of CO2 (the equivalent of driving from London to Egypt) could be saved per person per year just by switching to 3 plant-based meals per week.
What's refreshing about Allplants is that they are acutely aware of their carbon footprint at Scope 1,2 and 3 levels. They are also working to reduce more carbon than they generate by 2030.
Briiv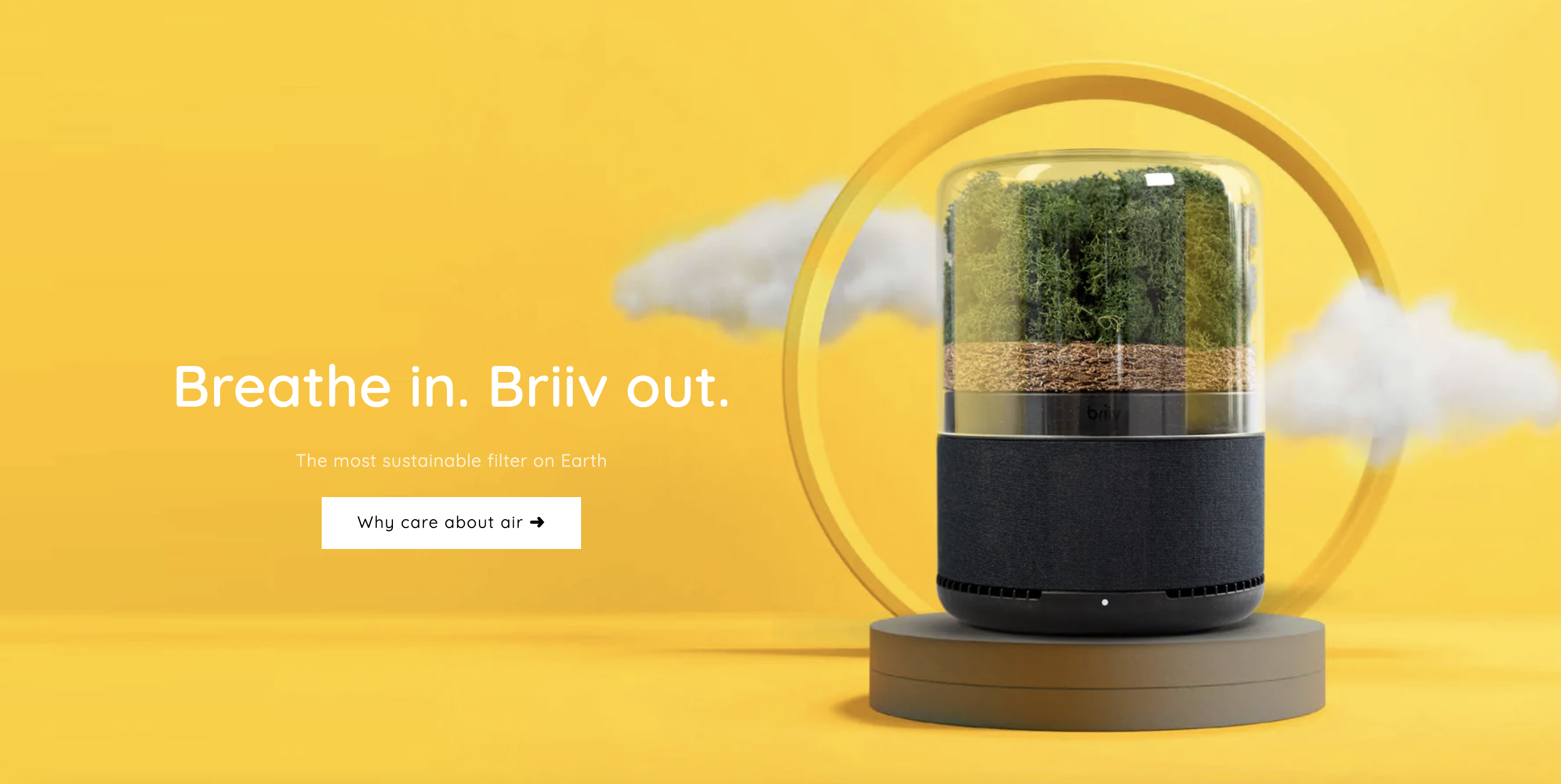 Briiv is a manufacturer of air purifiers. If cleaning the air around you wasn't impressive enough, Briiv is also on a mission to clean up how they operate to minimise their environmental impact. It's safe to say, they are doing a pretty good job of this.
How air purifiers work is that they contain filters which capture pollutants from the air such as pet dander, dust, mould and VOCs.
While that all sounds great, there's just one problem: Standard air filters cannot be recycled, with some 6,000 tonnes of HEPA filters being sent to landfill every year.
What Briiv has managed to do is create an air purifier that is equivalent to having 3,043 houseplants in your home – just with a small low powered device. The contents of the air filter are completely natural meaning no figuring out how to recycle everything. They have also built the purifier in a way that will last as long as possible, rather than only having a short shelf life which sadly is all too common these days.
The purifier is also built from a new type of bio-plastic derived from elephant grass. The crop captures carbon in the process and fully biodegrades.
All in all, Briiv are incredible both in terms of their product offering and their commitment to the climate.
EcoSend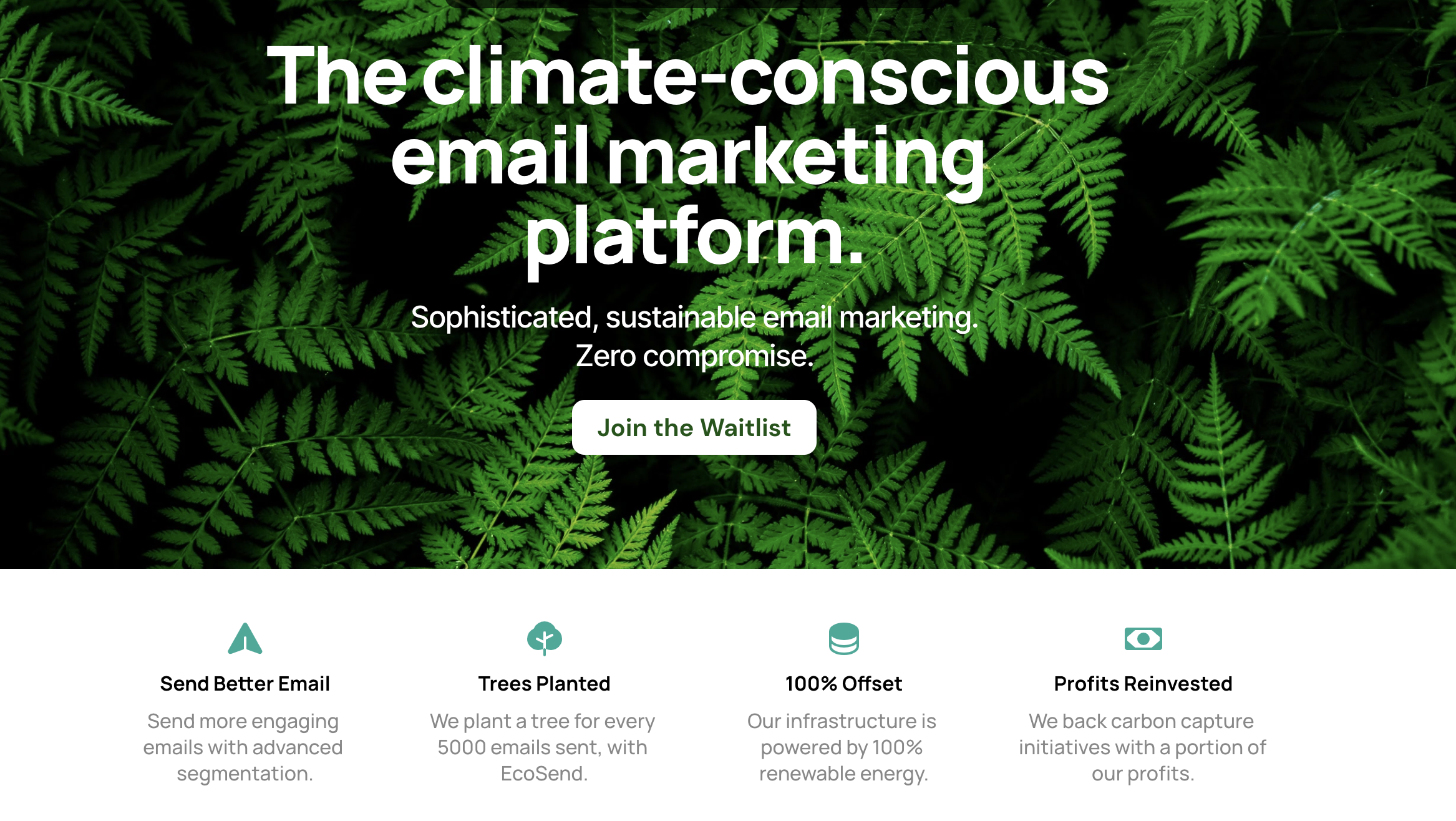 EcoSend is a new initiative we know inside out because it happens to be a GoSquared product.
In a nutshell, EcoSend is a climate-conscious email marketing tool. Our team were shocked to learn the average email has a carbon footprint of between 4g for lighter emails, and up to 50g for emails with attachments.
The BBC also reports that if 'every British person sent one fewer thank you email a day, it would save 16,433 tonnes of carbon a year'. This is essentially the same as reducing thousands of flights to Europe in terms of carbon emissions.
Our mission is to allow you to send intuitive email marketing campaigns that help you achieve your goals as a business. But crucially – without the impact on the climate.
As well as looking to power our operations with renewable energy, we've already started planting trees on our customer's behalf. Even just for signing up for the EcoSend waitlist, we'll plant a tree. So what are you waiting for?
Enjoying this post so far? Subscribe to our newsletter (go on, it's free!) and we'll send you content just like this direct to your inbox 💡✉️
(That lightbulb emoji is an energy-saving bulb, and that email has been segmented and sent through Ecosend of course). #Phew
Olio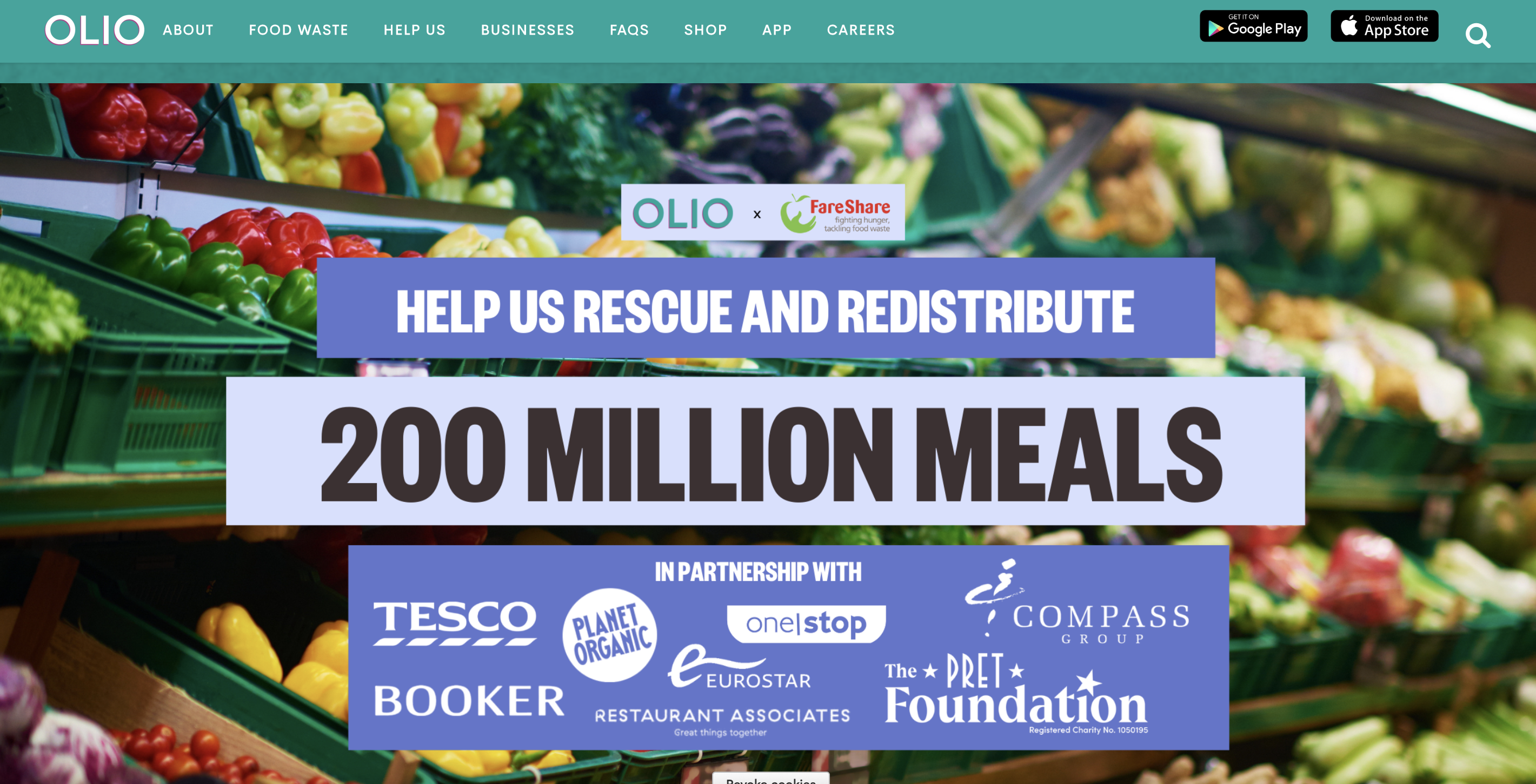 Around the world, around 33% to 50% of all food is wasted. The value of this wasted food tops $1 trillion.
These shocking figures are highlighted in Olio's mission statement. As well as the impact on the climate of producing all this food that isn't eaten, Olio quite rightly points out that 1 in 9 people around the world goes to bed hungry at night.
Working to reduce climate emissions and food waste, Olio aims to combat both of these important issues simultaneously.
How Olio works is that businesses and even everyday households can list any food going spare. People can then request to be given these items for free thus preventing food waste.
In addition, Olio is already carbon negative, is working towards reducing its Scope 3 emissions and is generally on the ball with all things climate. To date, Olio has saved almost 60 million portions of food from going to waste which is truly amazing.
Toast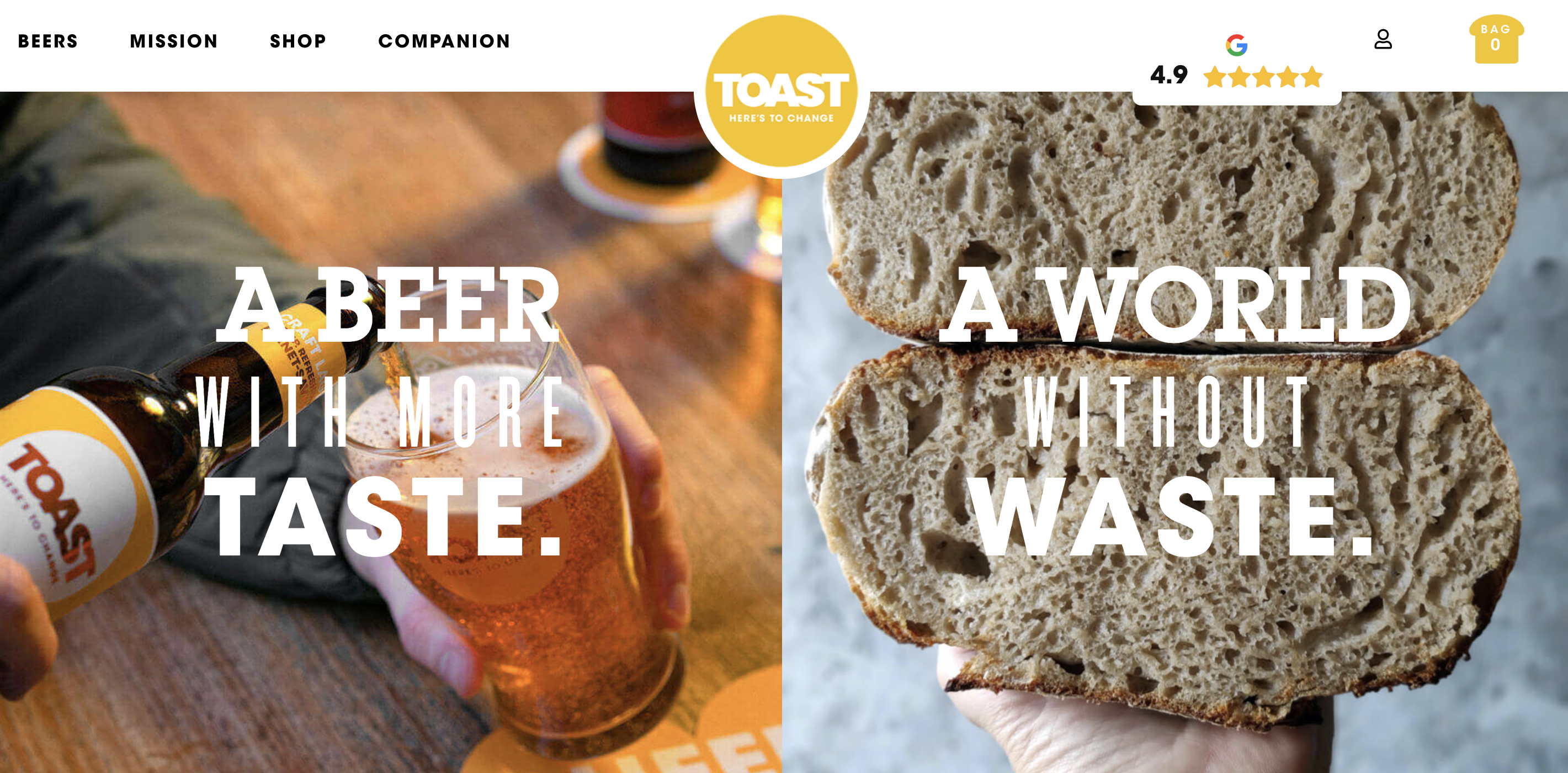 Using bread to make beer in a way that's much kinder to the planet? We'll drink to that. No actually, we'll raise a Toast to that.
Since 2016, Toast has 'rescued' more than 2.5 million slices of surplus bread to make beer. With the food and drink industry being one of the biggest contributors towards climate change, for Toast every slice really does help.
The method of production not only reduces carbon emissions but also saves water and even land that would have otherwise been used by the food industry.
With an aim to become net zero by 2030, Toast is ones to watch especially with such an ingenious business plan.
Sustainable Businesses FAQs
Have some questions about how you can make your business more sustainable? Don't worry, so does the rest of the internet.
We've answered some of the most common queries below. But if you'd like to know how we can help your business to become more sustainable through the email marketing tools we provide, please get in touch.
What Is A Sustainable Business?
A company is considered sustainable when everything it needs to operate can be maintained without a detrimental impact on the environment. This involves considering the entire lifecycle of a product or service provided and reducing energy consumption and waste wherever possible. Furthermore, sustainable businesses put the climate before profit, and consider their positive contributions towards reducing emissions a measure of their success.
Why Should Companies Be Sustainable?
Companies should be sustainable so they are doing their bit to help the environment. Wasteful practices and a happy planet simply don't align, which is why it's on all of us as professionals and individuals to cut carbon emissions. Having a company that's sustainable is therefore essential.
Research has also found that 40% of people now want to work at an environmentally friendly company. This means companies that aren't sustainable may find it increasingly difficult to attract talent, and may also have a negative company image. That's because there's simply no longer an excuse not to act to help save our planet.
How To Have A Sustainable Business Strategy?
The specifics of what a sustainable business strategy looks like will vary from company to company. However, the work must involve considering all ways your business generates emissions so that a plan can be put in place to reduce these emissions wherever possible. Carbon offsetting should be a last resort, with a focus on removing the need for natural resources to power your operations.
Sustainable Marketing – EcoSend By GoSquared
As noted above, it's the responsibility of all of us to reduce our carbon emissions. Here at GoSquared, we've also been thinking of how we can do our bit.
EcoSend is our new tool for all things email marketing. Powered by renewable energy, we'll help you send smarter email campaigns that are more effective with less impact on the environment. We'll even plant trees on your behalf just for using our tool. Plus, we're reinvesting our profits into climate-focused causes so the good work happening elsewhere can continue to make a real difference.
Ready to get started? Sign up to EcoSend today, and we'll even plant a tree just for doing so! 🌳✉️