Want to snazz up your email campaigns but don't know where to start?
You need an email template builder on your side. Luckily, this is a trick that is more of a treat, seen as we've built a free drag and drop email builder you can use for free!
Master the art of sending engaging emails that truly captivate your audience, and higher a ROI awaits. The way your emails visually look and read really counts as part of your efforts. This is why having custom email templates can be really powerful at getting your messages across.
Here at GoSquared, we have almost two decades of experience in helping businesses grow their audiences.
Our email template builder is just one of many tools we provide, alongside our Engage and Web Analytics tools for businesses. So let's get started!
GoSquared Email Template Builder: An Overview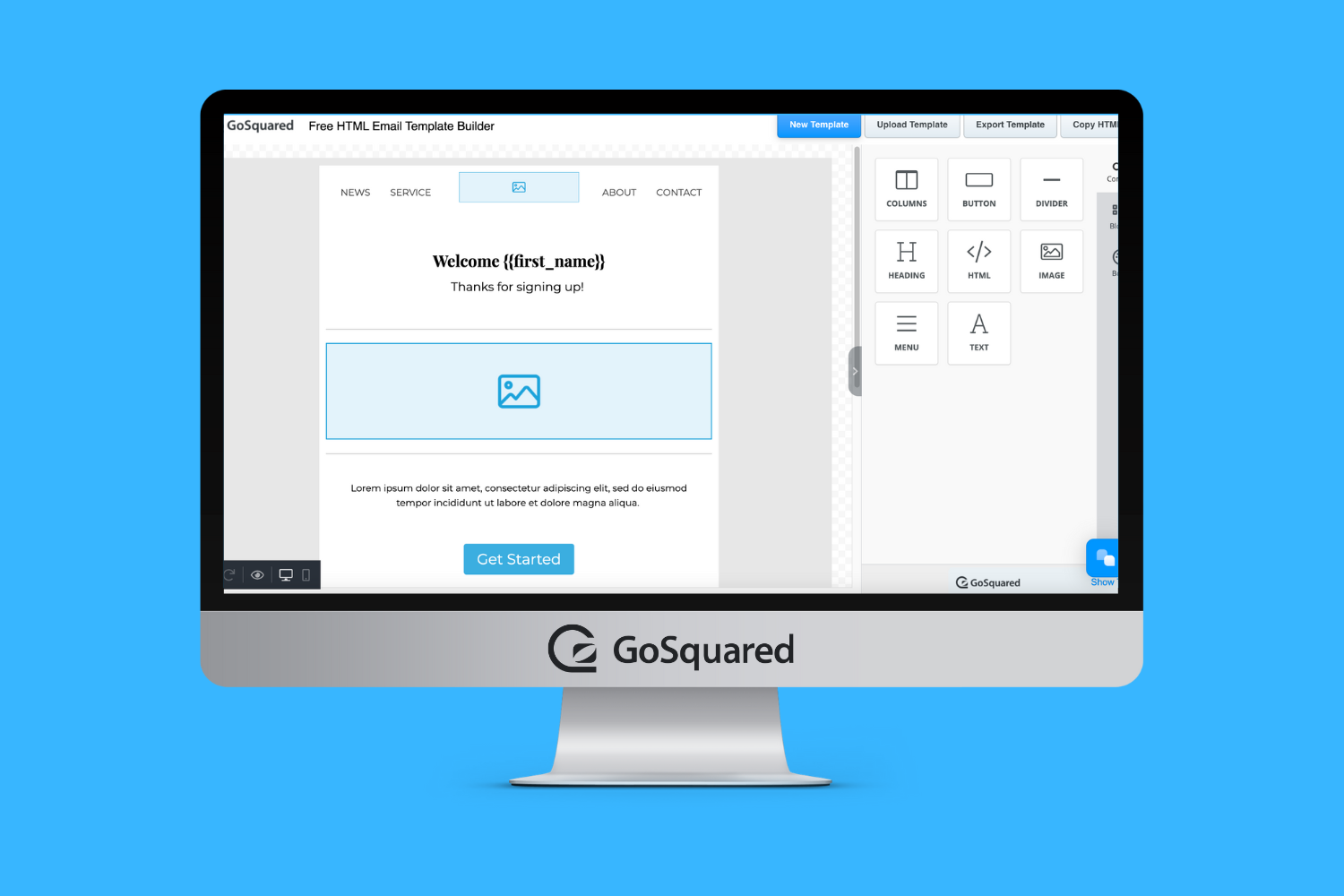 The GoSquared email template builder is a drag and drop style editor. It's a simple, free to use tool anyone can try out.
Experiment with different email layouts, custom fonts and colours, cool backgrounds, heading styles and so much more.
GoSquared email builder features:
🆓 It's free – There is zero charge for using our email template builder, making it great to try out without having to commit to anything.
👨‍💻 No coding necessary – Our email template builder will generate the HTML for you, all you have to do is copy and paste it when you're ready to use it. Perfect if you don't know how to code or want something quick and easy.
😍 No signup necessary – Get to work straight away without having to give us your info.
📧 Compatible with all email providers – Whether you have GoSquared Engage, Mailchimp, Hubspot or are using regular Gmail or Outlook, our tool works across all email platforms.
🔓 Create unlimited email templates – Have as much fun as you like, with no limits on the number of email templates you can generate.
GoSquared Email Builder Template Design Tutorial
Step #1 – Open the GoSquared Email Builder ⬅️ 👀
This link will open up in a new tab. We recommend keeping this current tab open also so that you can follow along step by step.
Use our email templates with any email automation software such as Mailchimp, Hubspot or better still GoSquared Engage.
If you're using Outlook or Gmail, we'll also give you instructions on how you can paste raw HTML into a regular email below so that nobody has to miss out on our free tool!
Create Your Email Content
Step #2 – Compose your email text and design your email template. 🏗️📝
Start with the most important element of your email and build the rest of the template design around this. For instance, do you have an eye-catching graphic you want to use, or is the statement you are going to make with your heading more important?
From there, it's all about striking the right balance. The aim is to ensure your message gets across without overloading the user with too many attention grabbing elements. It must also feel on-brand if you're creating a business email. So be sure to take your time as you play around with each element.
💡 Top tip: Toggle between desktop and mobile view as you build your email template. This will show you how your email design will appear across different devices.
Heading

Not to be confused with the subject line, the heading sits at the top of your email once it's been opened. You can also create several headings throughout to introduce new topics.
There are plenty of formatting options with headings, including changing headings to any font or font size. You can also insert emojis or links into your headings too.
Or, you could skip the heading at the top in place of a graphic. If you want to add the heading back in at any point, simply drag the heading icon across.
Text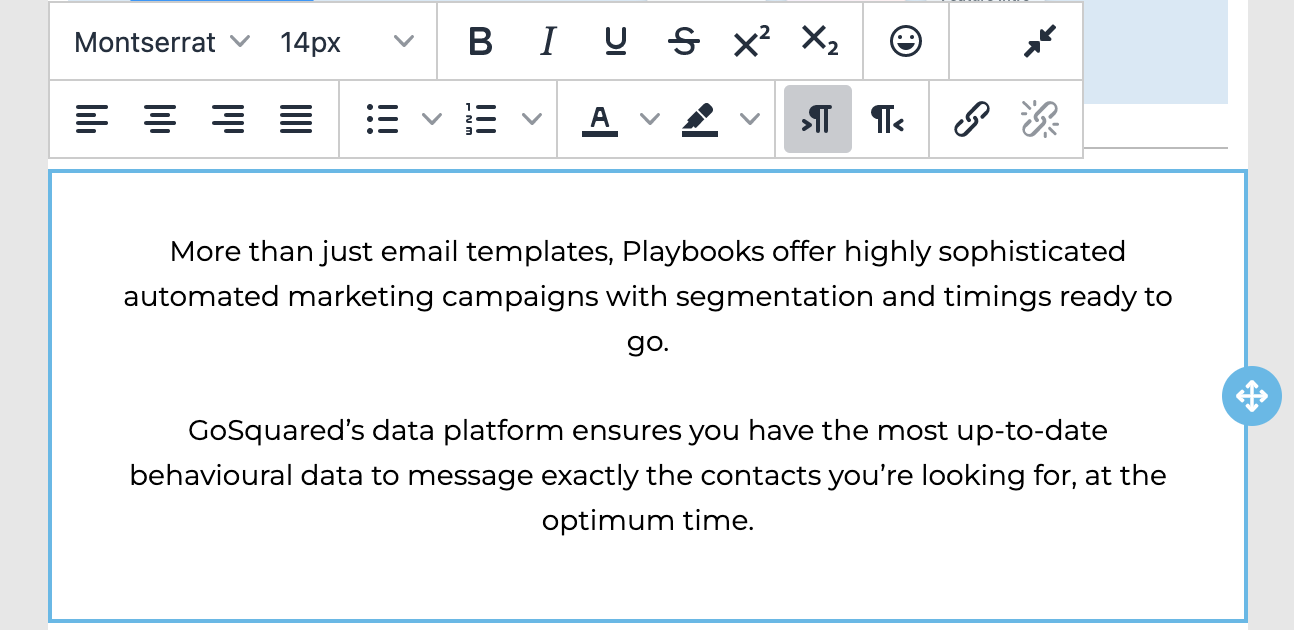 Did you know the average email contains 434 words on average? There's no need to set a strict lower or upper word limit, but you should at least give your email text some thought. Remember, your users are likely to be short on time, so be sure to write concise text that's user-friendly.
Hemmingway Editor is also an easy way to tell if your writing is too difficult to read for most people.
As with the heading tool, our text tool is also fully formattable. We've also included a spell checker which will highlight any errors in red so that your email will remain typo free.
Image

Have some amazing company images you want to insert into your email? Our email builder is a drag and drop tool, so all you have to do is locate the file and select it.
Your files need to be under 2MB, so be sure to resize any images before inserting them. Smaller file sizes also help reduce the chances your email will end up being marked as spam too.
Menu

Menu is similar to creating a menu in web design, and it instantly makes your emails look polished and professional. If you have several topics you want to cover, a menu is a great way to ensure users don't skip any content below.
Columns

Columns are nice and simple. Drag across a layout for any images or content you want to insert into your email template. Perfect if you have multiple images you want to add in, but don't want to stack them on top of the other. You can also add buttons or any other type of content into a column space.
Divider

Need some breathing room? Drag and drop a divider anywhere where you'd like to create a nice even space throughout your email composition.
Button

Buttons allow you to create direct links back to your website in a much more engaging way than 'click here' anchor text. No need to spend hours designing a button on Photoshop or Illustrator – just drag and drop our buttons into your email. You can even customise the colour and font of your buttons to match your company branding.
HTML

We tell no lie – no coding is required for our free email builder. But, if you do happen to be a whizz with HTML and want to add any custom code, we've given you the option to do so. Otherwise, you can skip this part and keep to the endless fun of drag and drop template building.
Edit Email Body
If you want to make easy mass changes to your email template, click on Email Body which has a paint palette icon. 🎨
Background Colour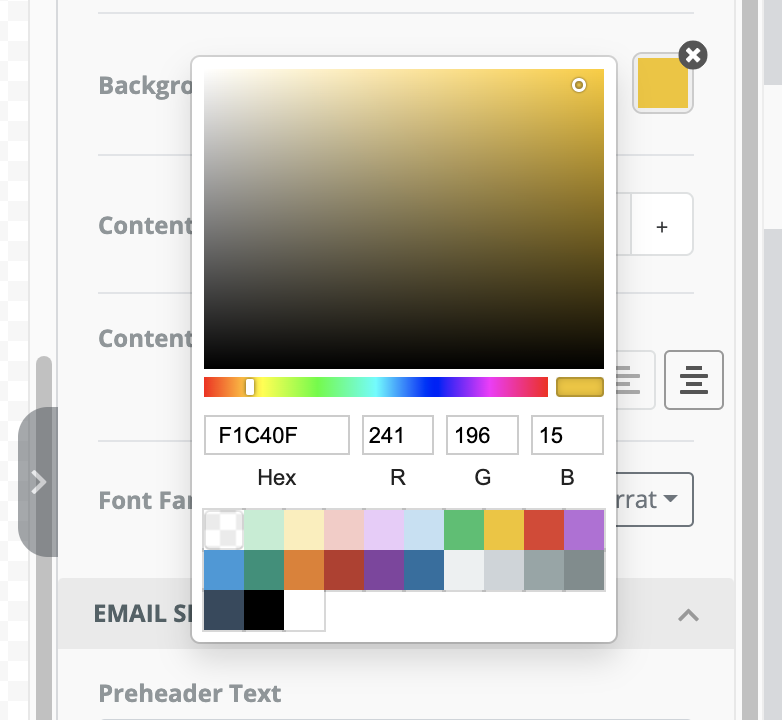 You can add in custom hex codes or add in an RGB colour for your background. This allows you to choose a specific colour, such as your company branding colours.
If you don't know your company's hex code colours, open up Photoshop or Canva and use the colour dropper tool on any of your branding. Copy and paste the 6-digit code or the RGB format and it will automatically change to the exact colour.
Content Width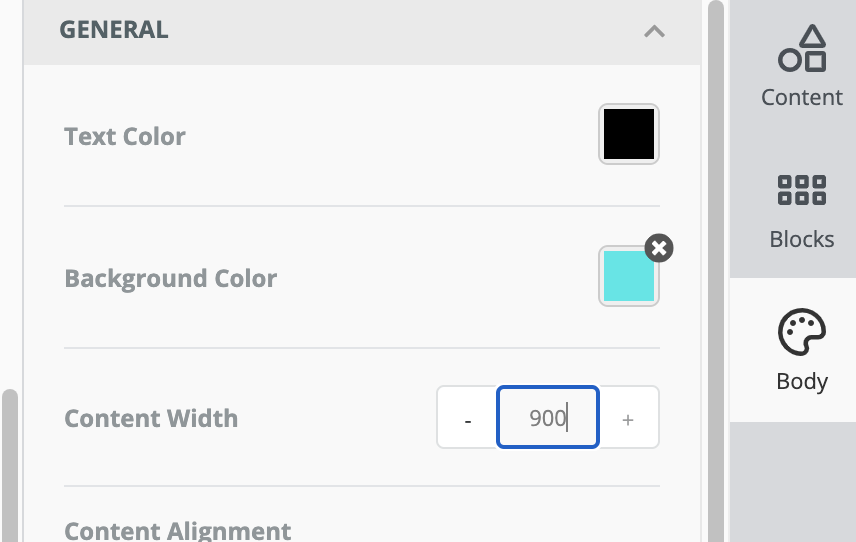 Our email template builder has a default width of 600 pixels. But if you'd like to try something different, you can adjust the width of your content to any dimensions.
Content Alignment
We may be GoSquared, but when it comes to your content alignment you can go left or justified. For text, our email builder has the option of left, right, centred or justified.
Font Family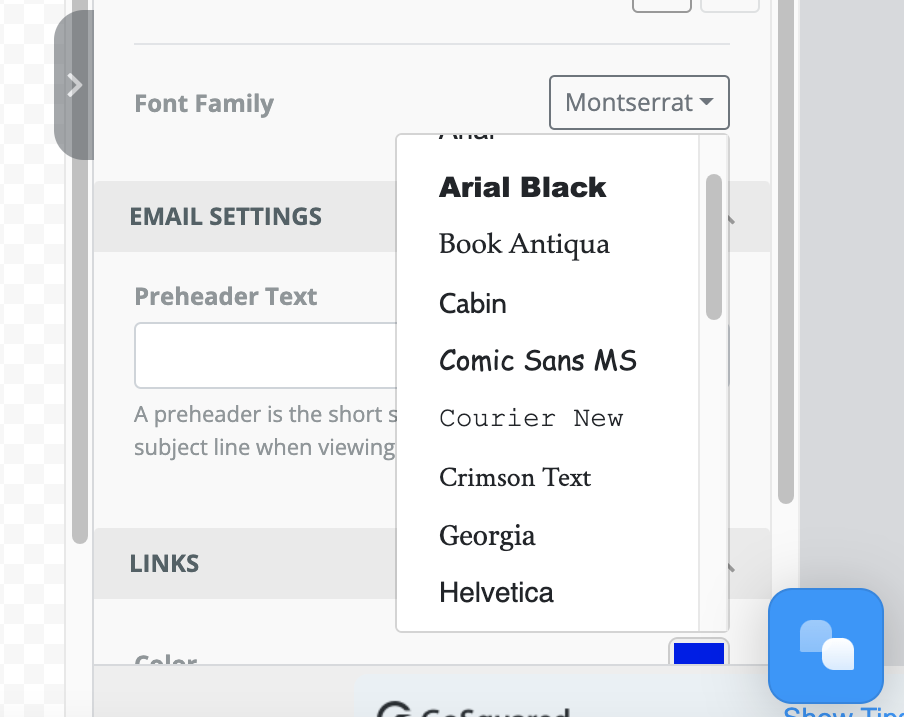 As with colour options, we recommend choosing a font that is used throughout your company branding such as on your website. If you're not sure what fonts are on your website, right click>inspect> and the code that pops up on the developer tools will tell you. If in doubt, opt for a sans serif font such as Arial.
Preheader Text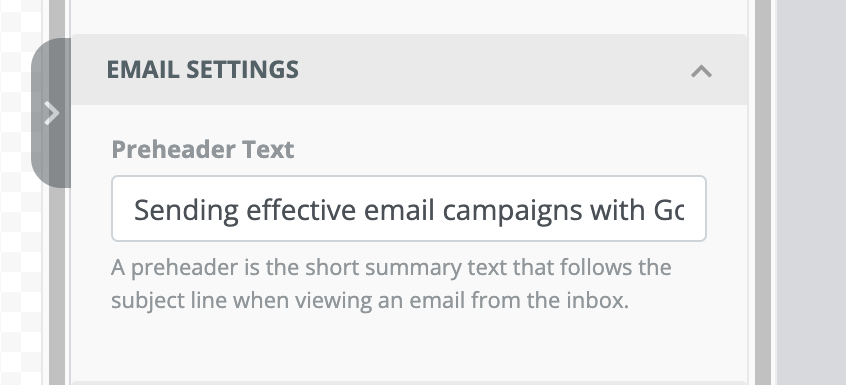 A preheader is the short summary text that follows the subject line when viewing an email from the inbox. So this is your chance to create a compelling opener that ties in with the subject line.
Link Colour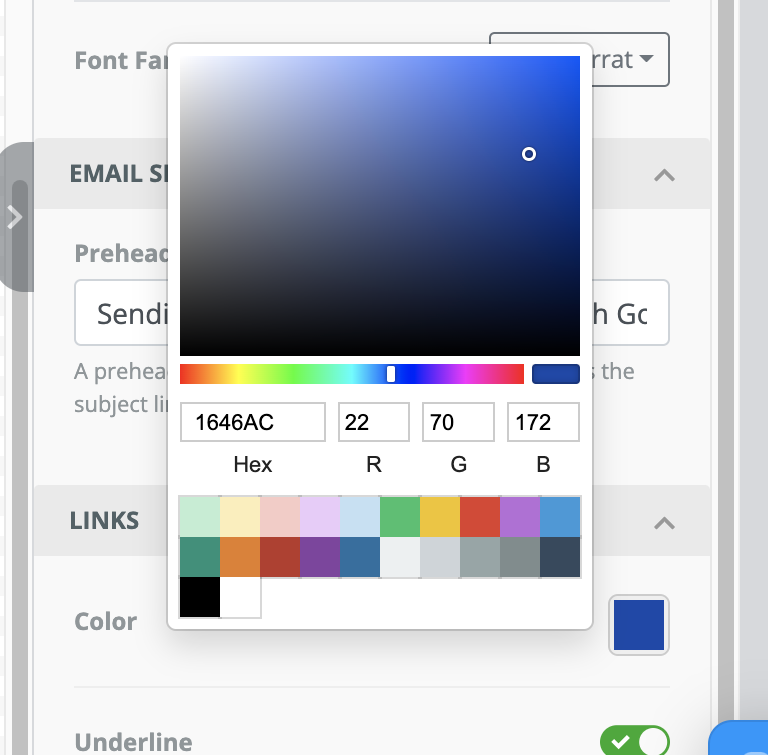 Most links are navy blue. But, this may not suit your company branding colours or even the colours you've selected in your email template. So we've given the option of customising your link colours too.
Export Your Email Template – HTML Or JSON
#Step 3 – Export your email and prepare to send ✉️✈️
Export template – Will generate a JSON file download. Upload this file to any applicable email provider.
Copy HTML – Will automatically copy the HTML code that you can paste into your email provider. If you want to come back to your email at a later date, be sure to paste the code immediately into a word document, Notion or a similar place where you can keep the code safe! Your email template will not save in the browser otherwise.
How to Paste Raw HTML Into Gmail Or Outlook
Don't have an email provider such as HubSpot or Mailchimp? If you use any other email provider including Gmail or Outlook, you can also make the most of our HTML email builder.
Once you've finished your email and hit 'copy HTML' you need to follow these 6 steps. Although it may look complicated, we promise this will take just a few seconds.
1 – Open up your email provider. Type in your recipient and subject line.
2 – Write the word 'dummy text' in the email body.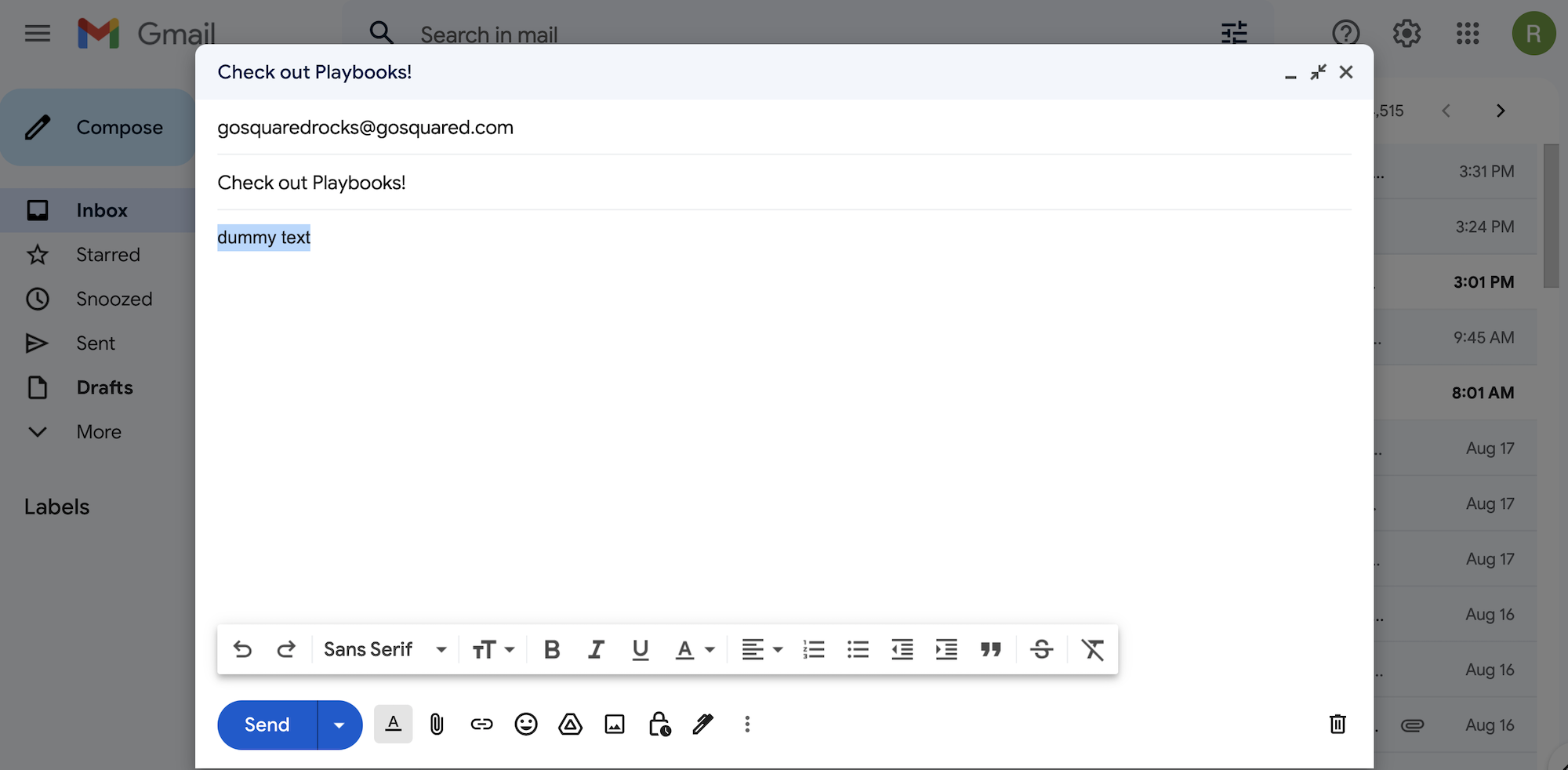 3 – Hover and select 'dummy text' and right click. A menu will appear. Click 'Inspect'.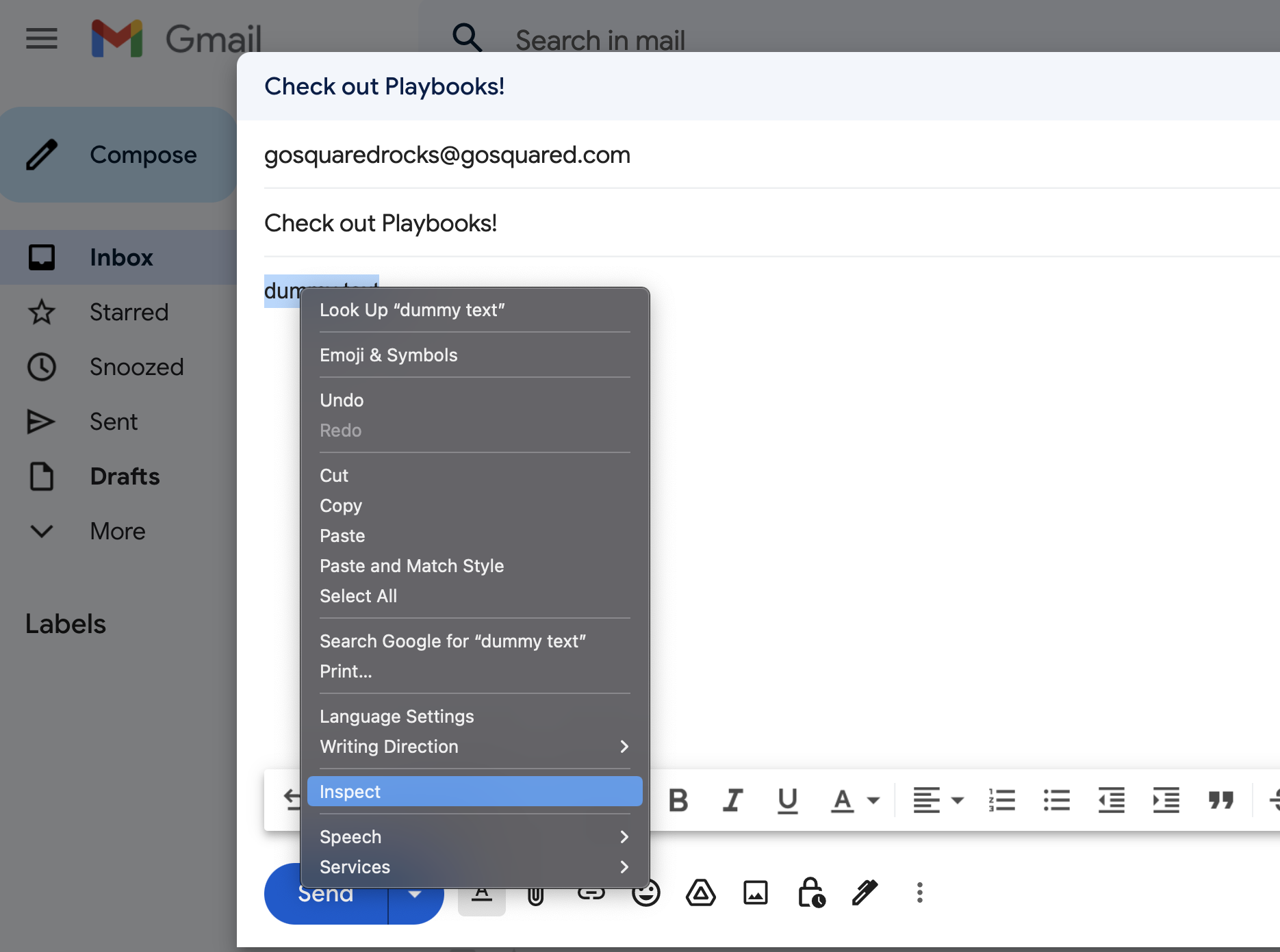 4 – Developer Tools will instantly appear, highlighting a specific section. Right click again and select 'Edit as HTML'.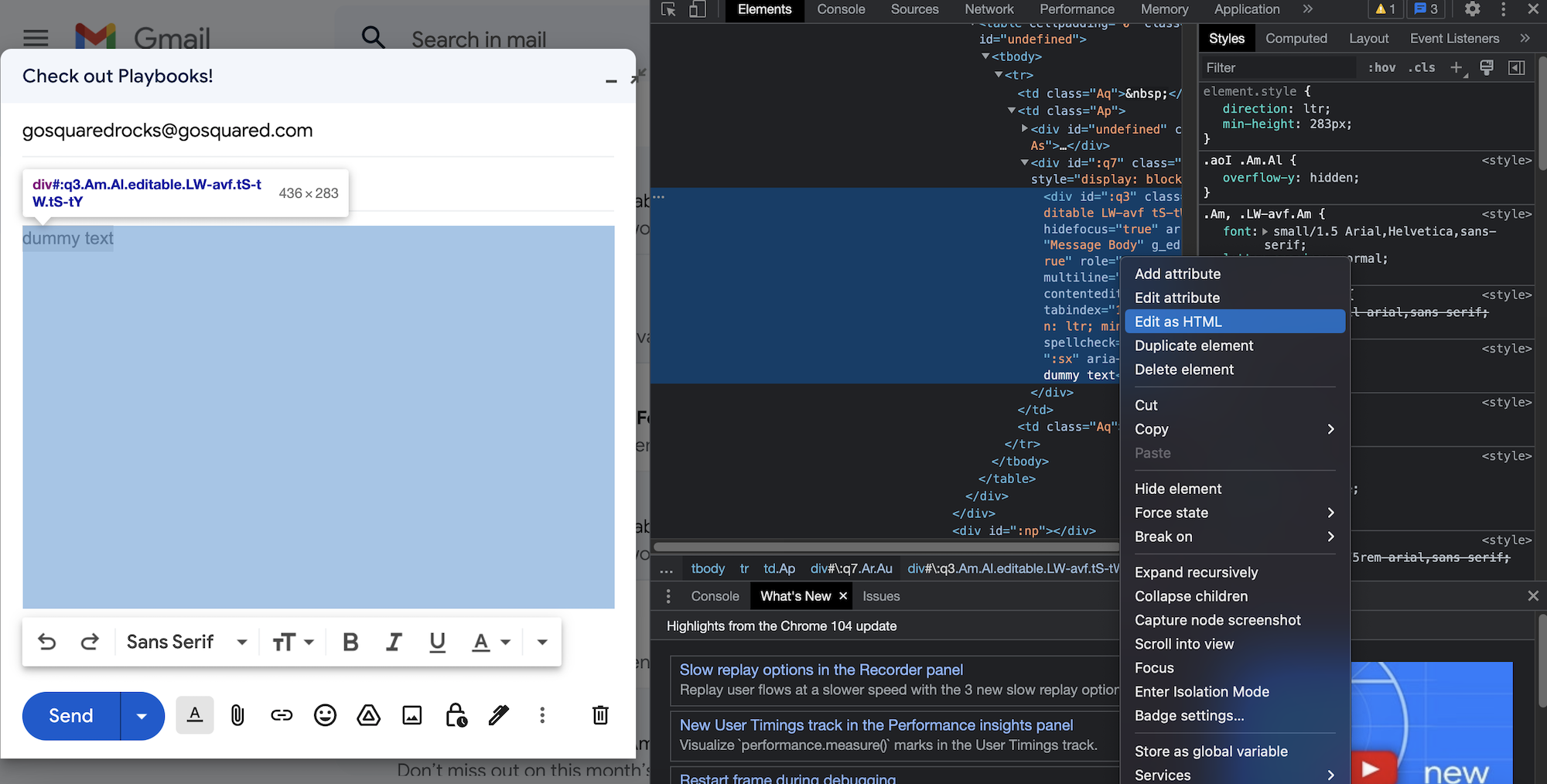 5 – Delete the highlighted section. Paste in your HTML code from the GoSquared email builder. Exit Developer Tools and your email will appear in the original email.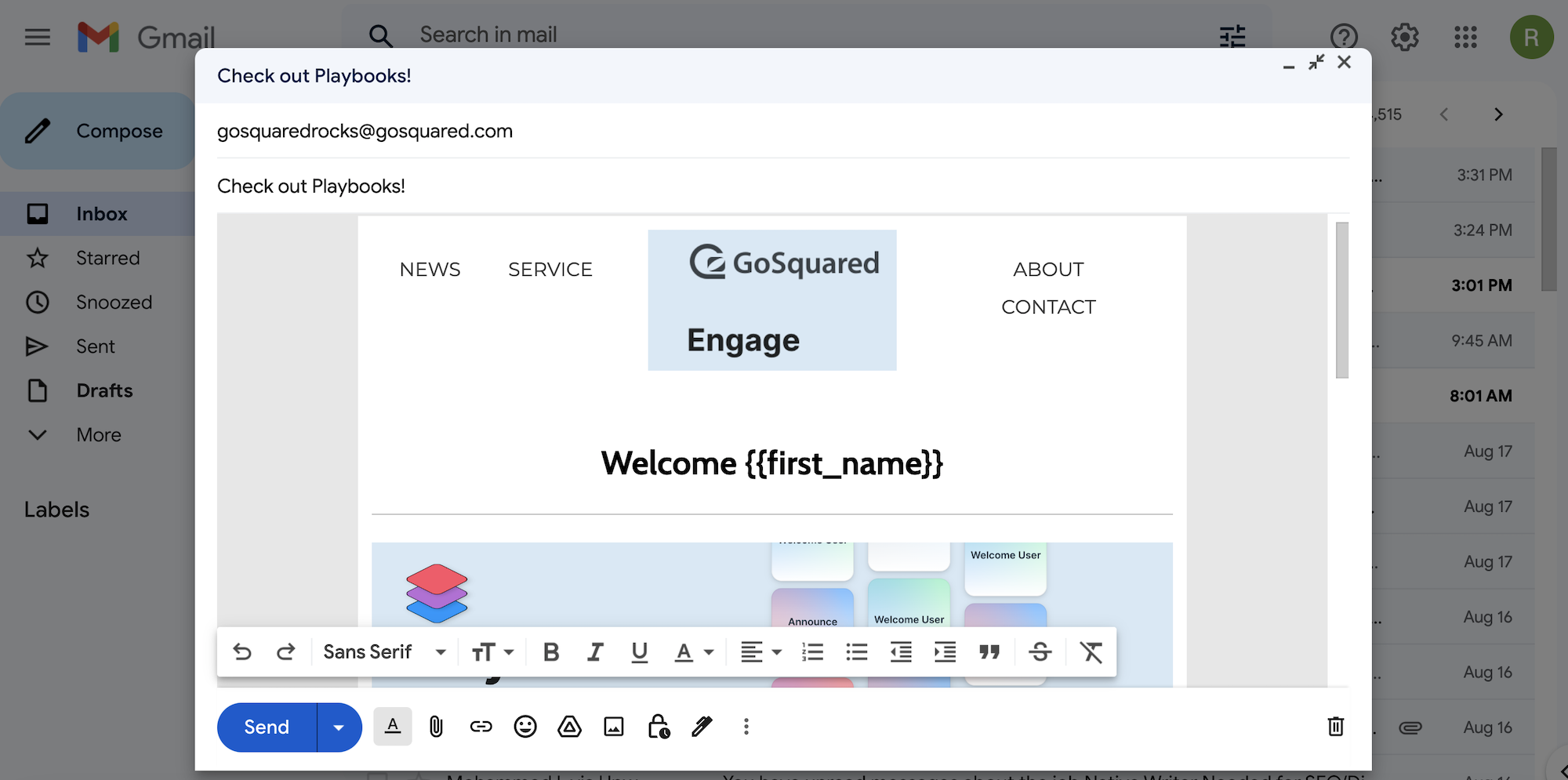 6 – Check you're happy with your email, the recipient address and the subject line. Hit send!
Email Template Themes
Now you know how to use each feature within our HTML email builder, it's time to get creative.
Perhaps you have some company graphics you want to use? Or, you can use a website such as Envato Elements to find stock graphics including illustrations, icons or photographs. If you're skilled in the creative department, you can also draw your own graphics on Adobe Illustrator, or even import your own photography into your email template design.
Here's some inspiration across some of the most popular business and personal email template designs. We've made each of these in our email template builder to show you how easy it is!
Abandon Cart Email Templates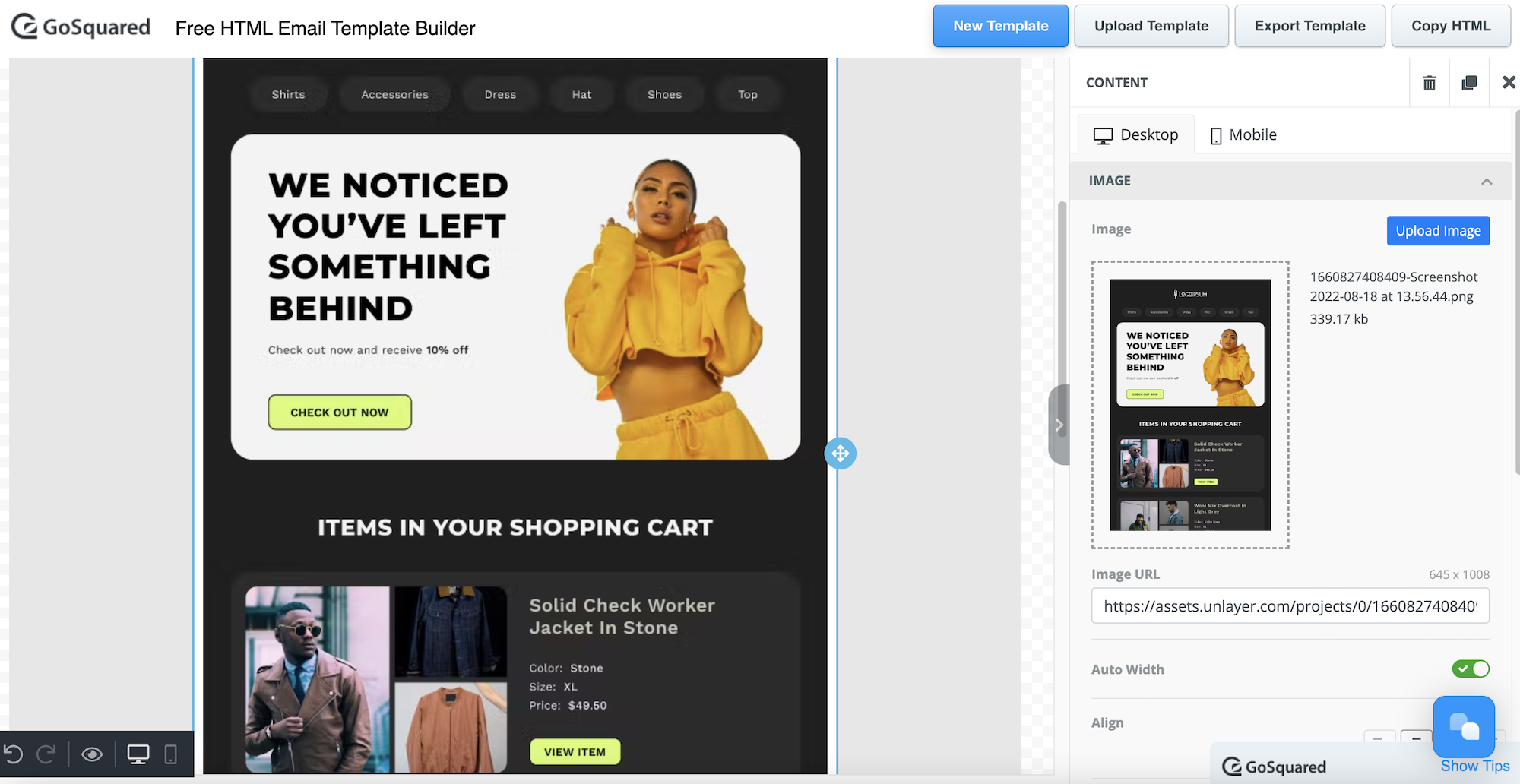 Did you know the average abandon cart email rate stands at 70%? If using a product such as GoSquared Engage, you can automatically trigger an email whenever a user abandons their cart. Perhaps you want to remind them about the benefits of the product or even offer them a sweet discount. Either way, an abandon cart email engages with that user instead of allowing them never to return again.
Birthday Email Templates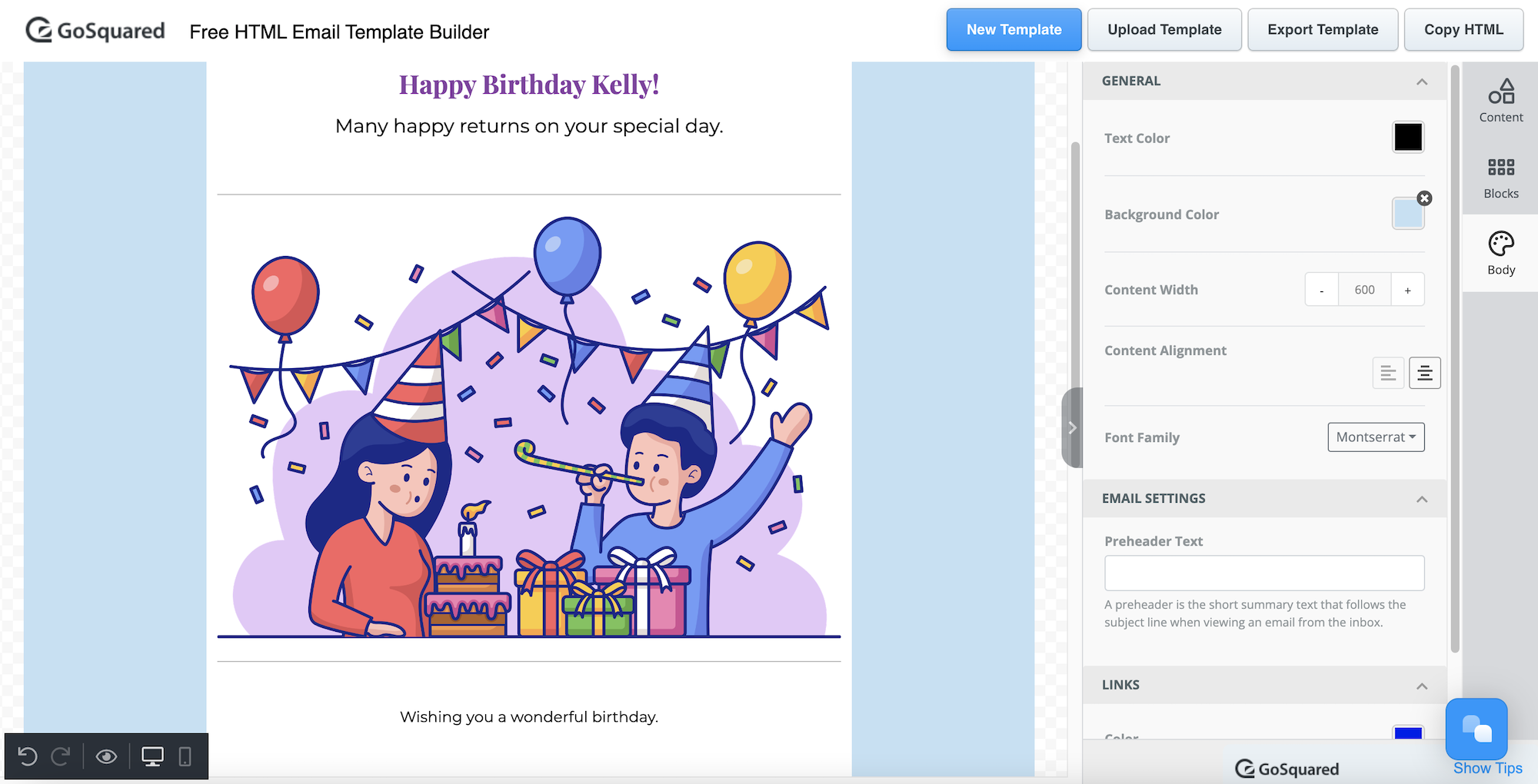 Remember birthday e-cards? These websites may look fun, although unfortunately, they will store your data, including your email address, your recipient's email address and their birthday. Not only is this not GDPR friendly, but it can be annoying for you and the recipient to forever receive spam emails, just for trying to do something nice!
Likewise, Facebook, Twitter and other social media networks will store your birthday data. What do they need that for? Argh!
By using our birthday email template, you can send someone a lovely message for their special day, without having to give us your information. As a SaaS company, you can also send your users birthday greetings as part of your customer engagement strategy.
There are no logins or sign-ups required – simply design your email, download the HTML code and paste it into your email provider. There are instructions on how to do this throughout this post if you're unsure.
Christmas Email Templates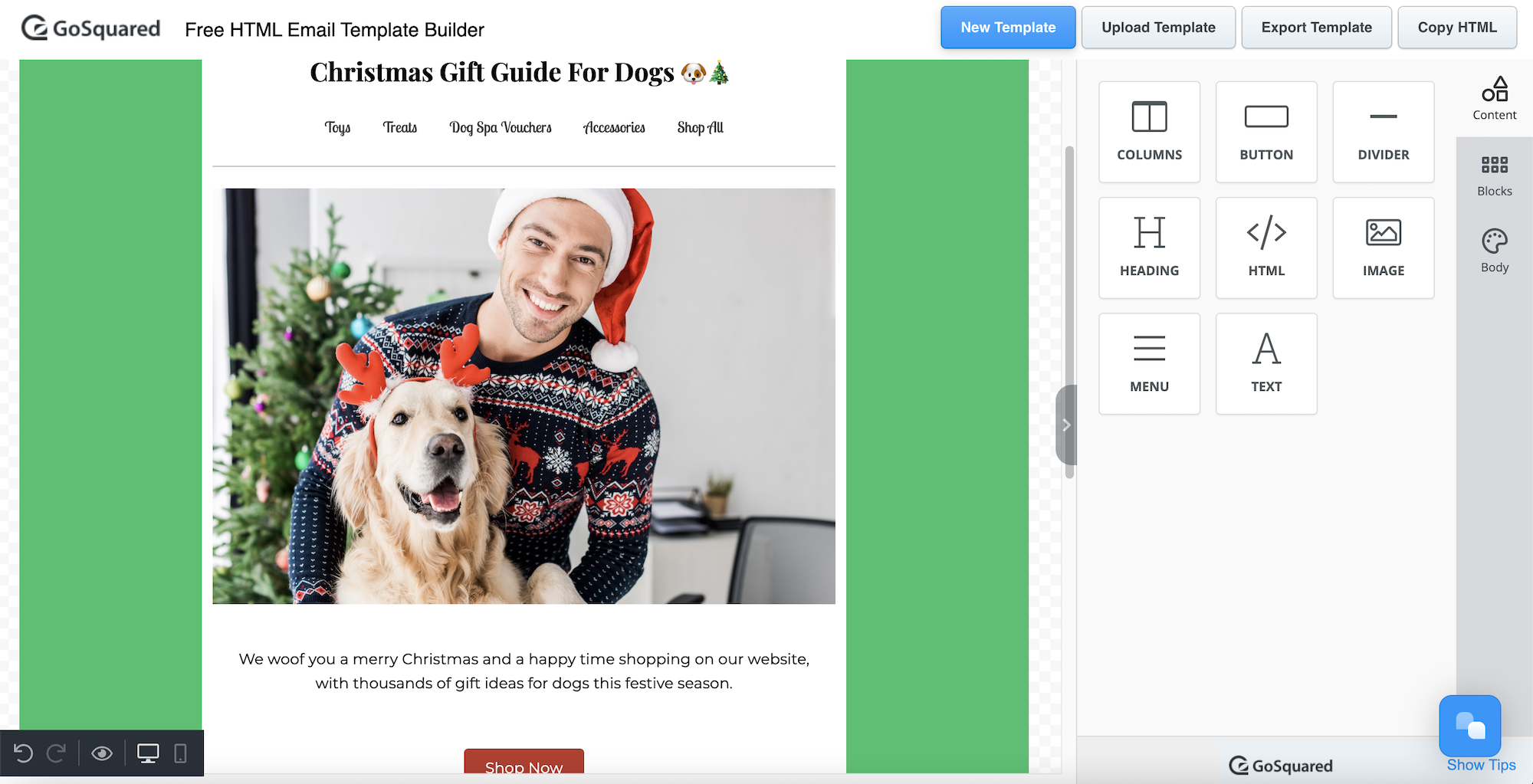 If you sell anything online, you'll know the importance of the festive season, which is likely to be the busiest time of the year for your business. You can create custom email templates for your seasonal campaigns using our email builder.
We suggest planning your Christmas email campaigns in advance so that you can time the send rate to your advantage.
In our example, we added a product menu to our imaginary dog gift shop. If you have an ecommerce website, or if you have any other deals or promotions, a menu allows you to link users straight to the applicable purchase pages.
Nerdy subject line idea for those in the HTML email builder know: I'm dreaming of a #FFFFFF Christmas.
Flash Sale Email Templates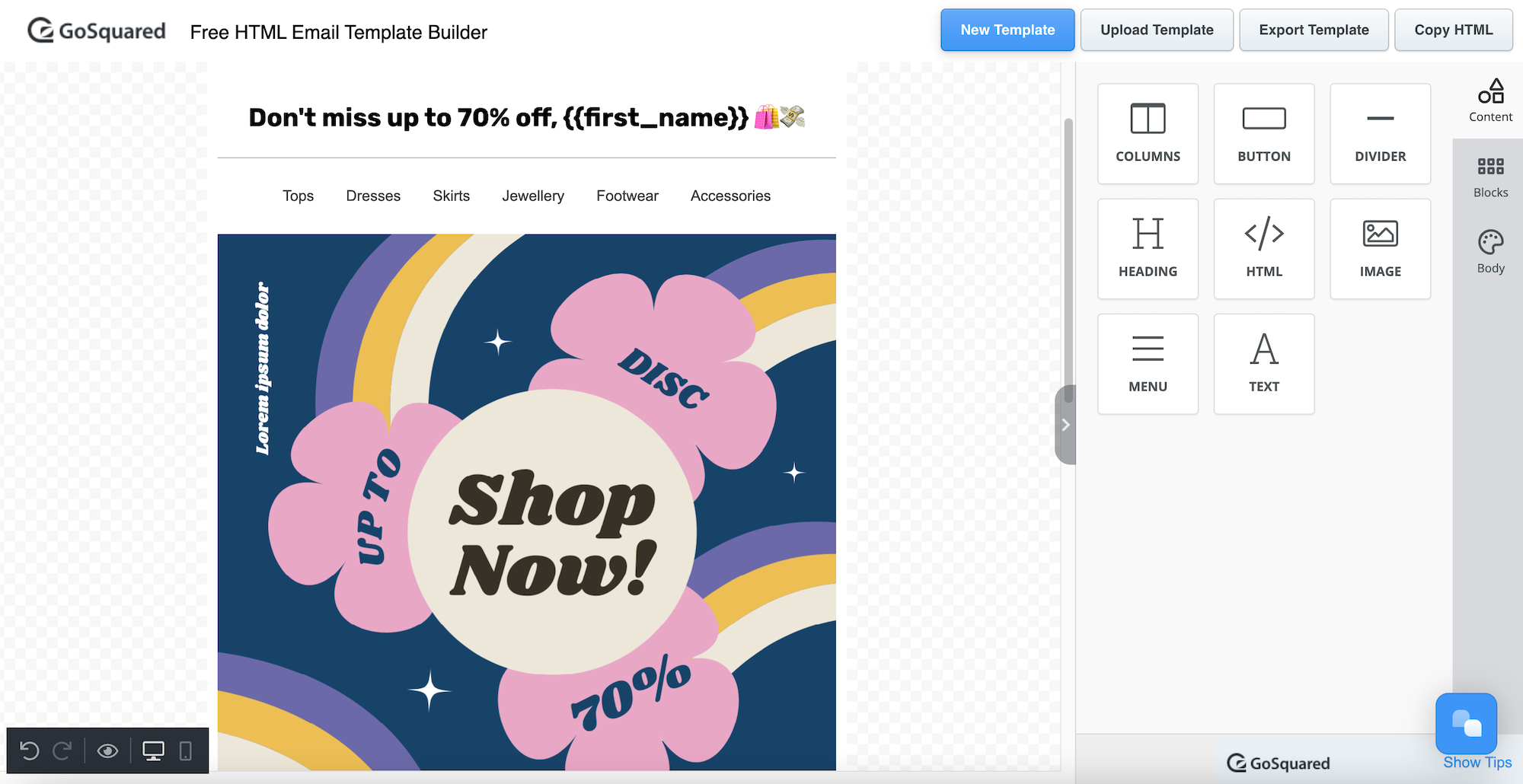 Whether you own a 70s clothing boutique or want to increase subscriptions for your SaaS product, if you're having a flash sale, email ensures all your customers will know about it.
It takes just minutes to create a flash sale email template, and as with any other template kind, you can ensure it fits your company branding with ease.
We recommend adding buttons to link directly to whatever is on sale to increase the chance of conversions.
Halloween Email Templates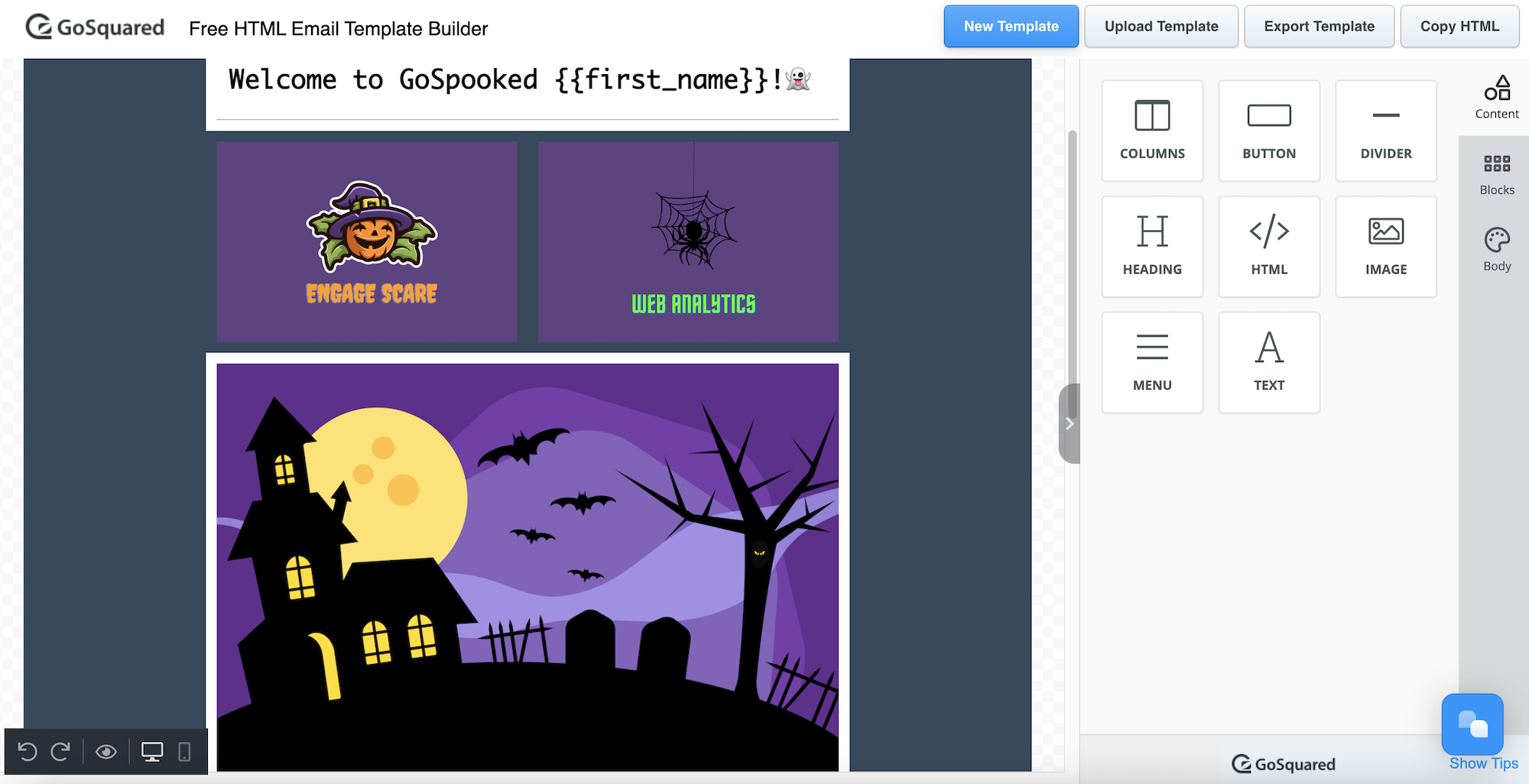 Halloween has incredible marketing potential for any business. More than just a scary holiday, Halloween offers yet another chance to partake in some good old customer engagement. It also gives you free rein to experiment with your company colours and have some fun. But like any email campaign, you can still employ a solid marketing strategy behind it.
Newsletter Email Templates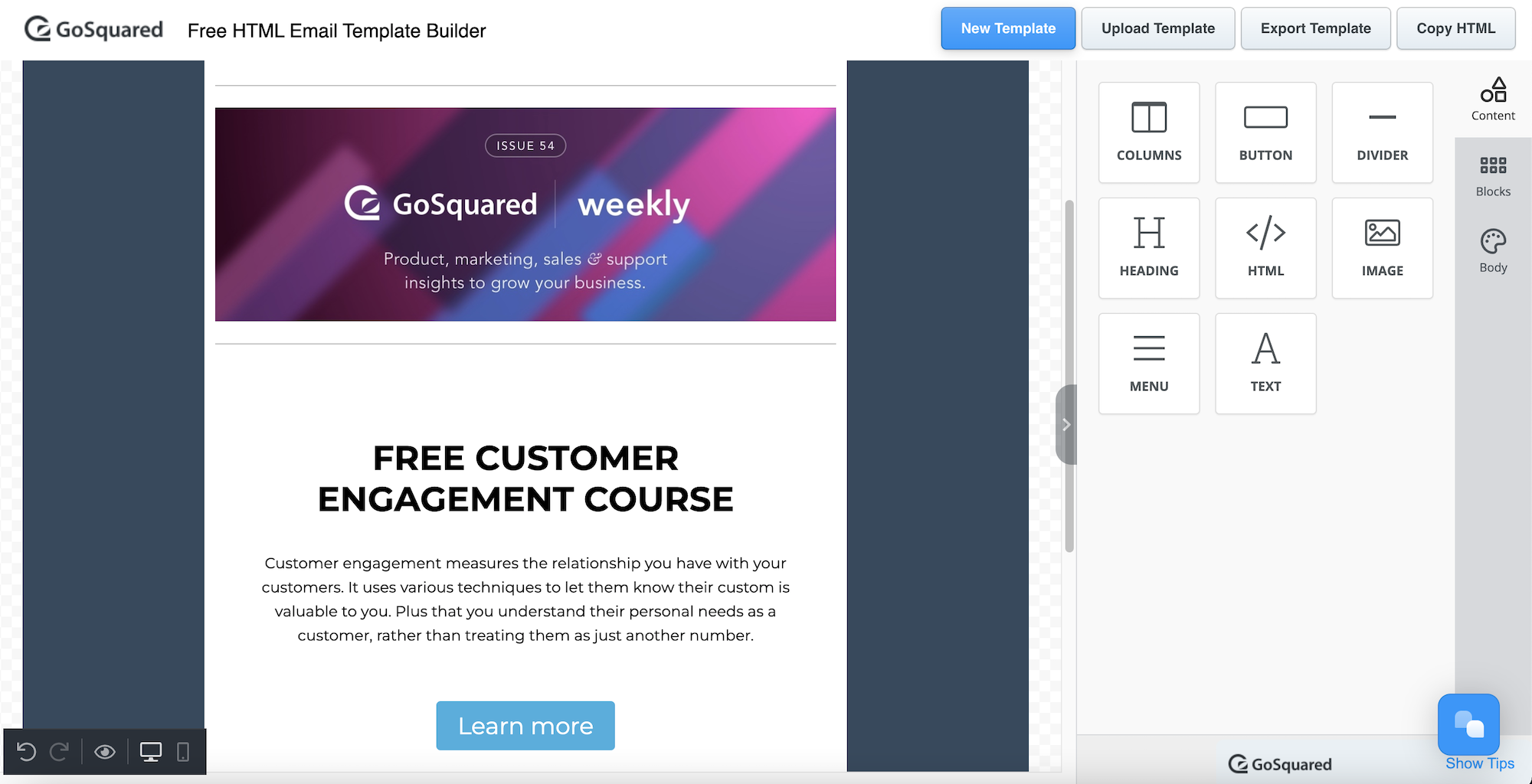 If you have some awesome news to share, whether it's a new blog post your content marketing team put together or an event you're holding, a newsletter can be really impactful.
As our email template builder allows you to drag and drop images in, you can use any images from existing campaigns without having to build out the entire email. This also ensures your newsletter will stay on brand.
As you can convert the results to HTML in seconds, it makes it super easy to create a newsletter email from scratch or base your template on any existing assets you have.
Pssst: If you're interested in signing up for the GoSquared newsletter while you're here, we'd appreciate it! 
Sales Email Templates
Whatever you're trying to sell through email, having an exquisitely crafted email to send to your users will make all the difference. With our email builder, you can import existing imagery, play around with text, colours, layout and much more.
If you're a fan of user testing, you can even try sending sample emails to yourself and your team, to see how they will appear when your recipients actually open the emails. If they don't grab everyone in the right way, you can keep trying out different template ideas with our email builders until you hit on a masterpiece.
Welcome Email Template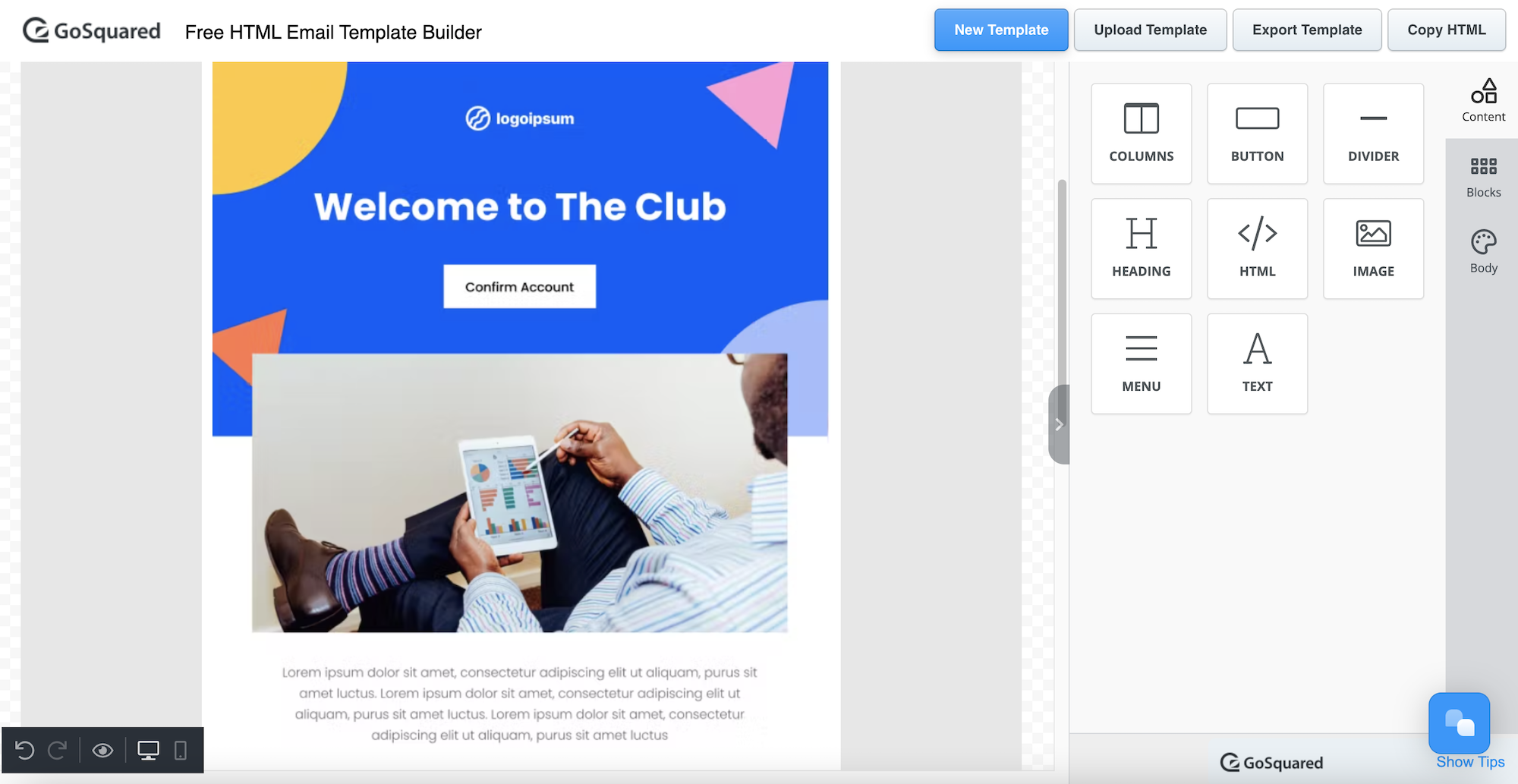 Welcome emails are hugely important for any SaaS or subscription based business. After all, you can't be there to greet your new user in person, so a welcome email is the next best thing.
Use your welcome email to introduce your features to ensure the onboarding process goes smoothly. You can also add plenty of personality that helps set your products or services apart from your competitors. Think creativity, and remember your users may be totally unfamiliar with your brand. So make that first introduction count!
If you're wanting to send out truly stellar welcome emails, remember that GoSquared Engage is purpose built for this very task. To get started with your free demo, scroll to the end of this post.
Enjoying Our Email Builder? Check Out Our Other Free Goodies! 🍬⬇️
View GoSquared's full list of free resources. Have any other free tools you'd like to see us build? Drop us a Tweet and let us know!
GoSquared HTML Email Builder FAQs
Here are some of the most commonly asked questions about HTML email builder templates and sending email in general. If you have a query that you don't see listed, leave us a comment on this blog or reach out to us on social media.
Alternatively, if you're interested in our email automation software for your business, please contact our sales team for further help.
What Is An Email Template?
When sending an email, you have two choices. You can either write a plain text email and hit send, or you can use an email template instead.
As a business, we're probably right to assume that with every email campaign you send out, you want to generate a healthy ROI. Email templates allow you to do just that, as you can send tailored, personalised campaigns with every single email you create.
How To Design Email Template
Using GoSquared's email builder template, you can create stunning email templates in minutes. Simply drag and drop different elements you want to add to your email template design, such as images, headings, text or columns. Customise the layout, fonts and colours until you're happy with the design. Click 'copy HTML' to generate your finished email template design.
How To Send HTML In Email
If you have an email automation provider such as GoSquared Engage, Mailchimp or HubSpot you'll be able to paste your HTML code in easily. For Outlook, Gmail, Yahoo or any other email provider, check out our tutorial above.
What Is Email HTML?
Email HTML is a method of sending beautifully designed emails, beyond what a basic email tool will allow you to do. For instance, you can insert images, company logos, headings, links and so much more – all in a way that is engaging and more sales driven. If you use our HTML email template builder, you can copy and paste the HTML code into your email. If you're not sure how to do this, scroll back up to 'How to Paste Raw HTML Into Gmail Or Outlook' – we promise it's super simple!
How To Create An HTML Email Template
With our HTML email builder, you can create an HTML email template from scratch, or import an existing template which you have modified in a program such as Adobe Illustrator. The end result will generate an HTML code which you can paste into a blank email using our Developer Tools trick. If you have an email automation provider such as GoSquared Engage, it's even simpler to use your HTML email template code.
How To Create An Email Newsletter Template
As demonstrated above, it's super easy to create newsletter templates for your business with our HTML email builder. We recommend dragging and dropping different elements from your existing creative aspects to keep your newsletter on brand.
How To Change The Subject Line In Gmail
Subject lines can be manually inputted and changed in Gmail. If using our HTML email builder to create emails in Gmails, we recommend figuring out the subject line first so that you don't accidentally send the email with a blank subject line. If you're ready to upgrade to a more professional setup, GoSquared Engage is an email automation platform that will give you more control over every aspect of your emails.
How To Send HTML Email In Outlook
If you don't have an email automation platform, and you're using Outlook, Gmail or any other regular email provider, you can still use our HTML email template builder. Follow the visual guide above where we show you how to send HTML emails in Outlook in a couple of easy steps.
How To Create An Email Template In Outlook
You can use GoSquared's free email template builder above to send emails in Outlook. Simply follow the instructions, download it as an HTML file, insert into your email as we show you above and voila! Outlook has never been so exciting with a GoSquared email template builder by your side, honestly.
Why Is the Subject Line Of A Business Email Important?
A subject line is important because it determines whether or not someone will open the email, ignore it or worse still send it to the trash bin. Subject lines should be relevant and captivating, which is why it's worth spending some time on creating engaging subject lines for your business emails. Don't know where to start? Check out our free guide on writing a great subject line.
How To Write An Email
No two emails are the same, so it's impossible to offer specific advice. But, a great place to start is to identify the purpose of the email, ensuring the subject line and body copy are driven towards this aim. Also, value your user's time by avoiding lengthy emails. By the same token, emails should do everything possible to lead users to the next action you want them to take. To ensure your email campaigns always hit your objectives out of the park, check out our free guide on audience segmentation.
What Does CC Mean In Email?
CC stands for carbon copy. The purpose of CC in email is that it allows you to send an email to lots of people at once, rather than having to individually email each person with the same message. However, anyone you CC into an email will be visible for all other recipients to see, so you must use it with caution in the age of data protection.
What Does BCC Mean In Email?
BCC stands for blind carbon copy. If you're scratching your head, you're not alone. The term actually harks back to the days of using typewriters!
What BCC actually is used for today is when you want to send a mass email to lots of people, but you don't want to share anyone's email address in doing so. For example, users who aren't part of your organisation, or even when sending a cold email campaign.
A handy tip to remember is that CC is to copy people into the email publicly, while BCC is to copy people in privately.
GoSquared HTML Email Template Builder – Take Your Email Marketing To The Next Level With Engage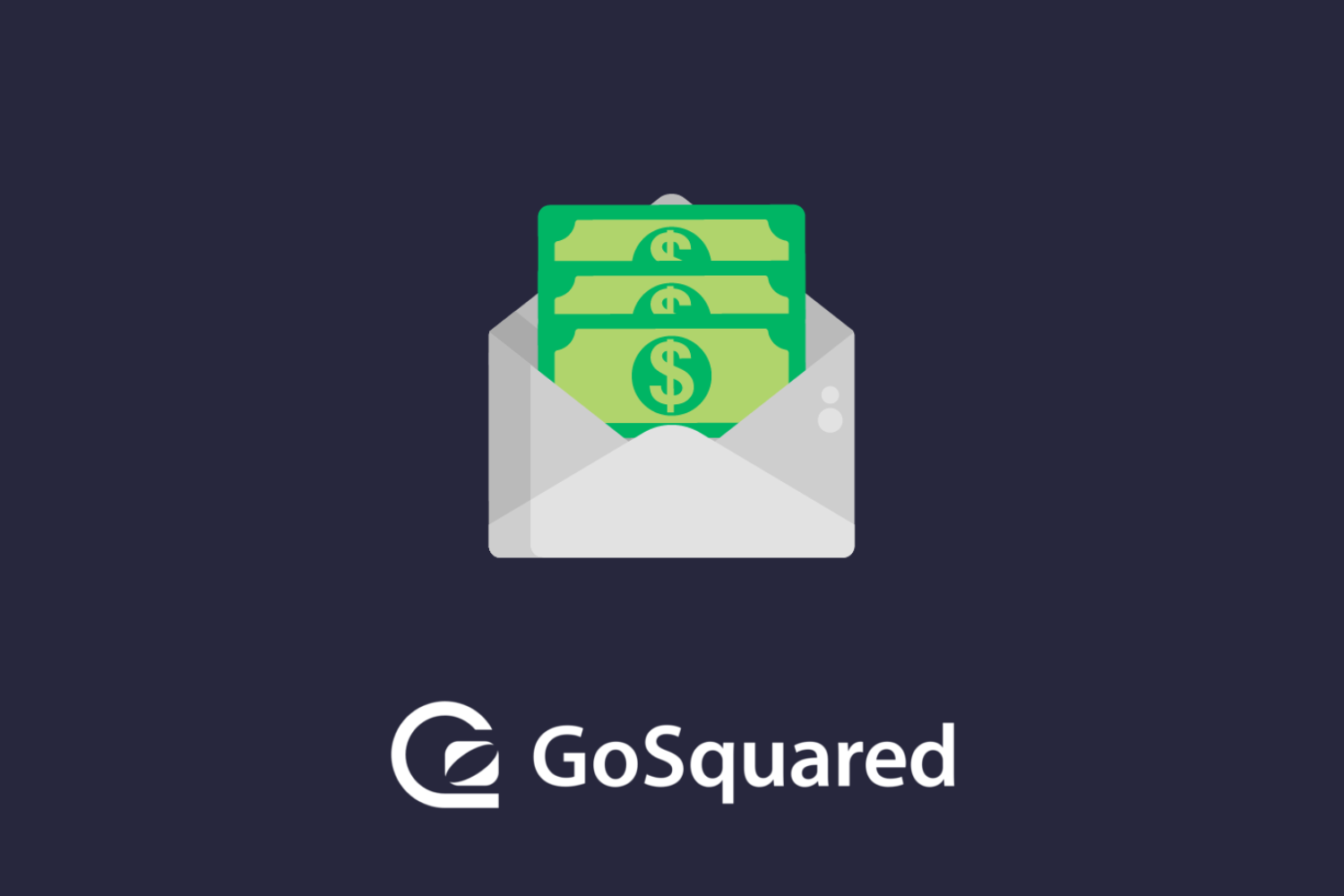 We hope you've enjoyed creating your own emails using our free HTML email template builder (or JSON depending on your setup!). We'd love to see your creative email creations, be sure to tag us over on Instagram, Facebook or Twitter and give us a follow while you're there.
Want to take your email marketing to a whole new level? GoSquared Engage is our email automation tool that allows you to capture leads, onboard users, make announcements and connect to your customers in an intuitive, conversion friendly way. As you build your email list, having a professional email platform by your side is essential.
GoSquared's award-winning solutions are trusted by companies across the globe. Whether you're a start-up or an international organisation, GoSquare Engage will put your business on the map.
Try your free demo of GoSquared Engage today to get started. Amazing email campaigns, live chat for sales and so much more are only a couple of clicks away!