*Taps mic*. 🎤 Is this thing on? 😬
Staring into an empty crowd is exactly what it can feel like when you have a website, but not enough website traffic.
Whether you've just launched your website, or if your traffic figures are on the decline, it's time to act to get the masses engaging with your products and services, so that you can grow your business.
There are some easy tricks you can do to boost your website traffic in 2023 and beyond.
Here are just 7 of the top ideas to turn your website fortunes around in an instant.
Get An Understanding Of Your Web Analytics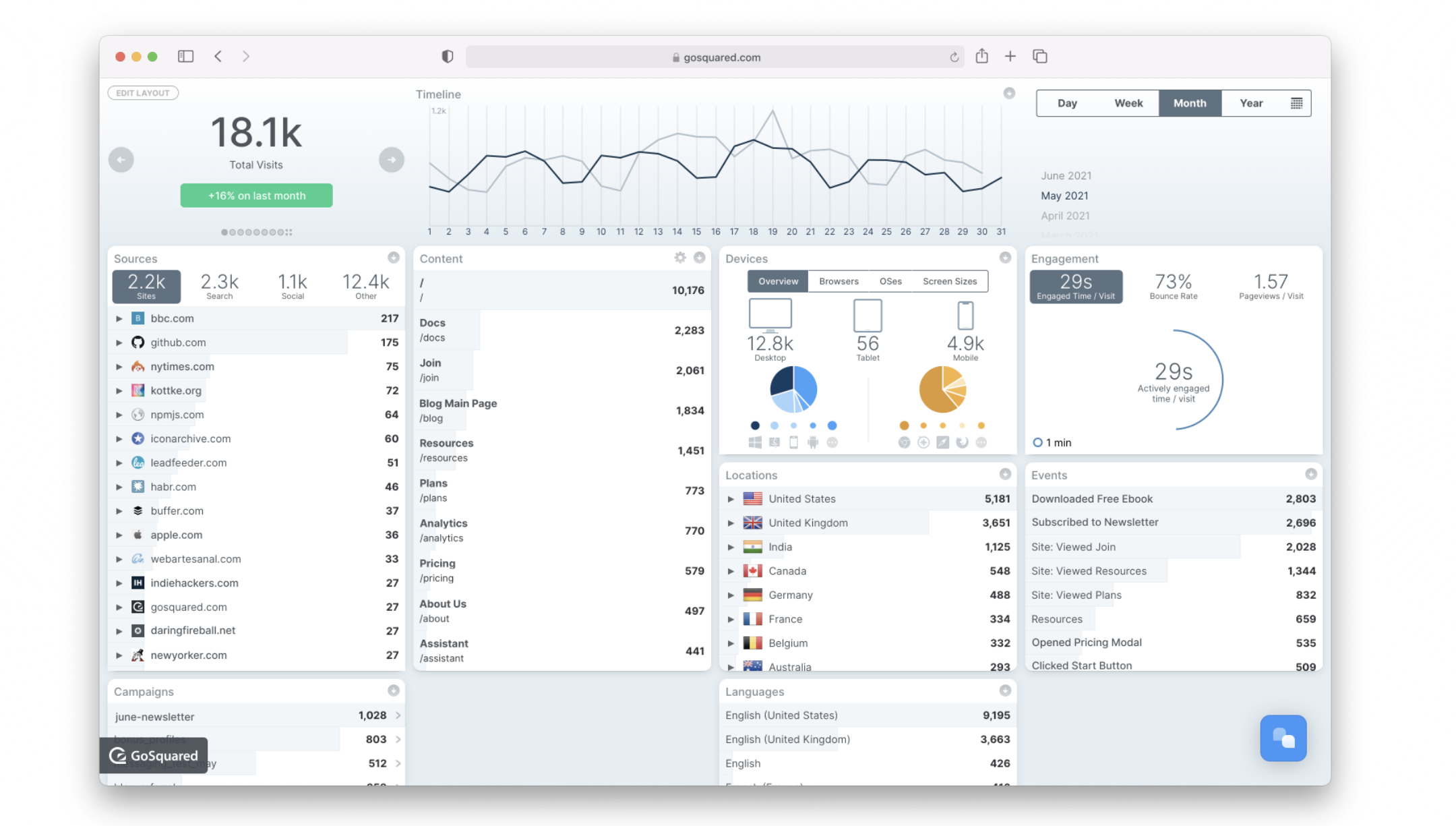 No really. Before you make a single change to your website, you need a clear idea of what's currently working for it and what's not. That way, you can fix any weak spots while protecting any valuable sources of web traffic.
Ask yourself: How often do I check my website analytics? Do I have a reliable tool for the job?
For instance, on GoSquared Analytics you can see the likes of:
How many website visitors you have
The geographic breakdown of visitors
Devices most used to access your website
Browsers most used to access your website
Average browse duration time
Bounce rate
Most websites have some kind of analytics tool. Just make sure the stats are accurate and broad enough to actually be useful (most aren't, hence why we built our own tool).
Beyond the stats, you can use heat mapping tools such as Hotjar to understand the navigational journey people have on your website too.
Use a combination of analytical data and heat mapping tools to understand your web traffic as it stands. From there, you can put in a plan of action to improve things.
Responsive Web Design
Mobile traffic accounts for 60% of all website traffic as of 2022. These numbers are steadily increasing each year.
If a website is responsive, it will adjust itself to whatever device it is viewed on. Sadly, too many website owners only think of their website in the traditional desktop form. This means your website may not load correctly on other devices including mobile or tablets. When that happens, it creates a poor user experience which will result in instant exits of the page.
Responsive web design will increase web traffic and reduce your website's bounce rate. So go test your website right now on different devices to check for any potential issues.
Get any problems with viewing, scrolling or accessing your website content fixed without delay.
Better Website Copy
Website traffic isn't just about getting those initial hits but also having people want to return once more. When a website's written content hasn't been crafted with the audience let alone conversions in mind it shows.
It's so easy to write your own website content as an entrepreneur rather than a professional content writer. But then you get stuck in your own head because you know everything about your business model so you assume everyone else does. In reality, most people have probably never heard of your website before clicking on it – so ask yourself whether the copy delivers the elevator pitch they are looking for.
Rewriting your website copy can make all the difference here. Ensure the copy is UX-friendly and succinctly gets people over the line. If people are confused, they won't return or share your website with others they'll simply leave.
Finely-Tuned SEO

Everyone out there regretting not buying Bitcoin soon enough. Us SEO folk regret not starting the Rickroll.
*AHEM*.
Did you know 68% of all online experiences begin with a search engine?
If the main searches relevant to your business aren't on your website, your website won't be found by search engines.
Unless your SEO strategy is closely monitored, and updated by an actual expert, you won't have your finger on the pulse. This means your competitors will be stealing your web traffic instead. So if you want to boost your web traffic in 2023 and beyond, you should definitely fix that.
Both your website copy along with your blog should contain SEO-friendly terms with a real focus on getting these terms ranking in the top 10 of search engines.
Though by the same token, quality is king. So, stuffing a load of keywords into a post which is poorly written or misleading won't encourage website visits in the long term. As highlighted in Google's 'Helpful Content' update which was announced in 2022, it's time to put your users first here.
Remember: Good SEO gets people onto your website, but great SEO keeps them there. So always factor in the search intent as part of your strategy to ensure it aligns with what you actually have to offer.
Affiliate Marketing
Sure, you could use paid advertising such as PPC or display ads. However, affiliate marketing means you only pay out when you get an actual sale making it far more accessible.
Better still, any affiliate link sends potential customers straight to your website. That link is far more likely to be widely shared because the person who posts the link will earn a cut of any sales.
This means that by using affiliate marketing, a link to your website is going to appear in more places than it would just by you sharing it on social media.
P.S: Want to become an affiliate of GoSquared? Our newest tool, EcoSend by GoSquared now has an affiliate scheme, where we'll give you a whopping 25% commission on the lifetime usage of anyone you refer to us!
An Effective Email Marketing Strategy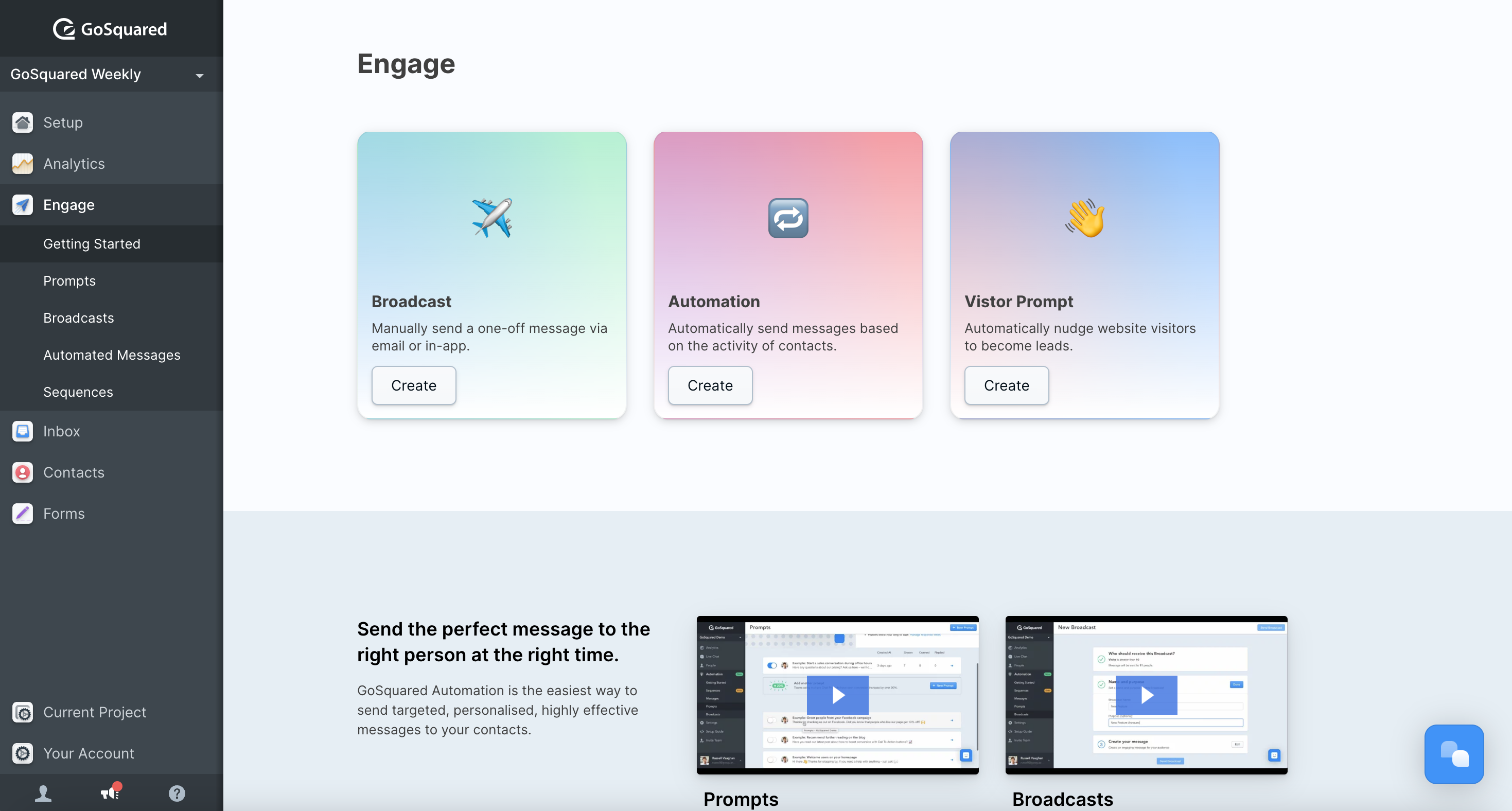 Email offers a fantastic ROI of $36 for every $1 spent. But only if you actively use email marketing as a strategy and succeed at it.
If you don't know where to start or haven't had much luck so far don't panic. Really, the best place to start is to invest in an email marketing tool that will give you helpful pointers. For instance, what your open rates are looking like, the ability to segment audiences and re-engage users who are most at risk of churn.
You can do all of this and more on Engage or EcoSend, by the way.
Once you have the right tools, your email should do enough to get people clicking on the content linking back to your website. Think engaging graphics made in an email builder, along with sharp persuasive copy. A/B testing can also help iron out any issues before your emails get sent out.
Keep refining your email marketing until it's just right. But whatever you do, don't give it up or fail to act on any feedback – because as the ROI stats suggest, email marketing can be incredibly powerful when done right.
Enjoying this post so far? Sign up for the FREE GoSquared Weekly, and we'll send you more content to help you grow your business straight to your inbox. ✉️🔥
Choose Social Media Platforms Carefully
2022 was an interesting year for Twitter, wasn't it?
Depending on how old you happen to be, you may remember the likes of Bebo and MySpace way before Facebook, Instagram, Pinterest and now TikTok.
Here's the thing. When it comes to using social media to boost your website traffic, it's not just about the content you post and when you do so. You have to know if your target audience actually uses that platform to know whether it's going to be worth the investment or not.
For instance, 43% of TikTok's audience is aged between 18 and 24 years old. So if your website has a target audience of between 45-60, or even those in professional, high-earning jobs, well TikTok's not going to be the one.
Therefore, you need to make sure you fully understand who uses the platform you are targeting (with updated 2023 stats) and align your content accordingly. If your audience doesn't hang out on a particular platform, getting website visits, let alone conversions will be tough.
How To Drive Traffic To Your Website FAQS
It's funny how too much traffic is normally a bad thing (especially if you've ever driven in LA). But in the case of website traffic, the more the merrier. So long as your server can handle it, of course.
The internet has plenty of questions about how to drive traffic to a website, so we've gone ahead and answered them for you.
But, if you'd like some specific answers on driving more traffic to your website through our Analytics, Engage or EcoSend tools, please get in touch.
Which Reports Indicate How Traffic Arrived At A Website?
GoSquared Analytics will give you a complete rundown of where your web traffic has originated from including the country of origin, the device type, browser type and more. Use the information to create a strategy report to strengthen your marketing and product offerings as a whole.
How To Drive Traffic To Your Website
It's important to use several methods to drive traffic to your website. For instance SEO, social media marketing, content marketing, affiliate marketing, email marketing and having a visitor-friendly website.
How To Track Website Traffic
Make sure you have a reliable analytics tool so that you can track your website traffic, both current visitor levels as well as historical ones. From there, you should be able to identify trends including website traffic spikes and dips.
What Report Would Best Help Identify Potential Browser Issues With Website Traffic?
Most web analytics tools allow you to generate something known as the 'the browser & OS report'. As with tracking website traffic, you can also go into any charts or data to identify spikes and dips. Ensure your website is regularly updated to avoid users facing browser issues.
Boost Your Website Traffic With Marketing + Customer Engagement Software From GoSquared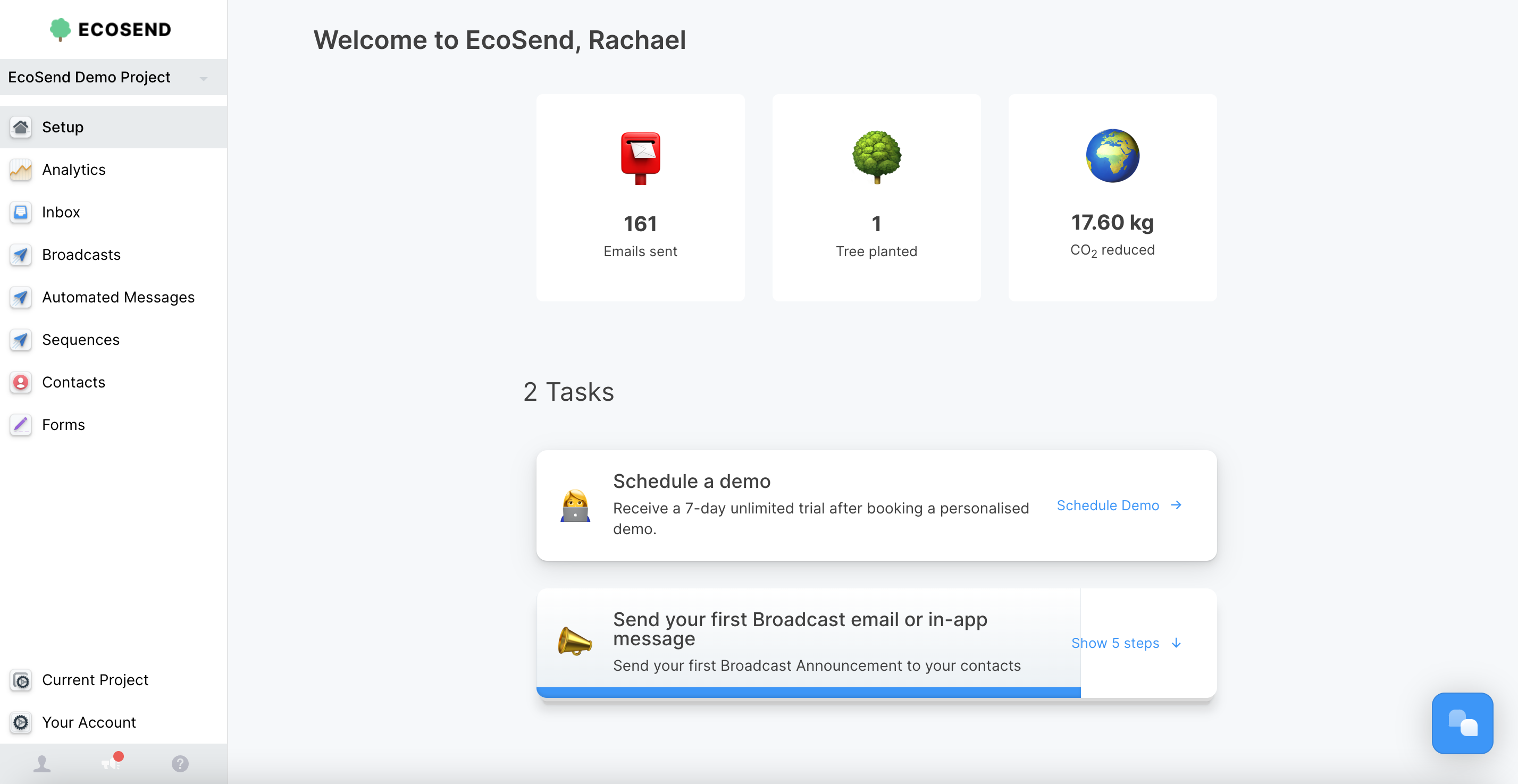 Ready to grow your business in 2023 and beyond? GoSquared is here to help you make that happen with our range of tools which allow you to track your website traffic, plus bring new leads to your business.
Our key tools span Engage, Analytics and EcoSend. We offer a free trial on all our products, and we can also give you a personalised demo to ensure you get the most out of your subscription.
Need any more help boosting your website traffic, or just want to chat with our team? Reach out to us at any time and we'll be right with you.