Ask yourself: Are you connecting with your customers, or are you actually engaging with them? 🤔
Here's the thing. Any business can send out a bunch of emails or create a post on social media. But does such one-sided communication create a meaningful conversation with customers? Does it distinguish a brand from what every other is doing? Unsurprisingly, no it doesn't.
Customer engagement can change that for you. After all, in today's competitive world, every business needs to get on board with customer engagement or risk being left behind. That's because as consumers, we've come to expect far more from the products we buy and the services that we subscribe to.
Instead, customer engagement helps you to best understand your users. It demonstrates that as a brand you listen to and therefore value your customers. Successful customer engagement boosts loyalty not to mention those all-important leads.
New to customer engagement? Notepads at the ready, as here's our ultimate guide to customer engagement including what it is, why it's important and how to perfect it.
What is customer engagement?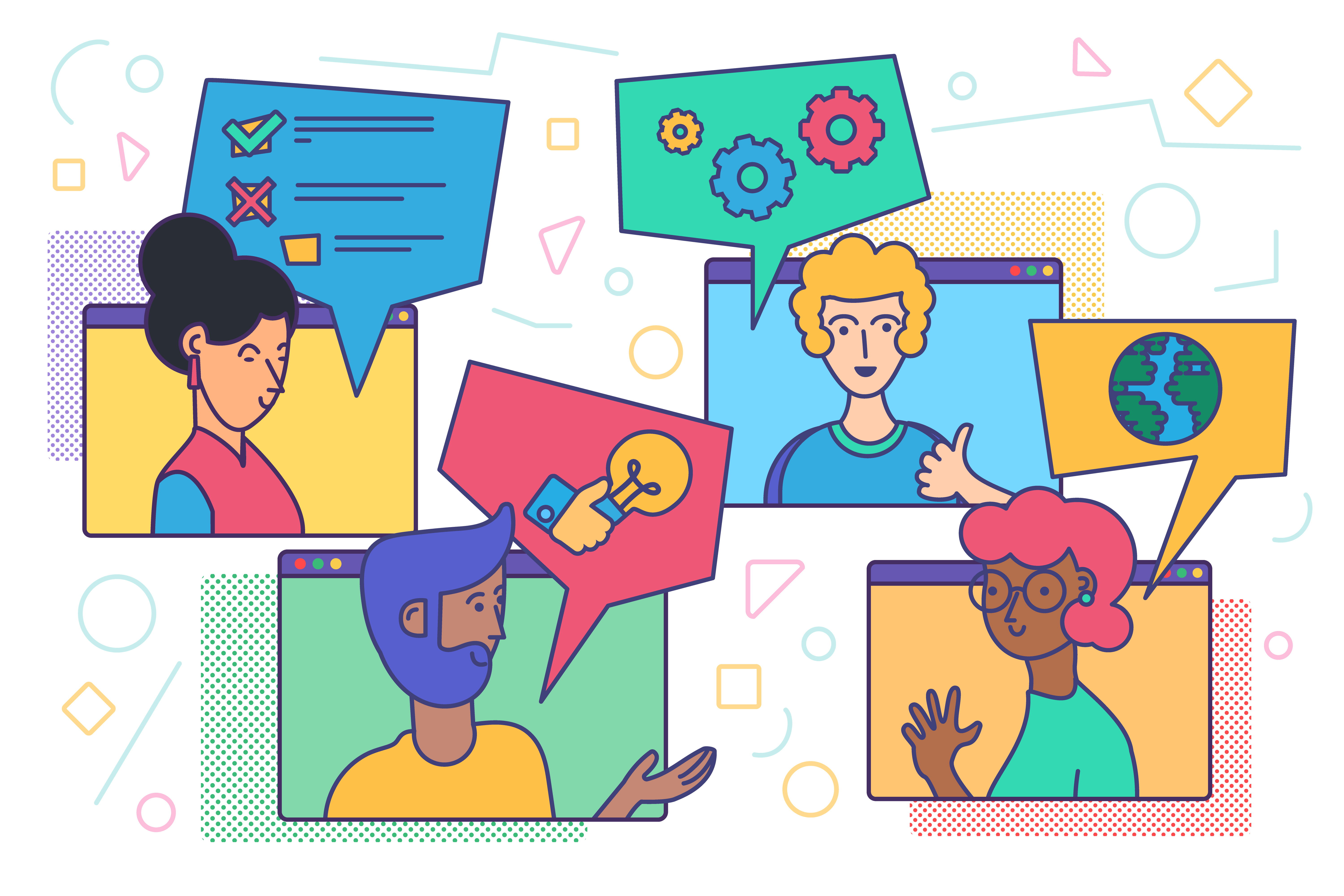 In its simplest form, customer engagement is the act of communicating with your customers across multiple marketing channels. Crucially, the term 'communicating' doesn't just mean sending out a bunch of emails or even posting on social media – rather creating meaningful interactions between you and your customers.
Many marketers have their own interpretations of customer engagement, some with a more holistic edge, and others more straightforward in approach. In some cases, customer engagement is also confused with customer satisfaction or customer experience.
However, the clear distinction is that customer engagement refers to the extent of the relationship a customer has with a brand.
Customer engagement is something that you can seek to build or erode every single time you interact with your customers. The former only being possible if you make an effort to do so.
Why does customer engagement matter?
Customer engagement matters because companies are no longer compared on a like-for-like basis. So for instance, retailers aren't just paired against another retailer based on similar items they sell as was the case in the old days.
Instead, customers have come to expect that they will receive a tailored experience through every interaction they have with a company. They don't want to be treated like just another number, and who can blame them?
Customer engagement is how to avoid this from ever being the case, since it fosters a deeper relationship that replaces generic communication with intuitive interactions instead.
It's a well known fact that brands who engage with their customers are more profitable. A study by Gallop found that companies which successfully engaged their customers reported 63% lower customer attrition (churn).
Enjoying this post? We regularly create new content to help you understand your customers and grow your business. Sign up for our FREE newsletter today, so that you'll never miss a post!
Customer engagement statistics
80% of customers say the experiences provided by a company are as important to them as its products and services – Salesforce
52% of customers expect offers to be personalised – Airship
Loyalty programs can make consumers 80% more likely to choose your brand over competitors – Adlib Web
Omni-channel customer engagement is preferred by 78% of customers – Salesforce
Companies with omnichannel customer engagement strategies retain on average 89% of their customers, compared to a customer retention rate of 33% for companies with weak omnichannel customer engagement – Invespcro
45% of customers who receive a win-back email will engage with your brand in the future – Adlib Web
Only 1 in 26 customers will reach out to your brand to complain, the rest will churn – Adlib Web
61% of customers think gifts and offers are the best engagement strategy – Access Development
How to do customer engagement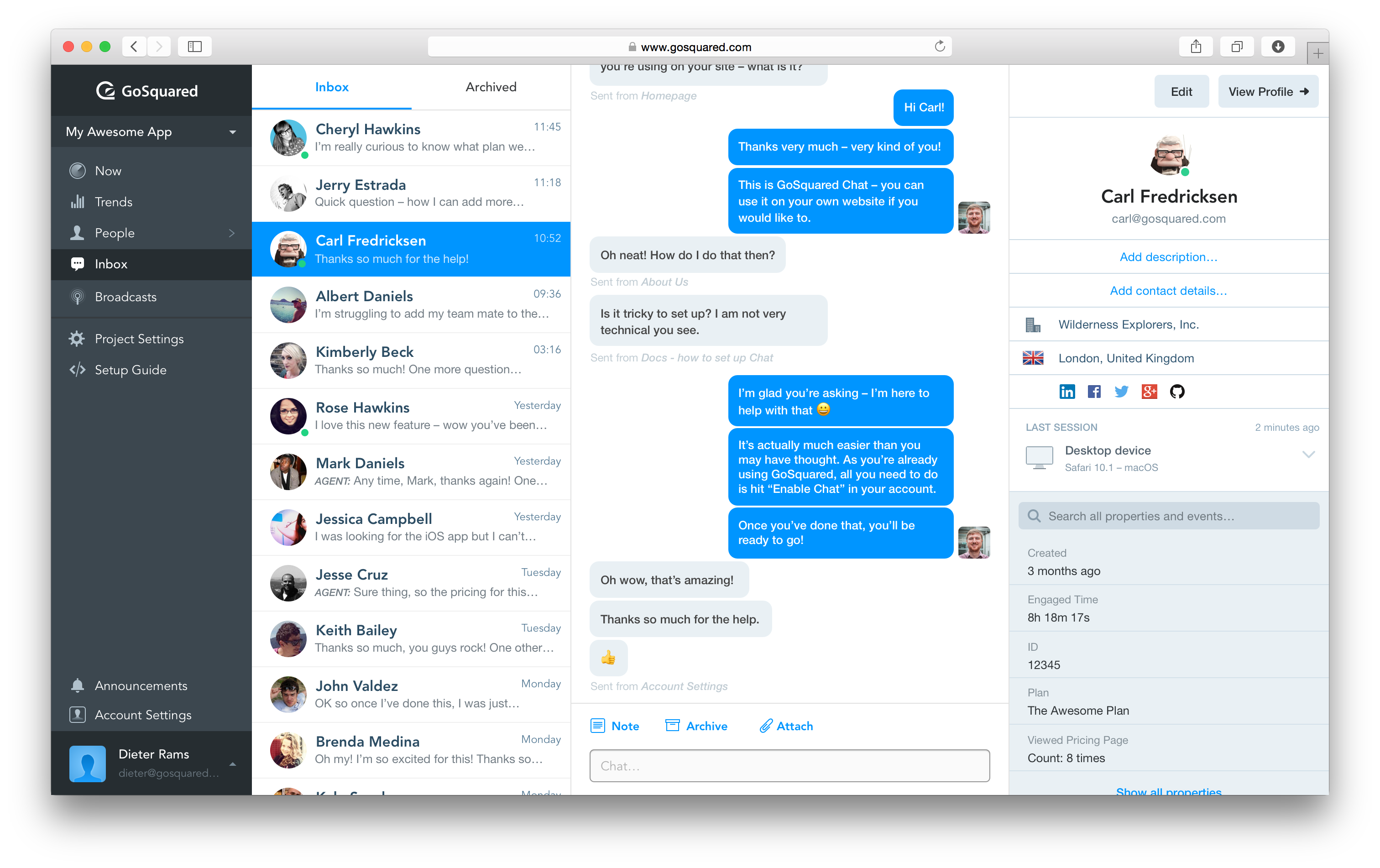 In today's digital world, there are many opportunities to partake in customer engagement including through email marketing, social media, websites, advertising, review sites and more – not to mention through your own website too!
Data is the common theme of all of these options. That's because data reveals insights about your customers' preferences, habits, likes and dislikes. The customer engagement factor comes into play when this data is used to engage in personalised communication, so that your customers receive messaging or products which align with what they are going to be most receptive to.
A growth software platform such as GoSquared facilitates not just the capturing and organisation of customer data, but also offers several effective methods of engaging with your customers too.
In short, any successful customer engagement strategy uses data that you have about your customers to get inside their minds so that you can keep users more engaged, encourage them to purchase more often and spend more money when they do so.
For instance, your customer engagement strategy may involve displaying 'others like you also purchased' messages, or 'here is why *product name* could be extremely beneficial for you' based on their previous search history on your site.
Ultimately, customer engagement means every type of interaction you have with your users comes from an informed place. It treats each customer as a unique entity.
To your customer, this highly personalised approach communicates the following:
You know me
You understand what I've done with your brand in the past
You've thought about my needs
You're personalising my experience with your brand
You value my custom
All of the above makes it very difficult for other brands who take a 'generic' approach to compete. This is especially the case when things go wrong and customers are given an impersonal, bot-like response as just one common example.
Instead, your customers want to be spoken to on a human level. Customer engagement builds that meaningful relationship, regardless of the reason for your interaction with them. So whether you are launching a new marketing campaign or directly responding to a user query, engaging instead of just conversing with your customers makes the biggest difference of all. That's because customer engagement replaces basic interactions with impactful conversations.
P.S: In search of a customer engagement software solution for your business, or are you interested in a free customer engagement course? Scroll to the bottom of this post to find out more!
Customer engagement benefits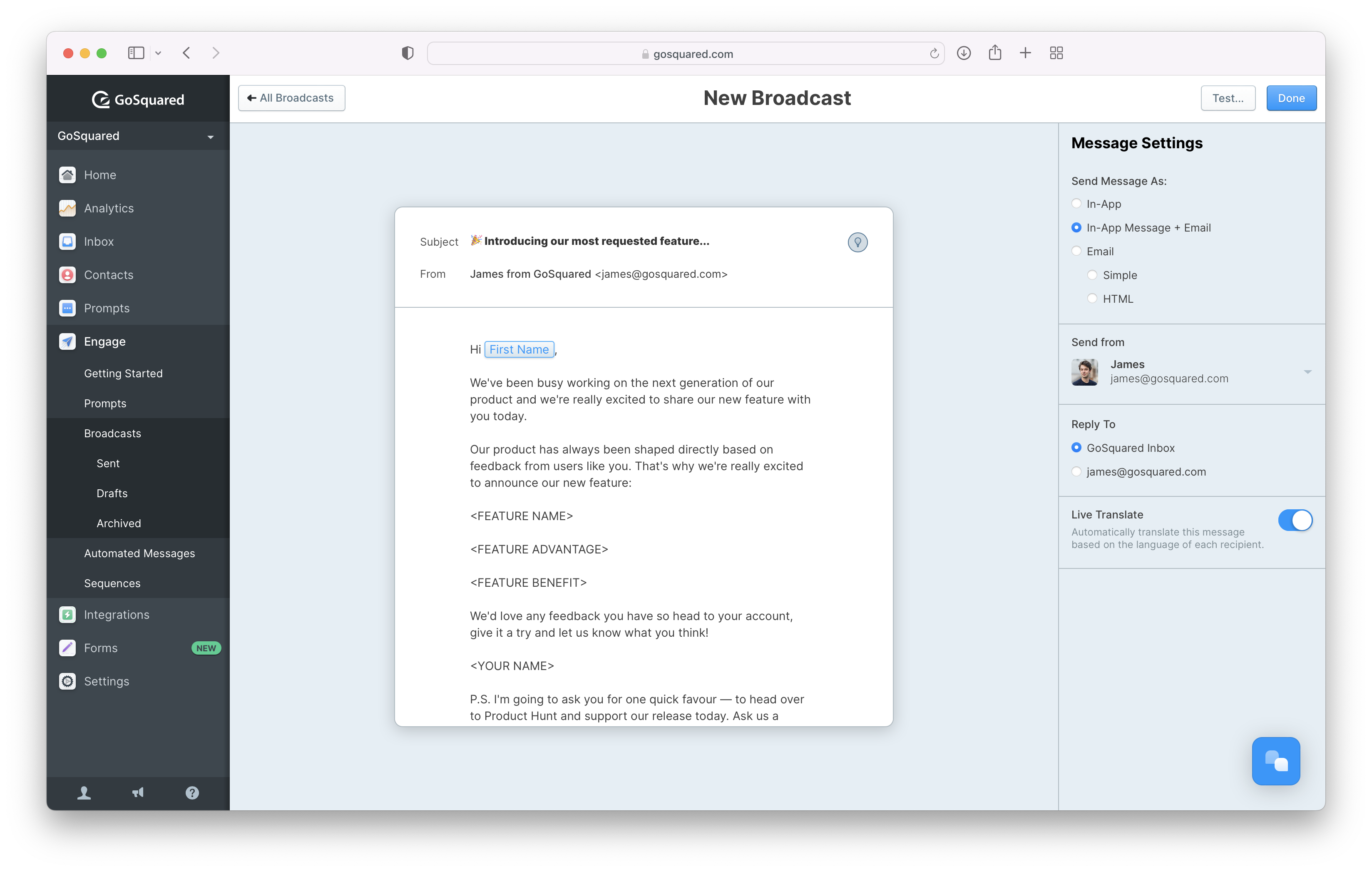 Why bother with customer engagement as a brand? If you put yourself in your customer's shoes, it's easy to understand why irrelevant, generic or impersonal messaging doesn't cut the mustard.
After all, would you purchase from a company that doesn't seem to understand your preferences despite being a loyal customer? Or one that keeps sending you annoying or irrelevant content after you signed up to their marketing materials? Whatever the reason for the mismatch, the experience is just not meeting your expectations. It doesn't connect with you as a customer. All you want to do is delete and unsubscribe, and you certainly won't be purchasing with them again.
Every time this scenario happens in real life as a brand (and it sadly does) you lose that customer. This is not the way to do business, let alone grow said business.
Customer engagement can help you avoid such costly pitfalls and so much more within your product positioning and marketing. Here are just some of the top benefits of doing so.
Brand differentiation
As a brand, it's so easy to send out generic emails to welcome new customers or share news of products or services that you offer. But is this really the best way to get your customer over the line, when they may have endless other options to choose from?
With customer engagement, you're getting to know your customers. You're giving them a personalised service that tunes into their needs. Whether you send an email about a product that you know they'd be interested in based on their search history, or let them know about a discount on an item they've viewed several times but haven't yet purchased – you're looking to best match their specific requirements as a customer.
For the customer, they are made to feel like a unique entity instead of just another number, and this really helps to set your brand apart from others who may offer a similar service to you in terms of product offering, but don't go that extra mile for their customers. This also includes cheaper options or trending products that are looking to steal your thunder.
Given that 74% of people reported they 'hate' being sent irrelevant emails, it couldn't be more important to engage rather than simply communicate with your customers. So don't be like your competitors – use customer engagement to get ahead!
Reduced costs
Did you know it costs 5x more to acquire new customers versus retain existing ones? As we've just established, customers have a strong disdain for being sent irrelevant content, let alone finding that their needs just aren't being met with a company.
Customer engagement looks to establish a personalised relationship between your brand and your customers, based on what the data suggests about their wants and needs. There are several ways this can reduce your costs as a business, including streamlining your efforts, finding new sales opportunities and providing the best possible customer service – all with ease!
Happy customers who you are not just communicating with but actively engaging with your business have far fewer reasons to head elsewhere. Plus, when it comes to marketing costs, the data customer engagement provides allows you to narrow your approach to reach those most likely to convert.
Improved customer satisfaction
You know you've got to do the weekly shop online and it's going to take ages. However, when you log on to your supermarket of choice, you see they've made it possible to reorder everything from your last shop with just one simple click. They've even highlighted your preferred delivery slots to ensure your shopping will arrive at a time that's convenient for you.
What started out as a dreaded chore which could reflect negatively on that company was instantly turned into a hassle-free experience that took just a few minutes to complete. You couldn't have even driven to the supermarket in that time, let alone completed your entire shop!
While the specifics of what customer engagement will look like for your brand may differ, the outcome will result in improved customer satisfaction. That's because data has been used to predict the wants and needs of your customers, and ensure that when you do reach out to them, you understand their customer journey with you to personalise the experience.
Higher revenue
What do happy customers who are having their needs met and so continue to shop with you mean for your business? Higher revenue and healthy business growth!
Customer engagement facilitates so many areas that are crucial to your business's success. Dubbed a 'revenue accelerator', companies that implemented customer engagement were found to have achieved 70% higher revenue in a report published by VentureBeat.
Furthermore, companies that took part in the study stated that they expected their investment in digital customer engagement to double by 2025. Hence, it's clear that customer engagement is delivering the right results for brands, which is why it's well worth investing in.
Customer engagement strategies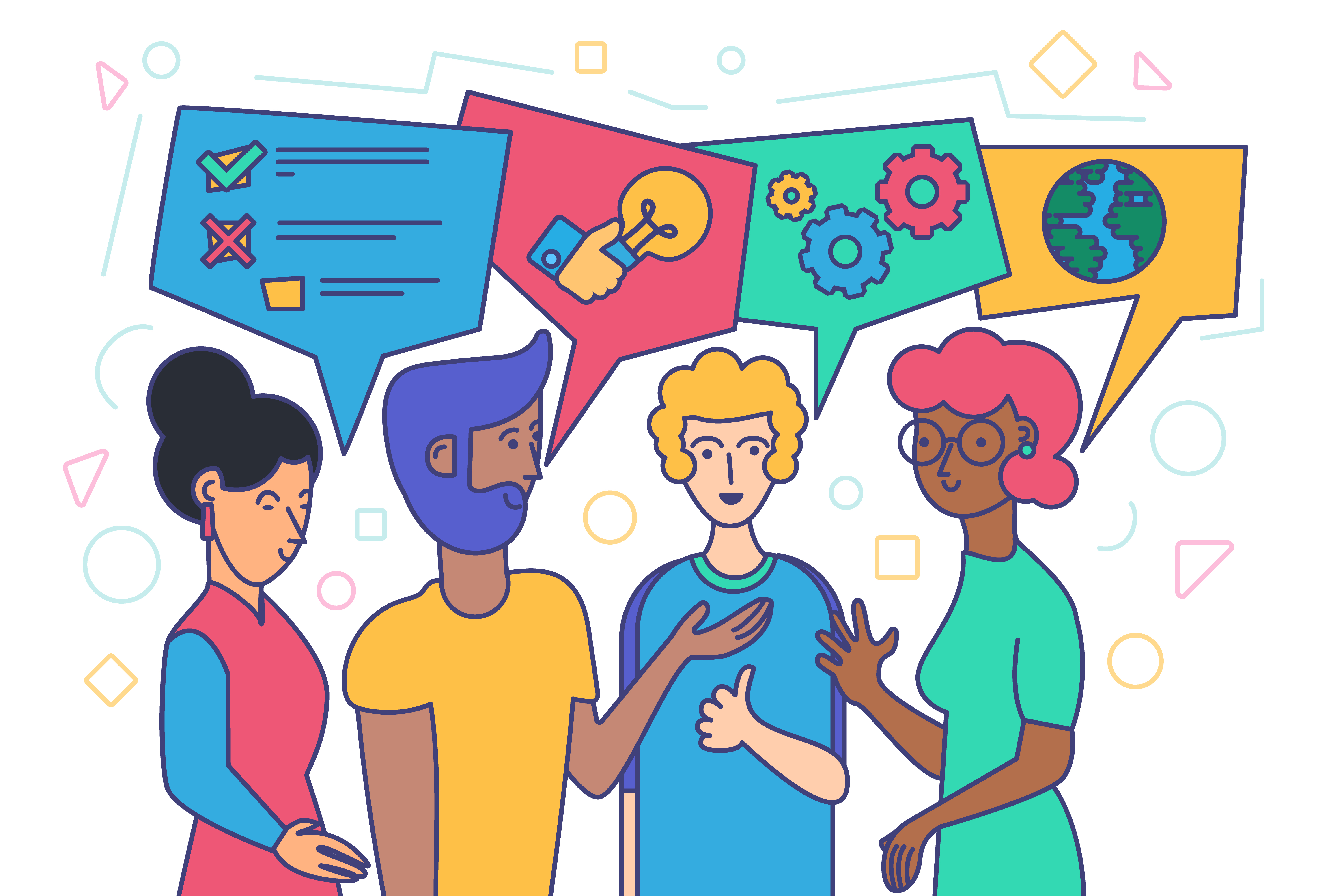 What all customer engagement strategies have in common is that they strive to give customers a personalised experience. Joining the dots between someone having an awareness of your brand and actually going on to purchase is the name of the game.
For your customer, customer engagement provides a concierge-like experience for your brand. When this happens through tailored product offerings and communications, all of the following areas of your business are set to benefit.
Sales
Your customers have endless choices when it comes to purchasing the product or service you happen to offer. Customer engagement helps to sway their final decision firmly in your favour.
For instance, when browsing products on an app, data can be used to create 'Picked for you' suggestions, or show similar items based on a user's search history.
Such persuasion tactics work because they create a middle-man between your website and the user. The messages or functions that are triggered are based on real-time, accurate user data meaning a sale is far more likely to occur.
Marketing
If you have data that shows you aspects such as your customer's name, location, job title when they were last active and what they most interact with when on your site, you can quickly build a picture of how to best align with them as a brand.
Creating any kind of marketing campaign with a specific user and their habits in mind helps you channel your messaging. The alternative is akin to standing in the street with a megaphone – sure, some people will take note of what you are saying. But to everyone else, the noise is simply an annoyance.
With customer engagement, your marketing speaks to your users in just the right way because it is data lead, rather than a random shot in the dark.
Customer service
Although all businesses strive for perfection, the reality is that no brand gets it right 100% of the time. Crucially, it's not what has gone wrong that puts your brand in the most jeopardy, but how your customers are responded to.
Your customers want to know that you're going to solve the issue, but most importantly that you care that their experience was not up to standard. Once again, generic messaging or worse still radio silence can be very harmful if your customers are reporting a problem.
Customer engagement not only gives you the opportunity to remedy the issue but demonstrates that their custom is genuinely valued. When done right, the impression that users have of your brand can skyrocket – even compared with how they viewed your brand before the problem occurred.
In such a scenario, what initially appeared as a huge fail for the company could be transformed into a massive win for both company and customer – all thanks to customer engagement.
How to measure customer engagement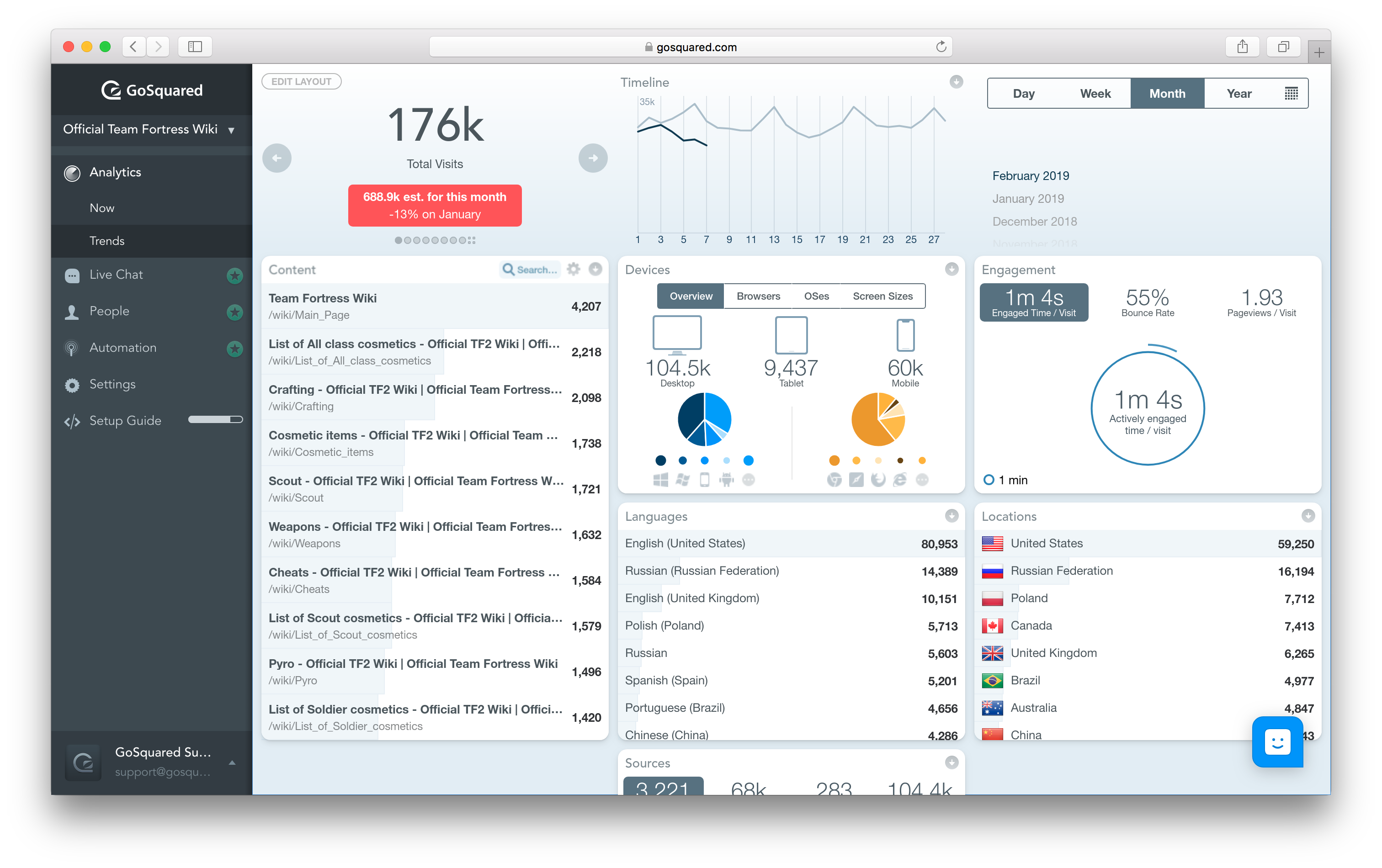 Measuring customer engagement is going to work slightly differently depending on which platform you are assessing, i.e. your website versus your social media accounts.
However, here are the top customer engagement metrics that can help you to measure yours:
Activity time
Bounce rate
Churn
Customer acquisition cost (CAC)
Customer effort score
Customer satisfaction score
Depth of visitors
Email open rate
Net Promoter Score (NPS)
Page visit frequency
Session time
Specific actions taken
This week vs last week's statistics
Unsubscribe rate
User actions
User devices
User location
Curious as to how you find out such metrics? Having analytical software can streamline the entire process, working beautifully to measure your customer engagement efforts.
If you like the look of the screenshot you see above, this product is the GoSquared Analytics tool.
FREE customer engagement course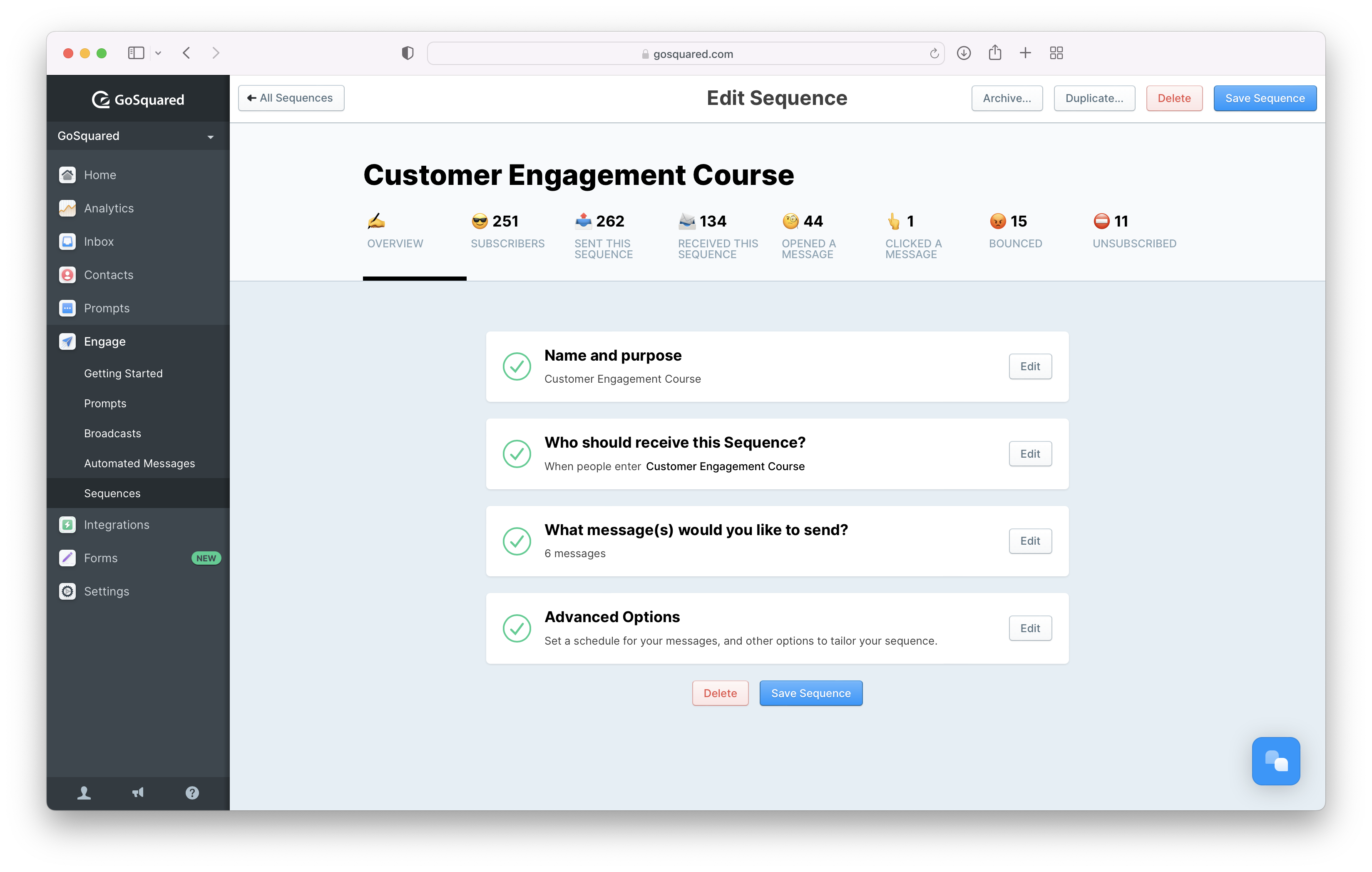 Want to gain some practical experience in customer engagement before you try it for real with your customers? Perhaps you'd like some further explanation on any aspects we've mentioned above?
Here at GoSquared, our customer engagement experts have created a free course you can start today.
Our 5-part customer engagement course will cover:
What happens when subscription businesses fail at customer engagement.
How to succeed at customer engagement.
The importance of data quality when segmenting your audience.
What do GDPR and privacy regulations mean for targeted messaging?
How to choose a customer engagement platform.
All of which will help you to feel more confident when reaching out to your customers. So if you're new to customer engagement, or still have more to learn this stage will cover all you need to know.
Yes, sign me up for my free GoSquared customer engagement course!
GoSquared customer engagement software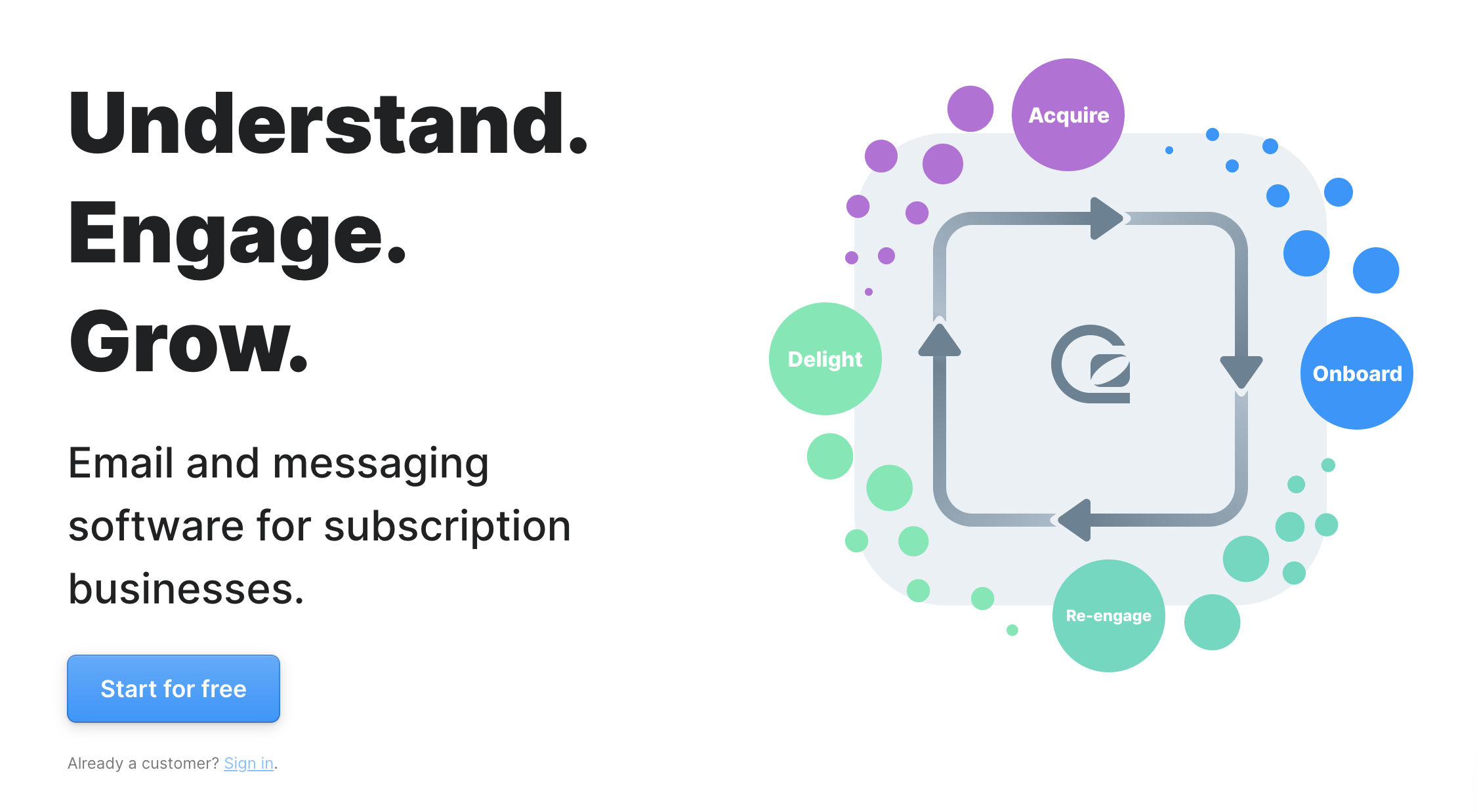 Ready to get started with customer engagement? Perhaps you're in search of the right platform to capture your user data so you can connect with your customers on a more personalised level? GoSquared's customer engagement platform has got you covered!
Customer engagement has never been easier with Engage, which also offers everything you need to capture leads, onboard users, make announcements and retain your customers. GDPR and user-friendly, GoSquared Engage is trusted by thousands of leading brands. Now you too can master your customer engagement and much more with ease!
Start your free trial of our Engage product today, and transform your customer engagement strategy through real-time, accurate user data.