In search of an email marketing platform that doesn't cost the earth?
Ironically, that's exactly how we'd describe our new email marketing tool EcoSend. 😉 🌳
But as the for rest, there are a good 20 well-known email marketing platforms on the market. While many offer very similar features, it's their pricing which tends to vary the most.
So before you commit to one over another, we've taken the time to collect a list of some of the most talked about email marketing platforms along with their pricing, so that you can make an informed decision.
Calculators at the ready, here are the cheapest email marketing platforms through to the most expensive that we could find in 2023.
EcoSend – From Free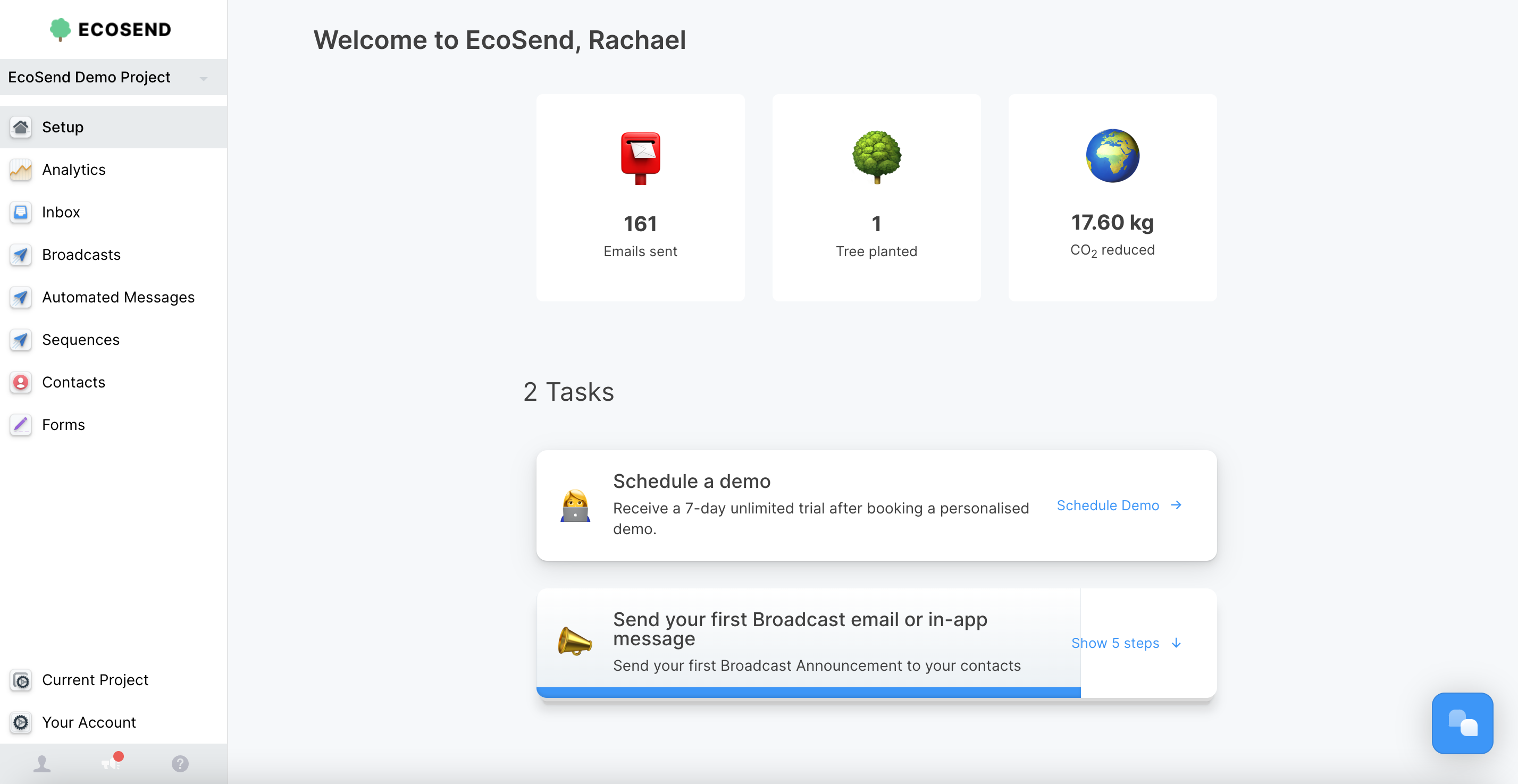 We're kicking off our list with our newest email marketing tool here at GoSquared – EcoSend.
EcoSend is the world's first sustainable email marketing platform. Most people don't realise their digital marketing even has a carbon footprint. EcoSend is out to solve this hidden issue on behalf of your business – and the planet!
Our systems run on renewable energy sources, and we'll plant trees just for using us. Some of EcoSend's profits are also being re-invested into climate related-causes.
Best of all, EcoSend is a zero-compromise platform. This means you don't have to settle for less features just for being greener. Instead, EcoSend will give you all the features you need to send beautiful, intelligent email marketing campaigns – that just happen to be kinder on the environment!
Having officially launched in March 2023, we're extremely excited for what's to come with EcoSend.
✅ – Best For: Any business interested in cutting its carbon emissions. Plus being able to demonstrate these sustainability efforts to customers.
🤔 – Considerations: We're new here, so we'll let you know when we think of some! 😉
EcoSend Pricing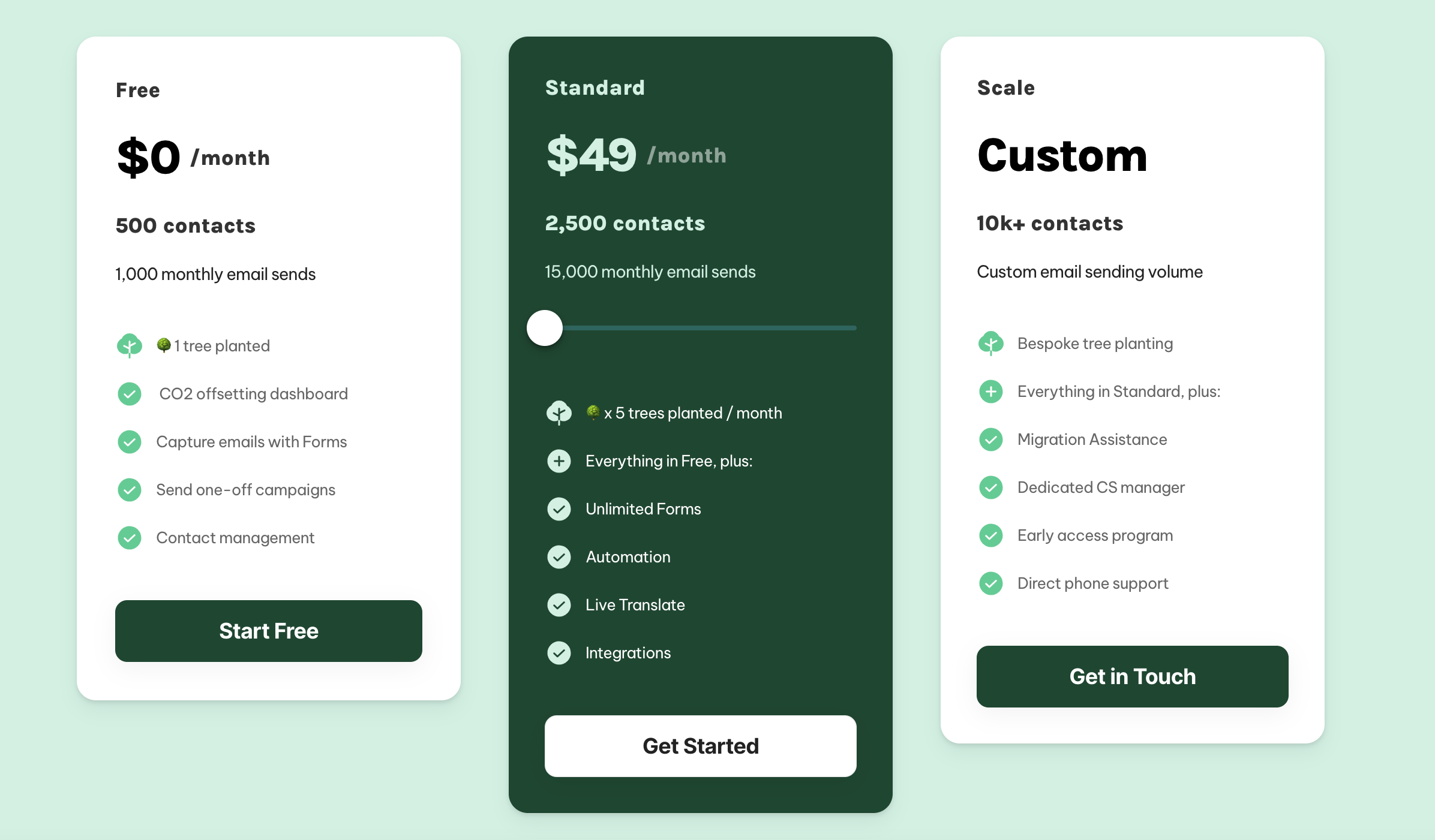 Prices starting from: Free
EcoSend is available to try for free if you have 500 contacts or less. Free 14-day trials are also available for our paid plans which start at just $49 per month.
Our 'Standard' plan allows you to add up to 2,500 contacts and get 15,000 monthly email sends.
For any business which requires more than 10,000 contacts, we'd be happy to work out a custom price package with you.
View all EcoSend plans to get started! ✉️ 💰
Looking to switch from the likes of Mailchimp or HubSpot? Migrating to EcoSend takes just a few minutes.
We can also offer you a free personalised demo to try EcoSend and iron out any questions you may have.

That's right! Click the image above and we'll get you started with a free trial of EcoSend. ✉️ ⬆️
Klaviyo – From Free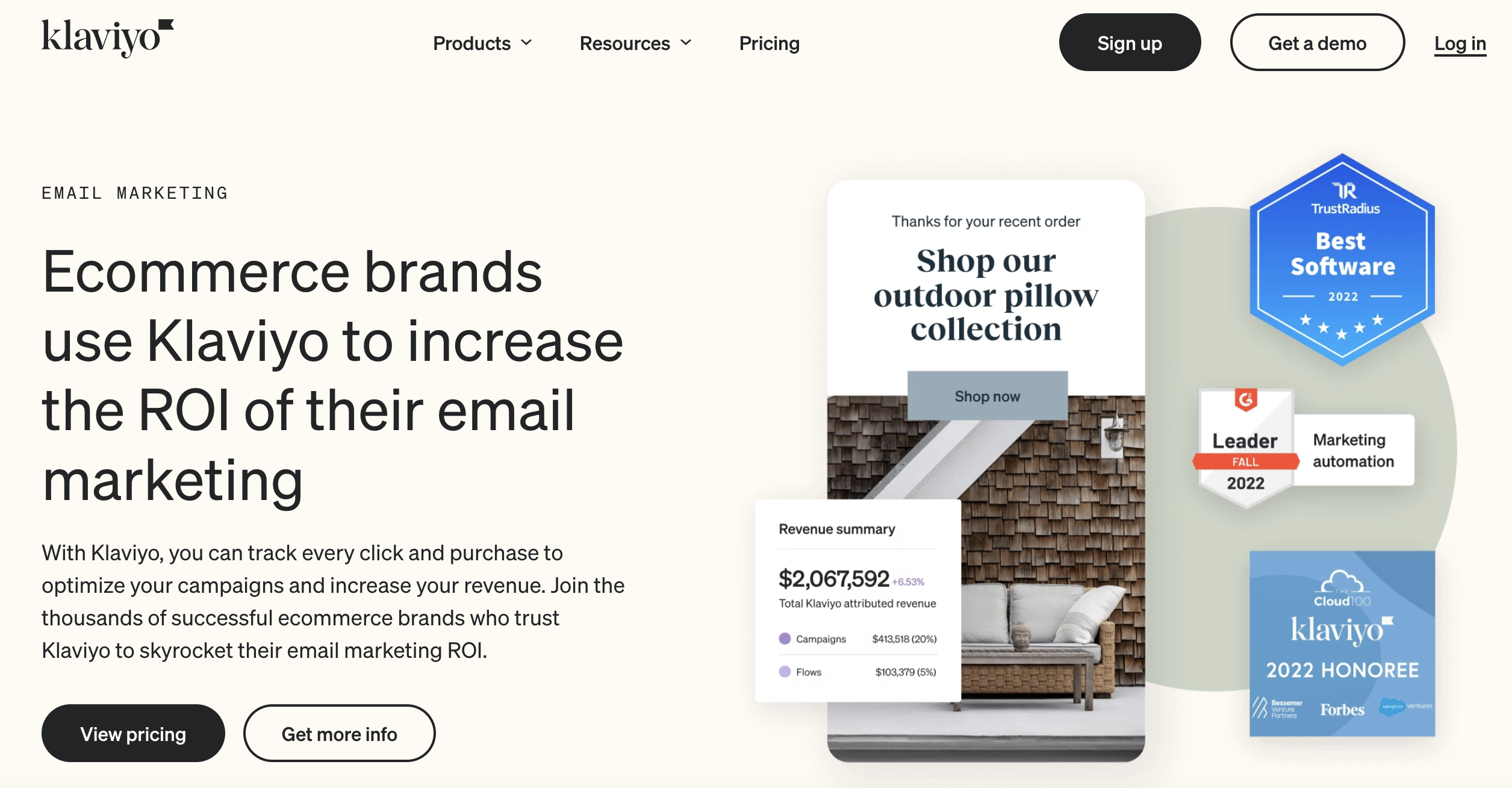 Klayvio uses data-driven marketing tools to get in tune with your customer's wants and needs. It allows marketers to create personalised experiences that sell.
Founded in 2012, Klayvio has a distinct ecommerce focus. Its main feature is 'flows' which allow you to send automated messages based on user behaviours. All of which is designed to provide one-to-one experiences at scale.
There's also some incredible template designs to choose from that any marketer can get up and running with. So if you're looking to improve your email imagery, Klayvio can help with this and so much more.
✅ – Best For: Established ecommerce businesses looking to take their campaigns up a notch.
🤔 – Considerations: Free plans do exist for email, SMS and MMS. Though, as you'd expect the contact limit and features are severely limited unless you opt for a pricier plan.
Klaviyo Pricing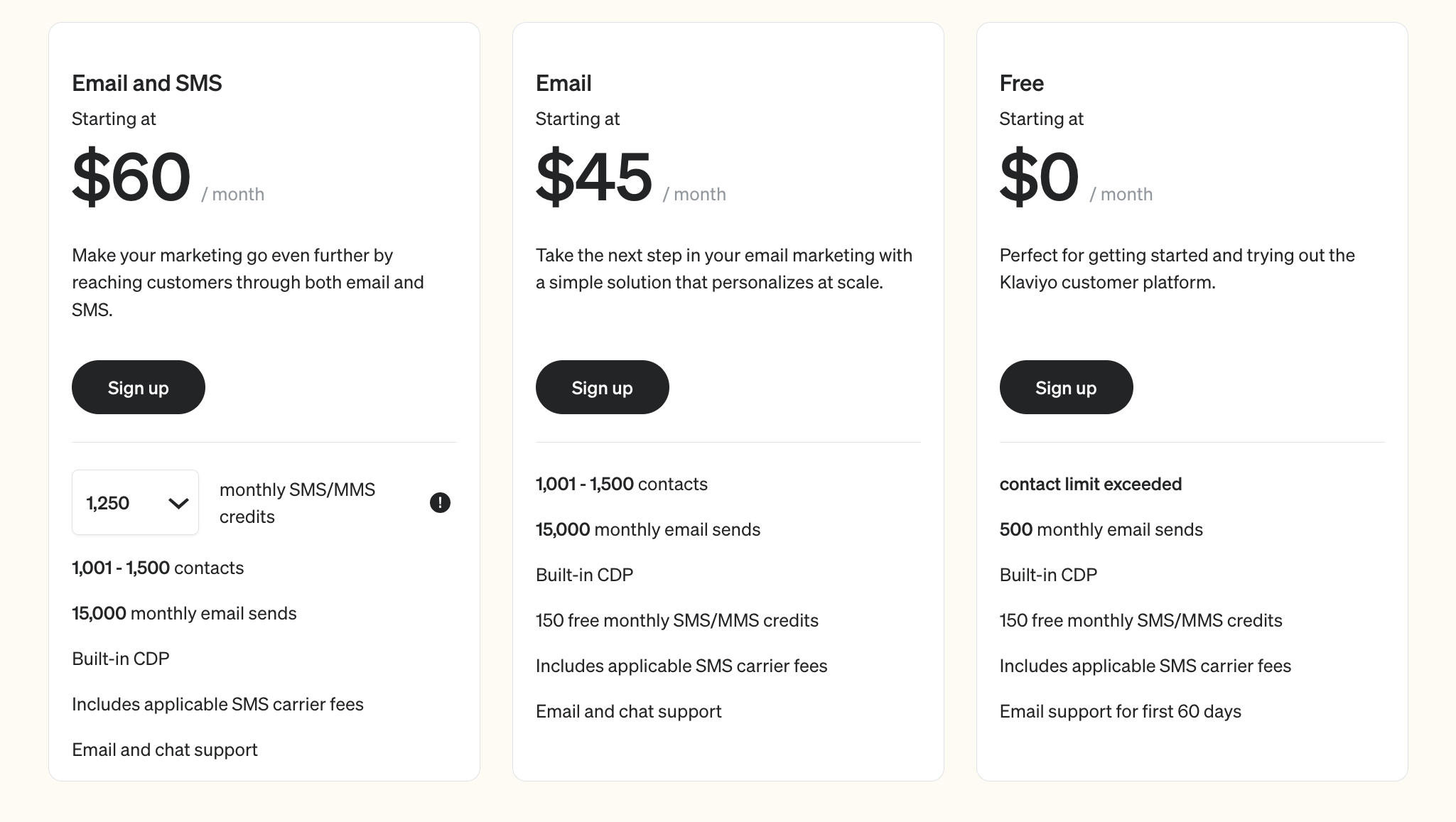 Prices starting from: $0
Like most email marketing providers, the amount you'll pay each month depends on the number of contacts you have. In the above image, we looked at plans for between 251 and 500 contacts, with prices ranging up to $60 per month.

Klaviyo offers plans for 150,000 contacts and above. The most expensive listed plan is for between 140,001 and 150,000 contacts costing $1,970 per month.
On the lower end of the scale Klaviyo have an awesome free plan. Though any free plans do not come with onboarding, Klaviyo branding removal or a dedicated customer success manager.
Mailchimp – From Free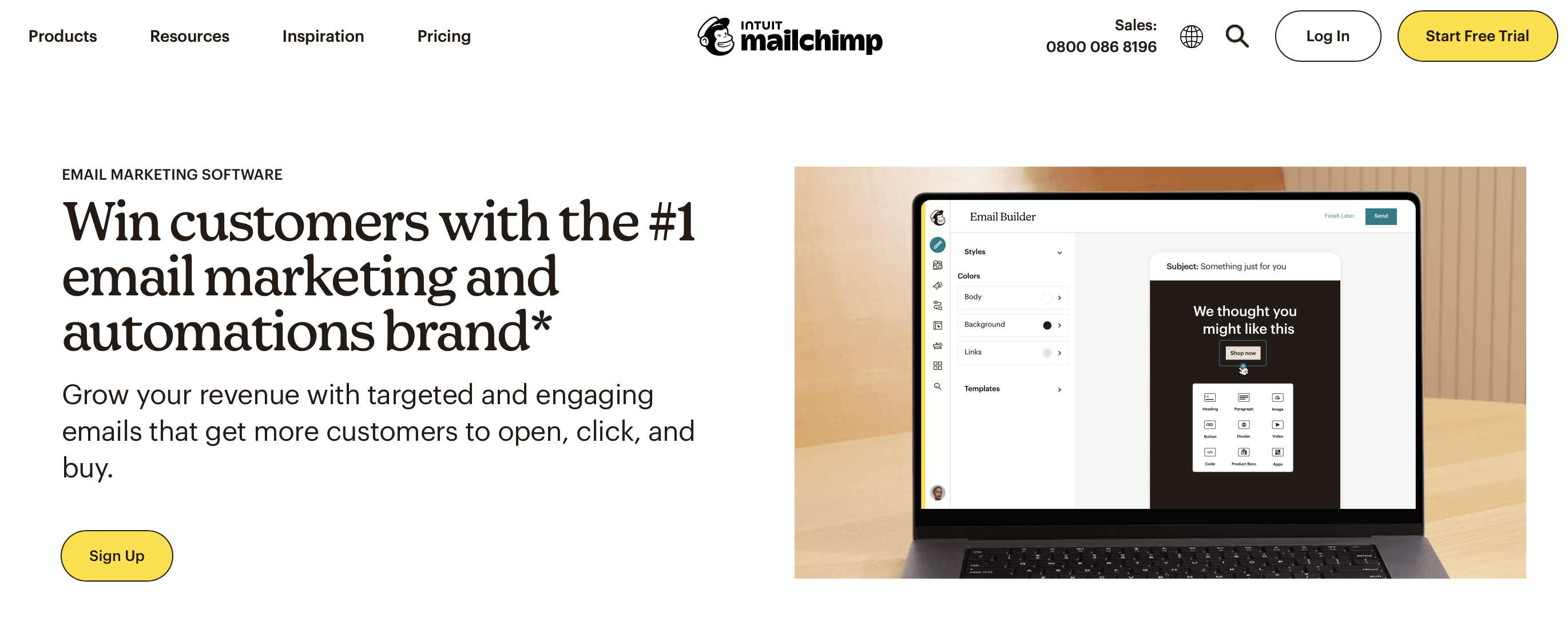 Mailchimp is probably the best known name in the email marketing space.
However, the value of the name means Mailchimp comes at a cost. Plus, it's worth remembering that the loudest in the room isn't necessarily going to be the right fit for your business.
On the face of it, Mailchimp have a lot to offer in terms of email marketing and even landing page creation. But in recent times, they've experienced some negative press due to sudden price hikes and worst still data breaches on their system.
With Mailchimp having incredibly visible advertising campaigns on TV and the internet, it's also worth noting that at least some of your subscription cost will inevitably be spent on these, rather than just the product itself.
For those just starting out with email marketing, Mailchimp can be fun to play around with. But once your lists starts to grow, you may want a cheaper option. That's because the initial 'free' plan is extremely limited.
Plus, we checked out their sustainability page. While Mailchimp highlight the fantastic work of others to help the climate, unlike EcoSend, it doesn't appear you can reduce your carbon emissions through the tool itself.
✅ – Best For: Those new to email marketing who want to see what it's all about.
🤔 – Considerations: Mailchimp have frequent sudden price hikes. This may mean you have to move your existing campaigns elsewhere if you don't have the budget to keep going.
Mailchimp Pricing

Prices starting from: $0
It's true there is a free Mailchimp plan! Though this is limited to 1,000 monthly sends. So if you have just 250 contacts, the maximum amount you'd be able to send to each contact is 1 email per week.
The most expensive Mailchimp plan listed is for 200,000 contacts costing $1,510 per month. For those with 10,000 contacts, expect to pay between $100 and $350 per month.
It is actually the pricing that causes existing users to go in search of Mailchimp alternatives.
That's because while there are some decently priced plans with Mailchimp, you never know when the next big price hike is about to happen. With businesses needing to forecast their running costs, this can be problematic.
MailerLite – From Free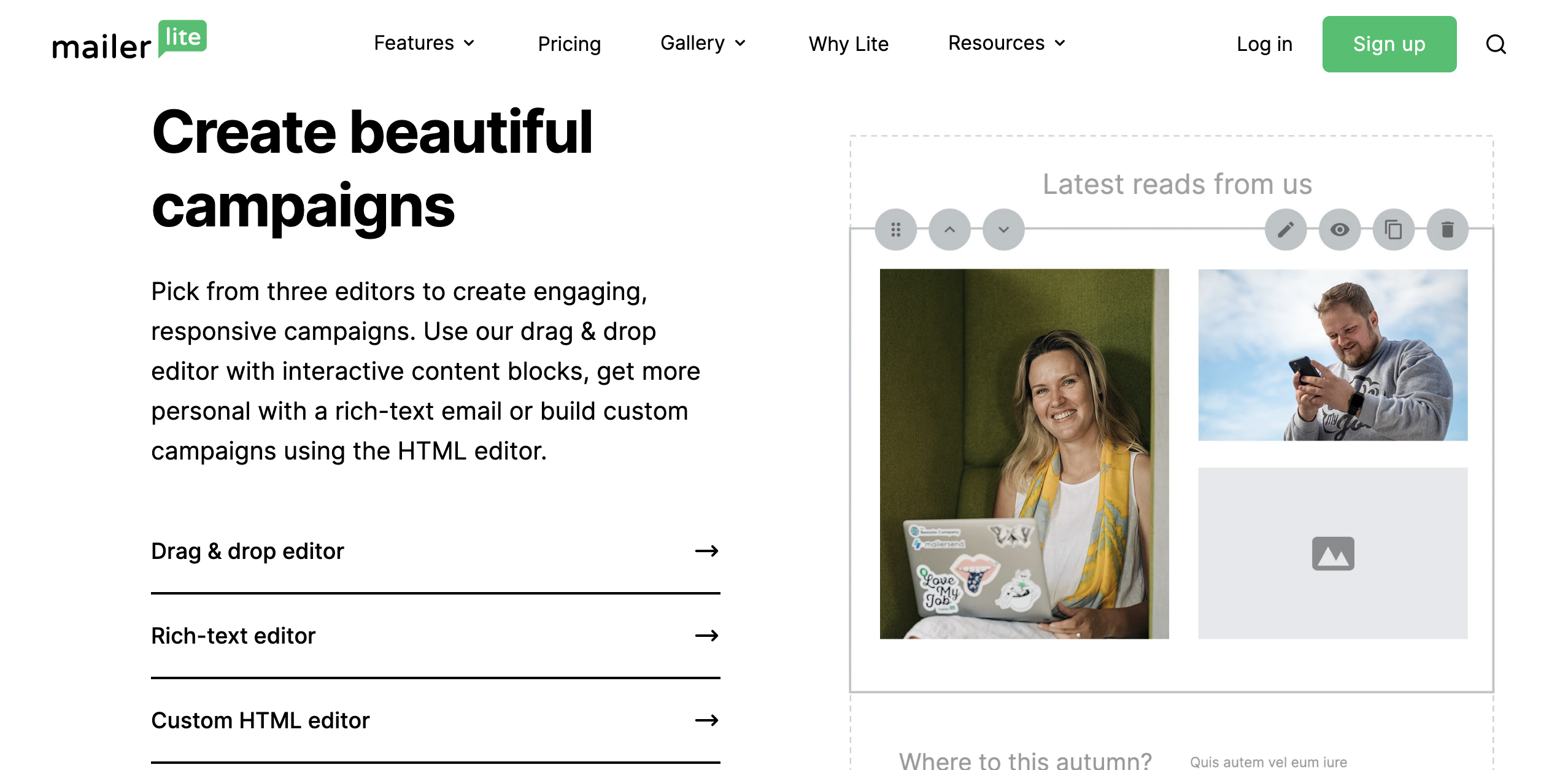 MailerLite was originally founded as a web design agency but moved into the email marketing space in 2010.
One immediate advantage this may give you is that MailerLite definitely knows what it's doing in the visual stakes. MailerLite provides you with three ways of designing your emails including a drag & drop editor, a rich-text editor or a customer HTML editor. This could definitely have mass appeal for email marketers of all calibres.
As well as having a clean and engaging website, MailerLite also have an excellent knowledge base over on their blog and YouTube channel.
✅ – Best For: Those who want email marketing software which is easy to use.
🤔 – Considerations: MailerLite has an approval process meaning you can't get to work straight away. There's also a chance your application could be denied. Some users also report issues with bounced campaigns, API and a lack of customer support.
MailerLite Pricing

Prices starting from: $0
MailerLite also offer a free plan. Though this is capped at 1,000 subscribers and 1 user.
Also at the 1,000 contact limit is the option to upgrade to a $9 or $19 per month package.
The most expensive listed MailerLite package is for 500,000 users costing $1,600 per month, or $19,200 billed yearly.
However, more modest lists of 10,000 subscribers can enjoy very reasonable pricing. MailerLite packages in this category range between $47 and $77 per month. This could be perfect for those SMBs.
Sendinblue – From Free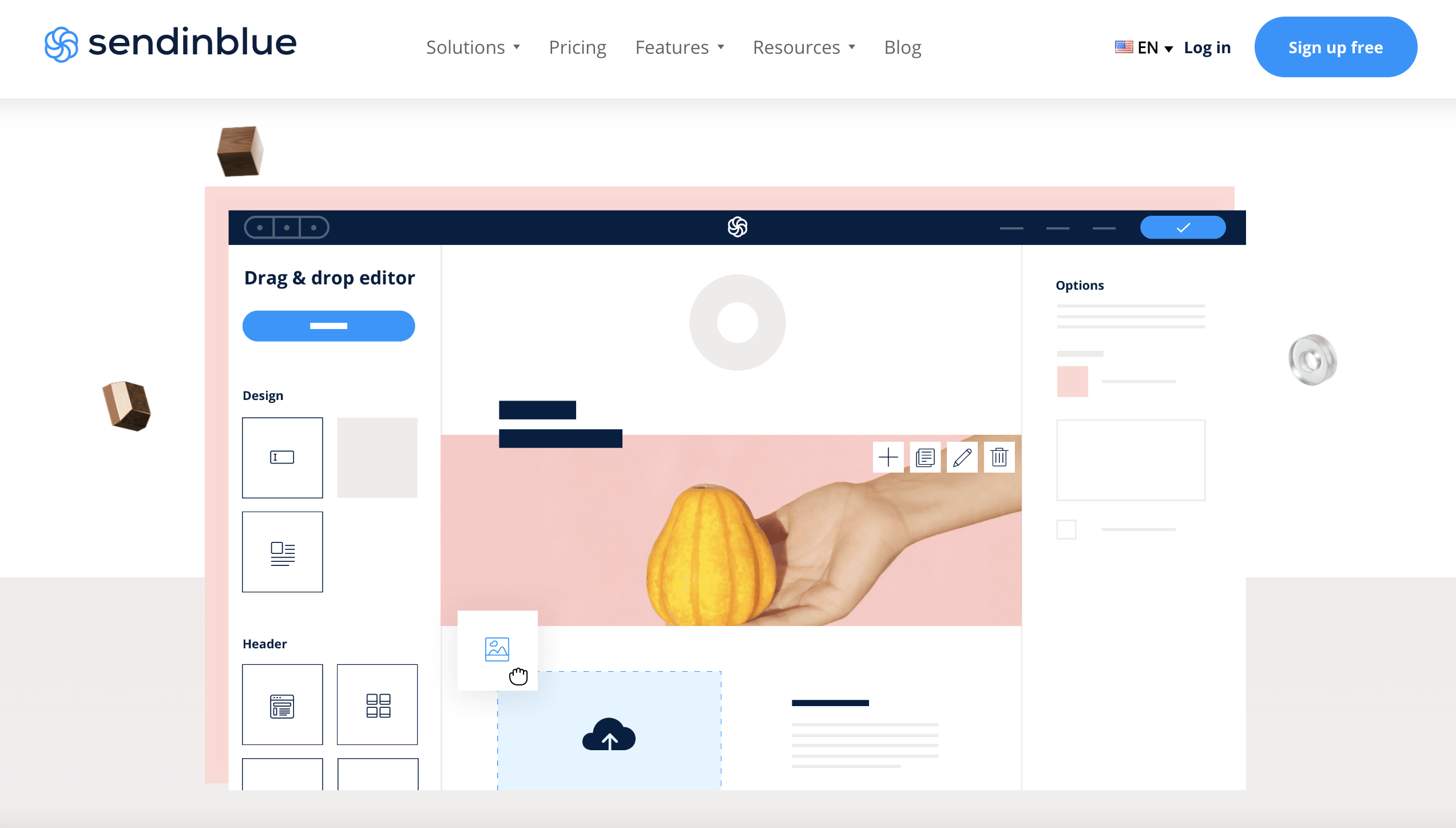 Sendinblue offers email marketing, SMS marketing, marketing automation and so much more.
It offers a free trial with no credit card input required, so this is great on the pricing front!
In terms of email marketing, Sendinblue has an attractive drag & drop style campaign builder. There's plenty of options for intelligent sending in terms of segmentation and A/B testing too.
✅ – Best For: Anyone looking to integrate existing tools such as Shopify, Zapier or WooCommerce.
🤔 – Considerations: While Sendinblue has mostly positive reviews, some users who tried a 'test' email with the free plan reported immediate account suspensions. So definitely read the T&Cs carefully, as Sendinblue have a very strict anti-spam policy.
Sendinblue Pricing

Prices starting from: Free
Sendinblue are the final addition to our email marketing tools list which offers a free plan.
Plans include 'Marketing Platform', 'Chat', Sales CRM' and 'Transactional Emails'. Each offers a free option which is great for start-ups, or simply those looking to see if Sendinblue is the right fit.
The free plan allows you to send up to 300 emails per day. Though has limited features compared with paid plans.
The most expensive Sendinblue plan listed is a $1,818 per month 'Marketing Platform' business level subscription.
Moosend – From $7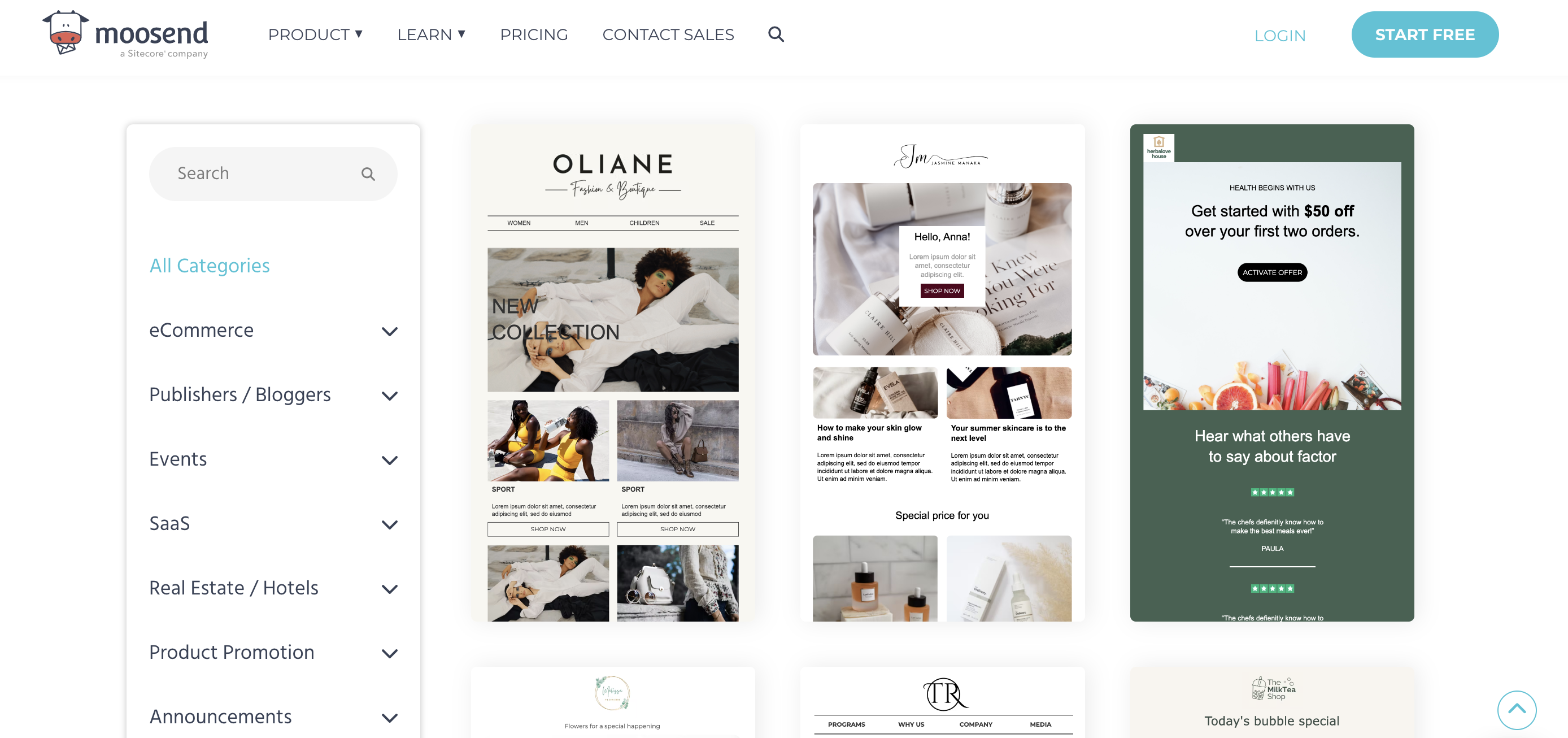 We've now left the 'free plan' territory and well, we've stumbled back into the zoo. This time it's not a monkey (Mailchimp) but a cow in the form of Moosend.
Moosend is targeted at businesses of all sizes. It also has some stunning template campaigns for various different industries include ecommerce, SaaS, real estate and bloggers. Each of these templates can be edited with a drag & drop editor to make the likes of email campaigns, newsletters or landing pages.
Features include segmentation and abandoned cart triggers, making Moosend just as intelligent as it is pretty to look at.
✅ – Best For: Those in search of a simple user-friendly email marketing platform.
🤔 – Considerations: Not easily accessible through mobile. Some users have also requested more integration options with Moosend.
Moosend Pricing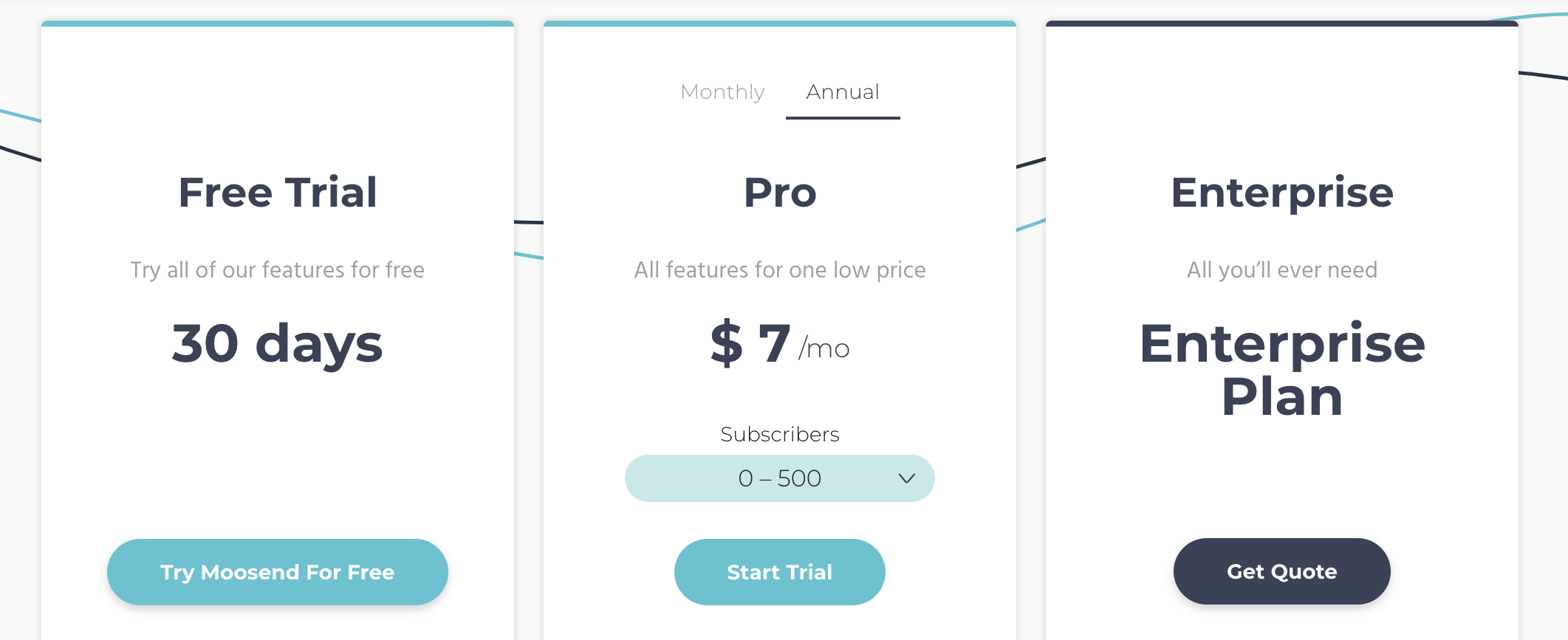 Prices starting from: $7 p/m
The cheapest Moosend plan is $7 per month on an annual plan, allowing you to reach up to 500 subscribers.
Moosend look to be geared towards higher senders, with most plans above the 100,000+ contacts range. Though, somewhere in the middle would be the 25,001-50,000 contacts plan costing $252 per month if you commit to an annual package.
The most expensive listed Moosend plan is $5,840 for a monthly package. This would allow you to send to the maximum tier of 1,000,000 subscribers.
Zoho CRM – From £12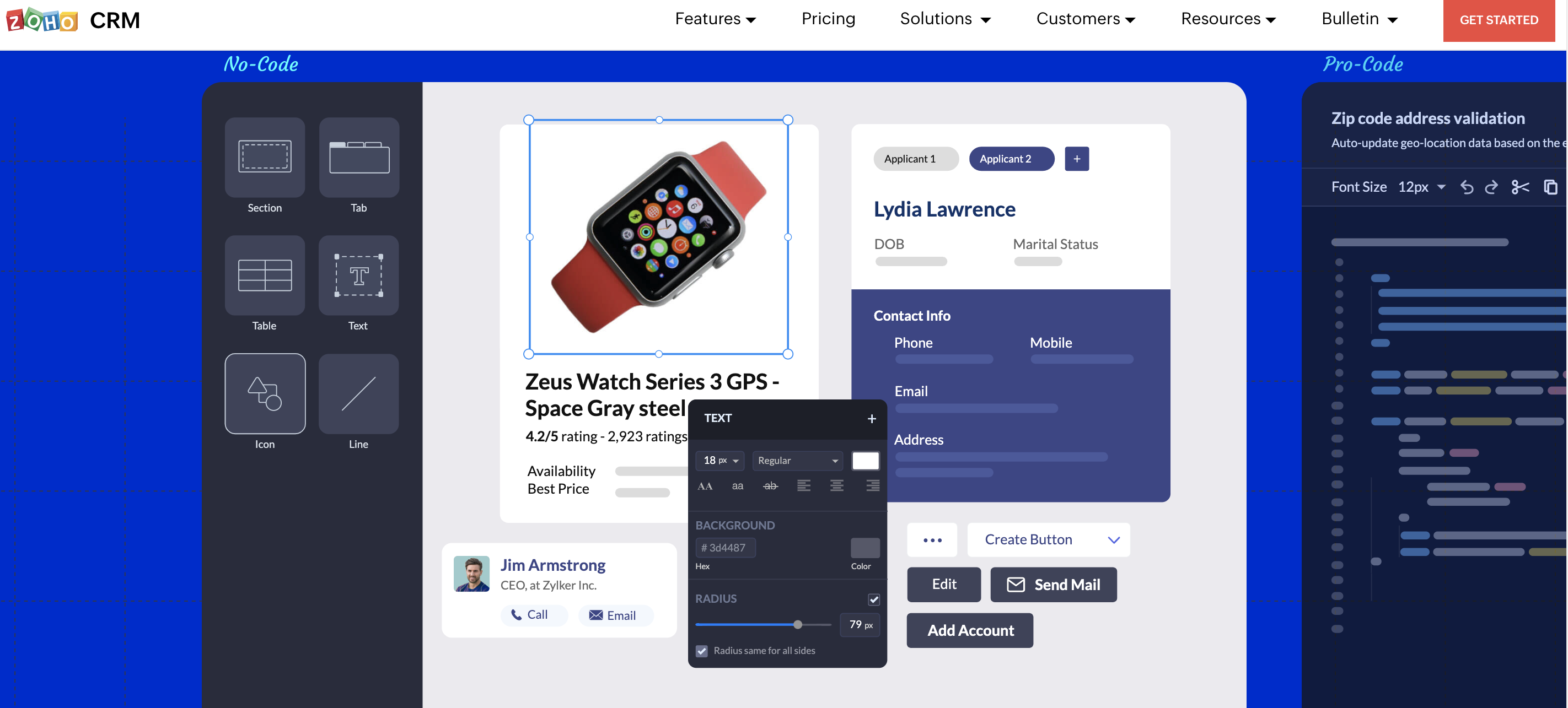 Zoho CRM has a core focus on building customer relationships. This is something that's super important, since email marketing isn't just about sending a message – you want that message to build authority and trust with your audience.
All of this is made possible by the excellent range of features Zoho CRM provides. It's possible to purchase different products separately or get them as a bundle, with bundles starting at just £24 per month.
Though when it comes to public user reviews of Zoho, there are a few recurring themes that need ironing out. These mostly relate to ease of use plus customer service. That said, if these get resolved then Zoho could definitely be one to watch.
✅ – Best For: Small businesses on a budget wanting to try out email marketing for the first time.
🤔 – Considerations: Zoho has some features only available on top tiers, and there's no integrations if you're on a free plan. Unfortunately, Zoho doesn't have great customer support ratings at the time of writing.
Zoho CRM Pricing

Prices starting from: £12 p/m
Granted, not all features are going to be available on the cheaper tiers. But starting at just £12 (if you commit to an annual plan), the prices are definitely attainable.
Yearly plans save 34%, with the most expensive plan being £42 per month. So compared to the top tier Mailchimp or HubSpot plans, Zoho is certainly cheaper.
ActiveCampaign – From $29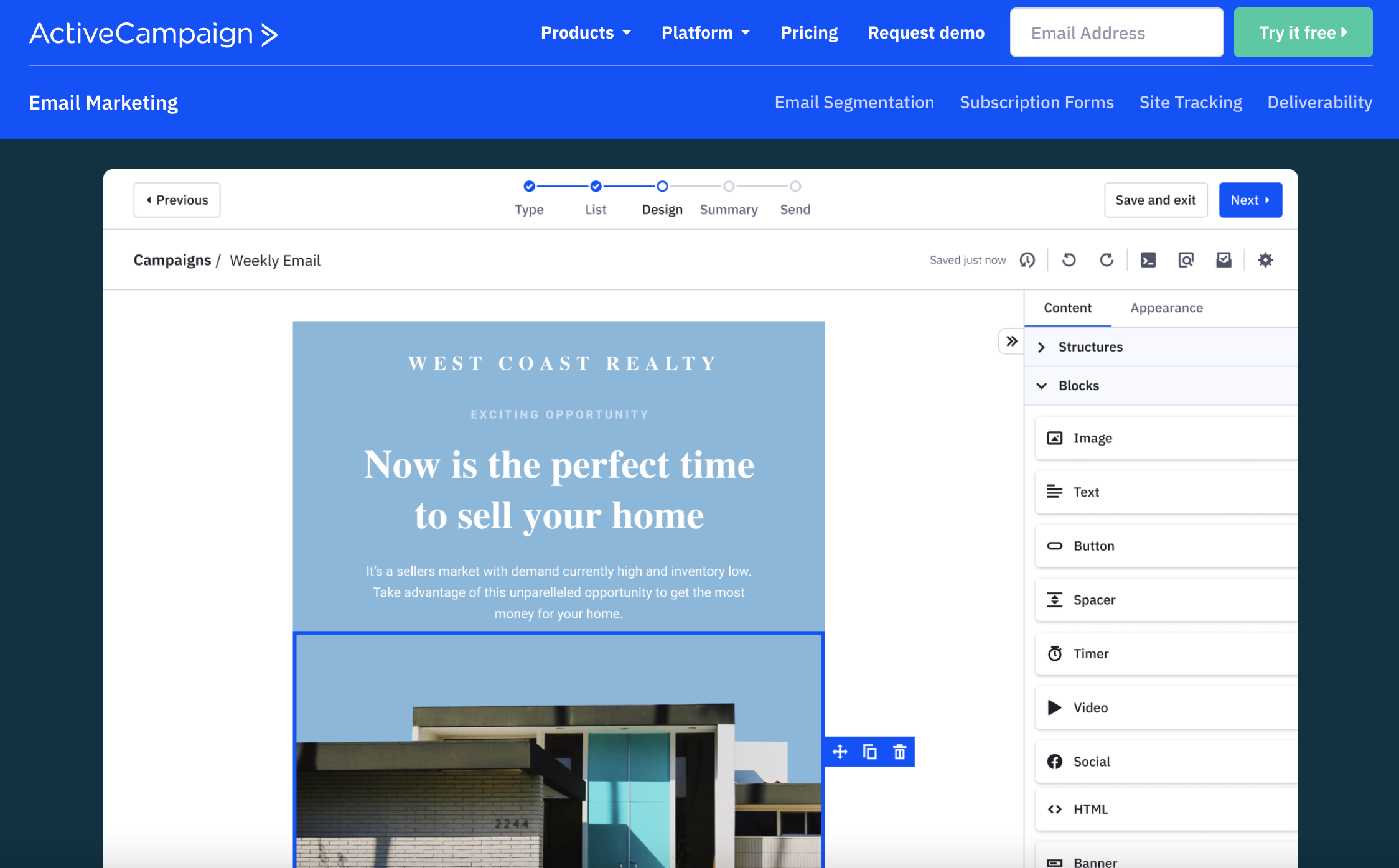 ActiveCampaign happen to be one of the best known names in the email marketing space. In fact, they are one of the first companies users research when looking for HubSpot or Mailchimp alternatives.
With a basic plan costing as little as $29, it's perhaps easy to see why. This is especially the case if you're just starting out with email marketing/only have a small list and are a little intimidated by how costly other providers can be.
The main appeal with ActiveCampaign is the ability to automate the likes of transactional email, CRM & sales automation, sales engagement, service and support. So if there are any blockages in your sales pipeline, ActiveCampaign automation could be the solution.
You may also be interested in: 5 ActiveCampaign Alternatives For 2023
✅ – Best For: Companies wishing to scale up their CRM as a whole.
🤔 – Considerations: The cost of plans doubled for legacy users at the start of 2023. Unpredictable price hikes aren't compatible with those worried about expensive email marketing plans.
ActiveCampaign Pricing

Prices starting from: $29 p/m
Although price hikes for older users aren't great, ActiveCampaign has some attractive options for newer users.
If you're willing to commit to a yearly plan, you can snag the ActiveCampaign 'Lite' plan for $29 per month, costing $348 upfront. Otherwise, paying per month will cost you $39. These figures are based on 1,000 contacts.
ActiveCampaign allows you to toggle the number of contacts, though this of course does increase the price the more contacts you have. For 5,000 contacts on a 'Plus' account, the cost would be $149 if committing to a yearly package with an $1,788 upfront cost.
So it's definitely worth comparing your exact needs with other platforms before committing to a year upfront. Unless you opt for a monthly package first before signing on the dotted line.
Drip – From $39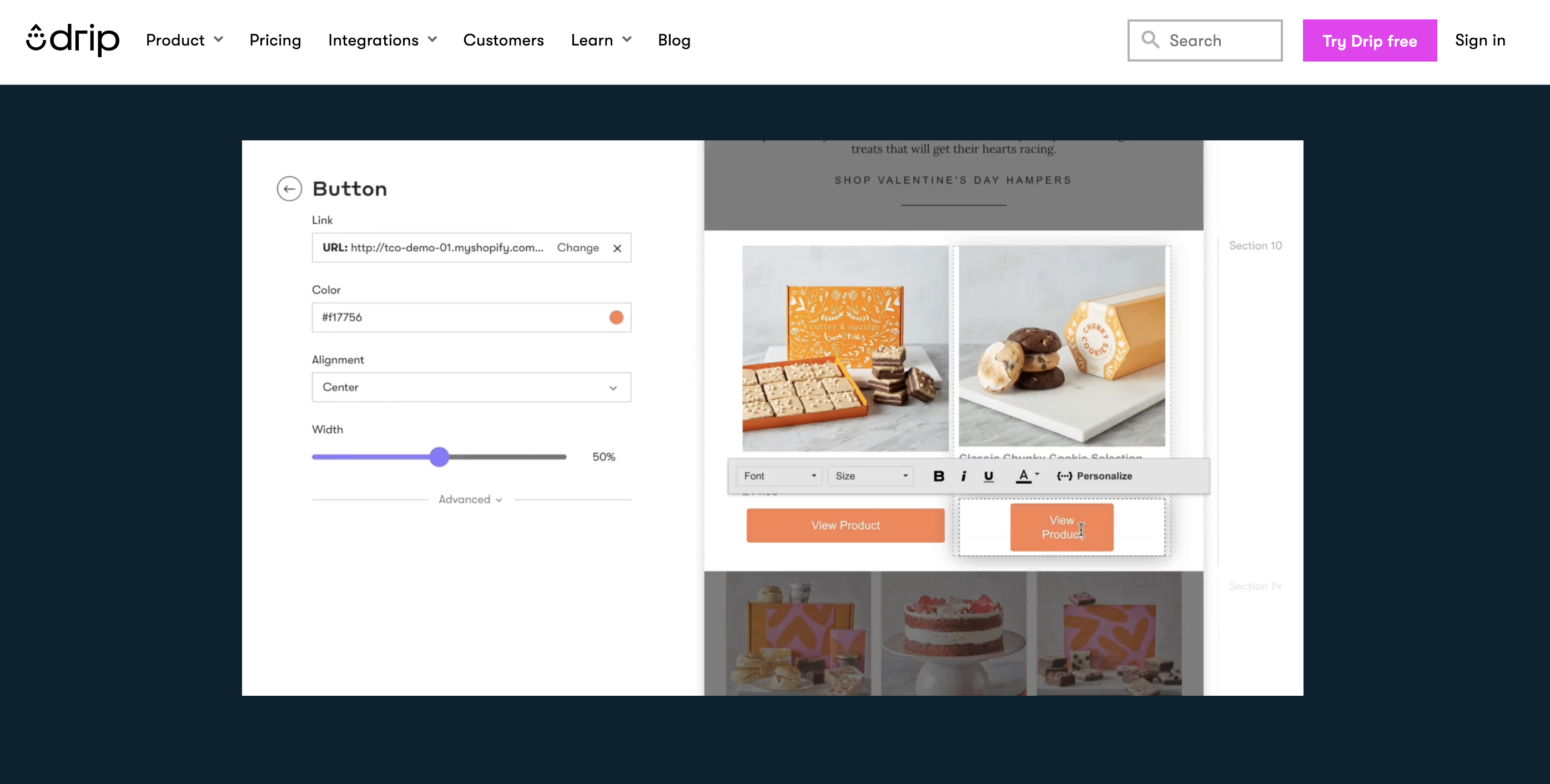 Right off the bat, Drip have one of the most original, engaging looking platforms in the email marketing space. They also offer plans up to a whopping 10 million subscribers!
Drip offer an incredible range of integrations with the likes of Shopify, WooCommerce, ConvertKit, Magento and many more.
In terms of the email product itself, and Drip are great for those who crave a visual builder. You'll find plenty of pre-built templates that you can fully customise to your brand and specific campaign. All in all, Drip feels modern and fresh.
✅ – Best For: Email marketers who want to nail their visuals with a dazzling array of templates.
🤔 – Considerations: Users report price hikes once you pass a certain threshold. In addition, some also say Drip has a steep learning curve.
Drip Pricing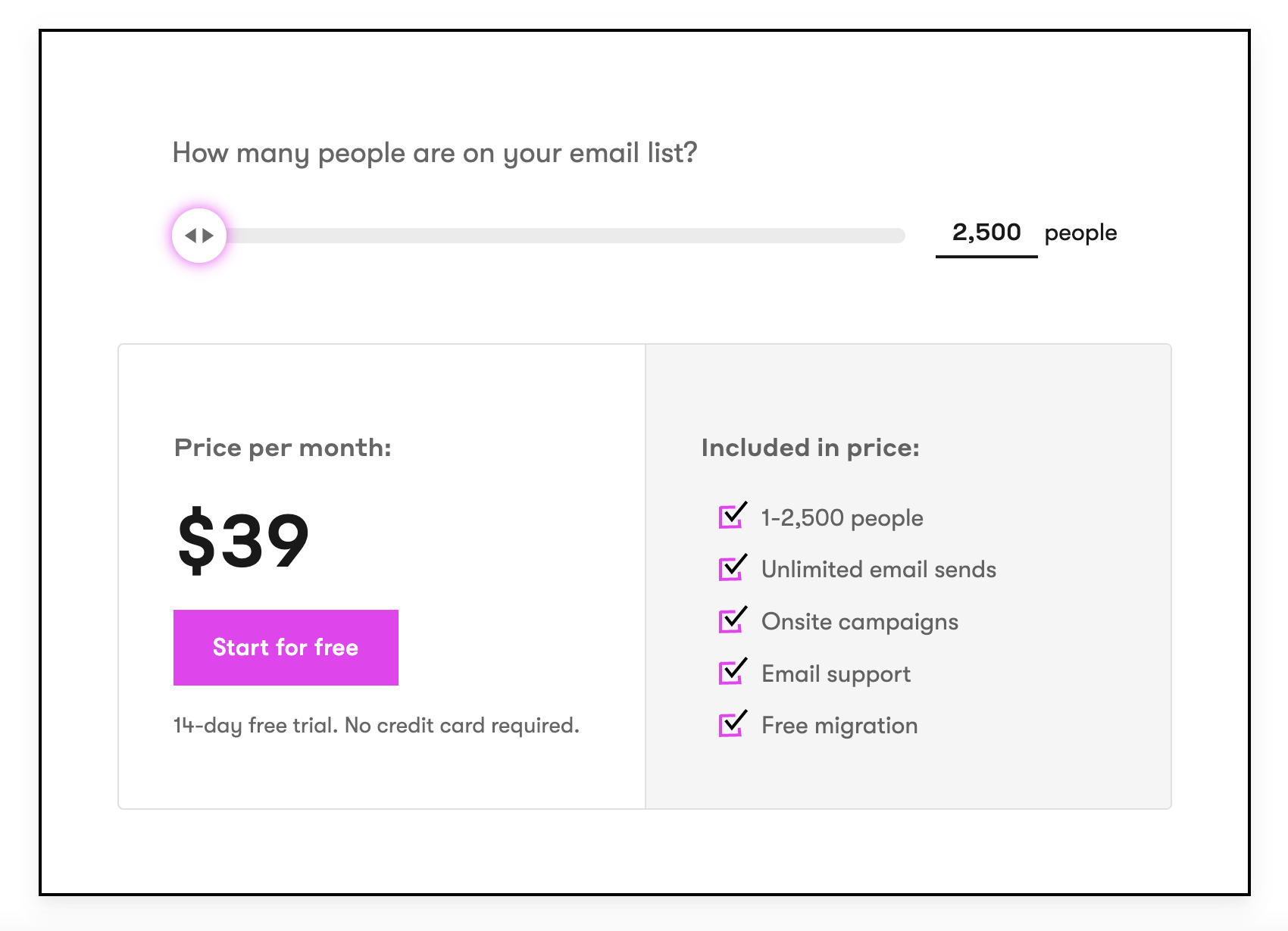 Prices starting from: $39 p/m
The initial plan of $39 per month for up to 2,500 contacts isn't too shabby. Though, you'll only get a dedicated customer success manager on plans with 120,000 contacts or above.
The most expensive Drip plan listed is for 170,000 contacts costing $1,899 per month.
Campaigner – From $59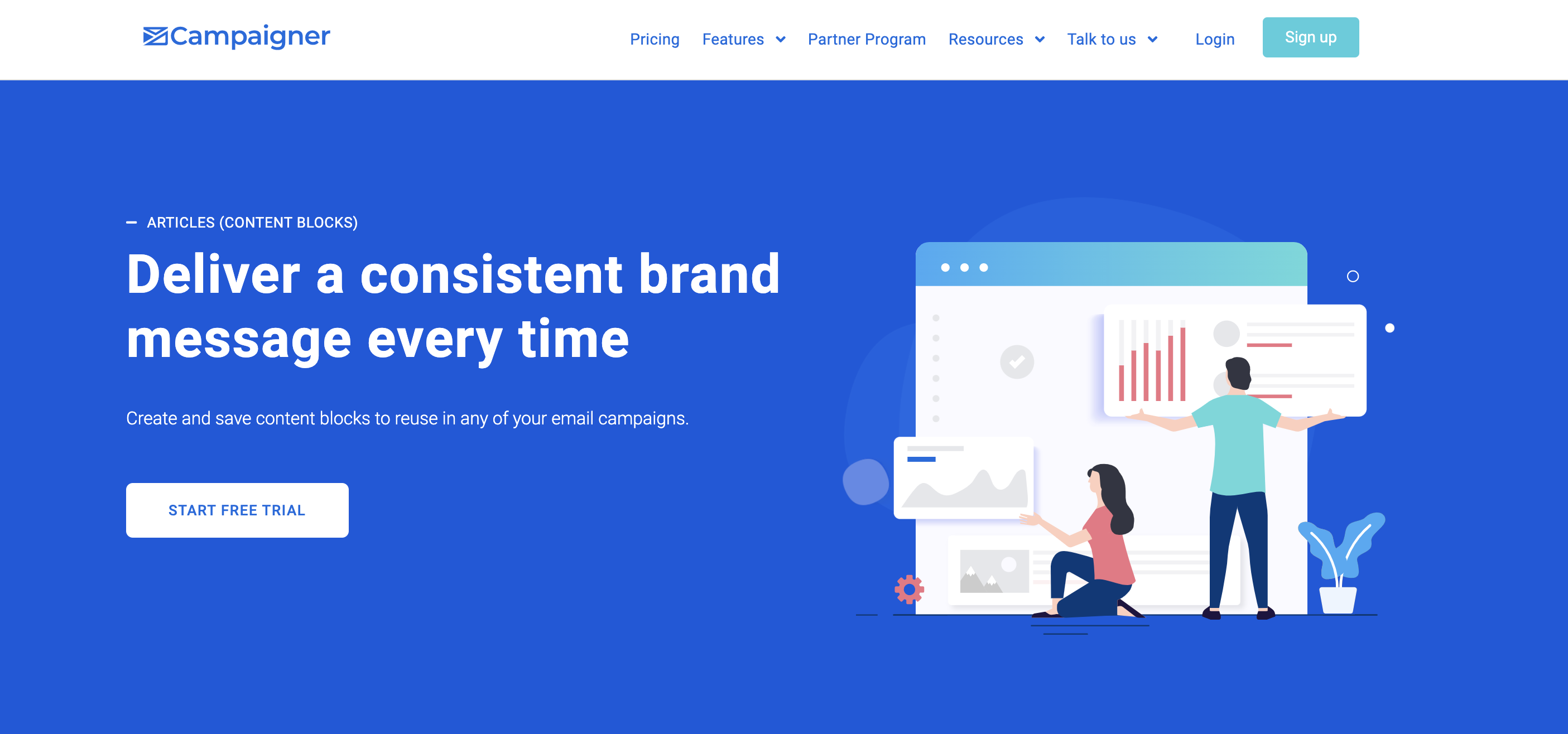 Campaigner offers a wealth of tools for any email marketer. These include the likes of segmentation, workflows, recurring campaigns, autoresponders and more. Plus the ability to add and utilise custom fields.
Founded in 1999, Campaigner also happen to be one of the oldest email marketing platforms in existence.
On the whole, Campaigner user reviews are mostly positive. Though some recurring themes include a clunky user interface and some issues with customer support.
As Campaigner offer a free trial, this is also really handy to see how the platform performs for yourself.
✅ – Best For: Email marketers looking to cover all the basic functions.
🤔 – Considerations: Some inconsistencies with design tools that may become bothersome as you try to scale.
Campaigner Pricing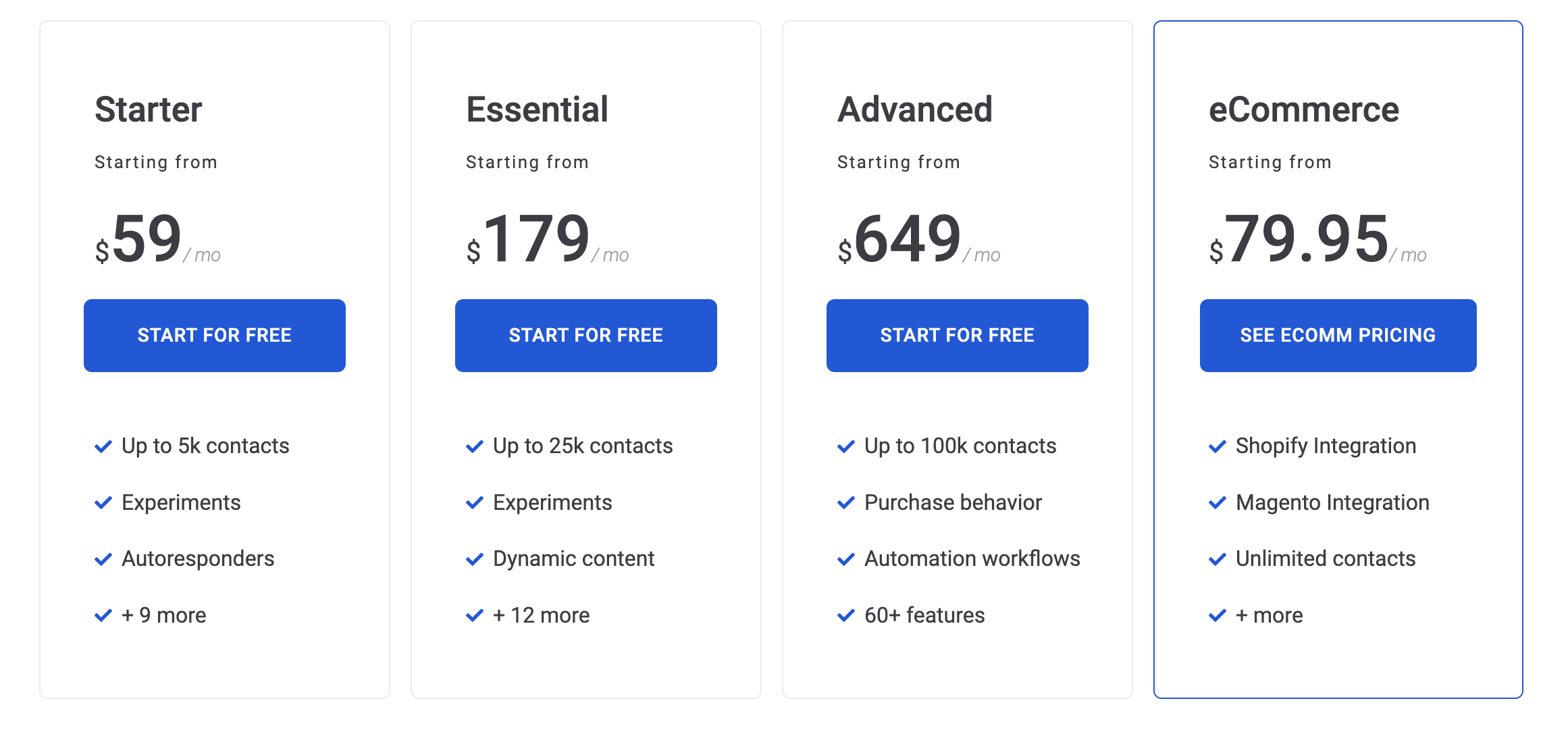 Prices starting from: $59 p/m
As with most email marketing providers, Campaigner has raised its prices, with reviews from just two years ago stating plans started at just $19.95 per month. This is not the case at the time of writing, with the cheapest Campaigner plan costing $59 per month. Add in SMS alongside email, and this plan jumps to $104 per month.
All Campaigner plans do come with a free trial, though you do need to enter your billing information to access this.
GoSquared Engage – From £79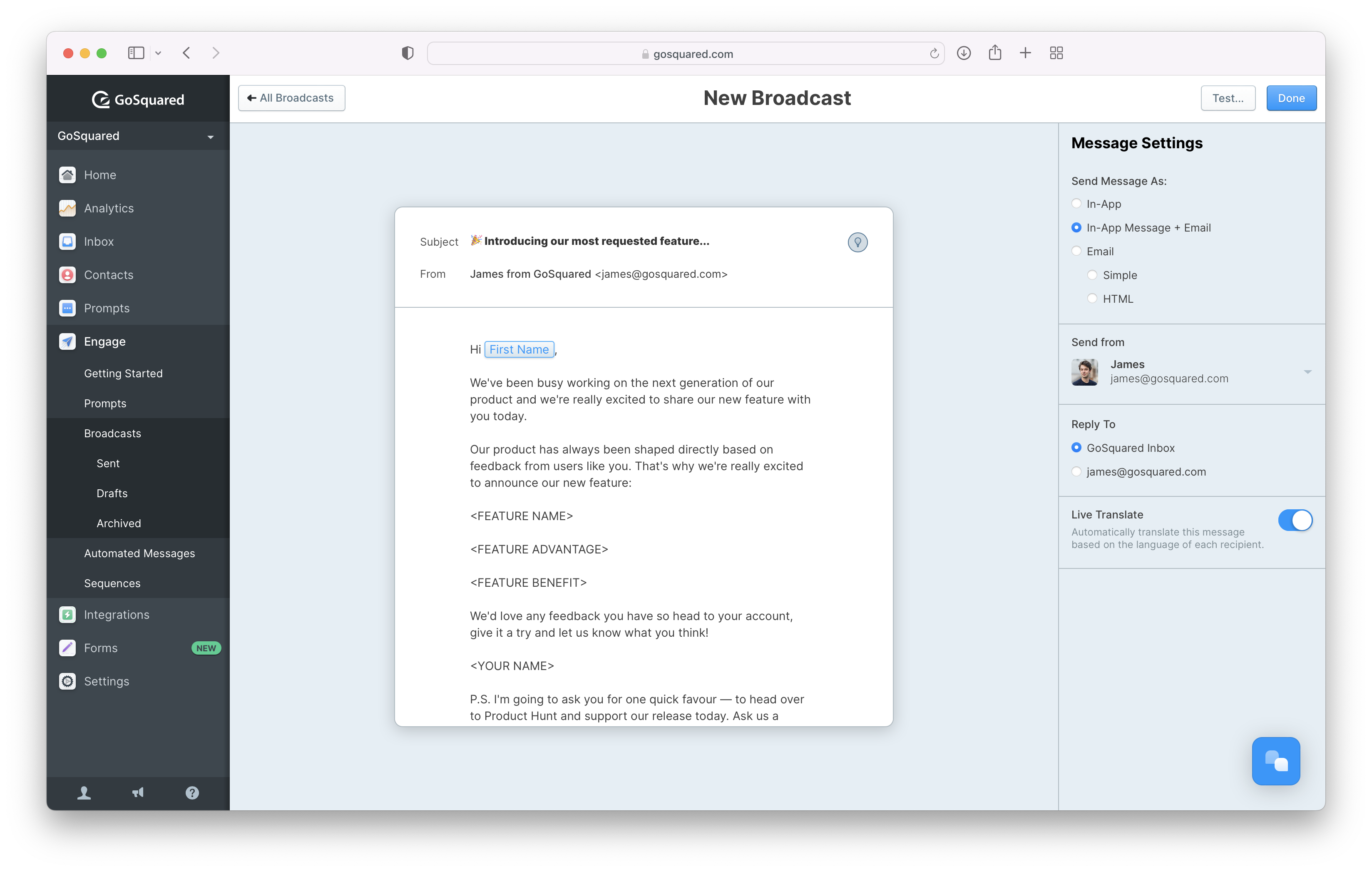 Near the last but definitely not least is our own customer engagement platform GoSquared Engage.
GoSquared Engage is far more than just an email marketing platform, so nope we don't look to be the very cheapest (though we do offer a free trial on all plans!). Instead, we look to be the best in terms of features and excellent privacy credentials for your customers.
We've actually been around as long as HubSpot, but as you'll notice in a second, our pricing model is very simple. In fact, given we don't offer 'cheap' starter plans, you may actually find the pricing of GoSquared Engage plans to be in line with other providers, if not cheaper. The only difference is we don't use pricing tricks to get you signed up!
Trusted by thousands of businesses across the globe, GoSquared Engage has a huge focus on personalised sequences and segmentation. So in other words, our tools are data-driven to help your business drive results.
We're a small team, but each of us are incredibly keen at what we do. So if that level of attention to detail, not to mention personalised customer support matters to you – GoSquared Engage is the email marketing tool for you.
✅ – Best For: Businesses who want a trustworthy, gimmick-free email marketing platform that can handle anything. Also, a platform which protects customer data. Equally, a business which looks beyond profits as a member of the Good Business Charter.
🤔 – Considerations: GoSquared Engage isn't out to compete with ultra cheap plans. So we're best geared towards existing businesses or marketers who just want a solid product they can rely on.
GoSquared Engage Pricing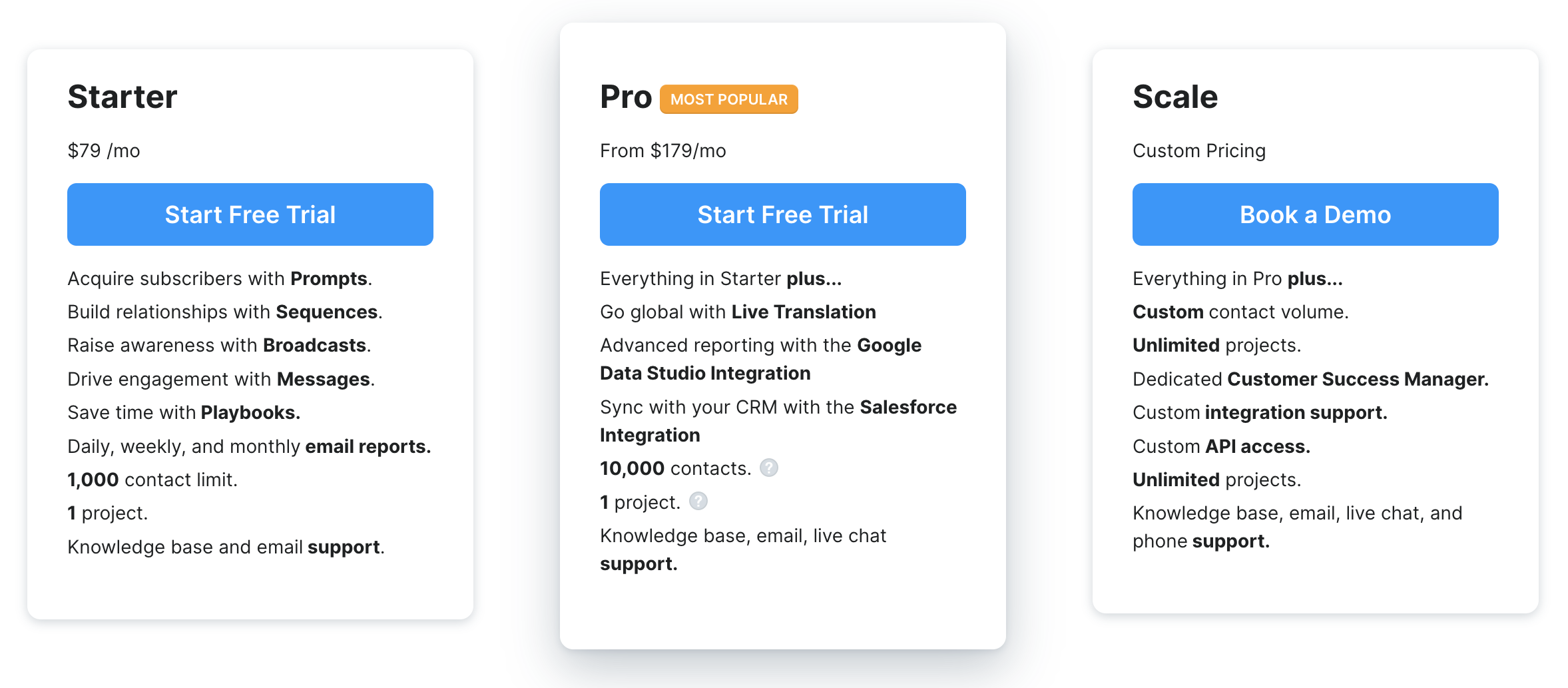 Prices starting from: £79 p/m
GoSquared Engage plans start at £79 per month. So while we don't have the lowest entry points, we do have the most straightforward price plans with just three options to choose from. For you as a business, this gives you stability, rather than having to constantly chop and change plans as you'd have to do elsewhere.
Plus as we mentioned, often plans which do offer 'cheap email marketing' often have severe plan limitations. Or, these plans are subject to frequent, sudden price hikes. That's simply not what we're about here at GoSquared.
Sign up for your free GoSquared Engage trial to see what we're all about!
HubSpot – From $800 (Business Account)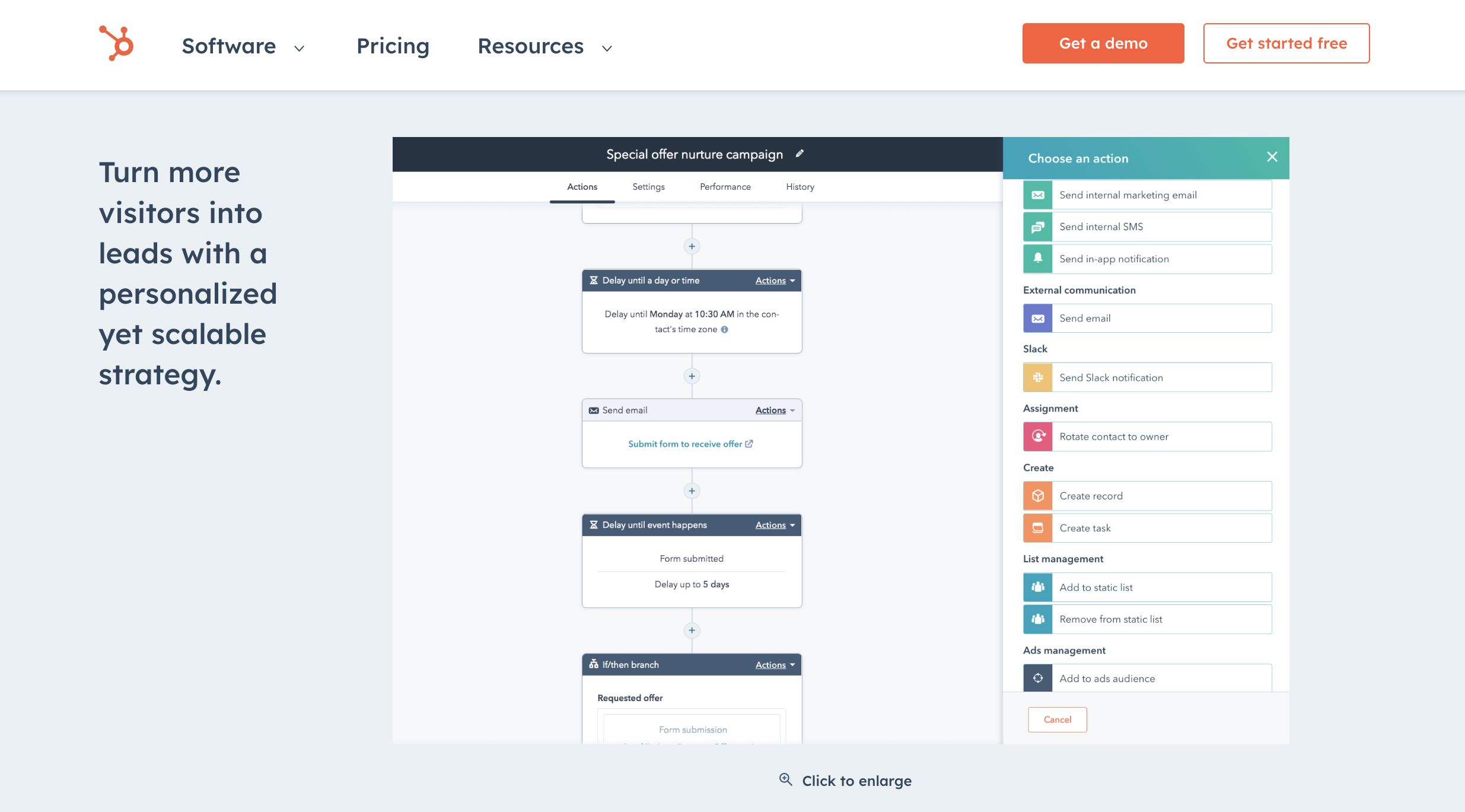 HubSpot is akin to that moment in a western movie where the saloon doors open and everyone at the bar lets out an audible gasp in response.
That's because HubSpot happens to be one of the best known names in the email marketing space. HubSpot's 'Marketing Hub' is the original core product that many other email marketing providers have tried to emulate over the years.
With an amazing knowledge library on their blog and on YouTube, HubSpot go that extra mile to educate their audience and make them better marketers.
Of course with so much greatness comes an increased cost. With HubSpot typically being the most expensive email marketing provider by a mile, they remain simply unaffordable for most.
You may also be interested in: 12 Affordable HubSpot Alternatives You Need To Know In 2023
✅ – Best For: Agencies or businesses with the largest budgets who don't mind spending a premium for their CRM software.
🤔 – Considerations: As a industry professional tool, HubSpot make be too complex, not to mention costly for some businesses.
HubSpot Pricing
Prices starting from: $800 p/m

The above pricing options speak for themselves when it comes to how much HubSpot costs.
That said, HubSpot have recently introduced two new plans called 'Free' and 'Starter'. With the 'Starter' plan costing $45 per month, this could be ideal just to get a feel for how HubSpot works. Though, either of these new plans of course do not come with the full range of features HubSpot provides.
Instead if you want the full HubSpot experience, these come in the form of 'Professional' Or 'Enterprise' plans, which range between $800 and $3,600 per month.
We do welcome that these new junior plans have been added though, since a minimum $9,600 a year spend is a tall ask for an email marketing plan.
Need Any More Help With Your Email Marketing? Let's Chat!
We know that as a business, there's so much to consider when it comes to choosing an email marketing provider.
Ultimately, price is only one part of the puzzle. That's because you also need to be sure the chosen platform can do everything you need it to, and that it also aligns with your ethos as a business.
Here at GoSquared, we have two email marketing platforms including GoSquared Engage and EcoSend. If we can help you get started with either, or if you just have some questions we're all ears!
Please drop our team a message and we'll be right with you.