A niche website can be an excellent form of passive income. Whether you're after a new side hustle or want to get into affiliate marketing, anyone can create a niche website with a little know-how.
Likewise, if you are a service provider or own a SaaS product, a niche website can help you establish your tool as a market leader by reigning top for related searches.
New to all things niche websites? In this post, we'll show you how to build a niche website and how to maximise your traffic through GoSquared.
What Is A Niche Website?
A niche website is based entirely around a single topic cluster. So for instance, bowling balls or garage doors. No really – you can create a niche website about basically anything! In many ways, the more obscure the better as there will be less competition for your traffic.
Why would you want to create a niche website? Quite simply, a niche website can be used to run adverts or generate sales. Because it's a niche website, everything on that site will be relevant to someone's original search query, thus increasing the amount of time they are likely to spend on that site.
When done well, a niche website can climb the search engine and domain authority rankings. More traffic and higher engagement mean more revenue generated for that website owner.
Finding A Niche

A website niche needs to follow a general theme so that the entire website is built around a similar topic. 
Some SEO knowledge is required to identify a niche. That's because your niche needs to have a decent amount of search volume, ideally coupled with a low keyword density. This means there are a lot of people searching for that product or entity, but not many websites competing for the same traffic. 
You can find potential niches using SEO software such as Ahrefs.
Type in any keyword (ideally a short-term keyword consisting of 1-2 words) which will give you a broad range of keywords to consider. 
So for instance, 'mountain bike' has a keyword difficulty of 63/100, but a monthly global volume of 114,000 searches. So although the difficulty is higher than is ideal, there's a lot of traffic which could still make mountain bikes a niche to consider. 
By filtering out the results, it's easier to find even better niche topics or website ideas. Or, find a place to start when competing for the more competitive niches.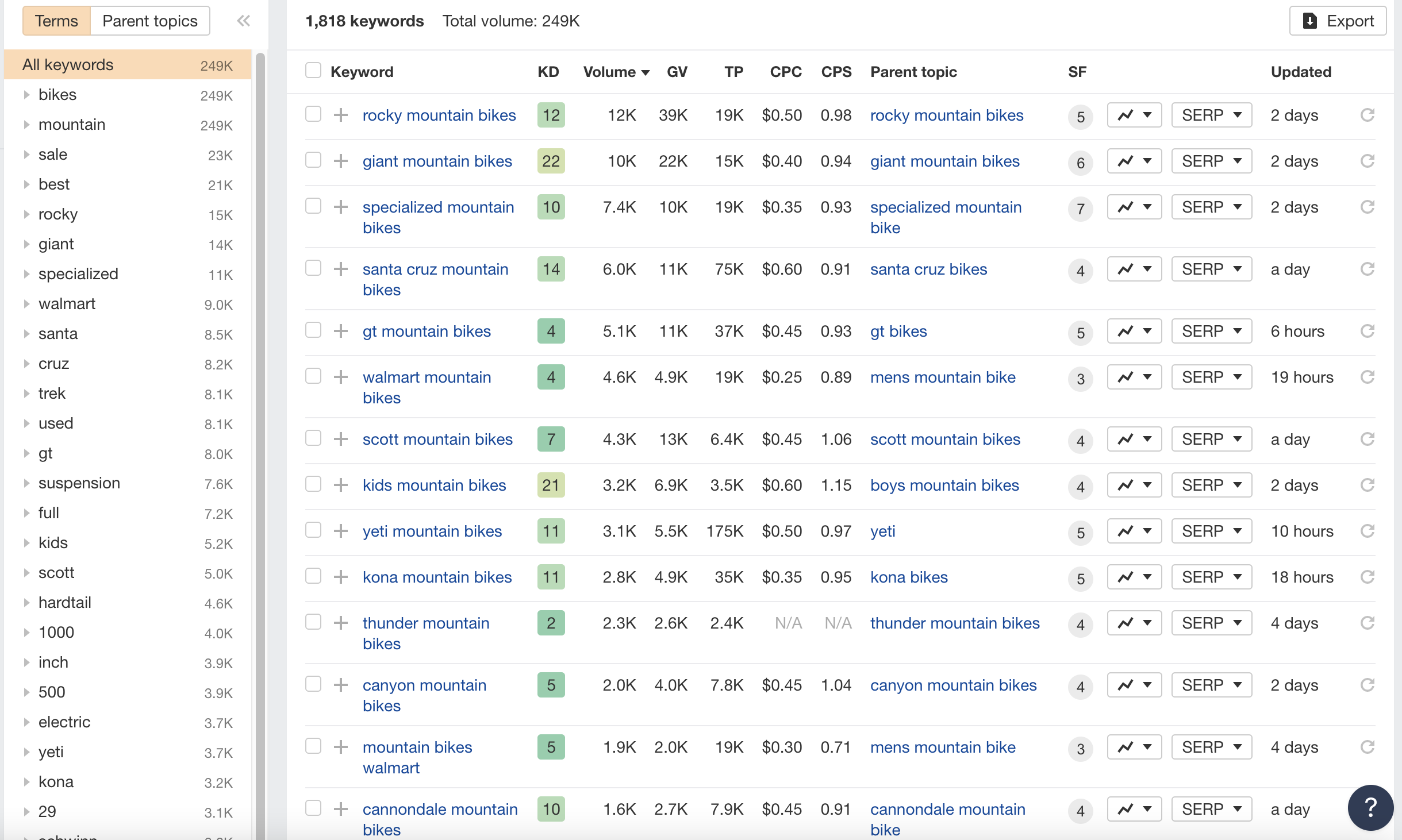 See the above image for a filtered 'mountain bike' search, where only keyword difficulties of 0-30 are displayed. These results are also arranged from most to least search volume.
All of a sudden, you'll find potential topics for the original mountain bike niche with a keyword difficulty as low as 2/100, ranging up to a global search volume of 39,000 searches per month. So whatever you want to write about, you simply have to use the same technique to find some similar golden nuggets.
How To Create A Niche Website 

Once you've settled on your niche and exported any keywords safely into a spreadsheet, it's time to bring your niche website to life.
Creating a niche website is similar to building any other kind of website, in that you'll need a domain name and a hosting plan.
You can use GoDaddy's domain name finder to find available domain names. The domain name should of course be related to your niche, though there are plenty of other websites you can purchase the domain name through. Avoid domain names with dashes or those which are difficult to spell. 
After you've purchased a domain, you'll need to connect it to a hosting provider. The likes of Siteground or Bluehost can make it easy to purchase a domain and hosting plan in one, often for a very competitive price.
Niche Website Builders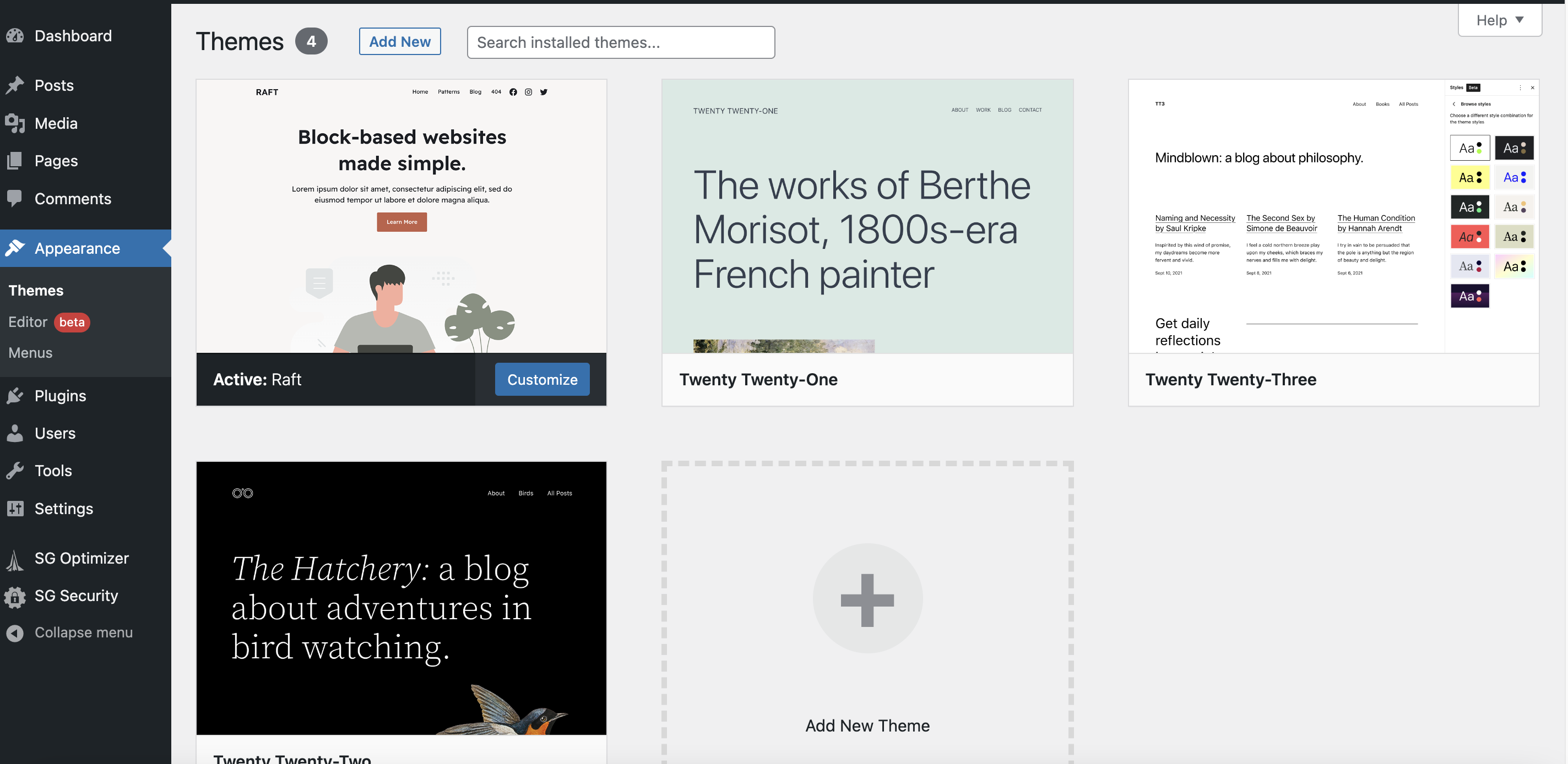 Niche websites built on WordPress offer the greatest SEO potential. Although drag-and-drop website builders including Wix exist too.
If you do opt for a SiteGround plan, you can use tools such as Elementor within a WordPress theme to easily create your website.
For those who aren't seasoned website designers or builders, sticking with a simple theme is the way to go. The theme should be responsive and fast to load. It should also be suited to the niche of your website.
Making Money From A Niche Website 
The whole purpose of building a niche website is to generate a profit from it. You can make money from advertisements that run on your website, affiliate linking or selling products directly.
As your website gains authority, others may also pay for guest posting through your website too.
Let's take a look at each of these niche website revenue streams a little closer. 
Advertising Platforms
Niche websites mainly generate money by displaying adverts through Google Adsense. Once your traffic grows, you can move up to higher paying advertisers like AdThrive, Ezoic or Taboola.
It's often the case where you can earn money per page view. Ranking highly on search engines for certain keywords can therefore be very lucrative if you have an advertising platform which will pay each time someone visits that page. 
Affiliate Marketing
If you really are going to build a website about bowling balls, garage doors, mountain bikes or anything else which takes your fancy, then why not profit from any sales you generate?
You can do this through affiliate marketing. All you have to do is include affiliate links or banner advertisements on the related content. If someone goes on to purchase that product (normally within 30 days of clicking that link) you'll earn a cut.
We even have our own affiliate scheme here at GoSquared. All you have to do is sign up and we'll give you a 25% cut of any lifetime sales your affiliate marketing brings to our new tool EcoSend. 
Selling Your Website
Once you build a profitable niche website, there is always the option of selling this, either as a business or as a website entity. Platforms such as Flippa have made it possible to purchase and sell websites, or you could find your own private buyer.
The most profitable websites will have a good domain age, a competitive domain authority score for their niche and a healthy amount of organic traffic. So while you won't achieve any of these things overnight, if you put work into your niche website, eventually you could sell it completely to gain further profit.
Promoting Your Niche Website
Niche websites have a simple formula. The more traffic your site gets, the more revenue you can potentially make. Therefore, how you promote a niche website is just as important as choosing a niche and publishing content about that niche.
Here are the main ways to drive traffic to your niche website. By the way, each of these techniques you can do for free yet still earn a profit!
SEO
SEO is by no means a 'get rich quick' scheme. But in terms of a niche website, SEO is going to be a huge force in driving traffic to your website. The more people who visit and stay on your website, the higher any advertising returns are going to be.
So before starting any niche website, make sure you put that SEO research in. Also, remember that quality is king, so it's not just enough to stuff your content with lots of keywords – users must find your content valuable so that they stay on the page and hopefully return.
Also, make sure you're building any backlinks organically! Google's December 2022 Link Spam Update means spammy backlink tactics will no longer be tolerated. This means those who play by the book are more likely to profit from their niche website.
Social Media
Whatever your niche website is about, there will always be people on social media who will be interested in it. The name of the game here is targeting the right audiences, which you can do with paid advertising as well as the use of hashtags.
But when you're just starting out, creating social media accounts in itself doesn't cost money. You can use free tools such as Canva and Tweetdeck to design your content and get it scheduled. Likewise, with Tik Tok or YouTube shorts, all you need is a phone and 60 seconds of footage which you can shoot and upload yourself. Just remember to include a link back to your niche website with whatever platform you choose. 
Email Marketing
Did you know email marketing has an ROI of $36 for every $1 spent?
Email marketing can be used to boost the traffic of any website and niche websites are no exception. Niche websites have an even better advantage, in that you're asking people to sign up for an email newsletter based on a topic they are already interested in. 
For those just starting out, our new email marketing tool EcoSend has a free plan, allowing you to reach up to 500 contacts.
Place a newsletter subscribe box on your niche website and build a valuable subscriber list. Your clicks, impressions and conversions will soar in no time! 
Grow Your Niche Website With GoSquared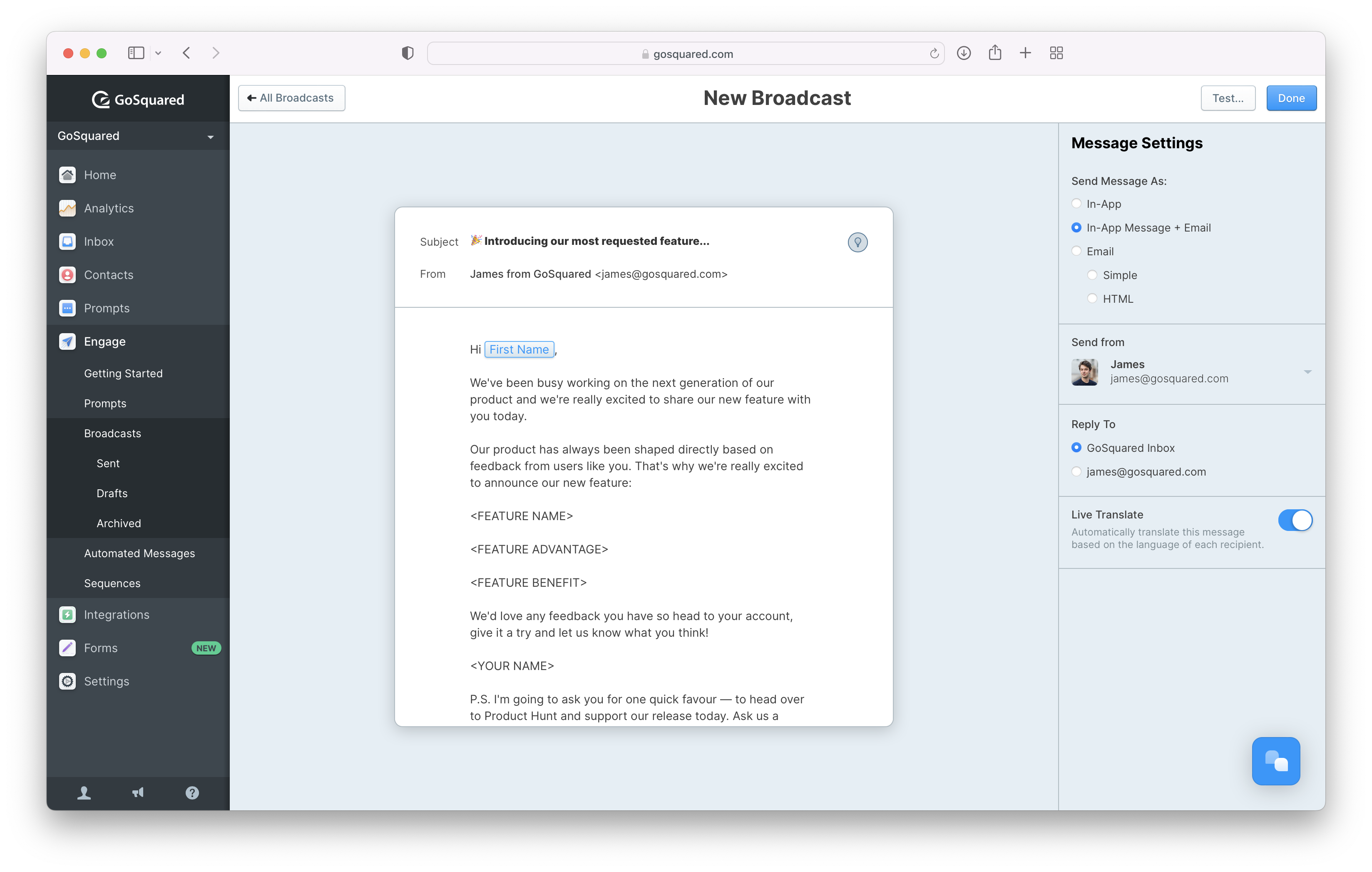 For niche website owners, GoSquared can help you with every angle. Our Analytics tool is great for getting those ultra satisfying traffic reports. You can also learn more about your traffic to make informed changes to your website, plus watch your traffic grow over time.
Marketing your niche website has never been easier with Engage or EcoSend. You can use either to send segmented campaigns that like your niche website itself, target the right people with the right message at the right time.
Want to chat with us about how GoSquared can help your niche website succeed? Reach out to us at any time and we'll be in touch.