Whatever your level of enthusiasm towards Halloween, we can guarantee it will skyrocket when you learn that the holiday is worth $10.1 billion to the US economy alone. This is according to the National Retail Federation (NRF) making Halloween the second biggest retail event of the year.
Even here in the UK – where our population is 40 times smaller – research by Finder reports that Halloween is expected to generate £687 million for the British economy in 2022. The figure is up a whopping £87 million compared with 2021.
Given Halloween is just one day of the year (October 31st) we think that's pretty astonishing.
The question is, how can your business tap into the potential of all things spooky to deliver a marvellous treat for your business where its revenue is concerned?
Here are some examples of companies who brilliantly execute all things Halloween marketing to inspire you.
Halloween Email Marketing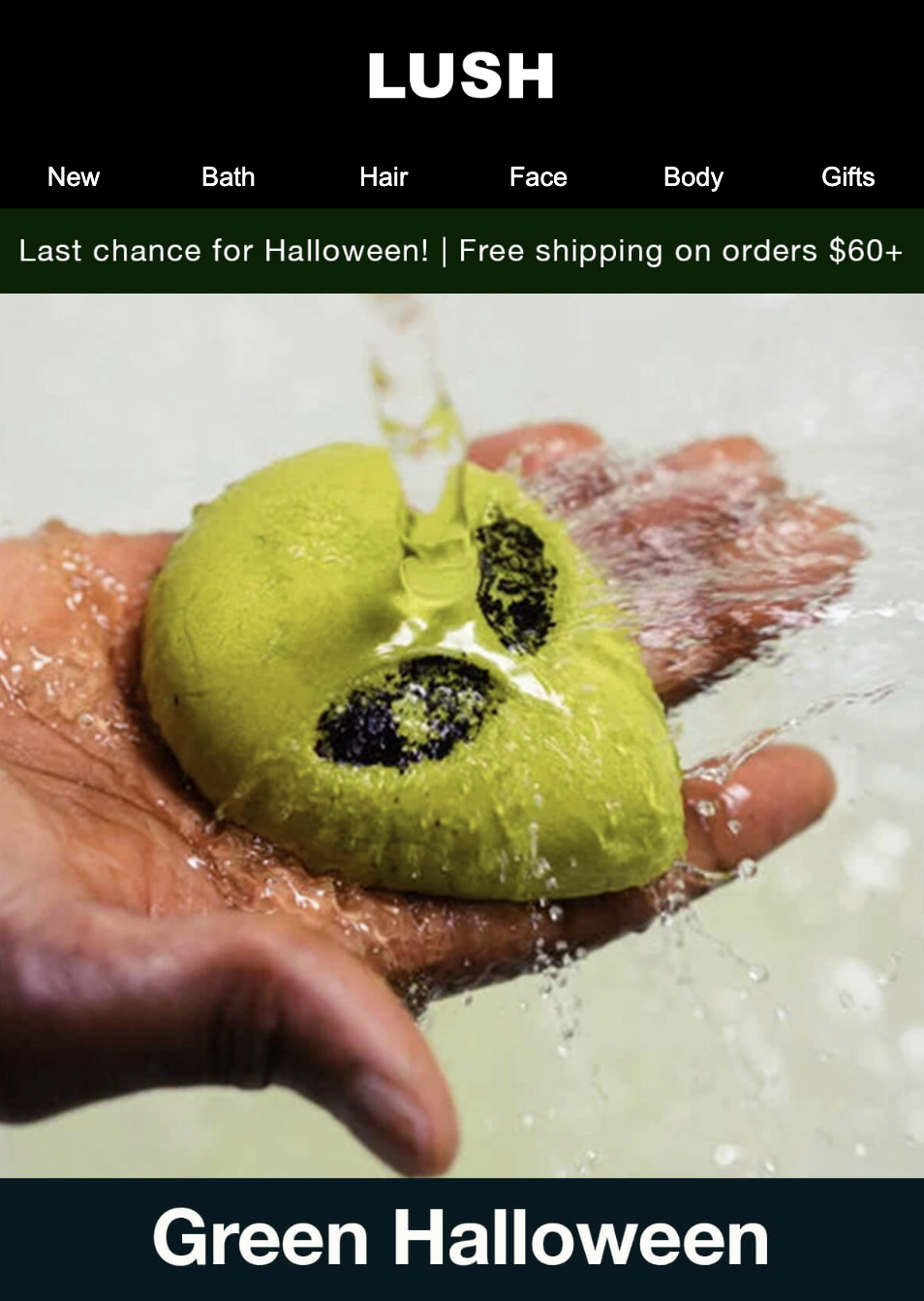 It's a stat we mention so often on this blog. But as an email marketing platform ourselves, we can't help but repeat it: Email has a typical $36 ROI for every $1 spent.
Whether your campaigns relate to Halloween, or just general pushes of your products or services, if email is done in the right way then your business is set to benefit.
Taking the above Lush email marketing campaign for Halloween as example – it's fun, visually engaging and is something any company can replicate in its own way.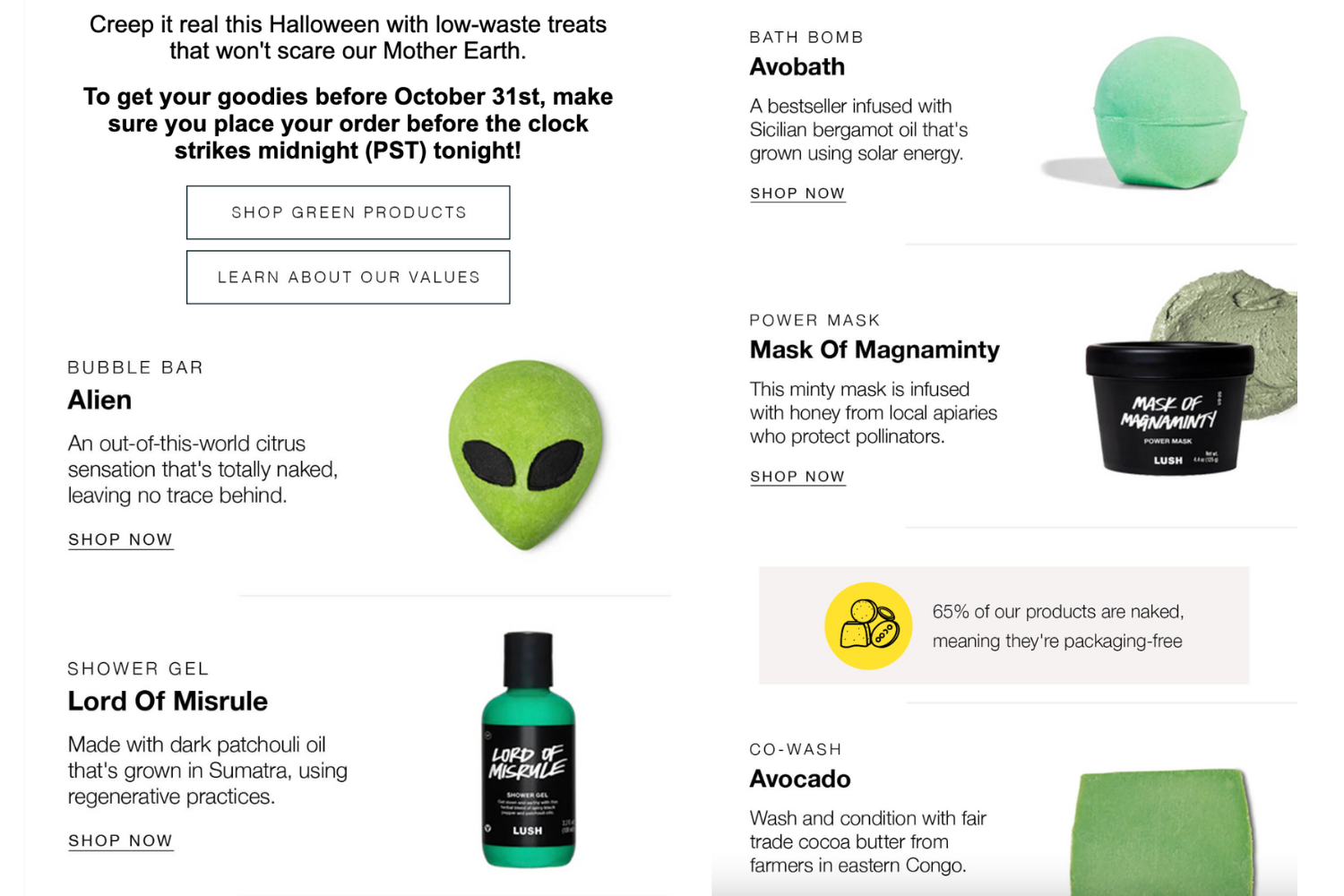 Unlike digital assets (i.e. SaaS), Lush sells physical products. Though many of these are general products which fit their 'green alien' theme for Halloween, rather than being Halloween specific. As in things they sell all year round suddenly feel Halloweeny.
So what can you learn from this? You don't need crazy budgets to invent new products or services to tap into the Halloween market. Use what you have and dress it up how you see fit.

As a side note, we also like the lean towards sustainability in this email, as customers are also encouraged to return old packaging pots to the store for an incentive. This allows Lush to tap into two different avenues for their marketing at once.
Gamified Halloween Email Marketing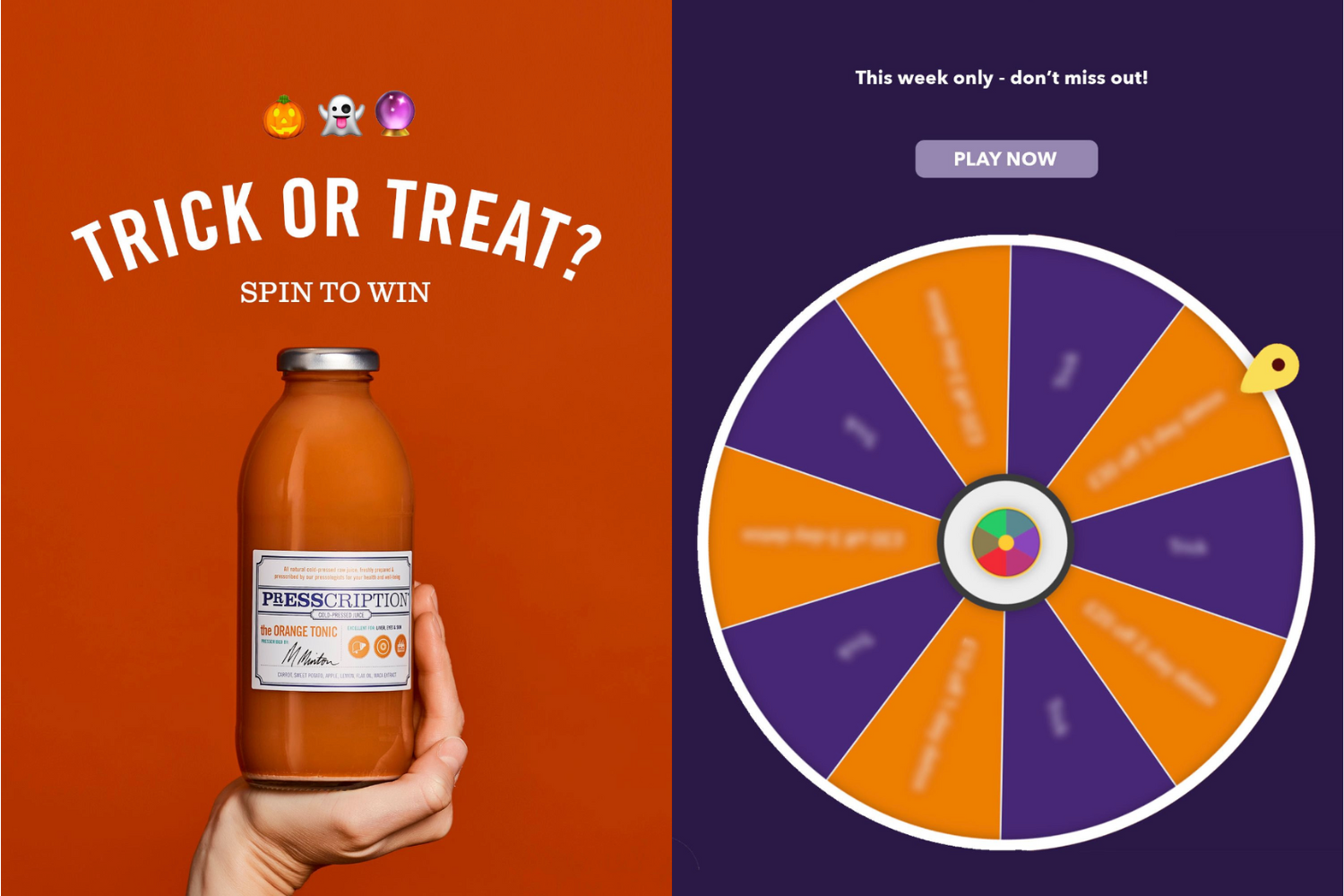 Gamification is a marketing technique that infuses game-like features such as rewards or point scoring into the purchasing of products and services.
Rather than just looking pretty, gamification has a winning psychological tactic in that it makes it fun for users to participate with your brand including your marketing.
One bank in Texas experienced an incredible 700% boost in customer acquisition just by using gamification to teach clients about its products. Imagine if your company even experienced 10% of this success!
Of course in terms of the Halloween theme, gamification is perfect. Above, Presscription have done a wonderful job in enticing us to be healthy through their eye catching prize board spinner. The graphics are big, bold and perfectly communicate with the audience.
Create Spooky Email Marketing Campaigns With Our Free HTML Email Builder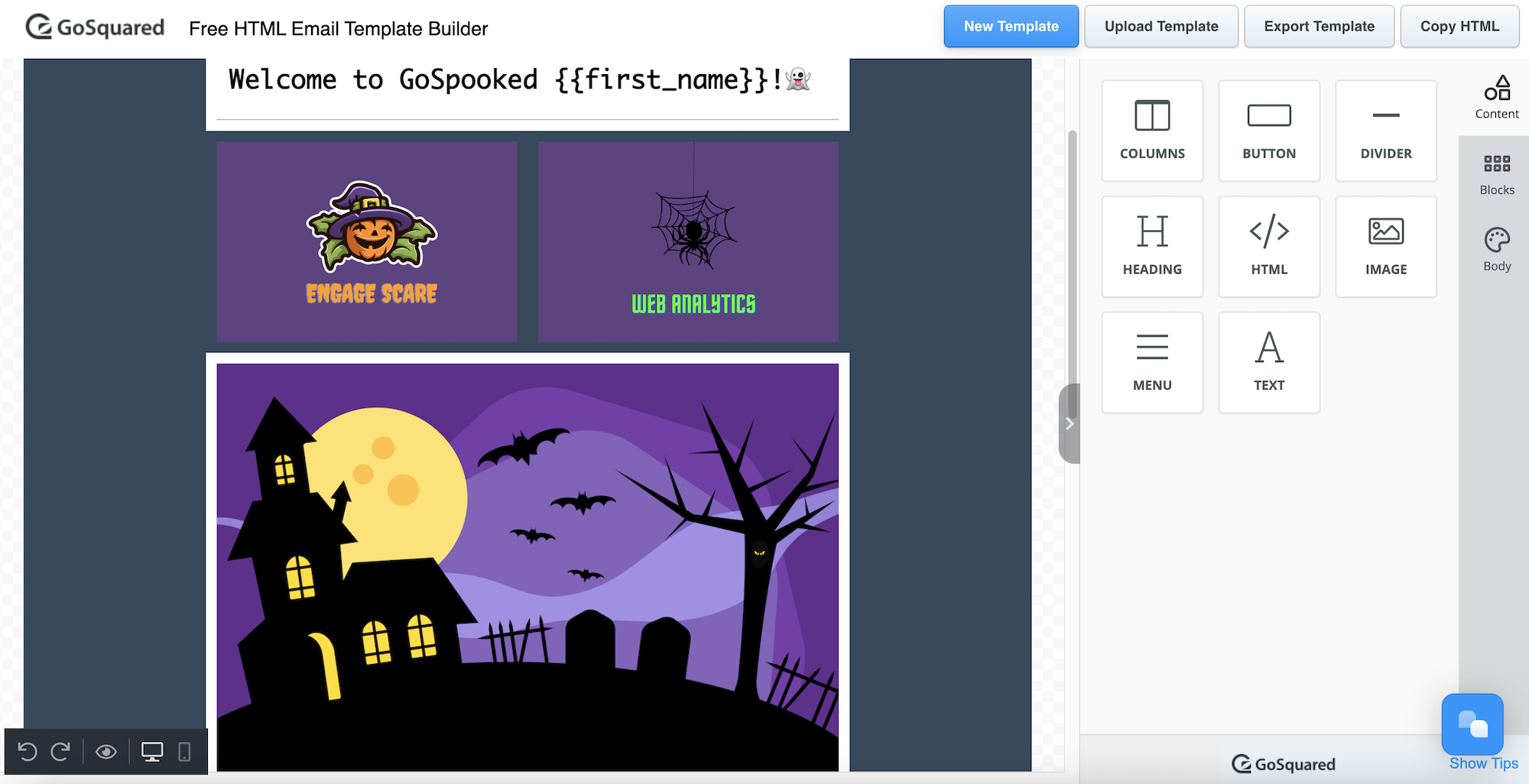 Now is also the perfect opportunity to introduce you to our free HTML email builder.
Have a go at creating your own Halloween themed emails, whether you want to send them to friends or indeed your customers. Everything you need to drag and drop images, text, templates and more is made possible with just a couple of clicks.
At the end, you'll be given a code ready for you to paste in your email marketing provider. Or if you're using a regular email provider such as Gmail or Outlook, we've also made it easy for you to paste the HTML and have the email become fully functional. Read our guide Try Our Free Email Template Builder – Drag & Drop HTML Email Builder to find out how.
If you do happen to use our HTML email builder, we'd love to see your creations. Be sure to tag us over on Twitter and we'll take a look. Whether you're designing Halloween emails, Christmas emails or any other kind of emails… do be sure to show us!
Refine Your SEO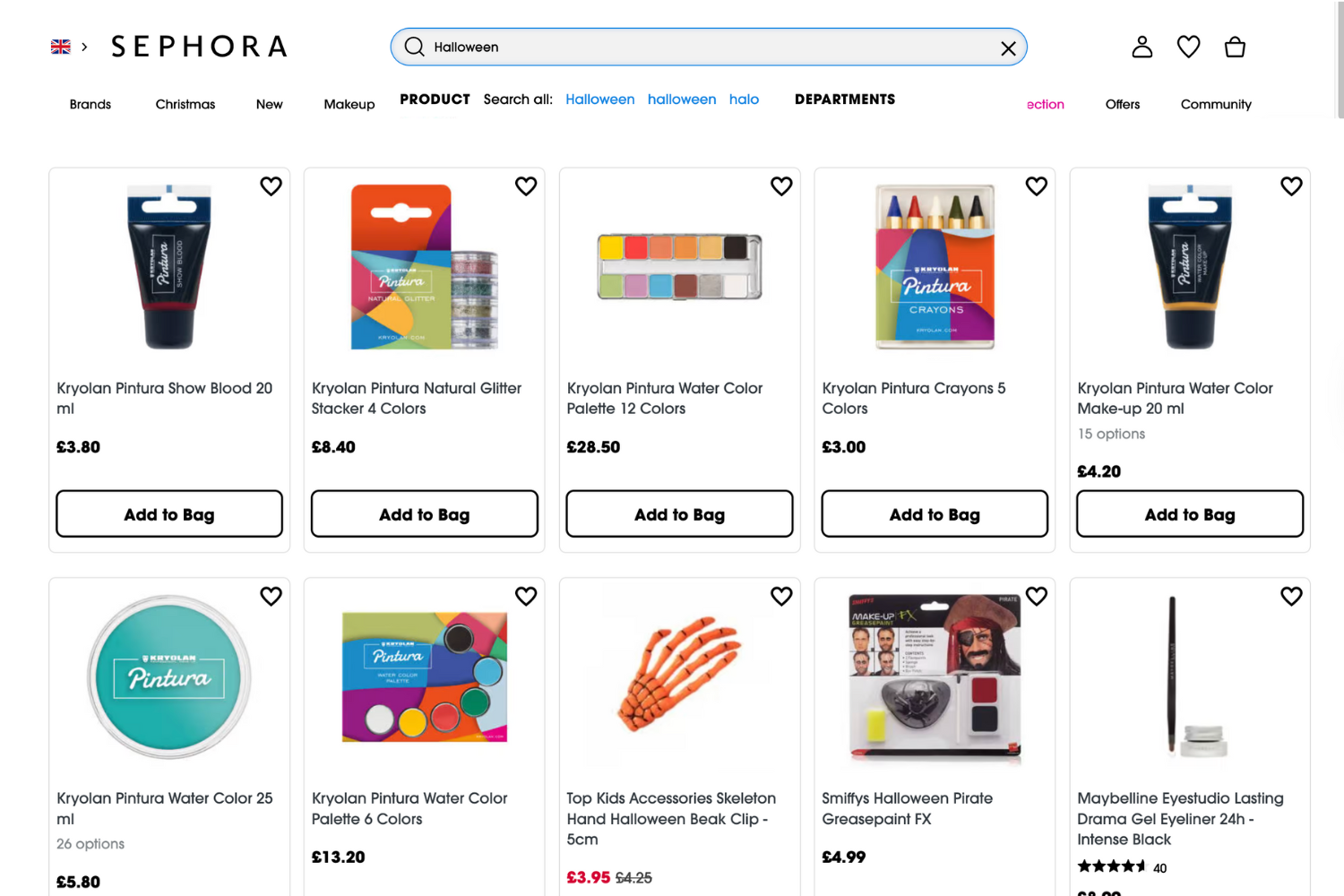 The UK beauty industry is worth £12.14 billion as of 2022. Cosmetics giants Sephora want a slice of the pie, having just opened up here too. They are set to rival the likes of Boots, Superdrug and Space NK with their beauty offerings.
Switching things back to Halloween marketing, and you'll notice the SEO on Sephora's website is already pretty slick despite only just opening up for business. That's because even products which don't strictly have 'Halloween' in the product titles or descriptions have been correctly tagged to align with user searches.
While the products and services your business supplies may not directly fit with the Halloween theme – if there are any opportunities to improve SEO to boost sales then take these opportunities. At the very least have an SEO friendly blog that hits on all your key search terms.
Remember: Good SEO gets people on the page. Great SEO keeps them there.
Enjoying this post so far? Sign up for the free GoSquared newsletter and we'll send you posts just like this to your inbox every week! ✉️🎃
Halloween Themed Web Design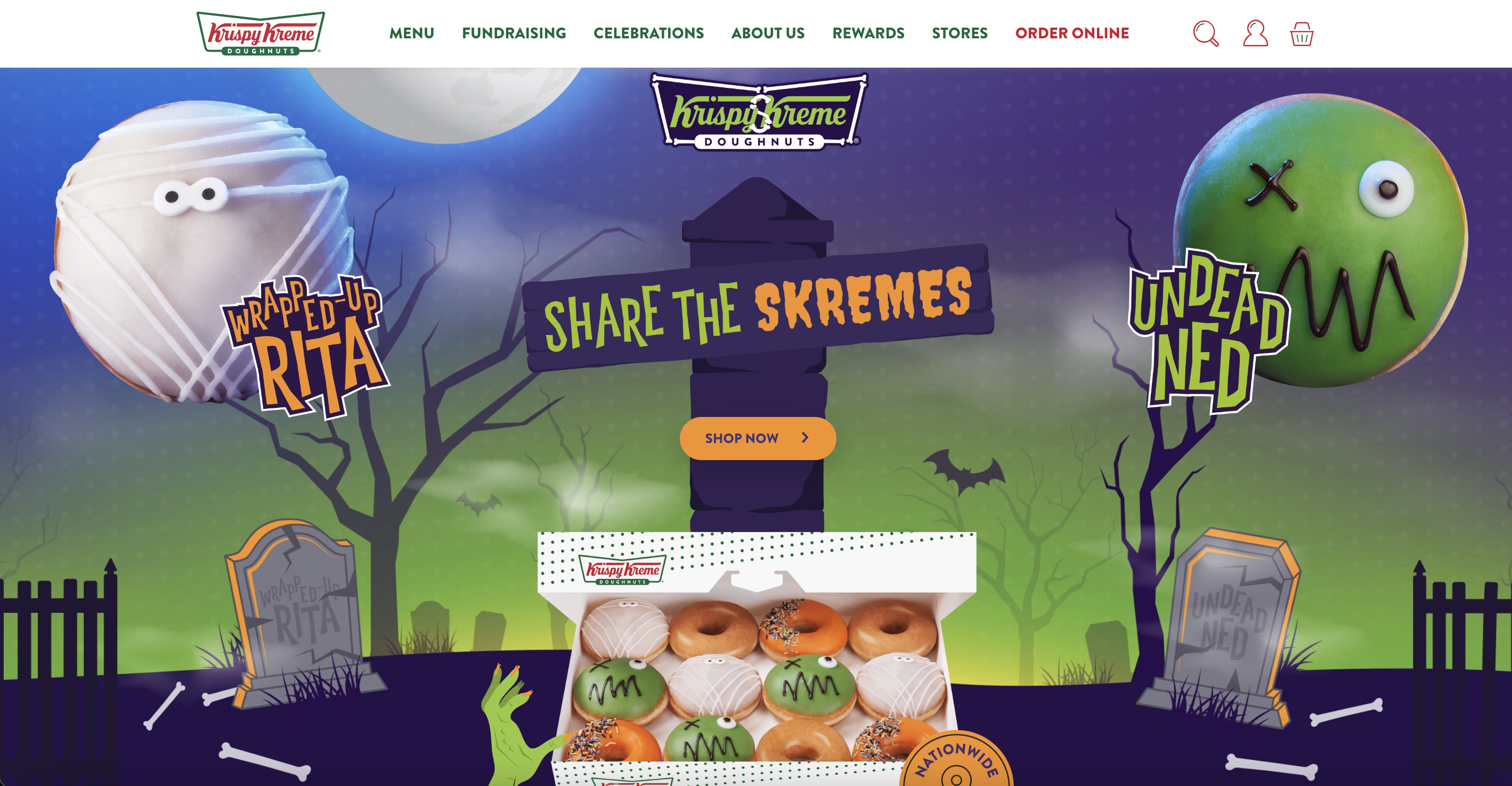 With Halloween marketing for your business it's not always about reinventing the wheel. Or in the case of Krispy Kreme, reinventing the doughnut.
While they have brought out a 'Ghoulish Graveyard Dozen' box for Halloween 2022, essentially their products haven't changed. Instead they've made what they do fit with the theme of Halloween.
So say you have an SaaS product. You aren't necessarily going to be able to spook things up for one day of the year. But what can you do within your marketing to tap into the theme?
Halloween web design ideas to boost conversions include:
Add a spooky logo
Mix up your brand colours
Create catchy CTAs
Add ghoulish exit popups
Gamification incentives
Social Media Marketing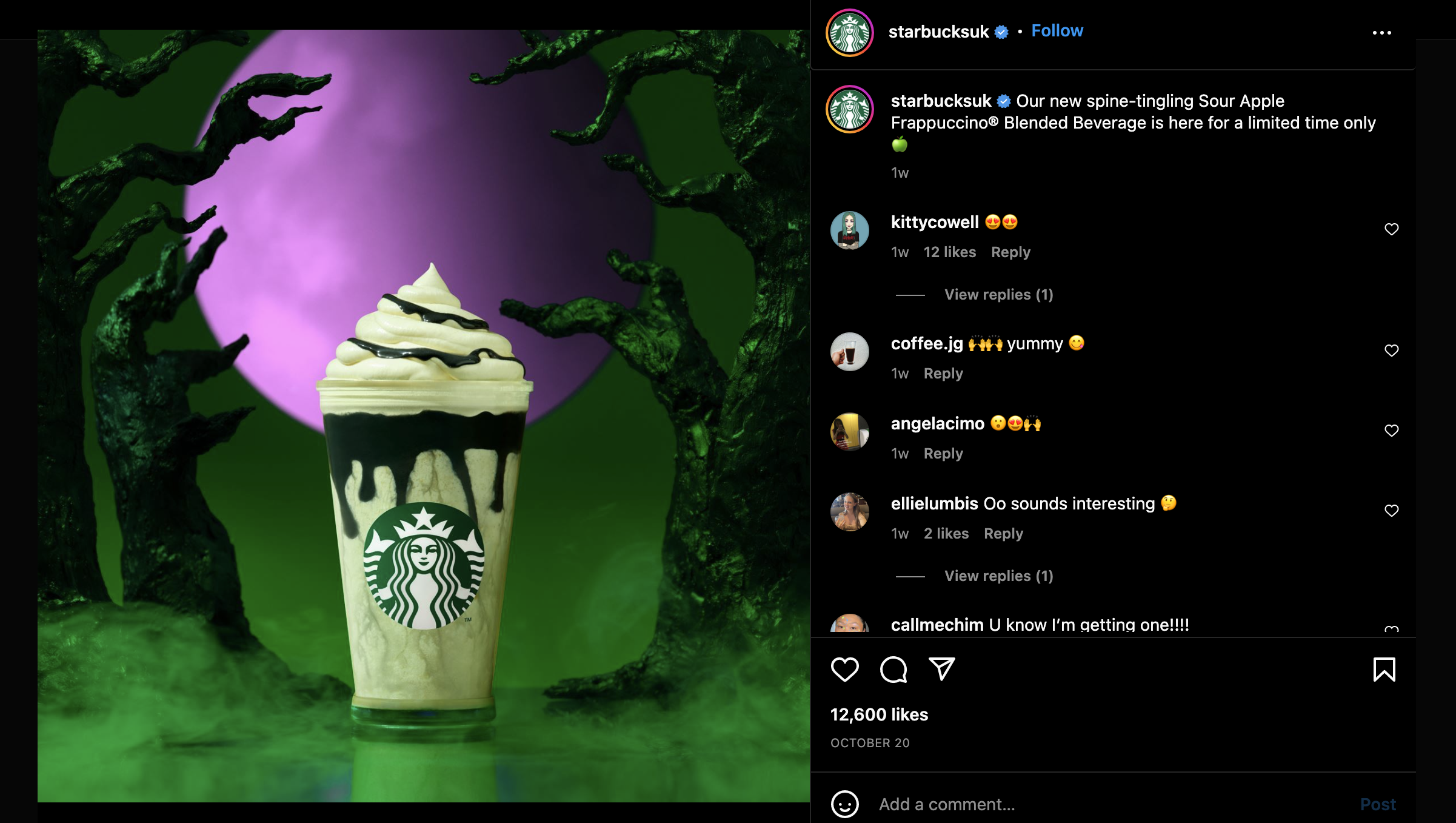 Research by Smart Insights has shown that as of 2022 more than half the world now uses social media. So there goes the myth that social media isn't worth investing in anymore! The same report showed 229 million new social media users joined various platforms in 2022 alone.
So how can you make money for your business during Halloween with social media? Well, it may not come as much of a surprise but the winning formula is always to factor in your target audience and get creative.
It's really easy to grab a stock photo of a pumpkin and type a bit of text of it. But will this really maximise conversions?
Instead, we suggest putting just as much thought into your Halloween social media marketing campaigns as you would for any other holiday. You may even want to take the opportunity to run a contest on your Instagram, Twitter or Facebook accounts, seen as contests are a great way to gain new followers and build engagement.
GoSquared Engage – An Email Marketing Platform For Your Halloween Campaigns And Beyond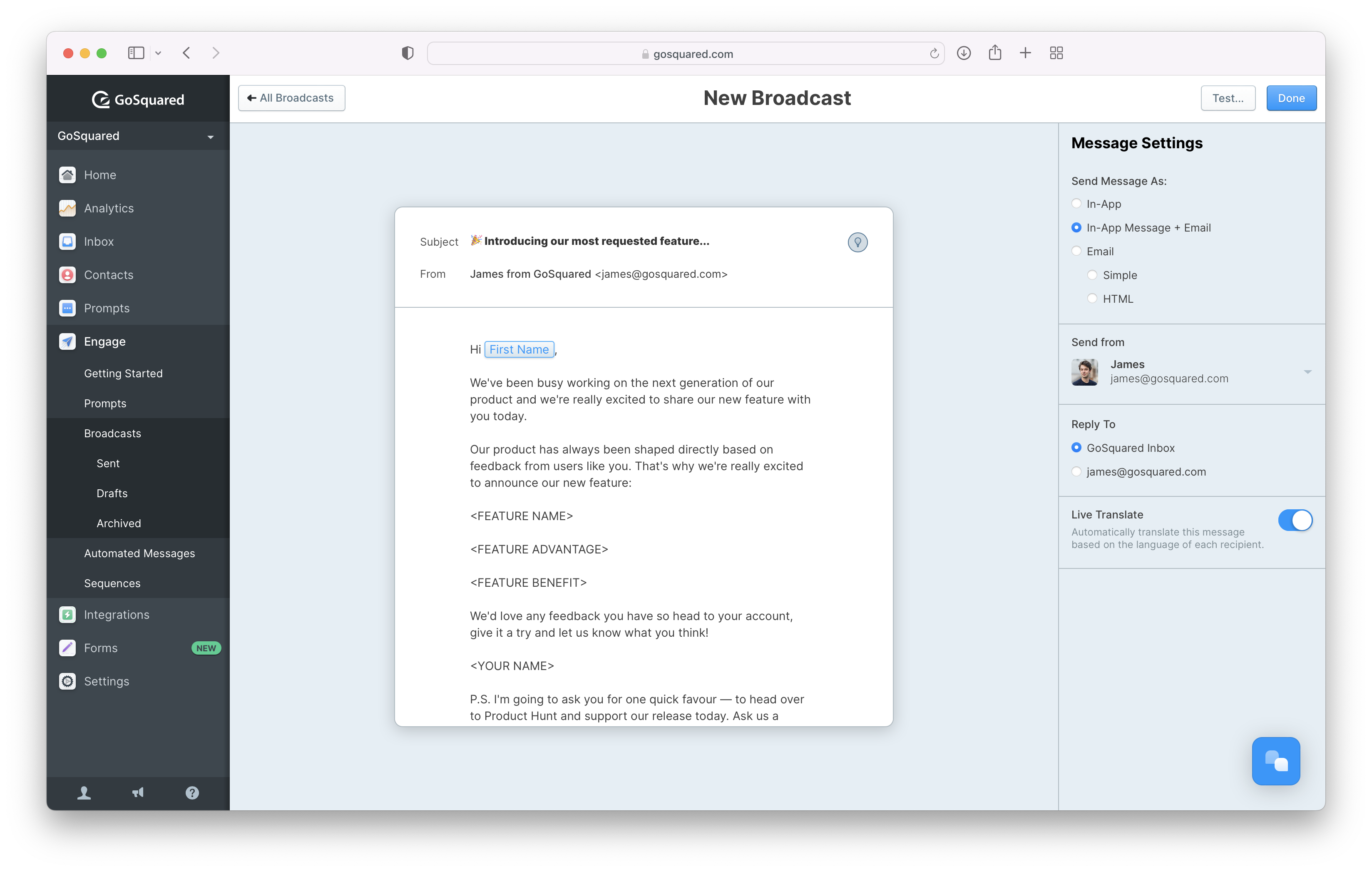 Whether you're deciding which Halloween puns to use in your copy, or if you're reading this post at any other time of the year – make sure you are using a professional email marketing tool to connect with your customers.
Why? Because you'll benefit from tools that allow you to segment your audiences. Plus identify those at risk of churn (the scariest ghoul of them all!). Your emails will always feel on brand, and you'll have everything you need to craft beautiful campaigns and measure the success of these campaigns.
Sign up for your free trial of GoSquared Engage today.
Or have any questions on how our Engage software can help your business to reach its goals? Reach out to us at any time and our team will be in touch.