Setting up GoSquared via Segment has never been easier or more powerful.
You can now set up all of GoSquared Web Analytics – with just a couple of clicks! 
Web Analytics is powerful because it brings all your user-level data into one place and makes it instantly searchable and easy to query. It can take time to integrate Web Analytics deeply, but our updated Segment integration takes all the pain out of the process.
It couldn't be easier to get started with GoSquared. We're really excited about helping Segment customers use GoSquared to best understand their users. So welcome aboard if you're new here!
Why Use GoSquared With Segment?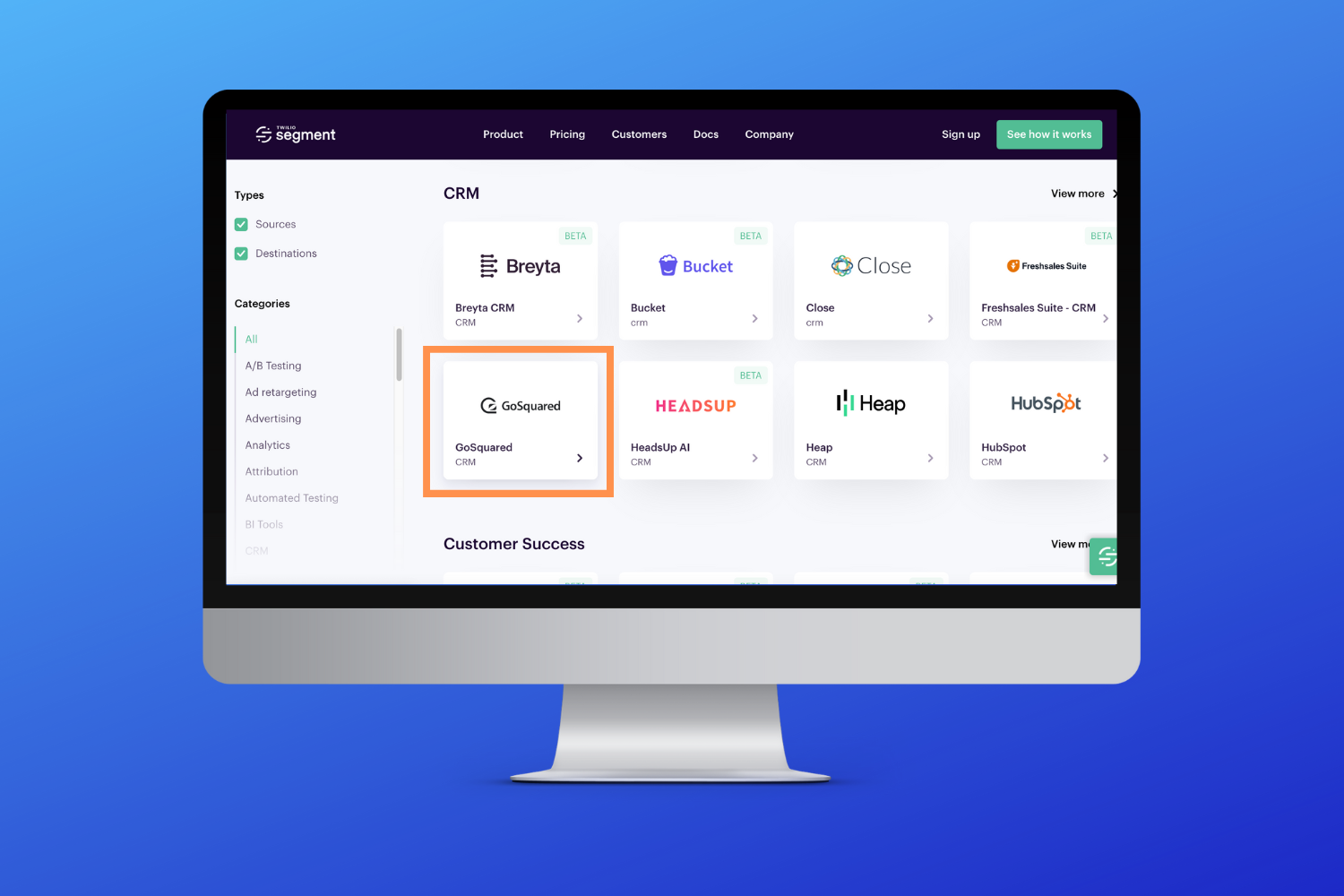 It takes time to integrate any analytics tool. Thankfully, GoSquared is one of the easiest services to set up. However, Web Analytics requires some additional to setup start getting really valuable insights on your users and customers.
Integrating user-level events, properties, and IDs can seem overwhelming at first. If you want to try out Web Analytics, but don't want to spend time getting your dev team involved, Segment is one of the easiest ways to bring in your customer data so you can start seeing the value Web Analytics could bring to your team.
With Segment, you can quickly find the value for your app or site without relying on a developer to manually integrate everything.
As marketers ourselves, we are constantly assessing new tools and searching for insights in our data make our product even better. We use a range of tools and channels to build an effective and balanced customer acquisition strategy.
Segment helps remove a lot of the barriers to experimenting with new tools.
Sending Data To GoSquared With Segment
If you're considering using Web Analytics, you can start playing around with it immediately. Here's how you can use GoSquared with Segment's data schema.
View page views and trends with page
Analyze visitor information with identify
Search user behavior and event data with track
Integrate e-commerce events with Segment's Ecommerce API
Segment is a customer data hub. It lets you collect data from any device or platform to a single hub. From there, Segment translates and forwards your data to analytics apps and services in a language that they understand. At GoSquared, we love Segment because it's an easy way to install your favourite analytics and marketing tools on your website or mobile app. The choice of tools you can try is incredible.
Getting Started
To get started, just head over to the Integration Guide in your GoSquared account and select the Segment integration.
If you're a Segment customer, simply sign in to your Segment account and toggle on the GoSquared integration. Within minutes, you'll be seeing your visitors and users in GoSquared!
You can also explore the documentation for using GoSquared with Segment.
We've supported Segment since the early days (for almost two years!) and we're excited to announce this latest update. 
Additional GoSquared Integration Guides
We have plenty of other GoSquared Integration guides including Blockspring, SendGrid and more over on our integrations page.
Segment Integration: Need More Help?
We hope our Segment integration guide was helpful. Integrating different tools allows you to maximise your experience with GoSquared, or any other products that you happen to use throughout your business. So we think it's fantastic to be exploring integrations in general.
If you need any further assistance that's not covered in the documentation above, feel free to contact our support team directly. Or, if you have any further GoSquared integration requests, be sure to let us know.