Customer engagement vs customer experience. They both sound similar, so they must mean similar things right? Well, not quite.
So you know you want to retain your customers (i.e. reduce churn) and ultimately scale your business. One of the above is going to help you make more meaningful connections with your customers so that you can keep them onside. While the other measures how users view your products and services overall.
Whether you've been in business for five minutes or five years, no company can afford not to invest in both its customer engagement and customer experience strategies.
If you're still in the dark, or simply want to brush up on your skills, here is the lowdown on customer engagement vs customer experience to guide you.
What Is Customer Engagement And Why Is It Important?
Customer engagement can best be described as the art of providing a concierge-like service to your users.
When you email them, the communication feels personal because it's segmented. When they contact you, you know everything about them to be able to provide tailored solutions and responses.
Each interaction you have feels meaningful, rather than a box-ticking exercise. 
New to all things customer engagement? We've got you covered. Read our post on Customer engagement – The ultimate guide, benefits and strategies.
How Does Customer Engagement Work?
The responsibility of customer engagement could fall under a bunch of different teams and roles, and this is why tracking and measuring customer engagement in a way that's easily accessible to your whole team is so important.
Without this collective visibility, you end up with doubled-up campaigns, confused customers, or everyone thinking the work is someone else's responsibility.
There are tools out there that can help you do this; here are a couple of other things we recommend to manage your customer engagement strategy:
Organise a weekly or fortnightly meeting to keep everyone on the same page.
Run an audit of all your current messages, campaigns, sequences, and flows that go out to your customers.
Map your customer journey (or multiple variants of it!). This will help you spot any gaps.
Know what metrics you want to measure and how you define a highly engaged customer. The fewer, the better.
Engagement Works Both Ways
Engagement needs proactivity from the customers. This doesn't mean you can't lead or prompt, but it does need active participation from them.
Sending out messages and getting little to no open rates, responses, or actions isn't engaging your customers. It's annoying them.
Aim to have a point of interaction in every single engagement with your customers. Of course, not every customer will engage with every single message, but you should be able to see where your stronger and weaker moments of engagement are. If you're getting nothing back, change up your copy as soon as possible. The last thing you want to do is bombard your customers with so many emails that you become irrelevant.
Remember, you don't always need to speak first or use email, for that matter! Let your customers to reach out to you. A couple of ideas:
Make it known that your customer support team are there for much more than solving issues. If you're known for providing advice, training, and feedback on the problems your customers are trying to solve, you'll get a much wider range of questions coming into your Live Chat.
Place Prompts in areas you know customers experience friction – instead of getting frustrated and giving up, this gives them the chance to get in touch and let you help them figure it out.
Make your team contactable! No more noreply@ email addresses. Do an audit of all the ways your customers could get in touch with you and make the copy more welcoming!
Remember that engagement isn't always about having a conversation. Customers can, and sometimes would prefer to, engage with your product in a self-service kind of way. Make this an easy choice for them by using guides, and prompts and providing high-quality support videos and async training.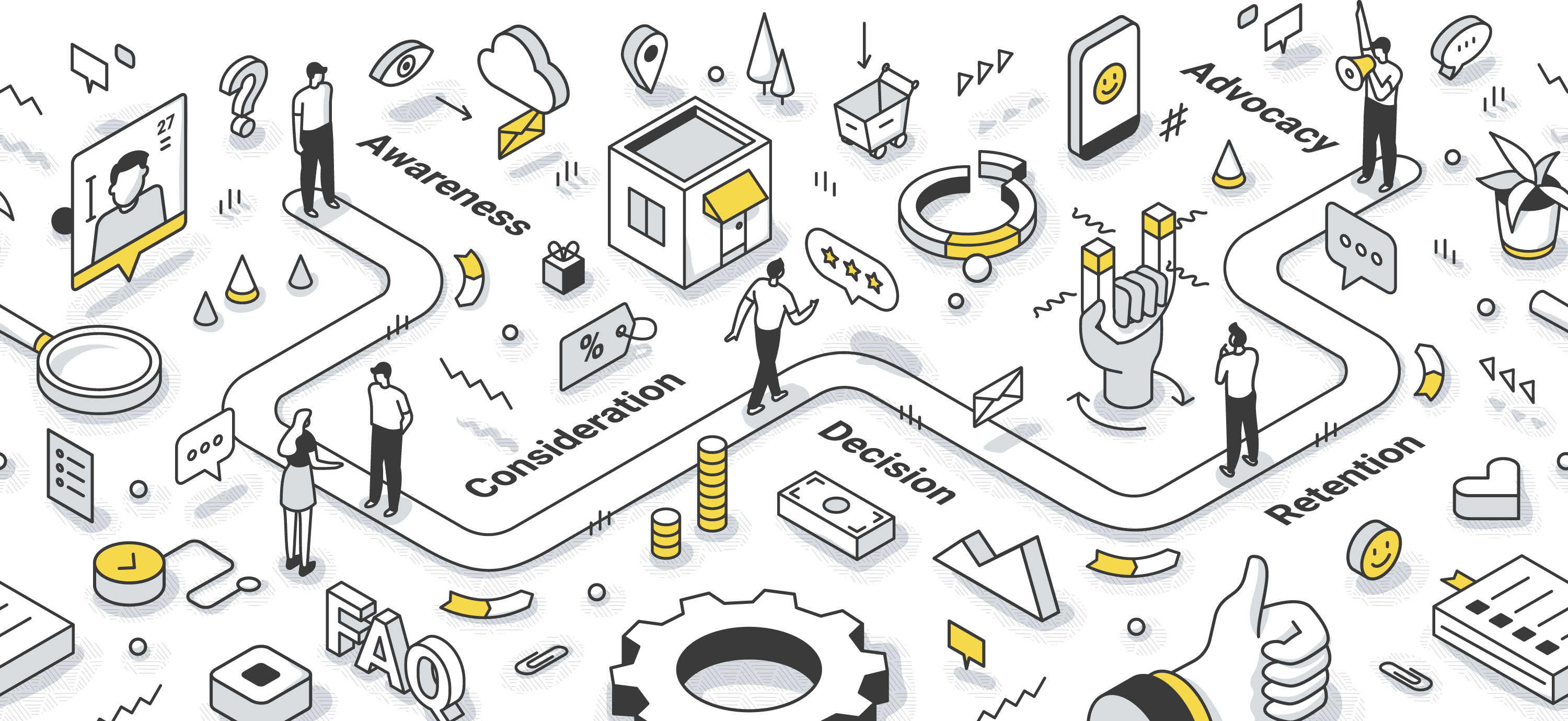 Want more content like this sent straight to your inbox? Sign up for the FREE GoSquared newsletter. ✉️🔥
What Is Customer Experience And Why Is It Important?
Customer experience is make or break for any company. It reflects how well users are able to navigate your products and services, and whether or not they see the value in them. Customer experience is there for the good times and the bad and requires careful handling to strike just the right balance. 
Aside from when customers reach out to you with a problem, customer experience relates to the general user experience. Your customers expect their needs will be met, and that your team is constantly troubleshooting any aspect which could lessen the experience, making customer experience multi-faceted. 
To get customer experience right, you have to be able to view things from the customer's point of view.
How Does Customer Experience Work?
Your customers are already having an experience with your product.
Whether you do absolutely nothing or hand-hold them through every step of the process, they are experiencing it. You can't control their experience. But you can provide the right environment for a great experience to flourish.
The more you know about your customers and how they experience your product, the better you can curate a great experience. This learning starts before they even sign up. You can tailor your sign-up forms to collect information like which pages they visited and where the customer came from, without asking the question.
By collecting this experiential data that your customers leave traces of as they move about your website, you can start to segment your customers into groups based on needs and experience. This segmenting and targeting method is far more powerful than demographics as it's based on real-life interactions and experience.
Here are a few ways to gather this research; remember customer research is an ongoing project, not a one-off task:
Use a tool like GoSquared to gather experiential information about what your customers are doing, viewing and acting on across your site and within your product.
Use a heat mapping tool like HotJar to see how visitors move about your website.
Interview your customers! Get on a call with them and ask them about their experience with your product, the problems they are trying to solve, and how they found you.
Customer Experience Vs Customer Engagement – In Summary
Customer Experience: The actual experience that your customer has with your product and your company as a whole.
Customer Engagement: The tools, strategies, and actions that you put in place to communicate with your customers and help them get the most out of your product.
Master Your Customer Engagement And Customer Experience With GoSquared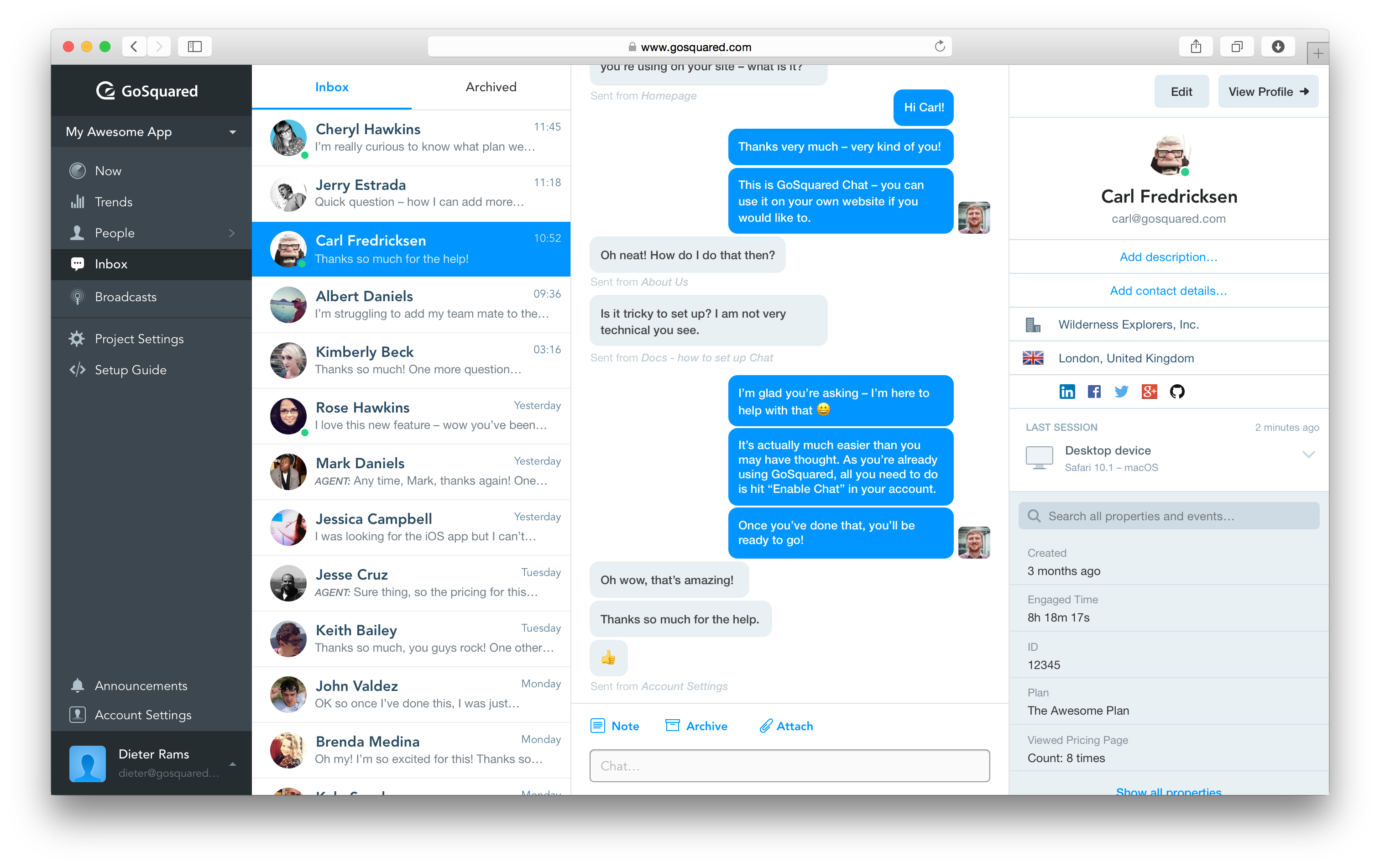 Now we've settled the age-old debate of customer engagement vs customer experience, it's time to put your skills into practice.
GoSquared Engage is an email and messaging marketing platform for businesses. Since 2006 we've helped businesses excel in their customer engagement and customer experience, through tailored messaging campaigns.
Start your free trial of GoSquared Engage today and learn how to best understand your audience, segment your users, build personalised sequences and much more.
Have any questions about our product, or want us to match the right solution with your needs? Schedule a demo with us to have a chat with our team.