All businesses need a way of communicating with customers in a way that will boost customer engagement with their products and services, not to mention drive conversions. It's been the case for many years now that intuitive software such as Intercom has been used for this very purpose.
While Intercom remains incredibly popular, many users are in search of Intercom alternatives.
There are many reasons why Intercom may not be a complete fit for your needs as a business, due to its complexity or even pricing. Yet, the need for management of your customer enquiries, and even the creation of targeted marketing campaigns that will truly hit your core audience remains the same.
The good news is that there are plenty of Intercom alternatives out there, including those which are far more affordable for your business.
Here is an explanation of what Intercom is, along with our top 12 Intercom free or cheap alternatives for your consideration.
P.S: Want help with boosting engagement for your business, live chat for sales, real-time analytics, customer messaging, or how to convert your users? You can contact us at any time to set up a free demo and receive tailored advice from our experts!
What is Intercom?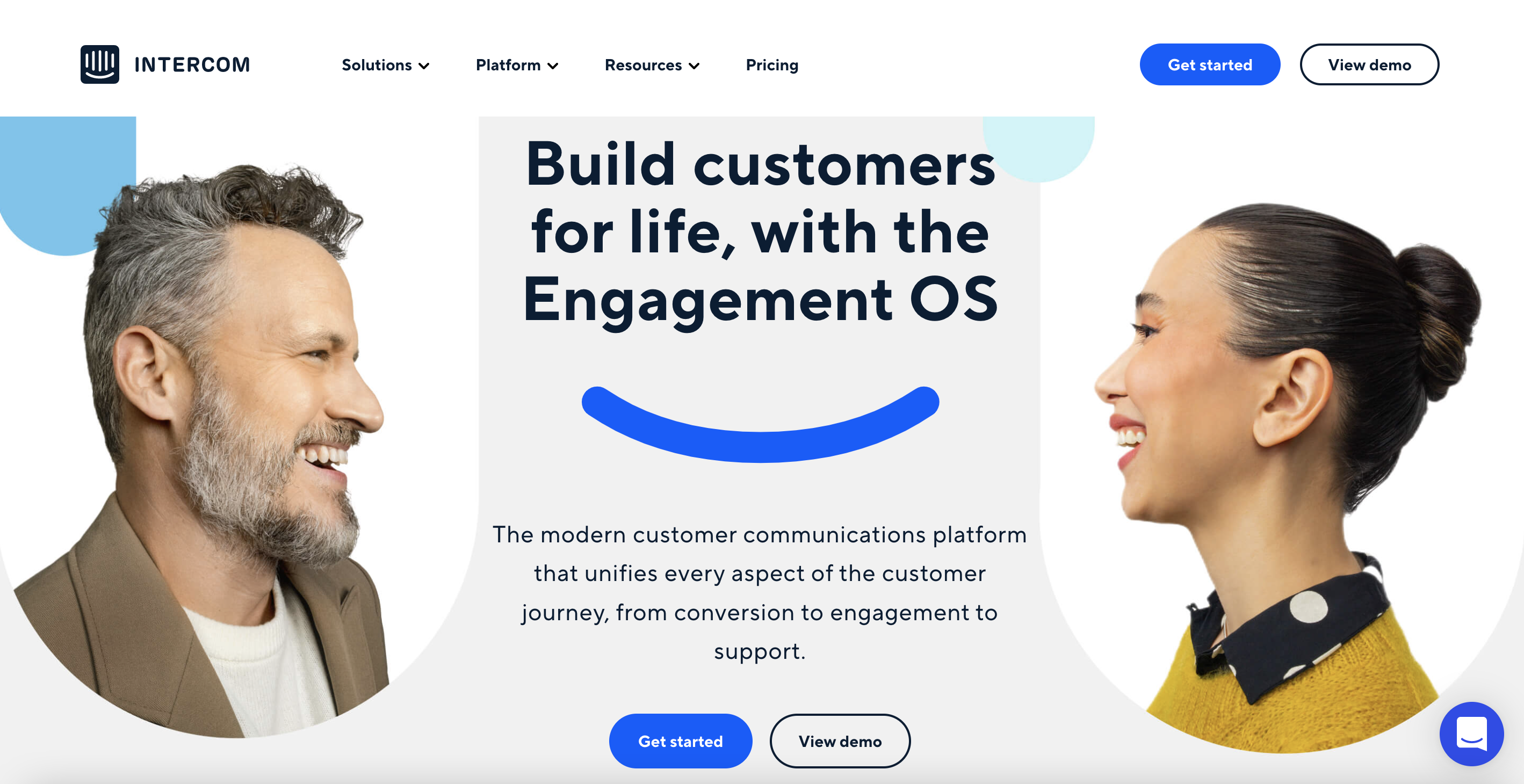 Intercom is a customer support software system designed to help businesses throughout every part of the customer journey, from engagement to support.
Many consider Intercom as the pioneers of the live chat widget, consisting of the familiar popup that greets visitors on your website, allowing them to find the right support they need, or to be connected to a live agent. They've also brought many other fantastic solutions to the table over the years, helping businesses to scale their operations and best understand their customers.
In 2022, the solutions Intercom provides are based on three key areas: Support, Engage and Convert. These solutions can then be tailored to a variety of industries including ecommerce, financial services, education and healthcare, with a third option of business size to consider when it comes to choosing the right solution and pricing model.
Intercom pricing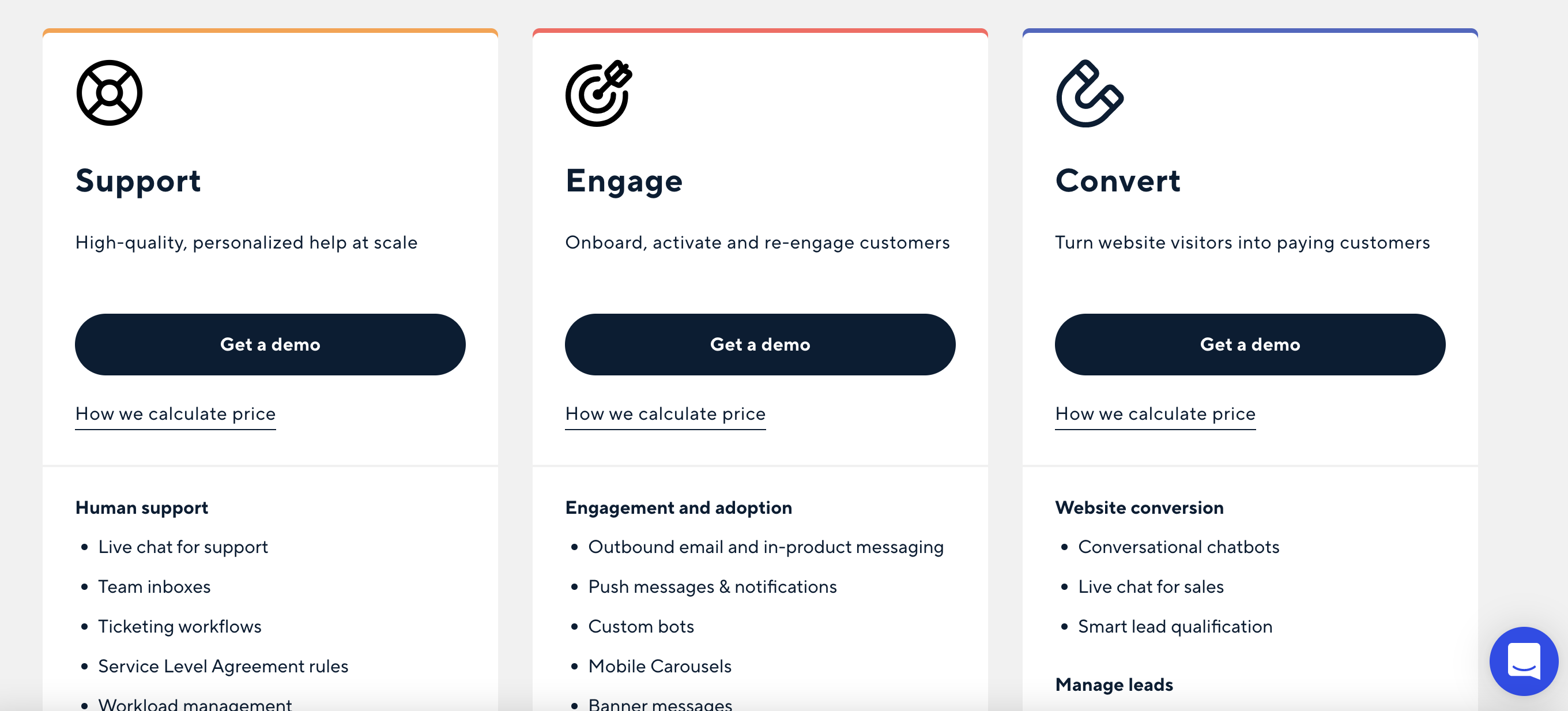 Intercom pricing is where things get a little tricky, as there is no straight answer to be found on their website on how much Intercom packages cost, other than a $74 per month starter package for small businesses. This is based on annual billing, meaning Intercom will cost $888 per year on this starter package.
For Intercom's main packages consisting of Support, Engage or Convert, users must first schedule a demo where the Intercom team will then calculate the price of the package.
Prices of each package are based on how many seats are required (a seat refers to each team member), along with the number of people the business has reached in the past month using outbound messaging. So, it can make it extremely challenging to weigh up the costs of using Intercom before jumping into a subscription.
That said, users on TrustRadius had the following to say in relation to Intercom pricing:
"The pricing is really convoluted and difficult to predict. The reports are not very useful."
"Options are available through a Pro subscription. They charge per head, but should give better pricing based on range."
"Their pricing is super steep and can get expensive for early stage companies."
"35000 users and 1M+ leads Too expensive for a marketing, sales and support automation tool. We are not able to justify the price paid after reaching this volume."
So, it's safe to assume that while many praise the features of Intercom, using it while scaling your business can become a costly affair.
Intercom pricing add on costs
Product tours – $199 per month
WhatsApp – $9 per seat (team member)
Surveys – $49 per month
If you require any of the above custom features, Intercom pricing may not work for those startups on tight budgets.
Furthermore, many users search for 'Intercom free plan', along with 'Is Intercom free?' – while you can arrange a free Intercom demo, there is no mention of being able to try out the service for free, either as a trial or as a free plan. Therefore, you will have to commit to one of the price packages if you want to use Intercom.
Why look for an alternative to Intercom?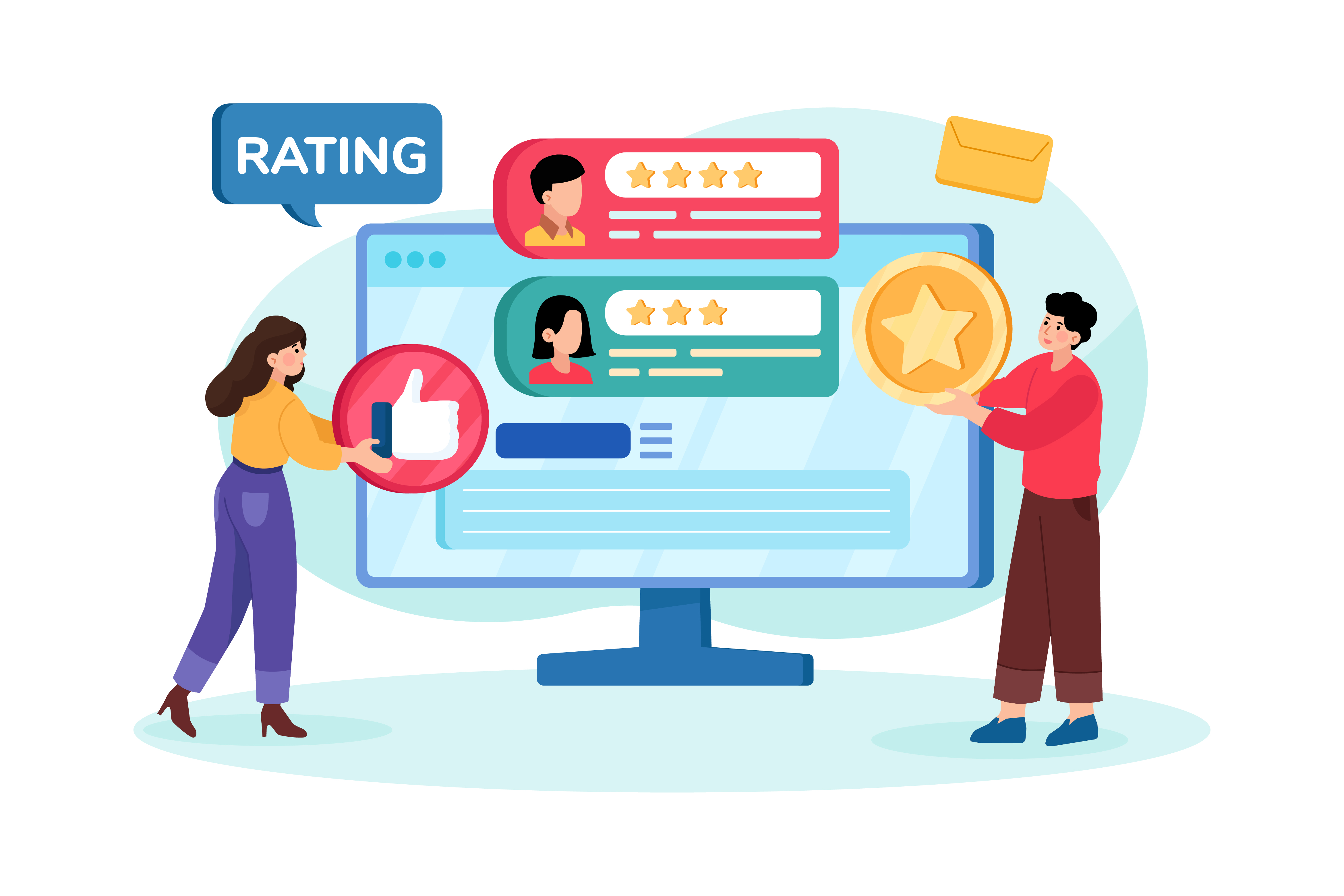 First of all Intercom, we salute you! We have huge respect for anyone who's built a successful software company – and we've watched in admiration as Intercom has grown to where they are today.
But for many SaaS businesses, Intercom is one of their most significant expenses, as demonstrated in the feedback we've found above when we researched Intercom pricing.
When we speak to other founders, we often hear their frustration at spending so much on one tool. When companies are spending thousands a month on a solution, it's usually worth questioning whether there are worthy alternatives out there.
Similarly, we found users also reported a similar train of thought with HubSpot, hence our post '12 affordable HubSpot alternatives you need to know'.
Intercom helps you achieve a lot of different things, but it's not the only way to engage with your user base.
There's a world of options out there if you dare to release yourself from the grip of Intercom – for example:
You may be able to save half the money you spend on Intercom by switching to an alternative setup.
There are many options which offer far better customer service than you'll receive with Intercom.
Some tools are exceedingly powerful when compared to Intercom's core feature set.
How to compare Intercom alternatives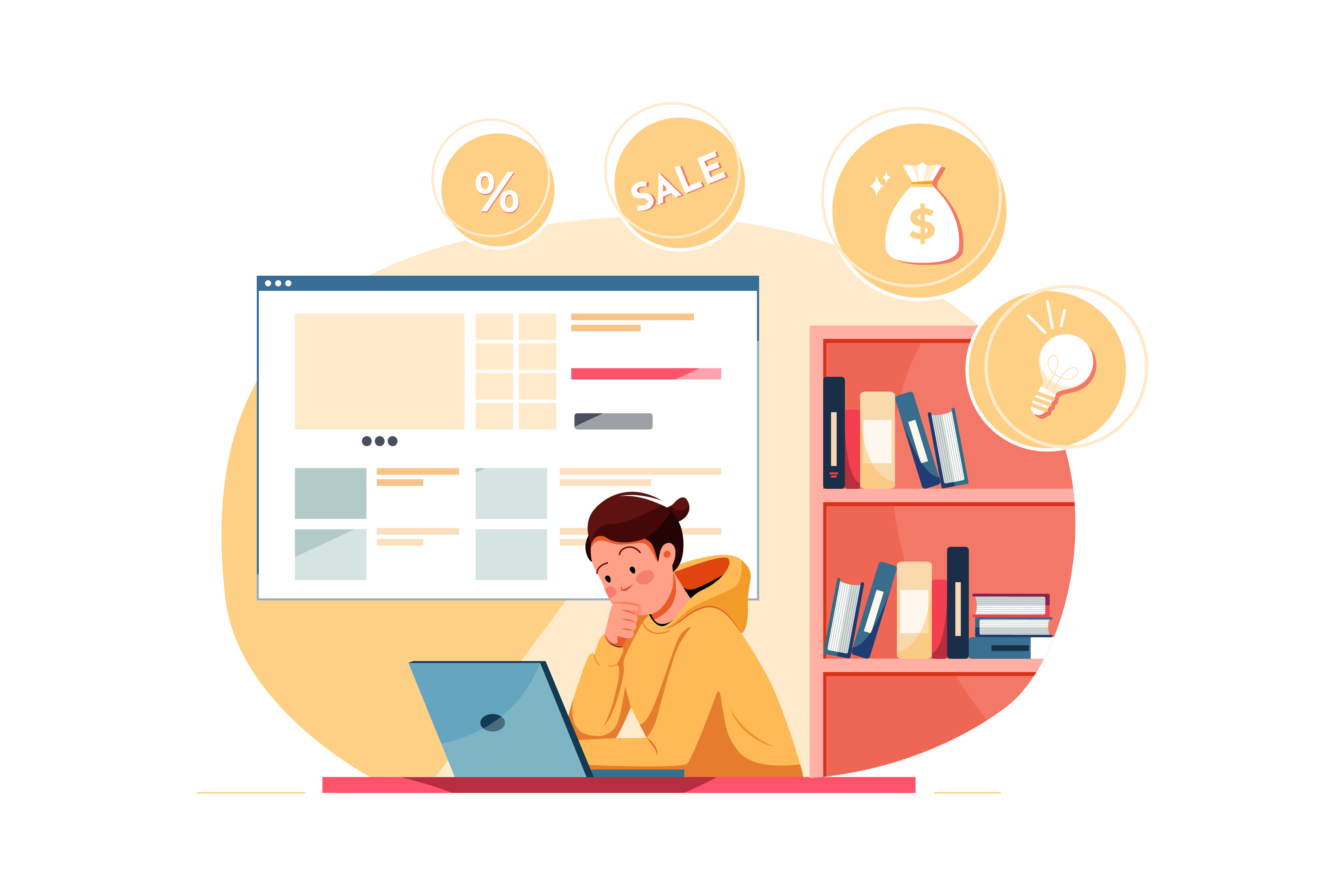 Intercom has a lot of different features and use cases. It can be used by customer support reps, sales reps, and product teams.
What do you need an Intercom alternative to do? That depends on your business.
If you don't have a sales team, you might not be concerned with chatbots that will qualify and capture leads for you while you're away. Meanwhile, if you aren't a software business, you might not be so worried about getting robust documentation features alongside help desk support. You might just need live chat.
An intercom alternative likely needs to help you manage:
Lead follow up
Onboarding
Customer support
An Intercom alternative will hopefully include some of the following:
On-site visitor messages, or Chat Prompts
Live chat
Help desk features
Email automation
Intercom can get expensive – we all know that.
While some businesses may be able to pay a premium to have so many features in one place, other companies are desperately trying to find a free Intercom alternative or ways to reduce their dependence on such an expensive singular vendor.
The 12 best Intercom alternatives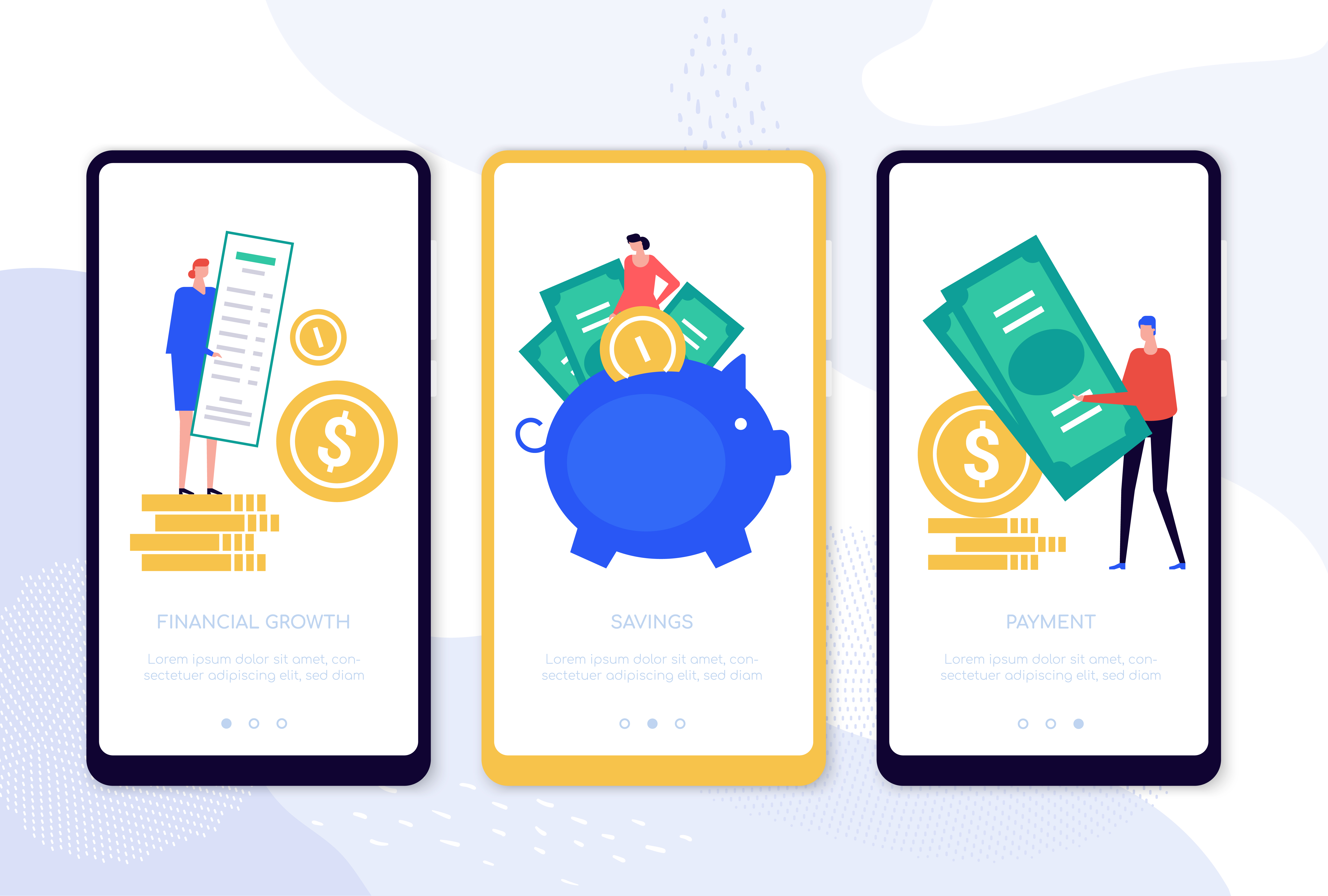 🏆 #1 Intercom alternative – GoSquared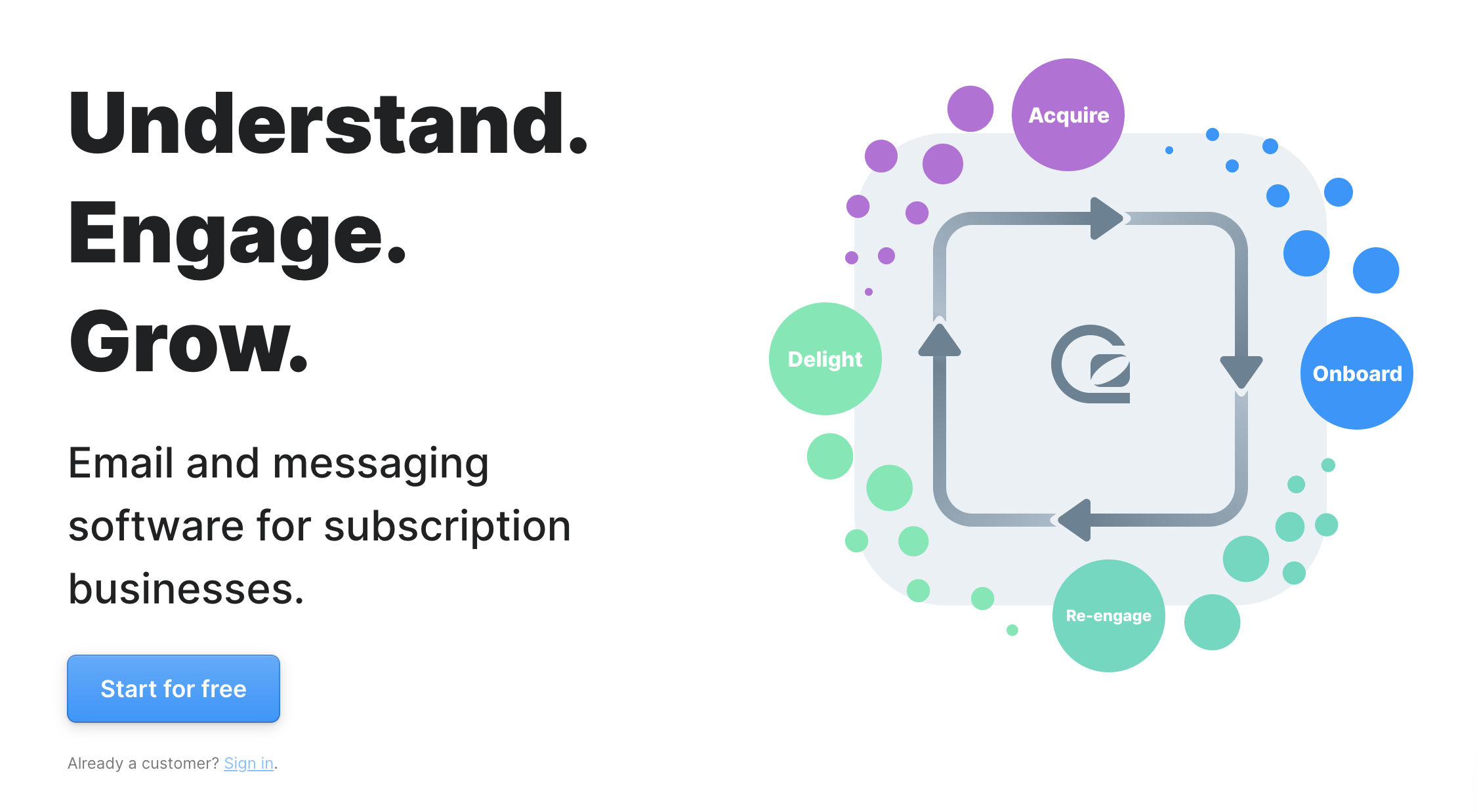 Your go-to for: beautifully simple marketing automation, live chat, and team inbox.
We wouldn't be telling you about GoSquared in this post unless we genuinely believed it could be valuable to you as a potential Intercom alternative.
GoSquared has a wide array of functionality that Intercom doesn't have – including powerful behavioural data to enable you to automate hyper targeted lead capture, onboarding, and churn prevention campaigns.
Watch the demo:
For example, you can use website visitor behaviour (and in-app product usage) to trigger personalised automated messages and emails to visitors, leads, users, and customers.
In addition to marketing automation, GoSquared includes simple live chat and team inbox software that can be used for both customer support and sales.
Pricing info
If you're a startup or early stage business, you can start using the full GoSquared platform including marketing automation features for just $49 per month.

View Early Stage plan or learn more about GoSquared Engage
#2 Intercom alternative – Tawk.to
Your go-to for: free live chat
If you want free live chat that will remain free regardless of how many agents you need to add to your account, then you should consider Tawk.to. Keep in mind that you'll need to use some of the other tools on our free and paid list to handle everything that Intercom does.
Pricing info
Tawk.to's live chat is free forever. If you want to use their live chat agents (which isn't required), then you'll pay $1 per hour.
#3 Intercom alternative – Freshchat
Your go-to for: free live chat with segmentation and prioritization
Freshchat is a robust chat software offered by Freshworks, which also provides sales, marketing, and help desk software. Freshchat includes features that marketing, sales, and customer support teams need like response prioritization and conversation categories.
Pricing info
Freshchat is free for up to 10 team members, but for bigger teams or better features (like triggered messages), you'll need to upgrade.
#4 Intercom alternative – Zoho Desk
Your go-to for: free help desk software
Zoho Desk is a great add-on if you're piecing different free Intercom alternatives together. With Zoho Desk, you can handle email ticketing, help center creation, and private knowledge base creation.
Pricing info
On their free plan, you get help centre and private knowledge base features on top of email responses and email ticketing, if you have three agents or fewer.
#5 Intercom alternative – Mailjet
Your go-to for: free email automation and transactional email
With Mailjet's transactional email and transaction SMS features alongside their Zapier integration, you can use this tool to do just about anything.
If you're ready for a free Intercom alternative, you can combine this tool with one of the chat tools and a help desk software.
Pricing info
Mailjet is free at up to 6,000 emails per month, however, your emails will have the Mailerjet logo if you keep to the free plan. If you're early stage and bootstrapping, you may not care too much.
#6 Intercom alternative – SendinBlue
Your go-to for: free email automation with a built-in CRM
Want to check out another alternative for email sending? SendinBlue includes email marketing, SMS marketing, chat, and CRM, making it a great fit for many small businesses. SaaS companies win when they integrate SendinBlue with product analytics via Zapier.
Pricing info
SendinBlue is free for up to 300 emails per day, with an unlimited number of contacts. You'll need to upgrade to remove their branding from your emails, however.
#7 Intercom alternative – LiveAgent
Your go-to for: All-in-one help desk, live chat, and call centre
Do you include phone support with your SaaS product? Then it might help you to use a help desk software that includes not only live chat but also call center management. You'll need to use a tool with marketing automation (like GoSquared) in conjunction, but it will still be more affordable than Intercom.
Pricing info
For one agent, LiveAgent starts at just $15 per month.
#8 Intercom alternative – HelpCrunch
Your go-to for: Email marketing automation and customer support communication
HelpCrunch includes a lot of Intercom-esque features to help you ditch that pricey tool. There's chat automation, email automation, live chat, and help desk software.
However, there's no web or product analytics, so you'll need to get those elsewhere (which can make automation setup more confusing to accomplish).
Pricing info
The pricing starts at $15 per month per team member. To remove HelpCrunch branding and utilize unlimited chat prompt automation, you'll need to upgrade to $25 per month per team member.
#9 Intercom alternative – UseResponse
Your go-to for: customer support software
UseResponse comes loaded with feedback software, help desk software, knowledge base software, and live chat. If you're looking to replace Intercom on the product side, but don't need to replace the sales and marketing use cases, then this could be a great fit for you.
However, it won't be able to help you convert more leads into customers.
Pricing info
For all of UseResponse's functionality, you'll pay $69 per month. However, if you only need the help desk and chat features, then you'll pay $49 per month.
#10 Intercom alternative – ZenDesk Chat
Your go-to for: Multichannel customer chat
Zendesk Chat helps you provide support via websites, mobile apps, and messaging services. You can also incorporate the chat experience into the self-service support center, so that customers will only contact you if they don't get their question answered elsewhere.
Pricing info
Zendesk Chat costs $14 per agent per month, but to incorporate operating hours and setup unlimited triggers, most businesses will get better value from the $29 per agent per month plan.
#11 Intercom alternative – Olark
Your go-to for: Simple chat and chat automation
If you just want to replace the chat and chat automation components of Intercom (meaning that you plan to handle the email automation and help desk features elsewhere), then Olark could be a great fit for you. It includes robust chat tools like file attachments and team and conversation management.
Pricing info
For $15 per agent per month, you get access to all of the core features.
#12 Intercom alternative – Deskero
Your go-to for: Multichannel help desk software
With Deskero, you integrate all your different sources of customer support tickets: chat, email, and even social media into one place. The platform includes features to help you save time on customer support like one-click replies, templates, workflows, categories, and filters.
Pricing info
When you pay annually, Deskero starts at $9 per agent per month.
In search of the best Intercom alternative? Get marketing automation, customer engagement and email messaging tools at your fingertips with GoSquared – Start your free trial today!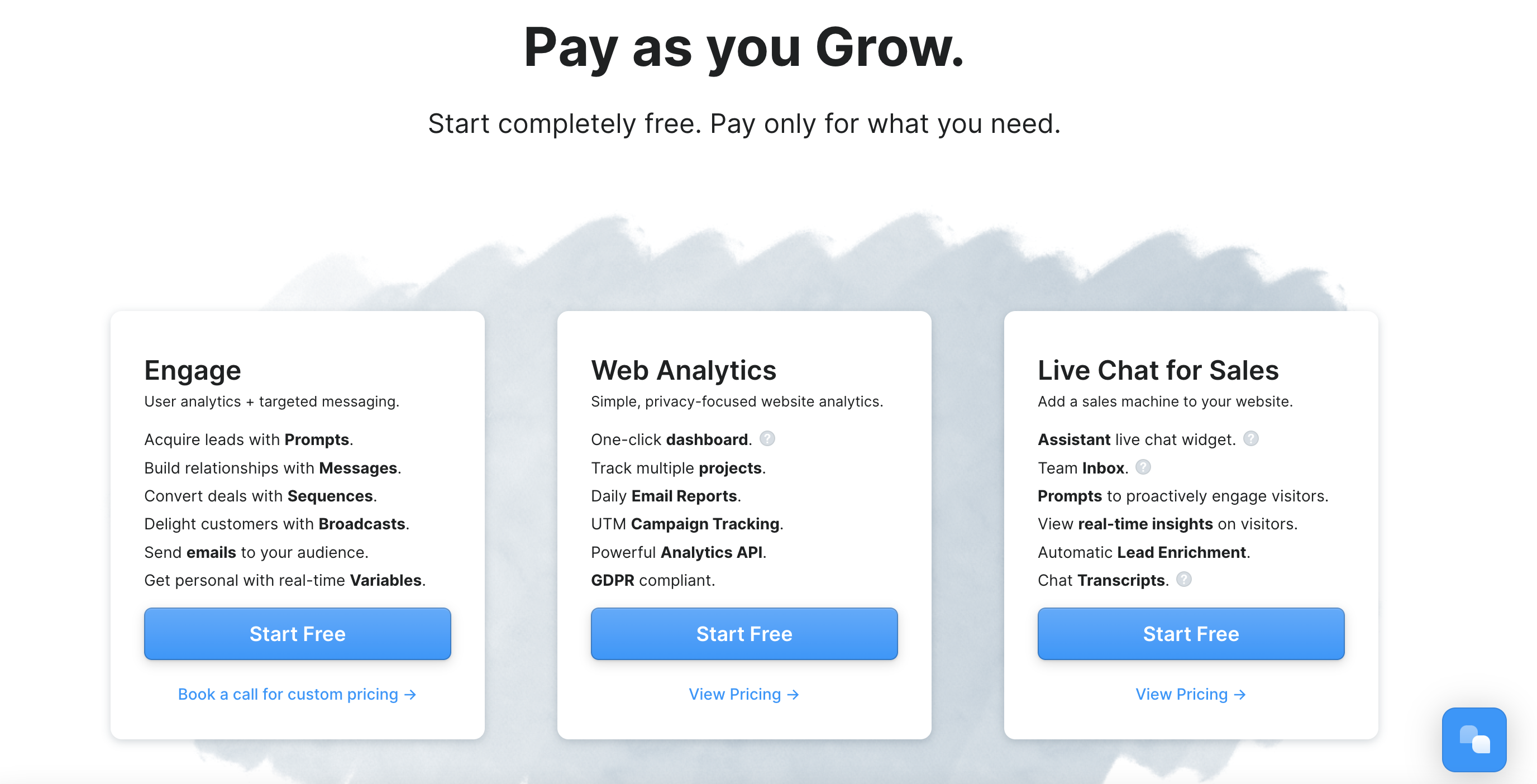 GoSquared is built on a background in advanced real-time analytics, so that every time you engage with your users and customers, you can be sure it's based on real user behaviour.
Why not convert more leads, onboard new customers better, reduce churn, and do it all for a fraction of the price?
Start your free trial today of your preferred plan of Engage, Web Analytics or Live Chat for Sales, and see where GoSquared can take your business!