Do you feel constantly exhausted? You could be experiencing burnout.
Lifting that laptop lid shouldn't feel as if you're going into battle. Yet, armed with nothing but coffee to defeat a never-ending to-do list, sometimes getting everything done can seem impossible.
Bombarded with notifications and feeling as if there is never enough time in the day is a growing problem in the digital age. Ironically, while technology is designed to improve our lives, the constant need to be switched on and alert can have the opposite effect. In severe cases, this can lead to burnout.
Preventing burnout requires a multi-faceted approach to health and lifestyle. That said, how you work can also look to reduce strain on yourself as well as your wider team. Automation tools including marketing automation software offers one such solution.
Marketing automation software enables founders to work smarter instead of harder. All without compromising on results.
Here is how having the right automation tools by your side including marketing automation software can reduce burnout for you and your team.
Burnout: An Overview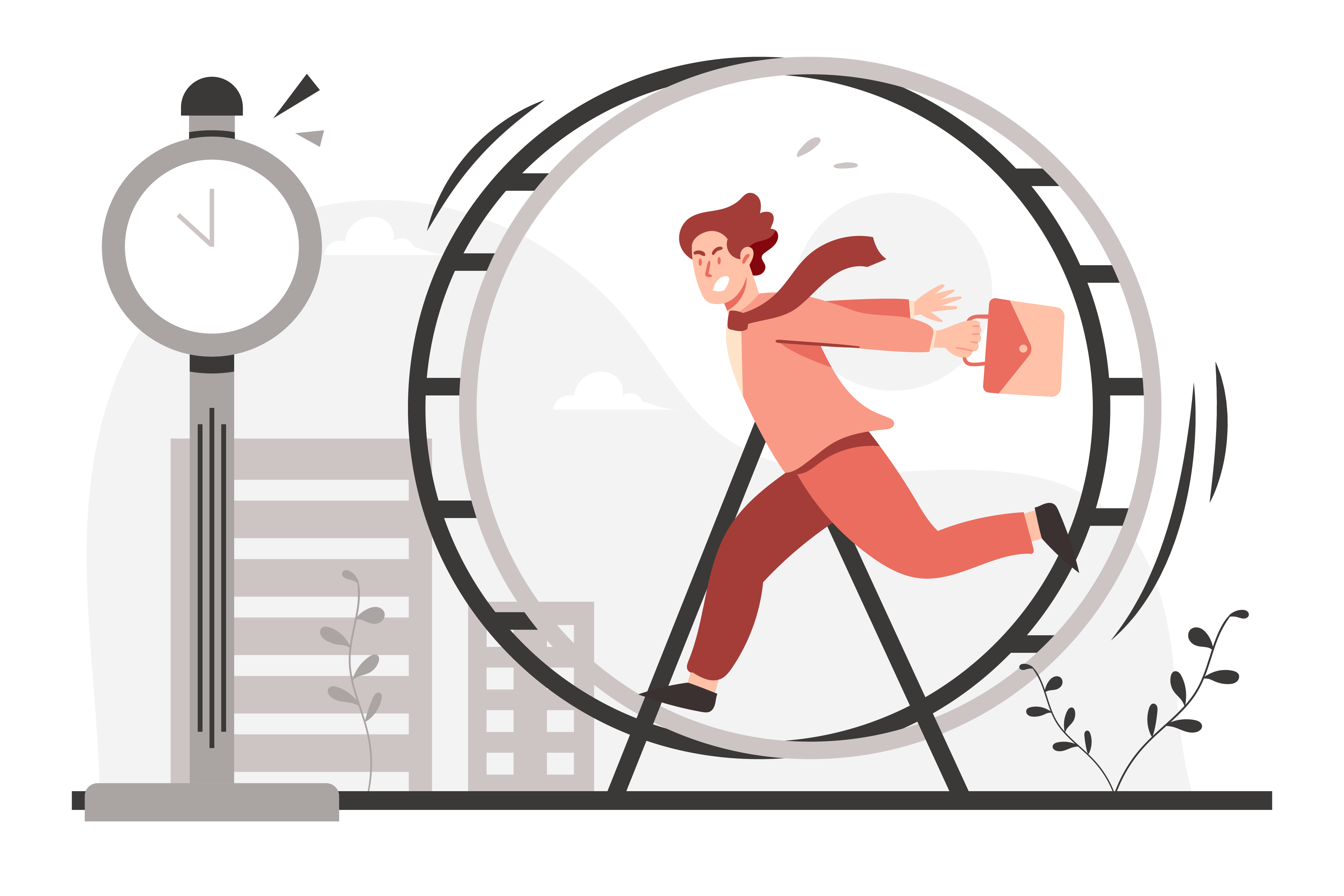 Burnout is when someone is in a physical and mental state of exhaustion.
The effects are often something that have built up over a long period of time. Usually, it's a result of repeatedly ignoring warning signs to slow down and switch off.
The World Health Organization recently added burnout to its classification of diseases. It describes burnout as "resulting from chronic workplace stress that has not been successfully managed."
The ironic thing about overworking ourselves is that as various studies have proven, stress actually inhibits creativity. So it's really not the case that burning the candle at both ends pays off. In fact, quite the opposite – especially if it leads to burnout.
Depending on what burnout is caused by and its severity, it can be challenging to recover from. Some may scale back on work or even quit their jobs altogether as a result of burnout.
Burnout Symptoms
Feeling tired most of the time
Frequent procrastination
Reduced creativity
Difficulty sleeping/switching off from work
Loss of interest
Self-doubt
Having a cynical outlook
Frequent headaches
Requiring unhealthy coping mechanisms due to work stress
Reduced work performance
These are some of the most common talked about symptoms of burnout.
We'd recommend following up on any of the above with your doctor to confirm a burnout diagnosis.
Burnout Causes
While not exhaustive, the causes of burnout are frequently linked to the same three things:
Unmanageable workloads – Trying to do too much at once and never giving ourselves a proper break. Perhaps not even taking the weekend or evening off because we are so bogged down with work. This is not helped by using ineffective tools or processes.
Unreasonable time pressures – Saying yes to everything, even if time is against us. Or, not having enough time to complete something to the best of our ability due to a lack of time. It creates unrealistic standards we simply can't fulfil.
Lack of role clarity – For employees, burnout can also be the result of unclear job roles. Likewise, having to take on too many tasks that fall outside the original job scope remit.
The Impact Of Burnout
A recent report by Forbes highlighted a burnout study conducted by Indeed.
It found that not only is burnout on the rise, but that all age groups from Gen-Z right through to Baby Boomers reported increased incidents of burnout.
This also dispels the myth that burnout is a 'modern' problem, with the term having first been coined in the 1970s by psychologist Herbert Freudenberger.
What Is Marketing Automation, And How Can It Reduce Burnout?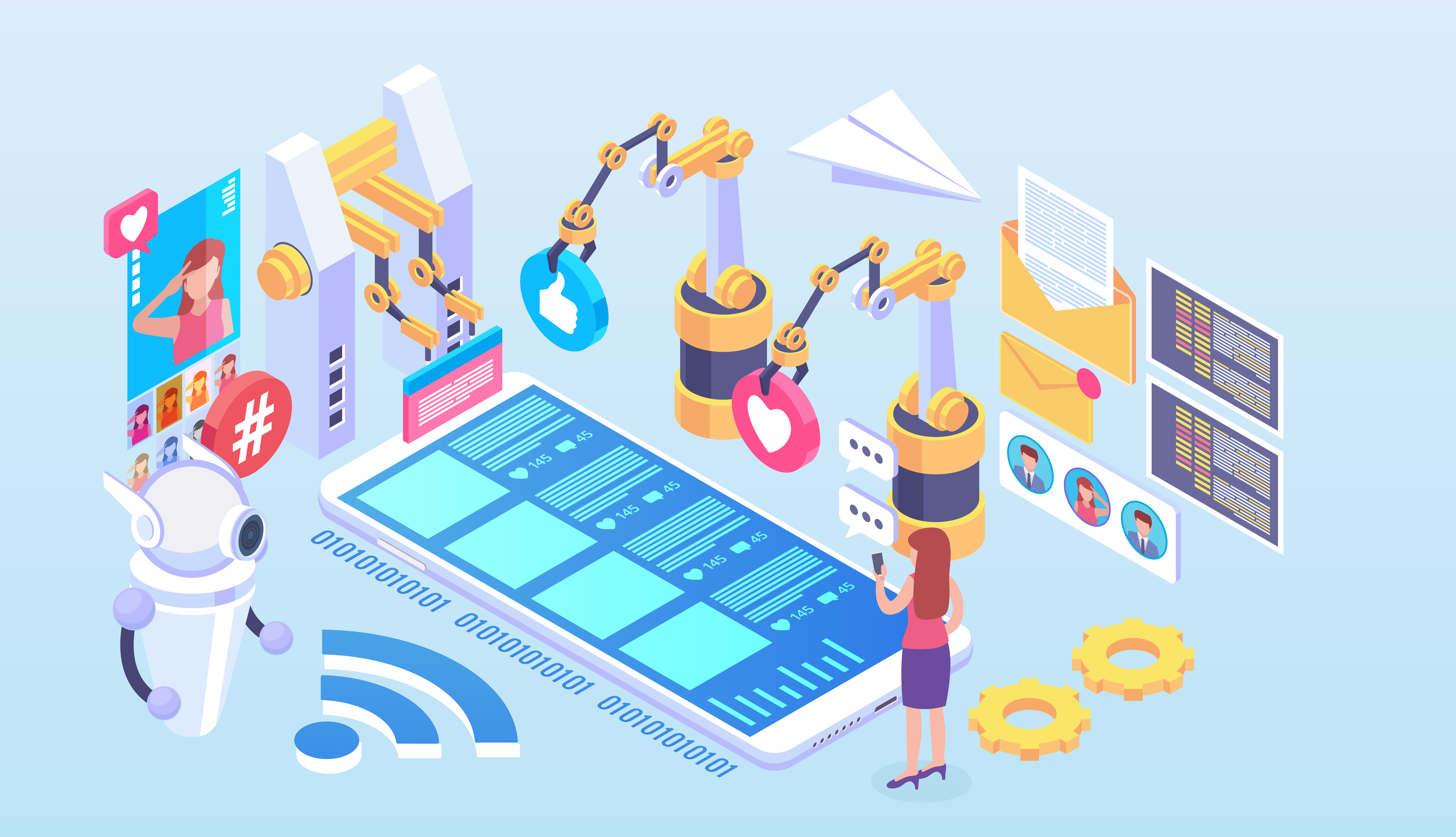 Marketing automation automates how you communicate with existing customers or potential leads. For instance, through email marketing, newsletters and live chat.
Previously all marketing was done manually. Only, a send to all approach is really time consuming. It doesn't generate good results because it's impossible to keep track of. Plus, without segmenting audiences, you are sending the same message to everyone, whether they are interested or not.
So what might have appeared to be a productive use of your day, actually requires far more time and energy in exchange for worse results. That's not such a good deal, is it?
In contrast, marketing automation helps build a complete picture of your audience. All in a way that's GDPR-friendly. It means you can use the information you have about your leads and customers to send more intuitive marketing campaigns that get results.
Plus, customer service is a breeze because everything is centralised. Phew!
Enjoying this post so far? ➡️ Subscribe to the FREE GoSquared newsletter packed with information on how to grow your business. 🔥✉️
What Can Marketing Automation Do For Your Business?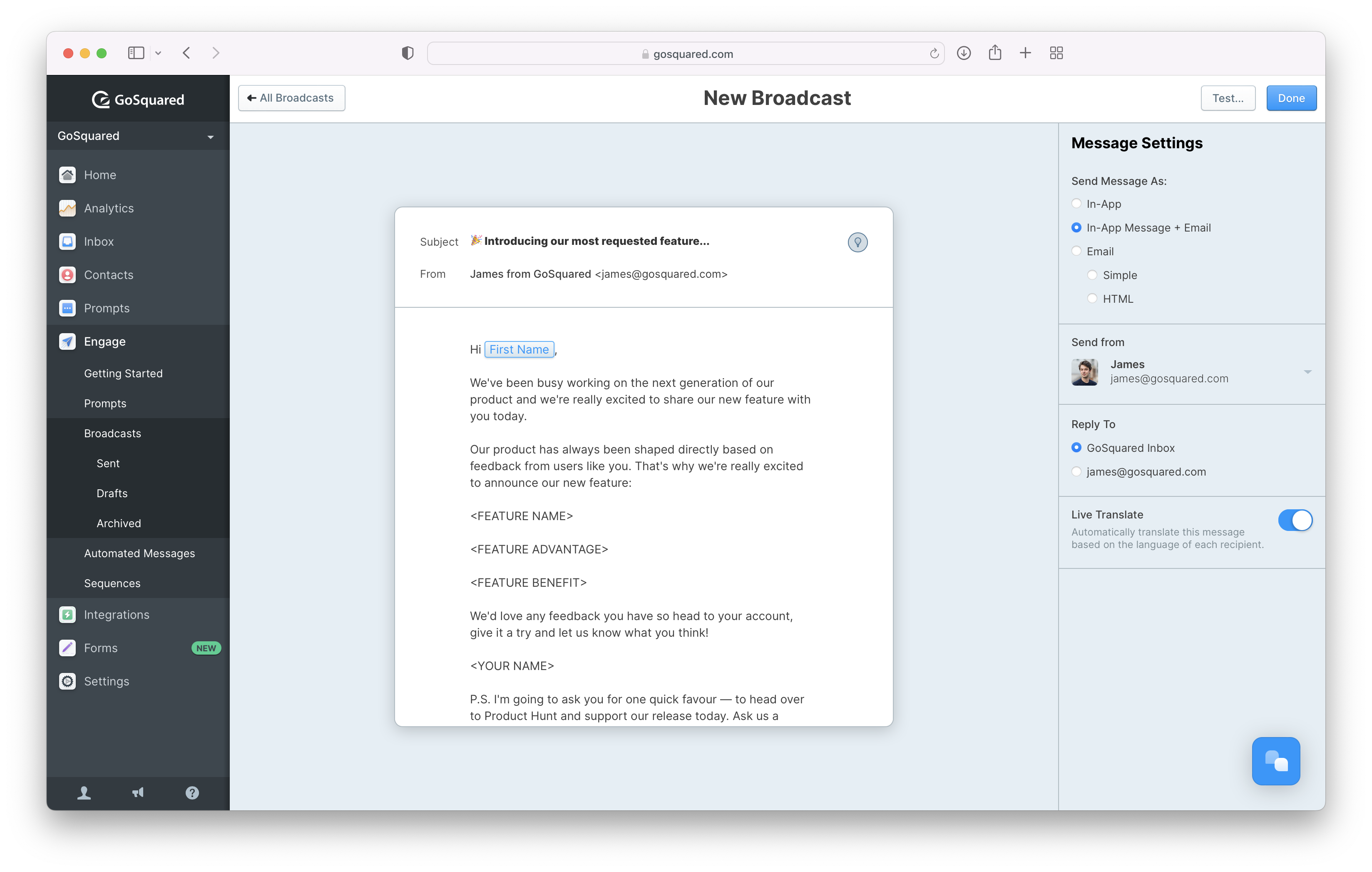 Generate leads for your business
Keep customers engaged throughout their journey with you
Automate strategies that can be applied across the entire funnel, instead of just the middle
Builds a better picture about your customers, and how best to tailor your products and services to their needs
Streamline the lead generation process through personalised workflows
Remove the disjointed customer service experience for customers
Offer seamless omnichannel experiences
Provide better answers faster to your team and your customers
Can provide 24/7 customer support in the form of live chat
Give invaluable insights that can be used to provide a stronger business offering
Keep everything in one place for ease of use
Imagine if all these headaches could be solved with just one tool?
We're not saying marketing automation software is a complex fix for burnout, or even running your business as a whole.
But it's fair to say that if having any of the above at your fingertips would make life easier, then marketing automation software is a worthy investment.
A similar example is how having an Apple Watch helps us keep track of our fitness. It coincidentally also tells us when to breathe or stand up and tracks our sleep – all things that can help prevent burnout.
You may have some other tools to add to the list as a founder.
Let us know in the comments: What are your favourite automation tools make your day run smoother? Or what apps make it easier to improve your health and wellbeing? Let's keep the conversation going!
What Are The Benefits Of Marketing Automation?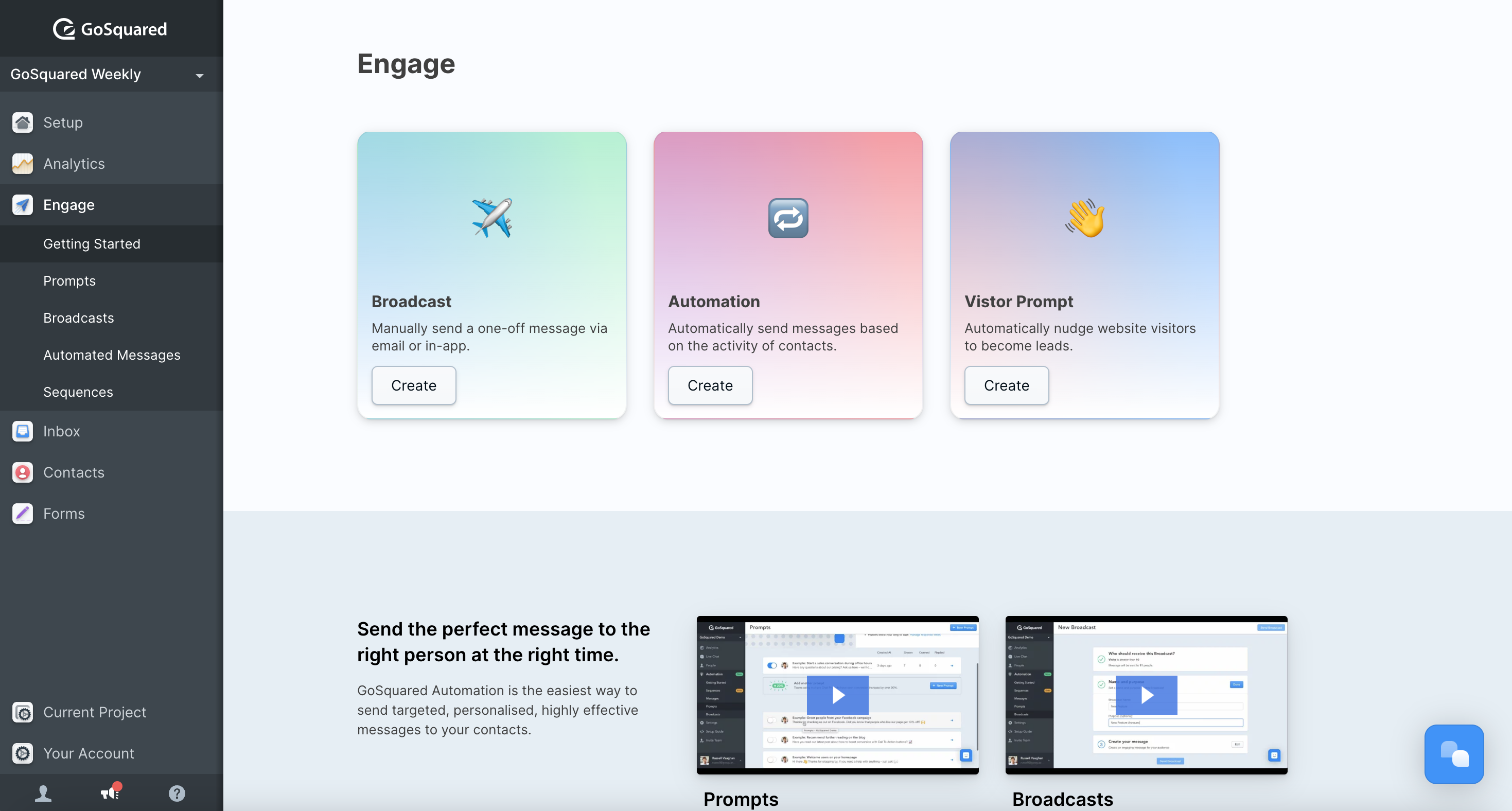 What we know about marketing automation software is that it keeps your customer interactions in one place.
So whether you are wanting to create a new campaign, understand the impact of previous campaigns, or drum up new business with lead generation, you can handle everything from the same spot.
Let's look at why any business could benefit from such a system, especially if everything feels too complicated or even time consuming right now.
Centralise Customer Data And Communication
Better communication is frequently cited as one of the best ways to avoid burnout.
So why limit clearer and easier communication to within your team, when you could also extend it to your entire customer base with marketing automation?
Instead of having to chase up lots of emails, everything is easy to find right where you need it. Plus, the likes of broadcast messaging and newsletters can be created and sent out with ease.
Create Intuitive Campaigns That Drive Results For Your Business
It can be very difficult to run your business effectively without data giving you the answers.
Marketing automation not only collects and stores this data safely, but it presents what you need to know in a tangible way. Say you want to know your email open rate, unsubscribe rate or even when a user was last active on your website – you can find this out in a couple of clicks.
Use the information your tool will give you to create campaigns that will hit out of the park.
Improve Customer Service
Marketing automation may be best associated with sending out marketing campaigns, but it can also be used to manage customer communication.
Because you can build complete data profiles about each customer, this means that when they reach out, you already understand their customer journey. Concierge-like service benefits both your team and your customers.
Consider as a founder or even customer service agent how stressful managing customers can be. If critical issues aren't chased up and handled properly, things will only go from bad to worse.
But they don't have to if you have a more effective way of understanding your customers. Marketing automation can help you achieve this aim.
How Can Marketing Automation Support Wellbeing?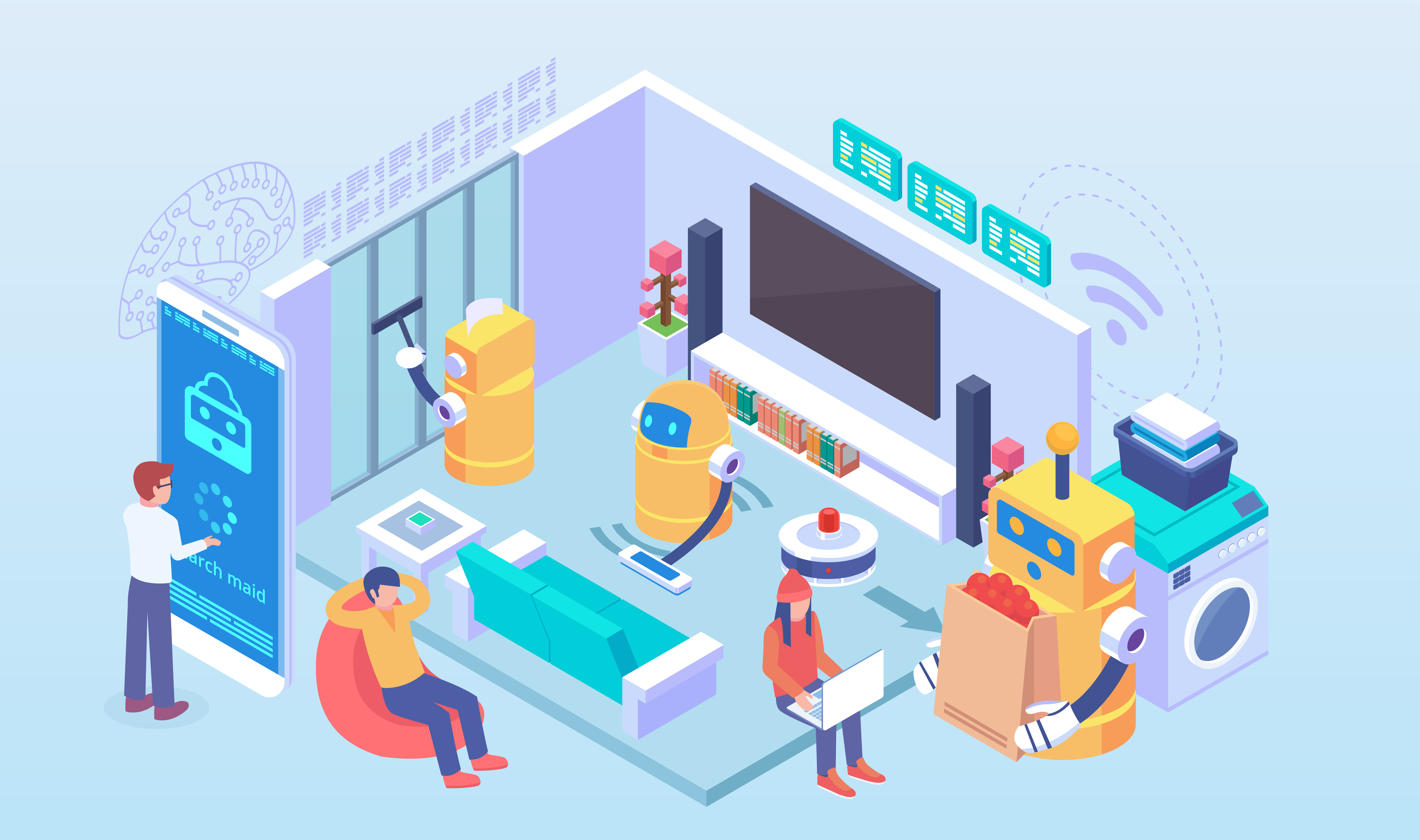 Automation tools make tasks easier and faster to complete. When we look at what causes burnout, a lack of control or feeling overloaded are two main culprits. Marketing automation helps eliminate these issues at least in terms of lead generation, marketing and customer communication – aspects of running or scaling a business that can be majorly stressful.
Marketing automation tools are incredibly intuitive. So it's not the case that by speeding up tasks you'll create more work in the process because things have been done incorrectly. Instead, marketing automation is quite the opposite, helping you to work smarter instead of harder.
All of which offers peace of mind. Automation also speeds up how long such tasks take.
So could marketing automation foster better wellbeing for your and your team, alongside any other holistic improvements you may wish to make as a whole?
If you resonate with any of the following, the answer is yes:
My marketing is time consuming
I am not seeing a healthy ROI on my marketing
My company struggles to onboard users
My customers' wants and needs are not understood
Customer satisfaction is not good enough
I don't have a complete dataset about my customers
I want to get ahead of my competition
Marketing automation could solve many of these quandaries for you in just a couple of clicks and here's why.
Better Results With Less Time And Effort
Marketing automation replaces ineffective techniques with effective techniques.
Every company founder and indeed employee feels pressured to deliver results. Year on year these pressures grow further still, as we look to supersede what has come before.
When you automate your marketing, the guessing game is taken out of the process. Strategies are data-led, making for more predictable outcomes.
For example, with audience segmentation, you will have a clear idea of who you are speaking to, along with what messaging will deliver the best impact. As with lining up a shot for target practice, that arrow has a much better chance of hitting the bullseye when you have full control over what you are doing.
An added bonus is that when you do spend time creating campaigns through your marketing automation software, you know the time spent will actually be worth it.
24/7 Customer Service
Marketing automation tools aren't just for the benefit of you and your team – they improve the experience for your customers too.
Let's take live chat as an example. The equivalent of having 24/7 receptionist for your website, no matter when users log onto your website, there is someone there to greet them.
So whether they have a question you can pre-program the answers to, or if they just want to leave a message you can pick up in the morning, live chat turns casual visitors into viable prospects for your business.
When we think back to how marketing automation can promote wellbeing, it would be impossible to stay glued to your screen at all times to provide that level of customer support yourself.
Knowing your visitors aren't left with radio silence allows you to pick up their message at a time that's convenient to you.
Reduce Employee Turnover
Did you know it costs £25,181 on average to replace an employee? This figure is based on lost skills, recruitment costs and the time taken for the replacement employee to match the same level productivity and knowledge.
There are many reasons why someone may quit your company. Increasingly, burnout is to blame.
A report by Eagle Hill Consulting titled 'COVID-19 and Employee Burnout: Maintaining Focus, Productivity, and Engagement', found that 36% of employees said their organisation isn't doing anything to help with employee burnout.
Any steps taken to reduce workplace stress will be welcomed by employees, especially if current methods are ineffective. Marketing is just one area of the business that can be improved for both customers and employees if it is automated.
What To Look For In Marketing Automation Software
There are a lot of marketing automation software providers on the market, and GoSquared is just one of them.
When making your decision, you must make sure the tool is the right fit for your needs. Here are some of the top things to consider.
Does It Provide All The Features You Need?

Some marketing automation tools offer the bare basics, whereas others practically get you dressed in the morning.
The question is, what do you need to streamline your current processes? For instance, GoSquared Engage has email and in-app messaging, live translation and so much more. Our tools are based on the ability to capture leads, onboard users, make announcements and retain customers.
Our plans start from a 1,000 maximum contact limit, with the ability to scale up as your business grows.
HubSpot is one of the best known marketing automation platforms in existence. But, its 'Marketing' package costs up to £31,488 per year. Not only is HubSpot an unaffordable option for most users, but it may well offer far more than you actually need.
Is HubSpot too pricey or too complicated for your requirements? This is a good time to tell you to check out our post on 12 Affordable HubSpot Alternatives You Need To Know In 2023.
Solid Reviews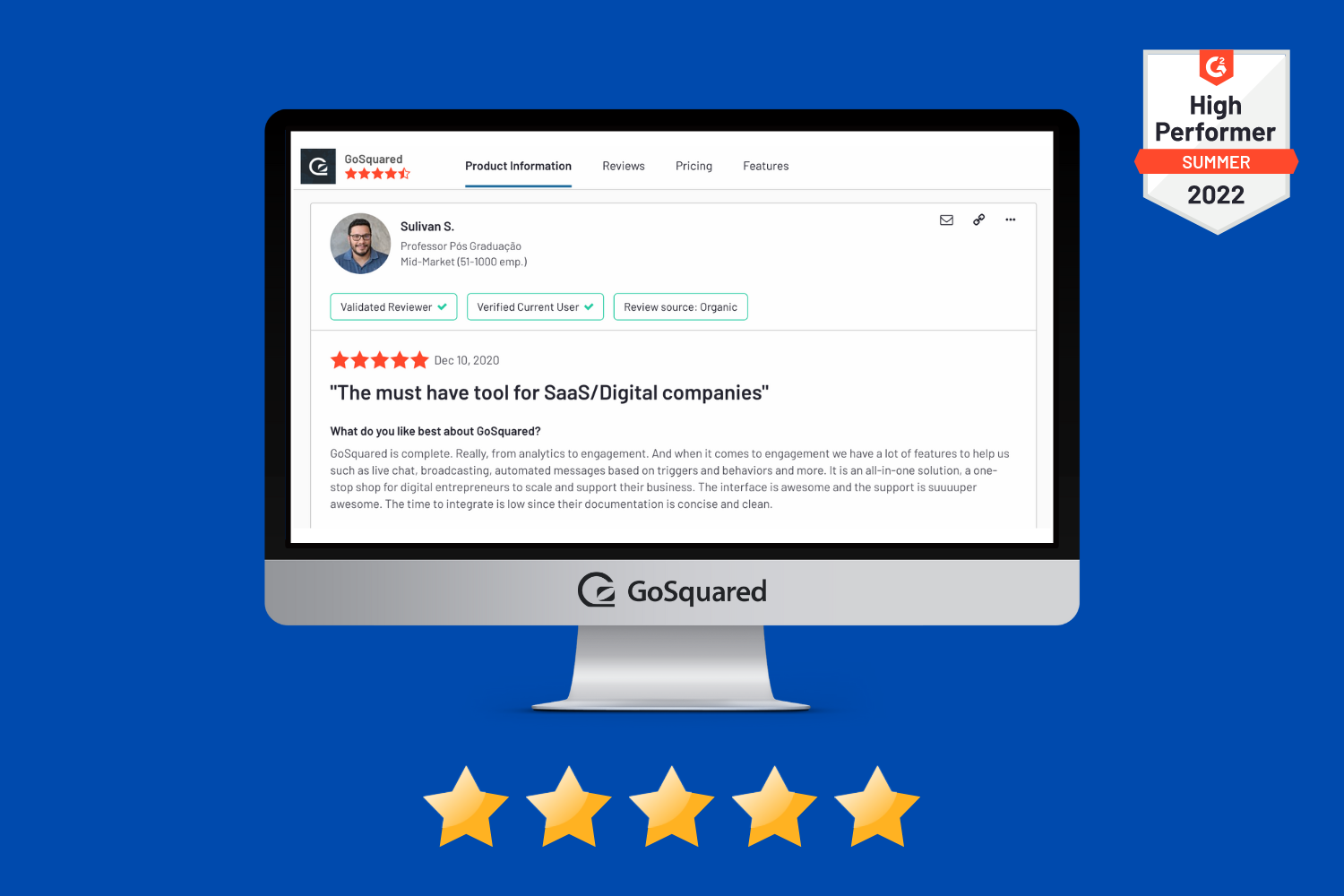 Never mind the delicately spun jargon on their website – will the tool actually work and make life less stressful? One of the best ways to find out is to do a little market research.
G2 is the world's largest tech review site. It lists practically every major technology tool and marketing automation software is right up there.
We've included some of the kind things people have said about GoSquared. But whatever tool you are interested in, make sure you read honest user reviews.
Integrations With Other Tools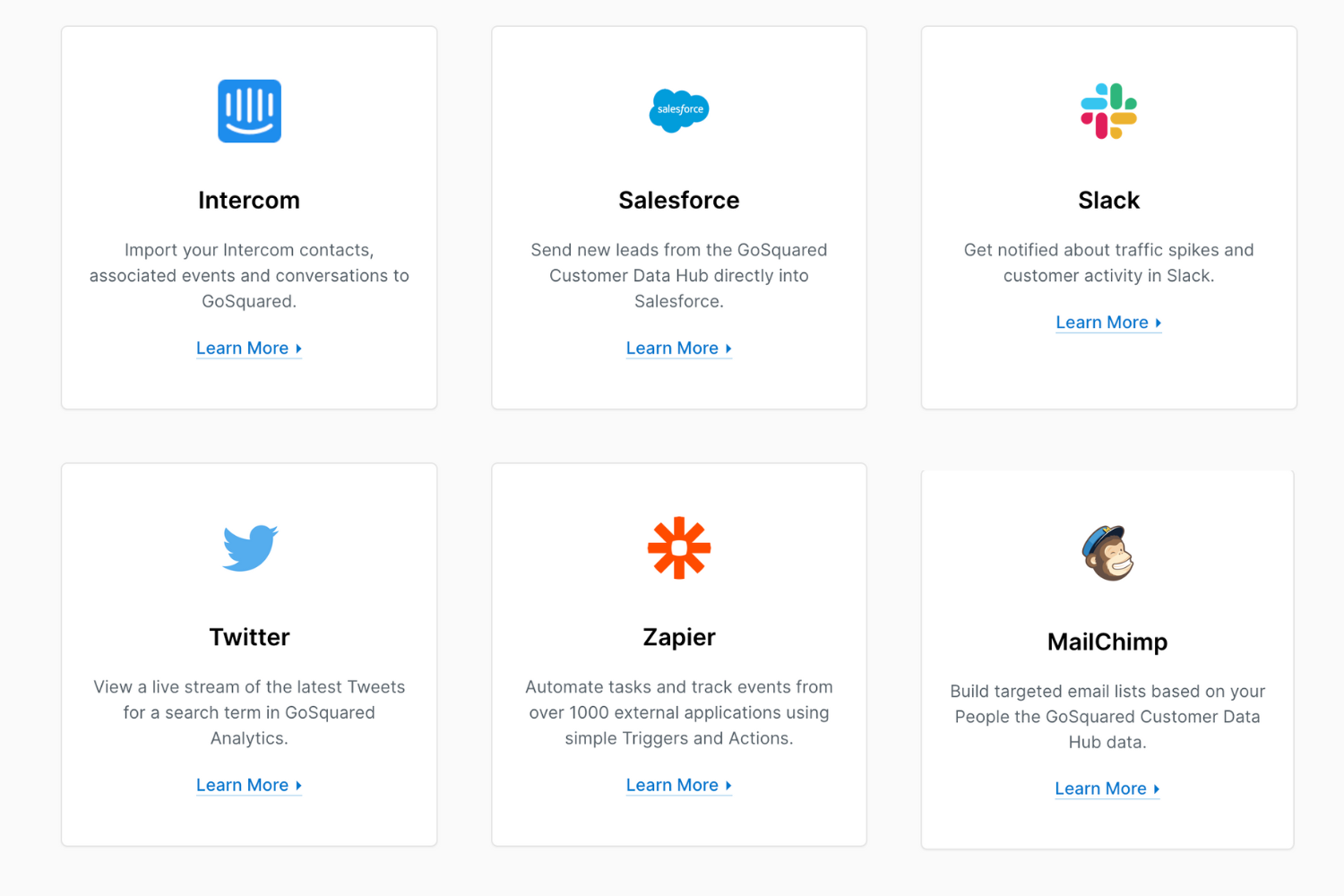 We cannot underestimate the importance of having your marketing automation software seamlessly integrate with your other tools.
As a business founder, you don't have time to look for solutions to problems that shouldn't exist. Integration with basic tools is right up there!
GoSquared offers integrations and provides support for a number of other tools across our Engage and Web Analytics tools.
Some of these include:
View the full list of possible GoSquared integrations.
So whatever tool you're exploring, it should offer all of the essential integrations you need to get up and running quickly. Plus, there should be support documents available should you get stuck.
The Ability To Scale Up Or Down Your Subscription As Needed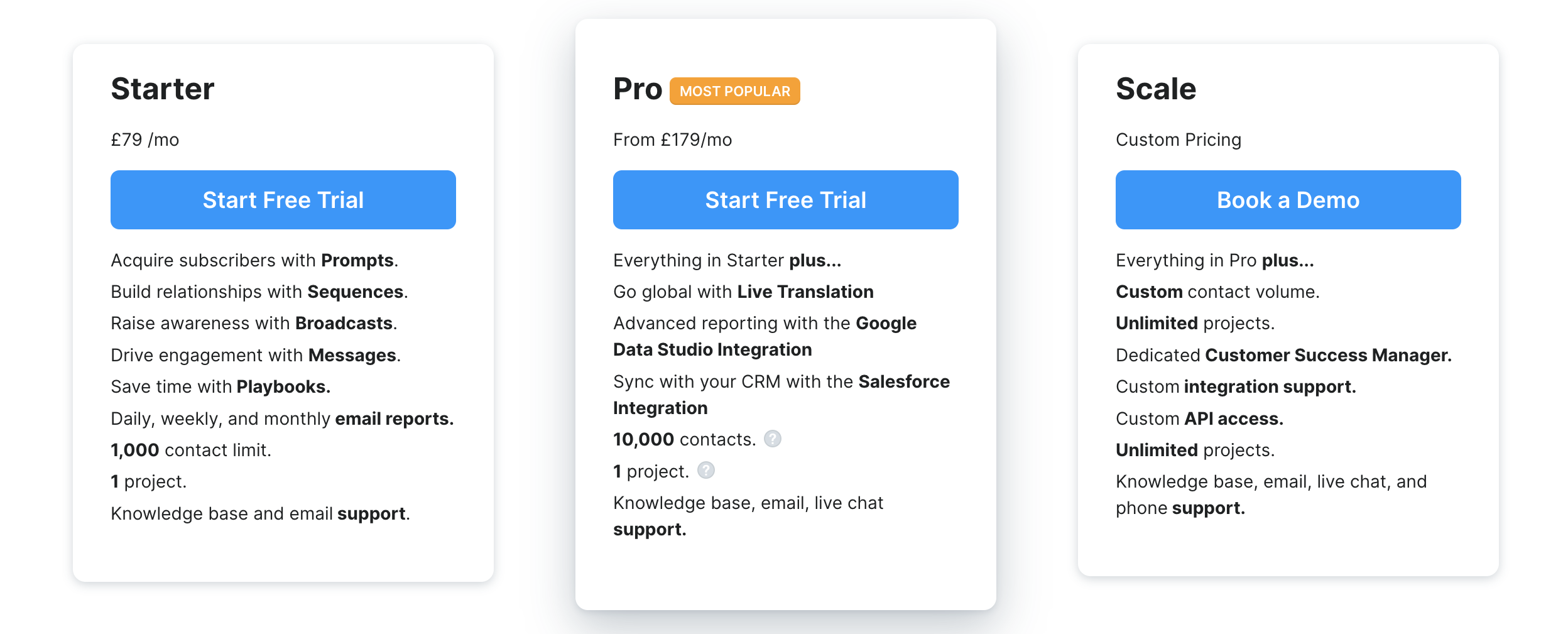 Being locked into a hefty year long subscriptions can be a stress in itself.
What if the subscription becomes too expensive? What if you don't use all the features yet you're still having to pay for them?
All marketing automation tools have varying pricing models. However, GoSquared Engage has two main packages, Starter and Pro. Plus a customisable package called Scale. We'll also give you a 7-day free trial and a personalised demo to ensure we're a great fit for your business.
Whatever marketing automation tool you're considering, be sure it offers you that same level of flexibility.
It's also handy to know you can upgrade your package as you scale your business, or downsize should you need fewer features.
Human Customer Service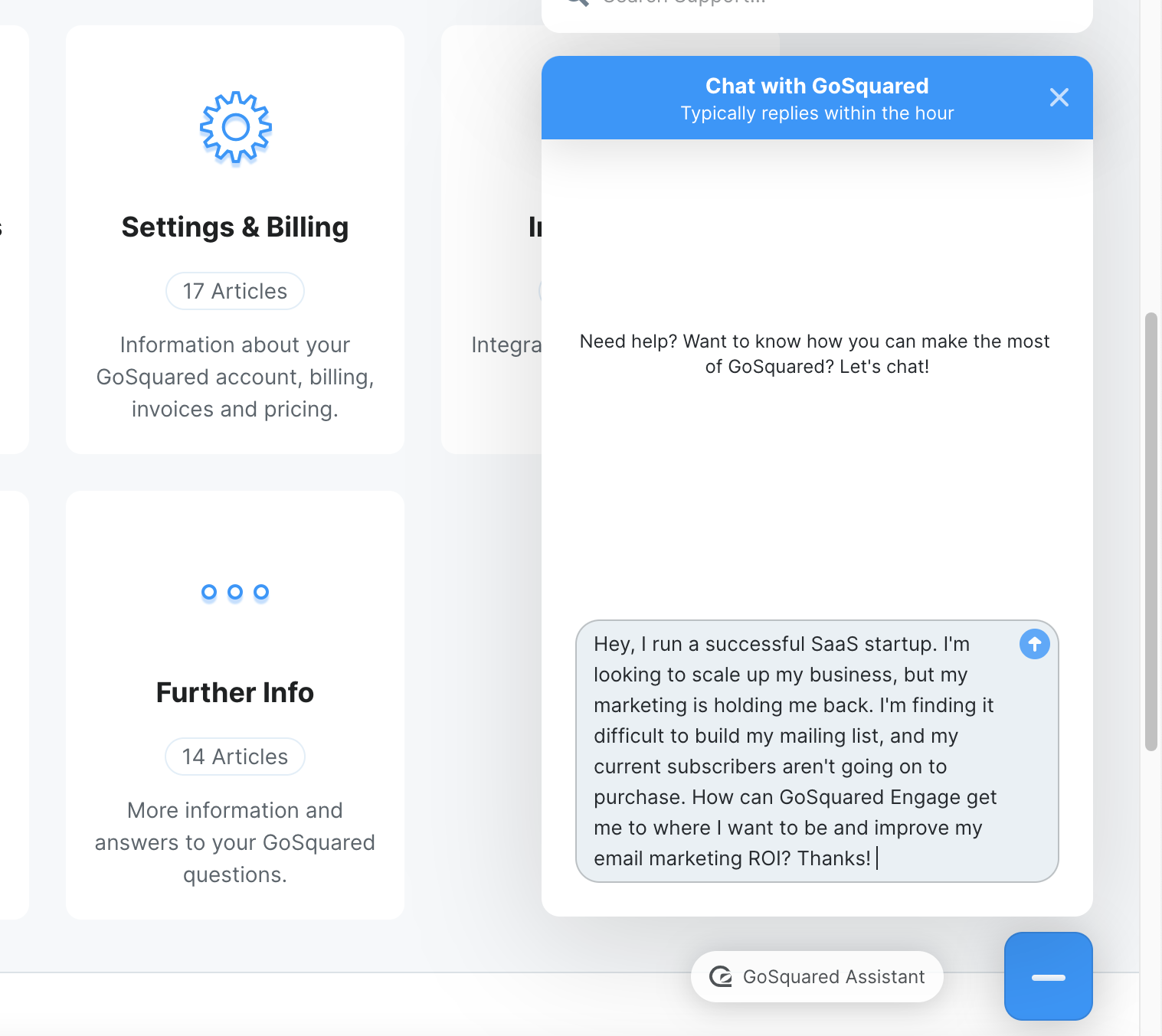 If you rely on any tool to grow or manage your business, you need peace of mind that if you get stuck, or if something isn't quite right, there is a human on hand to help you.
What you need is to be able to explain the problem and receive a prompt response that doesn't cease until the issue is fully resolved. Aka, a tool that facilitates customer engagement.
It's not good enough when companies hide their contact information. Instead, your marketing automation tools should come with the option of speaking to a human if you need help.
GoSquared Engage Marketing Automation Software – Claim Your Free 7-Day Trial

The fight against burnout must involve making health and lifestyle improvements as a whole. But in terms of running your business, having the right tools at your side makes all the difference when you are actively working.
This is especially the case when it comes to automating the most stressful and time consuming tasks you may have as a company founder or marketing manager.
If this happens to involve lead capturing, onboarding new users, communicating with customers or retaining customers – GoSquared Engage can automate the entire process for you.
New to marketing automation tools, or considering switching from another provider? Try GoSquared Engage for free today.
Or, if you want to discuss your lead generation, marketing or communication needs with us, let's hop on a call for a personalised demo.